Readers Say
The ultimate guide to independent record stores in Greater Boston
Vinyl is thriving, and local record stores along with them. Here are 44 recommended by Boston.com readers in Greater Boston and beyond.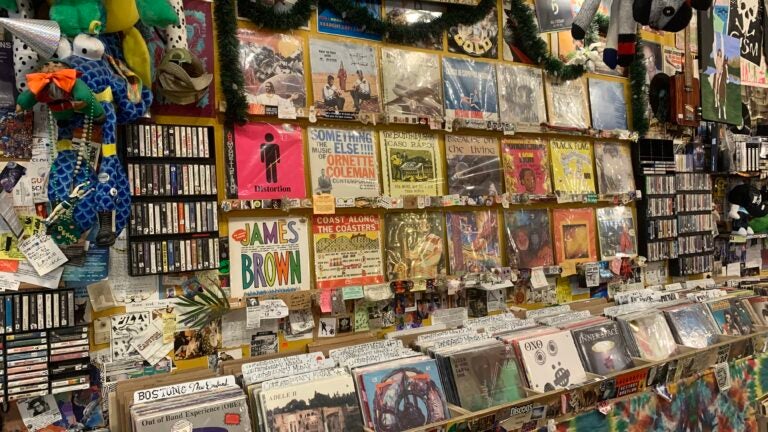 It's hard to believe there was a time not long ago when a successful Record Store Day — the international celebration of independent record stores inaugurated in 2008 — could be all that stood between solvency and disaster for many shops that specialized in peddling actual, physical music media. But with the download era in full swing, the thought of hoofing it to an actual storefront was starting to seem archaic at best, and pointless at worst.
That was then. Now, with the 16th Record Store Day on its way this Saturday, April 22, vinyl records have come roaring back, and the stores that sell them have come right back with them. Thanks to a dedicated record-buying coalition of hip teens, millennials and Gen-Xers who grew up on the things, vinyl records have become once again the most popular physical format for music distribution. And there's no more satisfying way of getting them than from the well-curated bins of your local record store. (Sorry, Amazon.)
That's probably why our recent survey asking Boston.com readers for their favorite record shops turned up more than 10,000 votes for no fewer than 44 in Greater Boston and beyond, dotting cultural hubs like Boston, Cambridge and Somerville and reaching out into suburbs like Norwell, Dedham, Haverhill and Amesbury.
And no matter which store our readers were talking about, the same things kept coming up: the thrill of discovery; dedicated, knowledgeable owners; and a sense of community and inclusiveness when you walk in the door. "North Shore lifer" Paul H. probably summed it up best when talking about his favorite store, the Record Exchange in Salem: "It's pretty much my favorite place in the world to be on a Saturday afternoon."
Below, you'll find an interactive map of all 44 record stores that received votes in our poll; a countdown of the top 10 stores as chosen by Boston.com readers, plus four honorable mentions; and a full list of every store mentioned. Happy disc hunting!
The top 10 favorite record stores in Greater Boston, according to readers: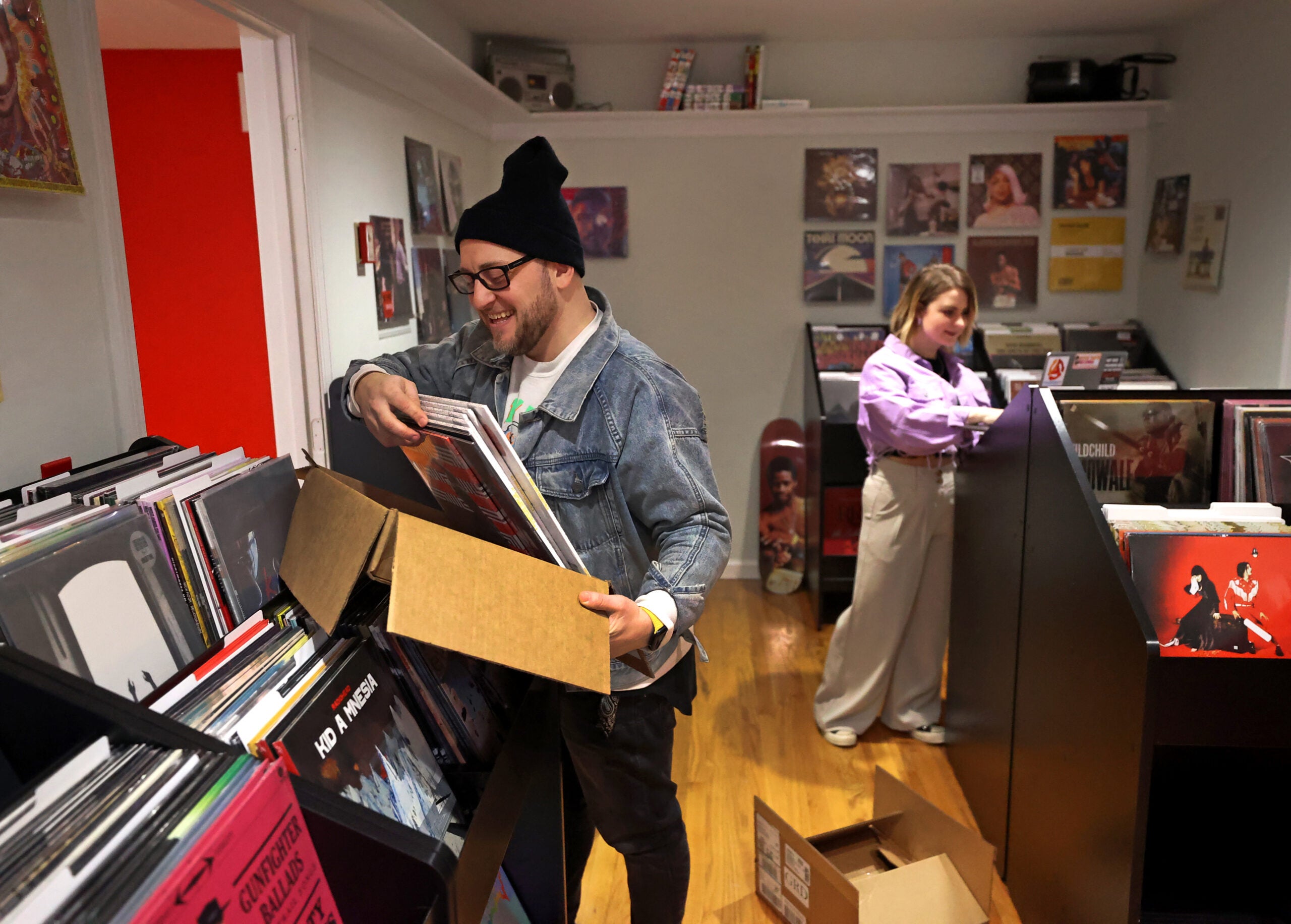 Opened in 2022, this shop has funked up the historic North End — they're a mere 3-minute walk from the Old North Church, as they note on their website — with a focus on hip-hop, funk, soul, electronic, jazz, and soundtracks for films and video games.
Readers say:
"They are stocked with hard-to-find music. I am an avid vinyl collector and this store has been the only one from the voting list that I have been able to walk into and find items that I have been searching for … I also love the booth they have in the back to listen to any album." — Nicole G., Whitman
"The owners, Lindsey and Coty, are so friendly and fun to talk to while you look around. They have a really nicely curated selection with a variety of genres, and the store atmosphere has a fun, cozy, and retro aesthetic." — Hunter M., North End
4 Thacher St., Boston
A mainstay in Salem since 1974, it's known far and wide for its tremendous (and well-organized) selection of used records, key new releases, and its entrenched and knowledgeable staff — including, if you're there at the right time, soul man Barrence Whitfield of Barrence Whitfield & the Savages.
Readers say:
"Some stores have a great selection. Some have a great staff. Some even sell at fair market value prices. Only ONE has all three. I have been going to the Record Exchange since 1989. When I go back to Mass., The Record Exchange is the only store that I actually plan to visit. There are some good record stores on this list. Even a couple very good stores. But only ONE great one. A do-not-miss store if there ever was one!" — Bill, Brevard, North Carolina
"The owner, Paul Bazylinski, and a couple days a week when he's not touring, Barrence Whitfield, are unfailingly friendly, big-spirited, generous with their time and with their absolutely encyclopedic knowledge of music and of vinyl. Whether you dig gospel, death metal, free jazz, garage punk, or Phil freaking Collins, they've got something right up your alley … I also love that you can crawl around and dig through the stock under the record bins; oh, the treasures I've found down there through the years." — Paul H., North Shore lifer, now on Long Island
256 Washington St., Salem
Founded in 2021 in the surprisingly hip Amesbury downtown by Mel Webster — a resident and school committee member in the historic former mill town on the Merrimack River — Mel's has quickly become a go-to spot for vinyl lovers seeking quality music and personal attention (and nearby beer).
Readers say:
"Mel is a friendly, knowledgeable, and low-key guy who loves what he's doing. Mel's shop is a funky, cool little shop in Amesbury's lively downtown, conveniently located within walking distance of four breweries. A great place to browse and buy records." — Maryann I., Amesbury
"Great selection, welcoming atmosphere, and awesome staff. Plus, Mel supports local businesses and artists, and has donated dozens of records to the art programs that I teach. When I commented on Instagram that I would be stopping by to grab a record that he posted in his 'new arrivals,' he kindly saved the record for me because he only had one available. I didn't even ask, he just did it out of kindness. I really appreciated that, and will definitely be going back to Mel's for all of my vinyl collecting." — Jess, North Andover
4 Water St., Amesbury
Don't let their staid nomenclature fool you — this Beacon Hill shop had already garnered a faithful following for the eclectic selection at its Providence location before moving to Beacon Hill just last month, in March 2023. "We're doing music research every day," co-owner Zachary Warf told the Beacon Hill Times. "It's kind of our job."
Readers say:
"This place has everything other record stores don't. They travel the globe and gather the most obscure and awesome music from around the world to share with New England. Particularly library music, progressive and psychedelic rock, everything jazz and jazz fusion, funk and soul, so much more … These guys are very knowledgeable and passionate about what they do. And it truly shows within their curation and atmosphere." — Randy S., Beacon Hill
"They have the best selection in all of New England. Never a dull moment, always something to turn up, and they actually put in an effort to bring you the best records. Even traveling internationally on a regular basis to bring you records from Europe, Japan, France, etc. that would normally cost you a fortune stateside. Music Research Library is a store for the people and what record shopping should be." — Derek K., Worcester
24 Joy St., Boston
The new(er) kid on the Salem record store block, Residency Records moved from a cramped Bridge Street space to its lush digs on Church Street in 2022, and its fan base has followed (and grown). With a focus on new stuff — Residency bills itself as having "The Biggest Selection of New Releases on the North Shore" — and a healthy bent toward metal, it's both modern and a throwback to the underground shops of yore.
Readers say:
"[Owner] Breaux Silcio knows so much about music, which is super helpful if you need help finding something. The store location is ideal, and there's plenty of parking. I don't need to go to the big malls to buy music ever again." — Kerry Q.
"It is focused on metal and punk. And the selection is awesome." — Jordan, Salem
7 1/2 Church Street, Salem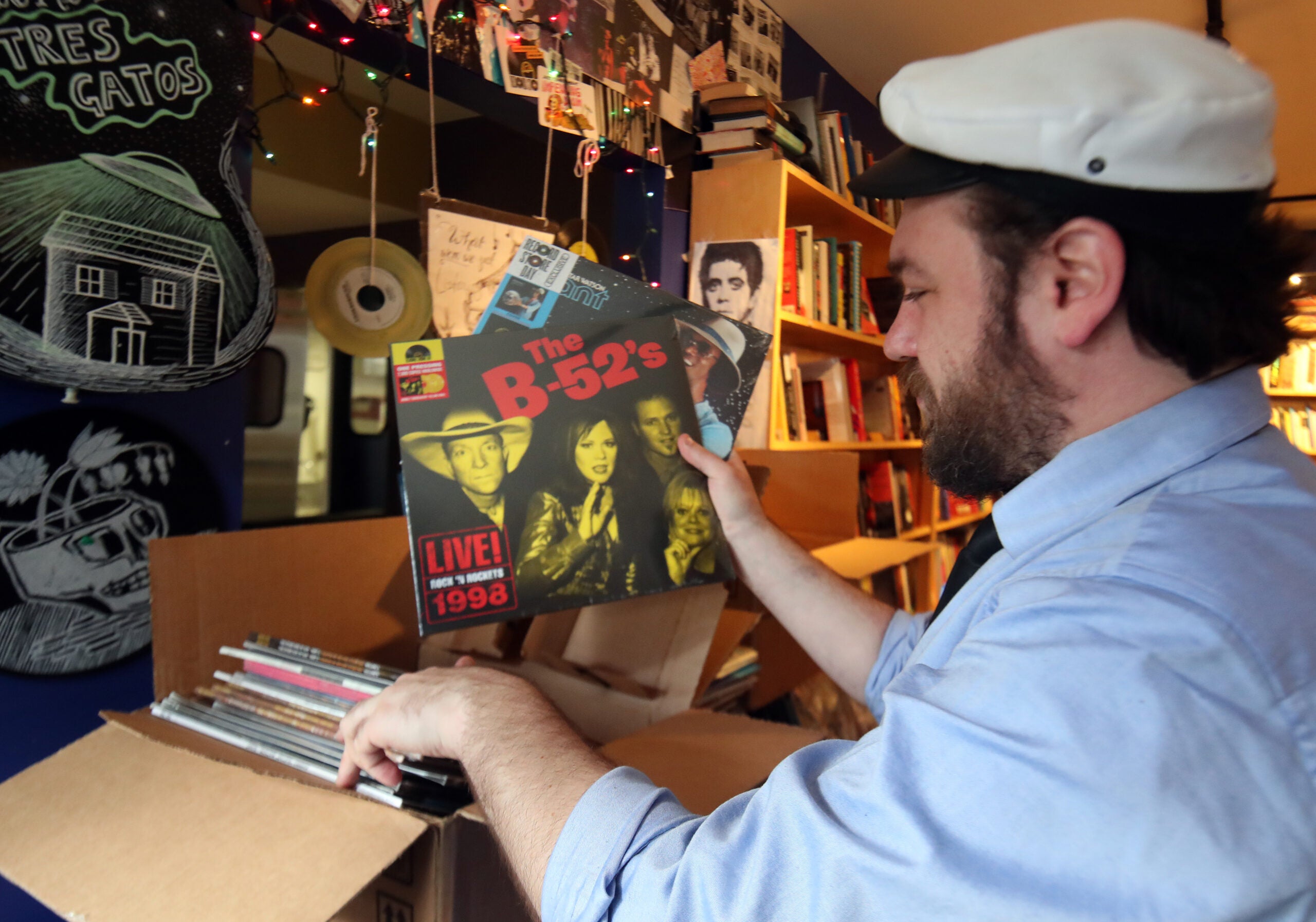 Yes, it's a restaurant — but don't hold that against it! Billed as "Boston's first full-service restaurant, book, and music store," this Jamaica Plain eatery has spent more than a decade mastering both the art of serving drinks and tapas and that of selling records and books, in a store open seven days a week within the restaurant. (Rumor has it owner Phil Wilcox will happily pair your food and vinyl for just the right combination.)
Readers say:
"The gentlemen running the show, Phil Wilcox, is a gem. His enthusiasm is contagious, and his musical knowledge runs deep. He has solid tastes without the stereotypical snobbiness of some record stores. He is the real deal … The selection of wax is on point, frequently refreshed and lovingly curated — new, used and one of the best bootleg sections in town." — Jonathan S., Boston
"Good people, books, records plus you can drink while you shop." — Paul O., Jamaica Plain
470 Centre St., Jamaica Plain
Their name may bring to mind the end of the world, but the record lovers drawn to Armageddon Shop in Harvard Square seem to feel fine among its selection of classic metal, punk and hardcore, along with a wide variety of platters by local acts. Relocated to Cambridge from Providence in 2010, its basement location has proven to be the perfect underground gathering place, both literally and figuratively.
Readers say:
"Staff, selection, and most importantly the prices! So many other stores overprice and gouge! Bad!" — Tre M. Union Square
"Really great staff, vinyl selection is fantastic and the store has a lot of obscure, hard-to-find records. It does have a specific focus on different genres of heavy metal, but to me we have a nice metal community in Mass. and it's a great meeting spot on top of just selling items. I feel at home when I walk in there, and the location is awesome, being in the middle of Harvard Square. Great place to buy records!" — Brian S, Maynard
12b Eliot St., Harvard Square, Cambridge
After more than 30 years at its stalwart Boylston Street location near Berklee College of Music, owner Pat McGrath moved his legendary record shop to the streets of Allston more than a decade ago and apparently never looked back. Packed with anything and everything, there's no telling how many records are crammed into the nooks and crannies, or what treasures you might find among the well-stocked shelves.
Readers say:
"Pat McGrath! He's a living legend of Allston and the city at large. We need to erect a towering statue of him there one day. Also, very cool selection at Looney Tunes, and an immaculate vibe." — Julien, Boston
"Is not clean and easy to walk around in, and boxes are everywhere. And that is a POSITIVE! You need to be wary of those super-clean organized stores, as those owners spend more time on the business side than getting in good used records." — Matthew C., Westminster
16 Harvard Ave., Allston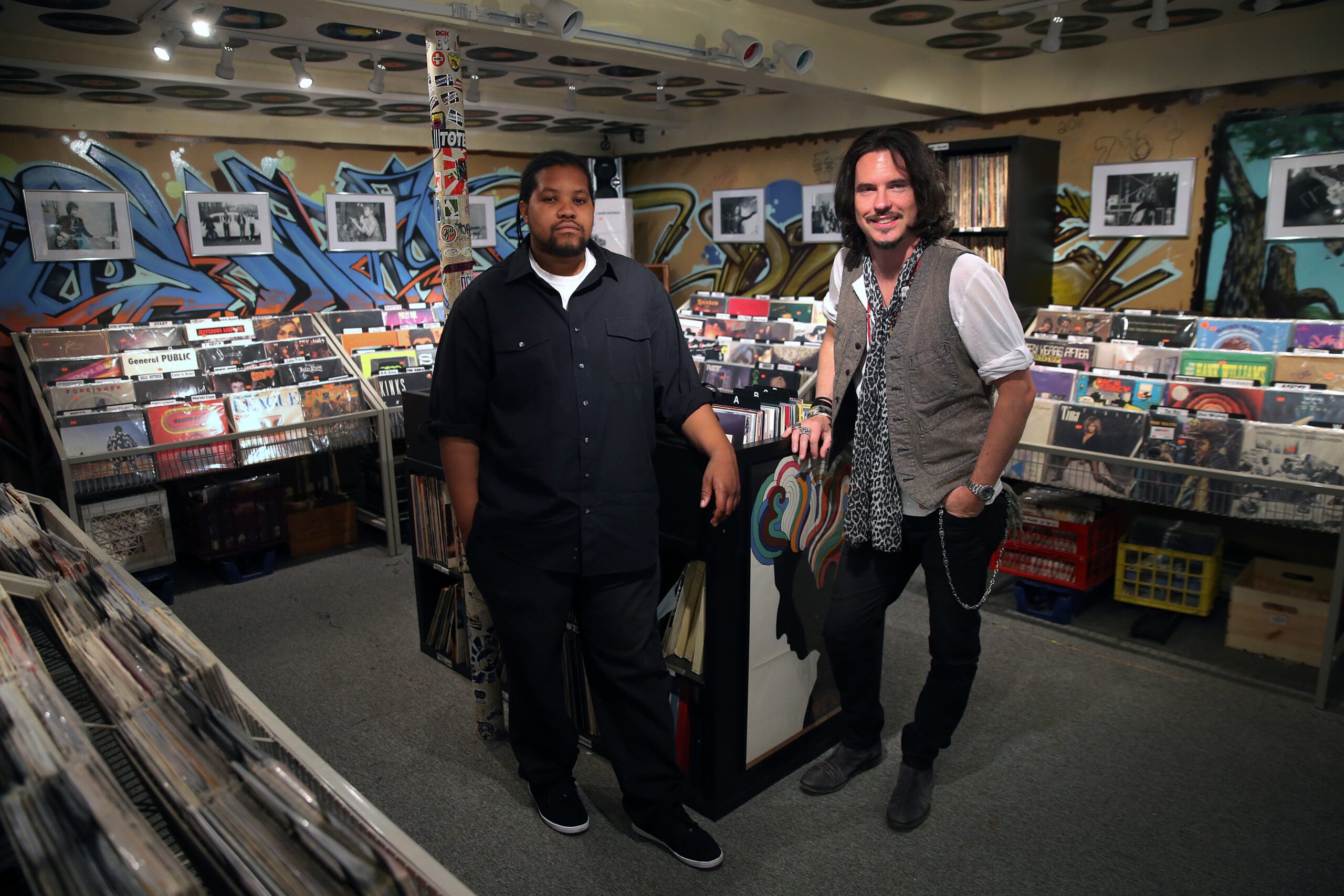 When you think about it, it's surprising that more record stores aren't located under skate shops. But that's exactly where Inclusion Records is, in a unique space incorporating records, t-shirts, a live performance area, and even a vintage "Captain Fantastic" pinball machine. With more than two decades in the biz, Inclusion is an oasis in the South Shore record desert, full of classics, original press vinyl, and exclusive in-store releases.
Readers say:
"They're the shop that got me into collecting records; anytime I've ever gone in looking for something specific they either have it, or I'm sent home with a record by recommendation and fall in love with something totally new. The guys are the best, and responsible for making my adolescence a tad bit easier. I know I'm not the only kid from the South Shore that found an escape at Inclusion!" — Sam, Hingham
"Incredibly inclusive. Johnny and Bobby (the owners) have never turned their noses up to anyone, new collectors or veterans. They have a unique willingness to work with the customer to find something, even if it makes them go way out of their way. I have shopped at stores across the United States and they trump them all." — Burak L., Scituate
340 Washington St., Norwell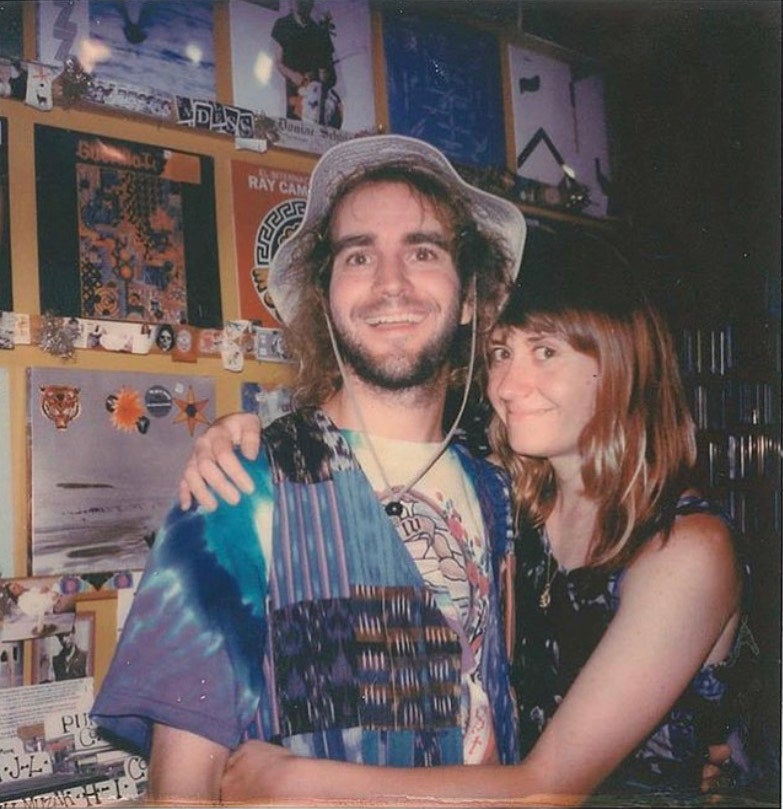 Yes, Deep Thoughts has a psychedelic bent. (If you don't believe us, watch the video.) But this expansive shop does a lot more than cater to psych fans and Deadheads, even if it's home base for the trippy Grateful Dead jam band Owsley's Owls (featuring Nick Williams, who owns Deep Thoughts with his wife, Alaina Stamatis).
Known for an extensive array of styles and genres among its thousands of platters — including some killer bargain bins — clothing, books, and a performance space that hosts the aforementioned Owls every Friday night, it's become a Jamaica Plain staple in the 10 years since it first opened its doors.
"All of the record stores in the reader poll are great places run by wonderful people. We all know each other and exist happily as extended family," Stamatis told Boston.com via email. "Beloved record stores all offer the same thing: community. We have been hosting community events consistently since our opening, and we definitely feel the energy we put into it coming back to us ten-fold."
Readers say:
"Best selection of old and new stock, tons of rare and hard-to-find records, other stuff like old comics, great collection of books — like a museum of cool stuff. Super friendly." — Tyler, Northampton
"Deep Thoughts became my favorite record store the second I walked in. Unbelievable atmosphere for a hardcore Deadhead like myself, but completely open and welcoming to any kind of music taste. Their music selection spans any genre, consistently updated with new arrivals. The owners are two of the coolest people in JP, and their son does an incredible job helping you find the right record … Beyond the great selection of music from around the world, Deep Thoughts is super committed to local Boston music, with a huge selection from local legends." — Ray W., Jamaica Plain
"It's the ONLY record store. It's also my church. If Deep Thoughts closes, I'm moving out of Boston." — Ben W., Jamaica Plain
138-B South St., Jamaica Plain
Honorable Mention (other stores with at least 100 votes from readers):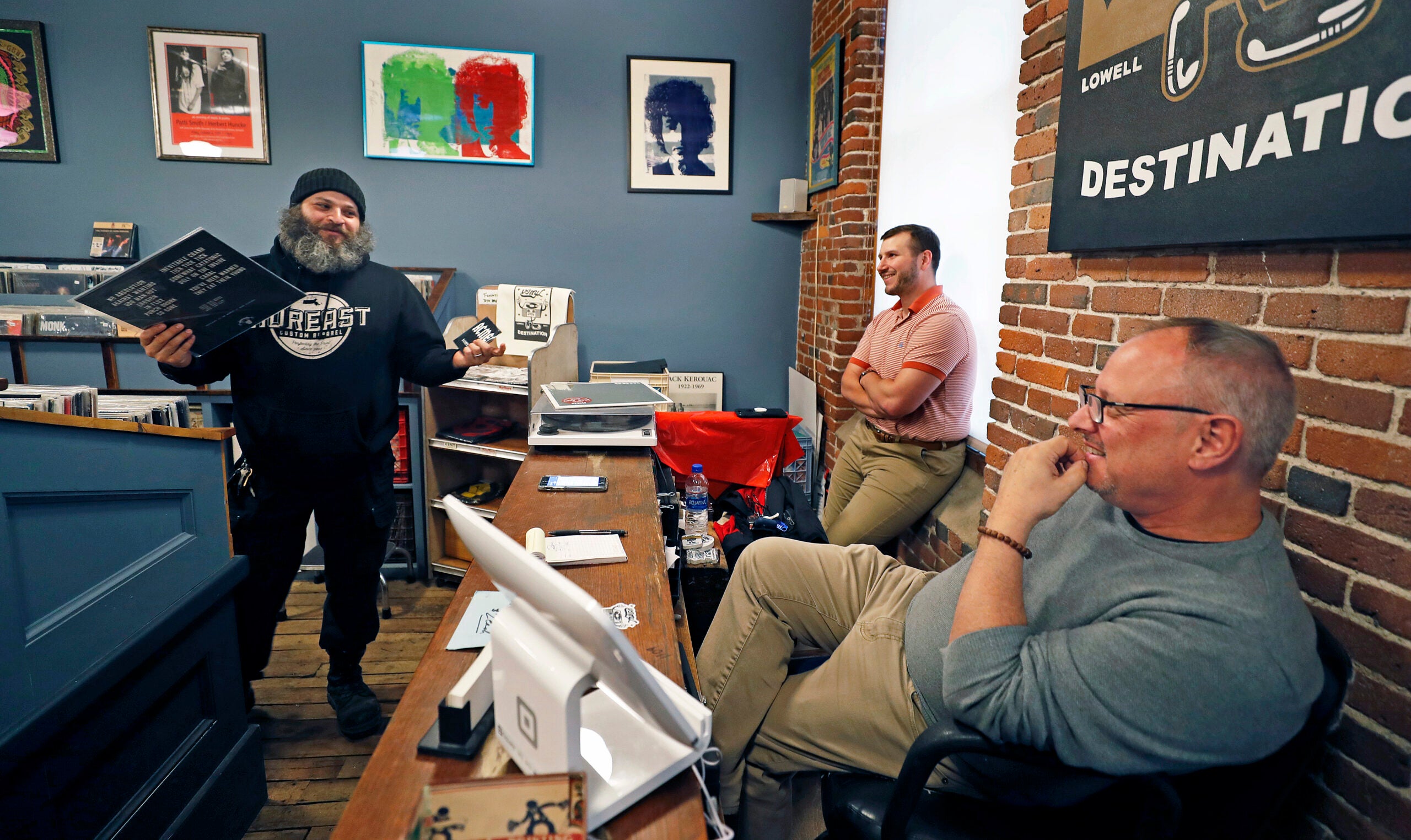 Vinyl Destination, Mill No. 5, 250 Jackson St., 4th floor, Lowell. "Mix of genres and staff is very nice and always has great recommendations. They are also involved in the community. It's obvious the owner does it because he loves it, not to make a buck." — Becky, Lowell
Deja Vu Records, 154 East Central St., Natick. "The kind of place that just doesn't exist anymore. There is little to no organization of the records. There are no prices on any records … The process for shopping is to dig around and find something you like. You then approach the owner and ask her what the price would be. The more you want to buy, the better the price." — Dan C, Metrowest
Stereo Jack's, 736 Broadway, Somerville. "Old-school, amazing community of people, fabulous owner and musician Chris Anzalone runs the place, friendly atmosphere, an amazing selection of records, just overall fantastic! The vibe is contagious, always busy, bustling energy, friendly personal service with a smile!" — Susan D., Malden
Big Dig Records, 2325 Massachusetts Ave., Cambridge. "An incredible selection from vinyl to cassette and books. They have the best selection of punk, hardcore and metal around! Incredibly friendly staff and the owner is an integral part of the local music community. Absolutely my favorite place to find new music." — Niki, Malden
Here's the complete list of reader-recommended record stores:
Need weekend plans?
The best things to do around the city, delivered to your inbox.