Readers Say
'Good for some. Bad for others.' What readers say about the launch of Mass. sports betting
Sports betting goes live in Massachusetts on Tuesday.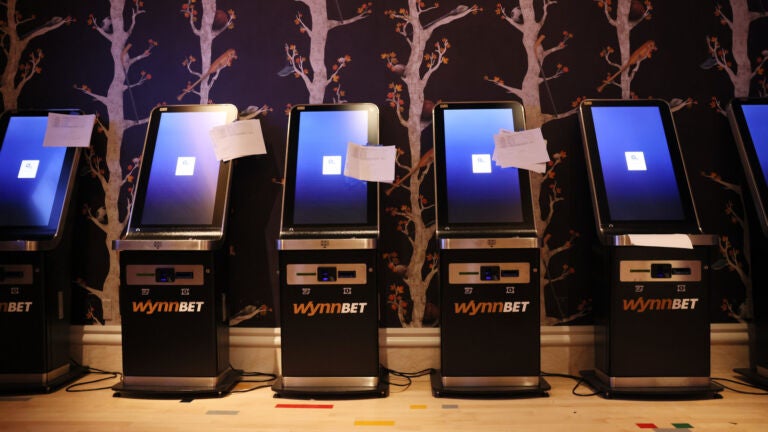 On Tuesday at 10 a.m., sports betting will go live in Massachusetts after being legalized by the state legislature in August.
To start, persons over the age of 21 will be able to place bets at any of the three casinos in the state. The eligible locations are the Encore Boston Harbor in Everett, the MGM in Springfield, and the Plainridge Park Casino in Plainville.
Mobile betting will be available sometime in March but there is no set timetable yet for its launch.
Massachusetts will be the 36th state in the country to legalize the activity. Gambling however has always been a contested topic, and so we wanted to know what Boston.com readers thought about the change coming to the state.
Our poll asked two questions regarding sports betting. The first was a multiple choice question asking, "Are you planning to place a bet now that sports betting is live in Massachusetts? If so, when?" The options for the respondent were "yes, planning to bet in person at one of the casinos," "yes, but I'll wait for mobile betting," "maybe eventually, but no plans to currently," and "no, I won't be betting."
Are you planning to place a bet now that sports betting is live in Massachusetts? If so, when?
Yes, planning to bet in person at one of the casinos.
Yes, but I'll wait for mobile betting.
Maybe eventually, but no plans to currently.
No, I won't be betting.
The second question gave the readers a chance to share their opinions via a written response to the prompt "How do you feel about the launch of legal sports betting in the state?" The answers to that question varied from people being fully in support and excited to gamble, to disgust in the decision, to just plain indifference.
Respondents also had the option to list their name and hometown so that their quotes could be attributed to them as well as remain anonymous.
Comments in support of sports betting
"Glad it is legal, I enjoy placing a bet here and there for fun. I do hope there are strong restrictions on advertising by sports betting companies though, it can be a serious addiction and shouldn't be plastered everywhere with deceiving advertisements."
"Best idea ever! Gambling is either legal or its not, nice to see this finally be implemented."
"About time. People are doing it in other ways. Better to keep the money close to home." – Mike V., Maine
"I will now be at the Encore everyday for the rest of my life!" – Shawn D., Methuen
"It's about time. This is the only issue I've written my legislators about in the past few years. Rhode Island, Connecticut and New Hampshire all beat us to the punch." – Mike, Sterling
"Good business decision, engage in it rather than not participate." – Dennis Driscoll, Milton
"Love it." – Jay Raj, South Weymouth
"I think it should be legal. I just don't think they should be able to advertise on certain mediums. The current advertising seems very aggressive and gambling is very risky." Jonathan, Newburyport
"It's about time that Massachusetts got a piece of the profits that New Hampshire and Connecticut are getting from this." – Matthew S., Milton
"Can't wait!!!"
"This will save me money in gas, I will no longer have to drive to Rhode Island anymore." Tim Michaud, Franklin
"It is about time! In 6 months, nobody will remember a delayed launch or discussions over whether sports betting should be legal." – Matt, East Boston
"Good for some. Bad for others. Great for the State." – Todd Sostre, Brockton
"It's about time. I've been beyond frustrated by the delays since this was passed by vote years ago. People are going to place wagers whether it is state-sanctioned or not. It's about time that our government got out of it's own way and created some tax revenue." – Davey, Brighton
"Have been saying for over a decade that the state should legalize sports betting and tax it to re-invest in infrastructure, however 15 percent off the top (in person) and 20 percent off the top (mobile) renders the entire thing moot and a total waste unless you're a real degenerate. Drive across the border to NH or do it the old fashioned way – the taxes are way too high in MA." – Dan, Everett
Comments opposing sports betting
"Just more people who cannot afford it, losing money. Gambling addiction is a real thing, just like drugs and alcohol, and families will suffer. The House never loses." – Donna, South Shore
"Sticking with my local bookie, 24 percent tax, outrageous."
"It is going to destroy the integrity of sports." – Toph, Vermont
"I think gambling is a sin and causes hardship and grief for many people, so I think any gambling is wrong. Gambling on sporting events also is associated with altering the outcome of those events, and is especially problematic."
"Not a fan of gambling, my concern is about the support being provided to addicts and those close to addition. Not a form of entertainment that I want to endorse." Hope M., Stoneham
"I really think sports betting is going to lead to another set of addiction problems." M. Houston, Easton
"Gambling is a tax on the stupid." – Gerry, Norwood
Other comments
"I have no problem with it if an adult of legal age wants to bet they should be able to. Your money, your choice." – Stan, JP
"Don't really care either way. If someone wants to bet they will do it online if they can't bet in MA."
"Just not my thing. I guess it is inevitable….but it can get out of hand very quickly. Be careful." – Kevin, Woburn
"Couldn't care less. It's already happening."
"Just a way to indulge in another opiate of the masses, get fleeced in the process and keep on being distracted from the real issues facing our society. Meanwhile, the corporate masters continue to rake it in from the lemmings." – Tom, Winchester
Get the latest Boston sports news
Receive updates on your favorite Boston teams, straight from our newsroom to your inbox.