Readers Say
'MBTA needs to go': Here's why readers say the agency can't be saved
Most readers think the MBTA should become a branch of MassDOT.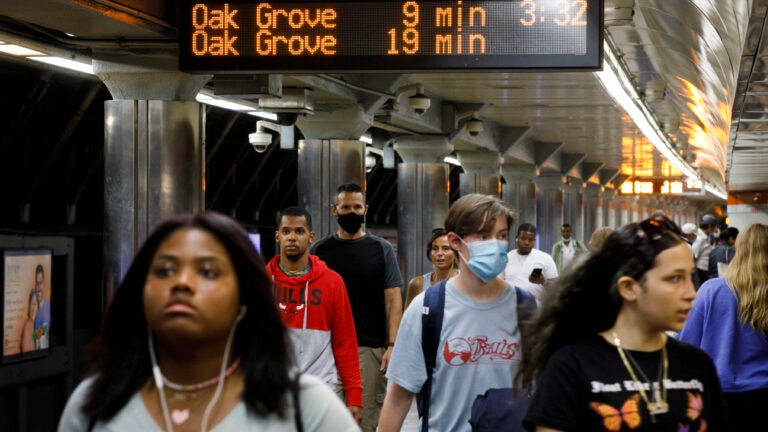 After years of problems with the MBTA, most people, including riders, politicians, and even a federal agency, agree that the transit system is in need of a massive overhaul.
State Rep. William Straus, who serves as the House co-chair of the Legislature's Joint Committee on Transportation, and Gov. Charlie Baker are among those who think the state should discuss disbanding the MBTA and instead have the transit system run by the state's Department of Transportation (MassDOT).
Rather than trying to salvage the current management, most Boston.com readers agree with idea that the state should just abolish the agency and merge the MBTA with MassDOT.
"There are too many issues with the current MBTA, from delays to major safety, and it is apparent that current management has no plan to address these," Brittany from Roslindale told Boston.com. "Although we have been told that MBTA management has a plan, it appears that every day they are responding to another major incident. I believe that fresh management is needed and the best thing to do at this point is to combine the MBTA with MassDOT."
Some readers, however, are skeptical of the state agency's ability to take on the needs of the MBTA.
"Operating a highway and operating a very complex, multi-faceted mass transit system are vastly two different things," one reader argued.
Do you think the MBTA should be dissolved and become a branch of MassDOT?
Yes.
No.
A bill headed to Gov. Charlie Baker's desk would allocate $11.3 billion to upgrade Massachusetts' transportation infrastructure, including $400 million specifically for the MBTA to make necessary safety upgrades. In addition to this potential cash injection, the MBTA announced Wednesday it would address safety and equipment concerns on the Orange Line with an unprecedented month-long shutdown.
Starting the night of Aug. 19, all Orange Line trains will stop service for 30 days to focus on repairs. In past surveys, readers have named line shutdowns and shuttle bus service among their top complaints about the MBTA.
Short of getting rid of the MBTA altogether, we also wanted to know what steps they think the agency should explore to get the agency back to best serving commuters. Below you'll find their suggestions and their thoughts on the future of MBTA management.
Some responses may be edited for length and clarity.
Do you think the MBTA should be dissolved and become a branch of MassDOT?
Yes
"We need better integration of public and mass transit with other areas of urban planning. I feel the T is only dealing with current MetroBoston problems, being reactionary, and has little capacity to grow. A unified agency might be able to integrate transit options to the Cape and to Western Mass., that operate year round and do not require complex navigation of schedules and various websites. I wish Massachusetts had a rapid train system like Switzerland, with one app to plan and buy and pay." — Hector, Brookline
"With a long history of questionable financial oversight, poor leadership, and even worse planning, the MBTA needs to go. It had its chance, and blew it." — Adam C., Quincy
"Keep the union for the current and future MBTA workers, but do whatever is necessary to ensure that issues like this are not nearly as commonplace as they are at this current time. If the MBTA cannot handle the increasingly apparent issues that threaten the everyday safety of its commuter population, perhaps gaining additional support from the MassDOT will help to resolve them." — Taylor, Quincy
"Not having an accessible or reliable way to get around town without the privilege of a car is deplorable. It is not sustainable. We should be driving far fewer cars, not more in this climate. Moreover, the city of Boston's physical parameters cannot handle more personal auto vehicles. The increased use of them for rides is selfish to the entire carbon footprint. If we don't want Boston to go underwater in the next few years of sea levels rising, consider the importance of public transit in helping reduce emissions.
"If MassDOT is capable of actually handling this infrastructure safely and reliably, I am all for it, because it will increase passenger use if we have a trustworthy transit system. MBTA clearly is biting off way more than they can chew and quite frankly cannot handle a load of city growth and expansion — especially if they want to keep providing commuter services all the way to Providence. MBTA either needs to scale back its square mileage or just be taken over by the state. But honestly, I don't know why it isn't being run by a state agency already, since it crosses over so many town lines far past Boston proper." — Kat, East Boston
No
"The MBTA is too large to consolidate into another agency. We tried consolidation with the Mass. Turnpike Authority. The turnpike has never been in worse shape. Some parts of the road are not safe due to a lack of repair. That was never the case prior to the elimination of the Mass. Turnpike Authority. The MBTA needs to be improved and monitored. If it is swallowed by MassDOT, the system will never be held accountable. Fix the MBTA, do not abolish it." —Timmy D., Holliston
"Have you seen the infrastructure around the state that MassDOT oversees? Merging the T into that agency will be the same horse but a different color. It needs to be privatized." — Mike, Norwood
"The MBTA isn't a statewide concern. People in the Berkshires don't care if it works. If it's merged into MassDOT, it'll quickly become an unwanted stepchild and the quality will decline further." — Jason F., Freetown
"It's pretty simple. Everyone wants to make it look like the T is suffering from mismanagement. But the calls for management changes obscure the bigger truth: the T is grossly underfunded, period. And all the management changes in the world won't change that fact." — Steve R., Newton
What other solutions do you think MBTA should use to improve service?
"Increased funding for maintenance. Politicians always want to fund new projects so they can have photos at ribbon cuttings. Maintenance is more important but has fewer photo ops. There should be board member spots for daily transit users to represent the experience of the customers." — Amy P., Boston
"The MBTA needs and deserves at least $10 billion in immediate funding to begin repairing 30+ years of neglect, and to upgrade on a much longer timeline. Fares, in line with advanced nations around the world, must drop to virtually nothing. Public transit in highly urbanized areas more than pays for itself in ways other than the immediate balance sheet." — Lionel, Wellesley
"It should be a private, profit-making entity. I'm not saying it should be expensive to use, but the current way of running the T is not working. There is too much cronyism and financial waste taking place. I am also willing to bet that the people in charge of the T have never used public transit a single day of their lives. Let them see what it's like to be late for work most days, not mesh with buses, endure breakdown after breakdown, ride really old cars with rust holes all over, have heat in the summer and no heat in the winter, switch to shuttles which can be a real nightmare, and so forth. I have been taking public transit my entire life (I'm now 66) and there was a time when it was rapid transit. Those days are gone." — Nancy D., Melrose
"Restructure the board of the MBTA so that it is not picked by only the governor. These board positions should be elected in some manner, represent key stakeholders, and not run indefinitely. Introduce terms to hold each board member accountable if things aren't trending positively. Create independent subcommittees/audit positions with the sole purpose of ensuring proper and fair spending, system quality, staffing levels, safety, and general compliance. Perhaps each board member can be considered a lead for each audit area to tie them to their performance as a board member. It would also be helpful to tie mandates with state funding and performance indicators at the MBTA (staffing, safety, proper spending, etc)." — Steven, Somerville
Boston.com occasionally interacts with readers by conducting informal polls and surveys. These results should be read as an unscientific gauge of readers' opinion.