Readers Say
More than 1,000 readers voted, they want Charlie Baker in the White House
"He might be the only Republican who could bring this country back together."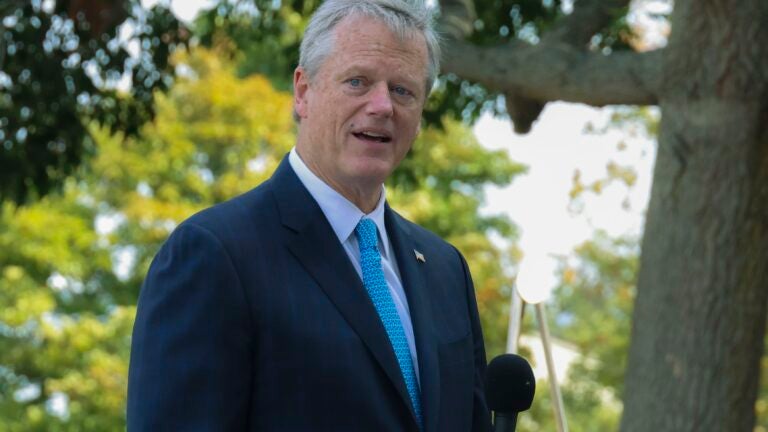 Charlie Baker may not think he's the best fit for a 2024 presidential run, but Boston.com readers have other ideas.
In a recent reader survey about a potential Baker bid for the White House, 76% percent of the 1,396 said they'd love to see the outgoing governor run for president. Another 7% said they're all for a Baker campaign, but not in the next election cycle. Just 17% of our readers said they wouldn't want to see Baker as POTUS at all.
The question was prompted by a plea from a reader in Idaho, who said she'd love to see Baker on the national stage.
"Will you please get a message from way out here in Idaho to Gov. Baker?" Melissa D. in Boise said. "Please, please, please run for U.S. President!"
Baker is already the most popular governor in the country and as he prepares to leave office at the end of the year, he's been encouraged to run by Bay State residents and daytime TV hosts alike.
"Gov. Baker is what this country needs. A right-of-center, pragmatic, caring, empathetic, fiscal conservative who seeks not to divide our culture for his personal gain, but to represent the whole of it for the gain of our citizens," Chris S. from Wayland told Boston.com. "In the tradition of John McCain, Mitt Romney, and Ronald Reagan, Baker has the makeup to lead this great country into the next phase of economic growth and healing. Simply put, Baker has the temperament, the intelligence, and the backbone to represent an ever-changing populace and culture in our diverse country."
Do you think Charlie Baker should run for president in 2024?
Yes!
No.
He should run, but not in 2024.
Like the Idaho Republican who prompted this call-out to our readers, voters in other parts of the country are also fans of the Mass. governor. Boston.com had readers chime in from several states including California, New Mexico, New York, Colorado, Texas, and more.
"As a former California Republican, now independent, this country needs a Northeast Republican in the White House," said Alan E. from Anaheim, Calif. "A problem solver who can build bipartisan coalitions. Refreshing!"
Baker, on the other hand, doesn't seem to agree. While he does believe that the Republican party needs to move past Trumpism, he doesn't plan to run for president.
"I think anybody in public life never slams anything completely, but I'm certainly not…going to be a candidate in 2024," he told WCVB's "On the Record." "Point blank. If I don't say that, my wife will be very unhappy with me."
Fans of the governor think he and his family deserve a break. Melissa from Haverhill said that she'd vote for the governor if he was on the ballot in 2024, but the public should respect his wishes to take a step back from public life.
"Governor Baker has expressly said that he would like to focus on personal matters now. It's just plain rude to try to convince him to run for what could arguably be the most stressful job in the world," she said. "Let's let him stop where he said he'd stop, let's enjoy the leadership he brought to our Commonwealth, and let's let him have some well-deserved time to relax and enjoy some peace and quiet."
A couple hundred of the readers polled agreed with Baker himself that he shouldn't run for president. Some said he'd be wasting his time running in a Republican party that has moved too far to the right to accept a moderate on the national stage. Others said they found his time as governor of Massachusetts too lacking to qualify him for president.
"His tenure has been milquetoast at best," said Meg W. from Medford. "He has evidenced very little courage for standing up to either political party in times of need."
When deciding whether they think Baker should run for president in the next election, readers reflected on his tenure, policy accomplishments and failures, and the overall state of politics in the United States. Below you'll find a sampling of responses from readers sharing why those points equip or disqualify Baker to make a bid for the White House.
Responses have been lightly edited for length and clarity.
Should Charlie Baker run for president in 2024?
Yes!
"He might be the only Republican who could bring this country back together. All the other potential candidates I've heard about should not hold any type of public office!" — Steve, Franklin
"Charlie Baker is definitely one of the most popular governors in the U.S. Not only has he done amazingly for the Commonwealth of Massachusetts, but he also created major bonds with the community itself. Even other people from other states like him a lot. I think if he ran for president, He'd have a major chance even if he doesn't think he does." — Elijah S., New Bedford
"Governor Baker is the rare politician who focuses on the issues, not the ideology. His commonsense approach to finding an acceptable middle ground is rare in this day and age of harsh, partisan politics. Instead of representing the extremists at either end of the political spectrum, he tries to focus on the (unfortunately) silent majority who just want the government to help fix the problems we face. While he's not perfect (no one is!), his practical approach to running the state is a model for all politicians to follow." — Paul N., Chelmsford
"I am a diehard liberal, but I would vote for Charlie Baker in a heartbeat. He grew up in my hometown and I have followed his career for years. I have enormous respect for him and I believe he's just what our troubled country needs right now. Please run, Charlie! I'll even campaign for you." — Nancy M., Portland, Maine
"I am a lifelong Democrat, but I have voted Republican twice, and once was for Charlie Baker (second term). He is a genuinely good guy and a smart politician. He does not support Trumpism. He is an old-school, moderate Republican. This country needs to get rid of Trump, DeSantis, Abbott, Lake, and their like, who are a danger to democracy. I think Charlie Baker could help bring our country back together as one nation standing together, not a divided nation. The Republican party needs to nominate someone who has dignity and is honest, not more lying charlatans." — Amy, Quincy
No.
"In this time of climate emergency, Baker consistently tied himself to the fossil fuel industry. He is far from beloved by those working hard for a sustainable future." — Susan L., Arlington
"I am a strong conservative Republican and he has no chance over Trump, DeSantis, Scott, Noem, or any other Republican in the primary so [it] would be foolish to spend money on a losing race. But since he is so popular then maybe he can run and win the Senate seat over either progressive Democrat senator in Massachusetts. He would not be a good Republican senator but would at least give Republicans a bigger majority and can put him in a meaningless committee." — John Paul D., Worcester
"If you can't fix the T, you can't run the country." — Tim G., Bedford
"Baker has no foreign policy experience and that is increasingly the largest part of the president's job. Also, although he seemed like a reasonably good manager, he never seemed to have a vision of anything greater than trimming around the edges." — Greg M., Newton
"He was a pretty successful governor of a small, economically stable state. He's a laid-back guy and I don't see him craving or enjoying the political and administrative tension that exists in D.C." — AR B., Boston
He should run, but not in 2024.
"Don't believe the present RNC or National Republican caucus is ready to move on from Trump or Trumpism, but Baker would do well once they are ready to move on." — Tom M., Framingham
"I think he should take a break from politics and give himself and his family time to decompress, work at some other endeavor(s) then decide if he wants to reenter politics." — Maureen M., South Boston
"He is not acceptable to the current RNC leadership. So if he wants federal experience he should get a government job on Joe Biden's cabinet just to add knowledge of the fine points of procedures in the federal government, and get known by a lot more people. If he's not interested then he could return to the private sector." — Chuck, Everett
"I think he should wait until at least 2028 to run in hopes that 'Trump fever' may have broken by then. Perhaps moderates will come back in style by then… one can always hope!" — C. Knight, West Newbury
Boston.com occasionally interacts with readers by conducting informal polls and surveys. These results should be read as an unscientific gauge of readers' opinion.