Readers Say
More than 500 readers voted: Here's why they want happy hour back.
"Almost every other state has it and they manage to keep it in check, certainly we can too!"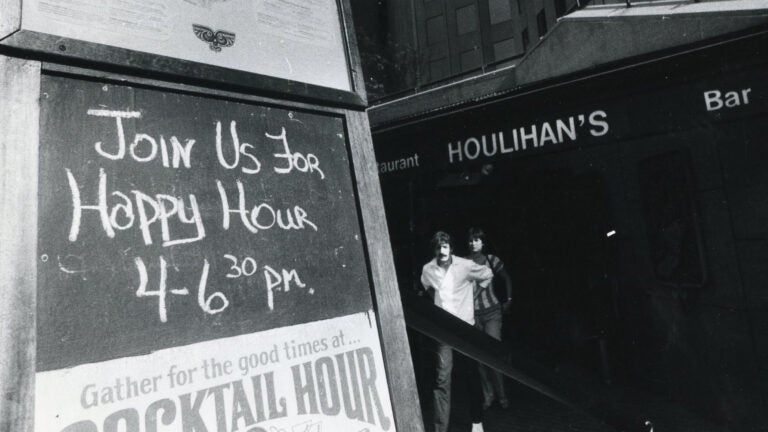 The majority of Boston.com readers want to socialize after a long day of work with a discounted happy-hour drink, and some Massachusetts lawmakers hope to make that possible sometime soon.
Happy hour has been banned in the state for the last 40 years, but a new amendment to the economic development bill aims to remove that restriction. The ban was initially put into place in an attempt to lower the high number of drunken driving accidents. Since then, drunken driving incidents have decreased and Massachusetts has some of the lowest rates in the country.
But readers say times have changed, and happy hour should be reinstated. Between the broader public knowledge about the dangers of driving under the influence and access to ride-sharing services like Uber and Lyft, readers make the argument that the benefits of happy hour will outweigh the potential risks.
We asked readers if they were in favor of the state allowing bars and restaurants to offer after-work drink specials. As with other polls on this debate, most people who responded said they wanted happy hour discounts to come back to Massachusetts.
"Walking around the city between Monday and Thursday, it's clear COVID policy has absolutely killed the city in the early part of the week. Anything and everything should be done to draw companies and young people back into the city," Steve B. said. "Have some faith in people to control themselves. Let's get businesses and tourists back into the city before Boston becomes a ghost town. An active downtown on Fridays and Saturdays is NOT enough to keep businesses thriving. Wake up Boston!"
Do you think Massachusetts should bring back happy hour?
Yes
No
Ahead, you'll find a selection of reader responses from people on both sides of the debate on why they think happy hour should return or the ban should stay as it is.
Some entries may be edited for length and clarity.
Do you think Massachusetts should bring back happy hour?
Yes
"Almost every other state has it and they manage to keep it in check, certainly we can too! People said the same thing about legalizing marijuana, that somehow it would lead to the downfall of modern society, and here we are, getting by just fine. People will utilize ride-share services and public transportation 99% of the time after happy hour, so the naysayers need to calm down. Let the restaurants and bars get more money, being as they suffered so much the last few years! This is a cheap way for them to gain more business. They can and will cut off anyone they feel is over-served." — Griffin, Woburn
"Massachusetts residents are as responsible as those in other states. It is not the job of the legislature to tell people how to live their lives. Depriving responsible people of an opportunity because 'they' know better is just wrong." — John P., Walpole
"It's a neutral idea. Lower-priced drinks at a typical happy hour are from 4 p.m. to 5 p.m. It's pre-dinner. The real concern in Boston is obnoxious noise after midnight. If Boston had a happy hour but also enforced noise regulations (50 decibels) and required clubs to build in soundproofing, we could have both a happy hour and a nightlife." — Dee, Allston
"While I live in Massachusetts, I work for an out-of-state company headquartered in Cleveland, Ohio. When visiting the corporate headquarters, I'll often join a group of coworkers for happy hour drink specials after work. None of us take advantage of the happy hour to drink more than our fair share. We just look at it as a great way to connect after work hours. I think (or hope!) that most Massachusetts residents would approach the return of happy hour in a similar fashion." — Chris N., South Yarmouth
"Anything that will help businesses stay open is a good idea. A lot of the bans in this state are too prohibitive and dated. This is silly. I liken it to the ridiculous menthol tobacco products ban, where we sent so much excise tax funds to Rhode Island which is making a killing selling these products." — Mary, Fall River
"Are we still having this debate? It feels like a vast majority of people are in favor of happy hour. I understand the history and why happy hour was banned, but we can learn from that. Maybe hold bars accountable to ensure that they are not overserving. And maybe put limits on the types of deals that can be offered. But in general, YES happy hour needs to return. It's one of my favorite things to do when visiting DC, NYC, or Philly. Happy hour brings friends and co-workers together to de-stress after a long day at work." — Andrew A., Brighton
No
"First of all, any kind of binge drinking will certainly see an increase in drunken driving, most likely with an increase in accidents, injuries, deaths, and damages. It actually encourages people to drive somewhere, in some cases somewhere they might not otherwise go, in order to get intoxicated. Binge drinking is also not healthy at all, so there's that to consider. It seems to try to encourage packed bars and partying at the expense of all else when the message everyone has heard for years is to drink responsibly." — Mike G., Bourne
"This encourages irresponsible alcohol consumption. Happy hours were stopped because of public outcry over horrendous fatal accidents in the past. A lot of innocent people were killed. Bringing back happy hour is a senseless and rotten idea. It would be a major step backward. I see no benefit for the community in promoting 'discount drinking.' This is an engraved invitation to drink irresponsibly. Good for the bar owner's bottom line, but not so good for the families of drunk driving victims who will not be receiving discounts at the funeral home." — Mark S., Dorchester
"If you were alive when happy hour was around, you would not want it back. It was fun, but it resulted in a lot of drunk driving. Times have changed, but people still drink and drive. Discounting drinks encourages more drinking in a shorter amount of time since happy hour doesn't go all night. It will result in more drunk driving, crashes, injuries, and deaths. Is that worth it?" — Christine W., Quincy
"As a bar/restaurant operator for over a decade, all drink specials do is encourage binge drinking. I think the city/state and individual owners and operators of venues need to look at less detrimental ways to make Boston's nightlife more appealing. Food discounts, lower cover charges, less aggressive bouncers, and security are all changes that bar and restaurant owners can make to increase the quality of experience for customers. On the city/state side, consider keeping public transit open later, loosening up on entertainment and music licensing, and stop making it so expensive to have outdoor space!" — Daniel, Charlestown
Boston.com occasionally interacts with readers by conducting informal polls and surveys. These results should be read as an unscientific gauge of readers' opinion.