Readers Say
As the mayor pushes for rent control, readers are split on its return
Boston renters and landlords weigh in on Mayor Michelle Wu's rent control proposal.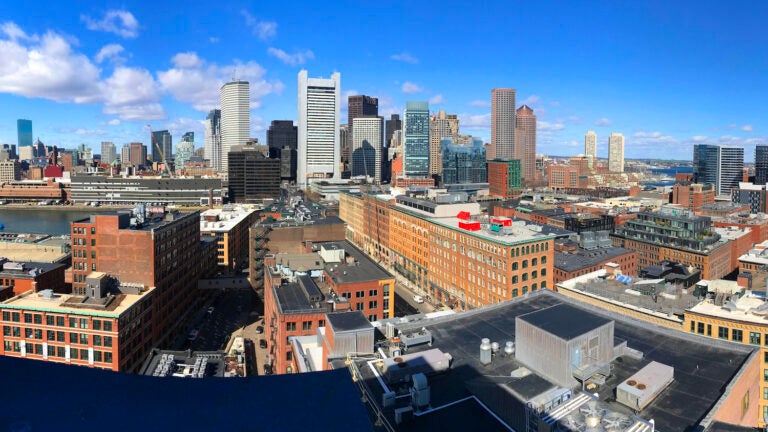 Rents have skyrocketed in Boston in recent years and Mayor Michelle Wu is pushing to bring rent control back to the city as part of the solution. Voters in Massachusetts banned rent control in a 1994 ballot measure, but in the decades since median rent prices have ballooned, and the mayor argues something has to make Boston more affordable for its residents.
We asked Boston.com readers how they felt about rent control returning to the Boston rental market and nearly 500 readers were split on the issue. Those against the proposal had a slight majority, with 51% of the vote, while those in favor made up 49% percent of the vote.
The most common reason readers gave for being against rent control or stabilization was that it would impede development in the city and encourage landlords to neglect their properties. The mayor's proposal would cap rent increases at 10% or 6% more than the Consumer Price Index, whichever number was lower in a given year.
"Rent control leads to a drastically lower quality of life. If landlords don't make money, they don't take care of the properties. Promoting the idea is only self-serving for the politicians that won't have to clean up the mess in the future when in reality it's self-inflicted by their policy," Aaron D., a renter in Brighton, told Boston.com. "They intentionally hinder building new housing with extensively long "processing time" and arbitrary limits. Lift limits, build more housing, and prices will drop. Supply and demand. Basic economics."
These fears have been echoed by landlords in the city, who worry that Wu's policy is a "slippery slope" toward more regulation that will negatively impact small landlords and developers alike.
"Landlords are going to get crushed," Douglas Quattrochi, executive director of MassLandlords, an advocacy group that represents property owners, told the Boston Globe. "And when you crush landlords, all you're doing is making our housing issues worse."
Wu, however, has pushed back against these concerns. In an interview on WBUR's "Radio Boston," the mayor said her proposal was specifically designed to block the city's most severe rent hikes.
"If other people have a better solution, put it forward," she added. "I am eager and ready to talk about and analyze and partner on anything else. But it cannot be this or nothing. Let's talk about this or something else — this or your solution. Our residents can't afford for nothing to happen."
Boston City Council has approved the mayor's plan but the proposal will also need approval from the state Legislature and the governor to become law. As a home rule petition, it will also need a second approval from the City Council if state lawmakers make any significant changes.
Several of our readers shared how crushing rents in Boston have impacted their ability to build up savings or live comfortably in the city.
"I'm a single mom whose income supports my elderly mother and my daughter. The rent for our 1 bedroom apartment is $3,500. My previous apartment was a 2 bed, 2 bath for which I paid $3,600. However, my rent was going to increase to $4,400 a month at the end of my lease. I enjoy living in Boston but the cost of living is astronomical. I make $116,000 a year as a nurse, however, I live paycheck to paycheck. Almost anywhere else in the U.S. my income would be enough to afford a decent place. Rent control would afford my family some breathing room every month and allow me to save money," said Caitlin C., a renter in Boston's West End neighborhood.
Below you'll find responses from Boston renters, landlords, and homeowners sharing their thoughts on rent stabilization returning to Boston, including some more policy moves they think Mayor Wu should pursue to make the city more affordable.
Do you think Boston should have rent control policies in place?
Which of the following describes you?
Responses have been lightly edited for length and clarity.
Do you think Boston should have rent control policies in place?
No
"Fear of paying bills, taxes, mortgage, insurance, utilities, and repairs. I would rather have the market determine rents. Where have these people been? Why haven't they been working on building more housing since the 1970s? Rent control did not work then and it won't work now. The people who need to be protected from high rents get put aside while the privileged find the best apartments and sit there while owning another property and living on the cheap." — Joanna G., Boston, landlord
"Buildings are already falling apart with landlords doing the bare minimum. The removal of the broker fee would be more helpful given how expensive the upfront costs are to move." — Rebecca, Beacon Hill, renter
"Rent control will do nothing but exacerbate the housing shortage that Boston is experiencing. Developers will be less likely to build since it will be more difficult for them to see a return on their investment. Current renters will be less likely to move since they would not want to lose the under-market rent that they are enjoying. This will result in fewer units available citywide for prospective renters. It is truly mind-boggling that anyone thinks that the answer to lower rents is anything other than increasing supply." — Mike, Brighton, renter
"It failed already as a policy and just worsens shortages. Instead, we need less restrictive zoning and nimbyism when it comes to new residential development." — Jason, Westport, renter
"Being a landlord isn't cheap. After paying for taxes, fees, maintenance, snow removal, and repairs you'll be lucky just to break even. Mayor Wu needs to stop pursuing rent control and do more to make living in Boston overall more affordable. Like lowering city-mandated fees, traffic tickets, city licenses, and property taxes." — Jerome D., Dorchester, landlord
"The problem is twofold. One is the supply of affordable housing. The other has been the development of luxury apartments over the past decade that have significantly increased the median rent prices in Boston. I would prefer the city implement incentivizing the development of more subsidized or affordable housing and slowing or de-incentivizing the development of any further luxury apartments. In the end, I don't believe it should be in the Mayor's purview to regulate or enforce the rent in Boston. Even though it sounds great on paper, it will be devastating and counterproductive in the long run." — Leonid S., Roxbury, renter
Yes
"It's desperately needed. I make good money, but I'm still living paycheck to paycheck. I went from living 9 miles from Boston, paying $1,350 a month plus utilities and laundry for eight or nine years to Back Bay. I'm now paying $3,400 a month. I needed to be close to my job, but the stress of the money is brutal and I wonder if it's worth it. I handed over almost $20,000 to get my place. On paper, I'm doing great, but I have nothing to show for it because it's all going to rent." — Joce, Boston, renter
"I wholeheartedly support rent control, and feel that Mayor Wu's proposal is too moderate and doesn't go far enough to help residents struggling to afford rent and maintain stable housing, which should be a right, not a privilege. People continue getting priced out of Boston and the surrounding region, and it is a huge problem for everyone." — Jamie T., Brighton, renter
"I'm 73 and still working. I can foresee problems when I retire and try to rent on a fixed income. I want to live in the city, with transit and good medical services, but I don't have enough savings to buy. So rent stability is crucial to my future." — David W., Brighton, renter
"It's insanely expensive and at this point just plain greedy. There is no reason that paying over $1,200 a month should mean that you have to have roommates or that you need to make over $70,000 a year to comfortably afford your own kitchen. Most of the housing in the area isn't even worth that much, it's just landlords being greedy and fleecing people because they can." — Kristin, Brookline, renter
"Rental prices are exorbitant, and getting worse by the year. Despite a very competitive income, it becomes harder and harder to continue to pay and receive so little back in return. There's zero equity, and no opportunity to save in order to someday buy a house or condo. At least rent control could give us a fighting chance, instead of being hit with arbitrary increases annually, despite zero upgrades or services being provided." — Scott, Allston, renter
"Housing is a right! We need housing to be affordable so working people can remain in the city. We need a city that works for working-class people and frontline workers. It makes no sense that people who work hard can't afford to raise a family in the city. We do not want to be a city of the ultra-wealthy, where working-class people can no longer afford it." — Enid E., Jamaica Plain, homeowner
Boston.com occasionally interacts with readers by conducting informal polls and surveys. These results should be read as an unscientific gauge of readers' opinion.
Address Newsletter
Our weekly digest on buying, selling, and design, with expert advice and insider neighborhood knowledge.