Readers Say
Israel-Hamas war and its repercussions has 'devastated' readers
Readers share their feelings of devastation, loss, and shock at the brutality of the violence.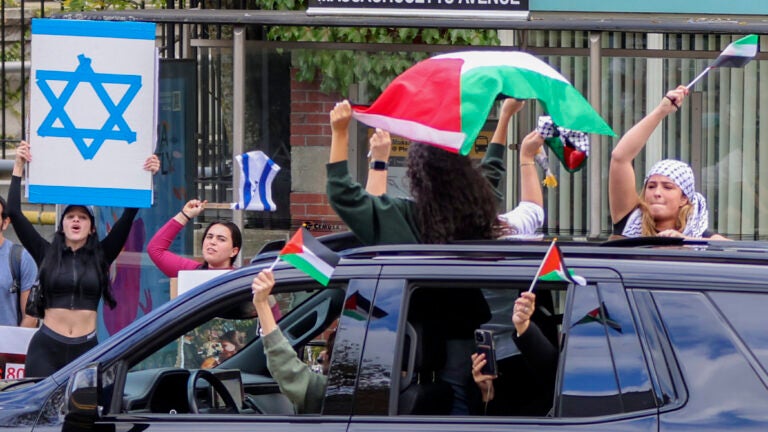 The reverberations of the Hamas attack in Israel on Oct. 7 and the subsequent bombardment of Gaza have been felt deeply across Massachusetts.
The attack by the terrorist group killed around 1,200 people in Israel, with about 240 people taken hostage. In the weeks since that attack, Israel's bombing of Gaza has killed more than 11,000 Palestinians since the war began, according to the Gaza Health Ministry. Another 2,650 people have been reported missing.
When we asked our readers how they've been impacted by the war, many told us about their feelings of devastation, loss, and shock at the brutality of the violence.
"The brutal massacre by Hamas at the festival and subsequent executions of those fleeing for safety was terrorism and hate it its lowest form of life," Brian F. from Sudbury said.
"The continued bombing of Gaza by Israel has taken the lives of civilian Palestinian women, children, and men in retaliation has already taken its toll in the blood of innocents who are not supporters of Hamas. Enough is enough," Brian added.
For Edward H. from Marion, who told Boston.com he has friends in Israel, the Oct. 7 attack hits close to home.
"[I'm] very concerned about their safety," he said. "[And I] hope for the safety of the mass of Palestinian civilians."
Worsening antisemitism and Islamophobia
Many readers also told us about their fears of growing antisemitism across the country and in their community (the majority of the 38 readers who responded to our survey self-identified as Jewish).
"I feel horrible. I feel devastated," Mark Leykin, a Boston.com reader from Needham said in an interview regarding the Hamas terrorist attack and its aftermath.
As a refugee from the USSR, who "came to this country as a refugee from antisemitism," Leykin said the increase in anti-semitism since he arrived in the U.S. in 1989 has been "horrifying."
"We believed that this country was free of hate towards Jews, that antisemitism was not a problem in the United States. But now I see it is a big-time problem, and it's really devastating. It's only been 30 years since I came here, and it's a dramatic shift," he said.
The Anti-Defamation League reported that between Oct. 7-23, there has been a 388% increase in antisemitism in America over the same period last year.
Leykin said he was "disgusted by the reaction of fellow Americans to the massacre of innocent people," referencing pro-Palestinian, anti-Israel protests held across college campuses.
"All these people standing around these universities and screaming. Do they understand what they're screaming for?" he said.
For Palestinian and Muslim communities in Massachusetts, this has also been a time of harassment, xenophobia, and increased Islamophobia.
Tahirah Amatul-Wadud, the executive director for the Massachusetts chapter of the Council on American-Islamic Relations (CAIR-Massachusetts) told Boston.com that in the weeks since Oct. 7, her agency has seen an uptick of 366% in Islamophobic calls to her office.
"The nature of the complaints [is] unprecedented, not just in their number but in their nature," she said.
Amatul-Wadud said the agency has received calls about threats of violence, school bullying, and doxxing.
"The primary crisis right now is Muslim children and students, as well as employees, who've been retaliated against by their employers or schools for speaking in favor of Palestine or in favor of peace, if it looks different than what the employer or the school district has defined as acceptable political speech," Amatul-Wadud said.
Within the workplace, Amatul-Wadud said she has advised people who have complained of retaliation that they are protected from being adversely treated by their employer on the basis of religious identity, ethnicity, or national origin under Massachusetts Statute 151B.
But, she notes, within the workplace, freedom of speech and expression is not absolute.
"We've advised people to do their best to comply with whatever the code of conduct standards are in their places of employment and to know what is acceptable speech in their places of employment," she said.
For students who have complained of retaliation, she said it is important that schools foster an environment where discussions and disagreements are welcomed.
"The nature of the institutions we have here in Massachusetts warrant the right to have zealous and vibrant conversations, even where there's disagreement," she said. "It's very important that we don't stifle students with dissenting opinions."
With a quickly changing environment, where the emergency today might not be the emergency tomorrow, Amatul-Wadud said it is important to treat each other with respect.
"It's important for us to remember civility and kindness and tolerance as all of us navigate a very difficult political atmosphere and geopolitical atmosphere," she said.
Calls for a ceasefire
Peter Perlmutter, a resident of Lynnfield who self-identified as a third-generation American Jew of Ashkenazi heritage, told Boston.com he has spoken with his family in Israel. While he's thankful they're safe, he said he can't ignore the fact "there are thousands of families that are hurting beyond belief," including Palestinians.
"I feel so bad for them, I do. I feel as bad [for them] as I feel for the Israeli civilians who were killed and butchered and made hostages," he said.
The pain of violence and loss is felt deeply by Dr. Yamila Hussein-Shannan, an activist, olive farmer, and former Boston College adjunct faculty, who currently lives in the West Bank. She told Boston.com that life since the Oct. 7 attack has been "a daily torment."
Hussein-Shannan said she wakes up in the morning — "that's assuming I manage to sleep" — and cries for her people and her land, before heading to work in the olive groves. One of the things she said she's struggled with most has been "holding onto her humanity."
"I cannot lose my humanity," she said. "I want to assume that I'm gonna survive this genocide and I want to assume that as a survivor of the genocide, I can be a voice of conscience."
She said what's happening in Gaza — "the murder of innocent people, of children and women and men and elders and people with disabilities" — needs to be named.
"It's the destruction of life…There are some people who have said, 'Well, it's not exactly [genocide],' but I don't care. I am not a court of justice. I am a court of humanity, and in the court of humanity, this is genocide."
Despite his sympathy for the loss of life, Perlmutter does not support calls for a ceasefire, nor does he believe it will be effective. Calls for a ceasefire have led to protests in Boston and other major cities across the country, but nationwide, 40% of Americans believe Israel's military response in the Gaza Strip has gone too far, according to a recent AP-NORC poll.
"A ceasefire at this point would benefit Hamas," he said. "There is nothing I would want to do to benefit Hamas."
But Nathan Thrall, an American journalist and former director of the Arab-Israeli Project at the International Crisis Group disagreed. A cease-fire is the only way to end the mass killing of innocent people, he argued.
"Many things can be discussed once you have a ceasefire, including very long-term and long-distance proposals for a confederation, or a two-state solution, or what have you," Thrall said. "But that idea is very far from being implemented."
But such a position has been fraught for Thrall, who is Jewish and lives in Jerusalem. He told The Guardian that being a Jewish critic of Israel can be "very lonely," and he told Boston.com his criticism of Israel and sympathy for Palestinians has had a direct impact on his life as an author.
Thrall was on a book tour for his recently published book, "A Day In The Life of Abed Salama: A Jerusalem Tragedy, when the Oct. 7 attack occurred. Since the attack, he said book tour events in five cities have been canceled, ads for his book have been pulled from national radio stations, and he has been asked not to voice sympathy for Palestinians.
"There is an atmosphere of total intolerance for any kind of sympathy with Palestinians living under occupation since Oct. 7," he said.
Reader Peter H. from Weston, who self-identified as a first-generation German Jew, said he was "devastated" by the violence on both sides.
"[I] can't stand the loss of life. First the Israelis and now innocent Gazans," he said. "All hostages should be immediately released."