Readers Say
Have you ever heard of a 'spuckie'? Here's what more than 300 readers said.
"I knew it was unique to us and remember loving the word and the spuckie itself."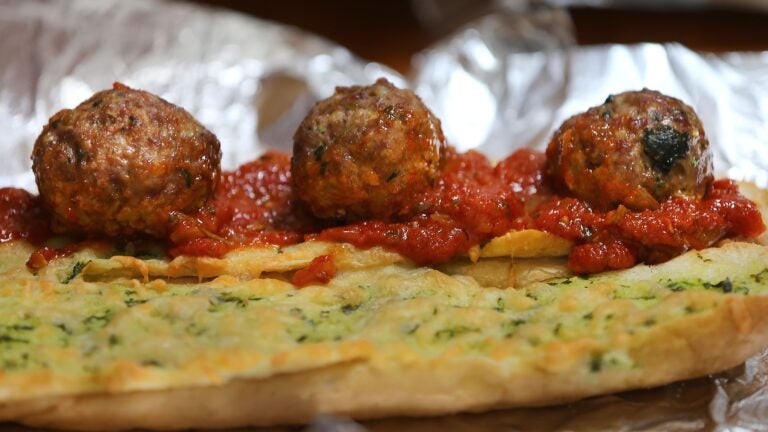 Naming a sandwich can be quite controversial.
The word "spuckie" is a Boston-specific name for a sub sandwich, joining the likes of "hero" in New York City and "hoagie" in Philadelphia. However, it appears the term spuckie may be disappearing. After a recent Wickedpedia article looking at the word's history, many readers took to social media, sharing they'd never heard it before.
"I have never heard of that and I have lived in Boston for over 60 years," wrote one of the hundreds of commenters on a Facebook post.
We posed the question to readers: Have they heard of the word spuckie? It turns out that most haven't, with about 55% of the 368 readers who responded voting no.
Have you ever heard of and/or used the term "spuckie" for a sub?
Many of the readers shared similar sentiments to those on Facebook, saying they've lived in the area for decades and haven't heard the word.
"Over 55 years, never heard it used by a local. I thought it was something people in Philly ate," said reader JK from Danvers.
"60 years in Boston and MetroWest, never heard of it," said reader Woody from Arlington.
About 45% of readers who responded have heard of a spuckie, however. For some of these readers, such as Deborah T. who grew up in Dorchester, they heard the term while growing up in a neighborhood of Boston.
"Growing up in Dorchester in the 60s, 'spuckie' was what we called a sub," she said. "Family in the suburbs didn't and I knew it was unique to us and remember loving the word and the spuckie itself."
Other readers, such as Beth J. from Weston, said they hadn't learned the word from growing up in Boston, but from older family members who had lived in the area. For Beth J., she learned it from her grandmother who resided in East Boston.
"My grandmother lived in East Boston, 1930s to 1990s," she said. "There was a bakery on the corner of Princeton [Street] and I think Putnam [Street]. When I was little (like 6!), she would send me to the corner to get a spuckie. She called torpedo shaped bread a spuckie. She would then use the spuckie to make me a sandwich. She just called [it] a sandwich. Made with a spuckie."
A few of these readers acknowledged they'd used other names for subs, such as Lisa C. from South Boston, who said when a sub is served hot, she says grinder instead of spuckie.
Below, we've compiled a list of Boston neighborhoods and surrounding towns readers identified as the place they'd heard the word spuckie.
Where readers have heard of a spuckie:
Boston

Brighton
Charlestown
Dorchester
East Boston
Jamaica Plain
Mission Hill
North End
Roslindale
Roxbury
South Boston

Brookline
Chelsea
East Cambridge
Everett
Quincy
Revere
Somerville
South Shore
Boston.com Today
Sign up to receive the latest headlines in your inbox each morning.