Readers Say
Readers share their reactions to Hollywood writers' strike
"I wish the writers success, and support their strike. Union strong," said a Boson.com reader.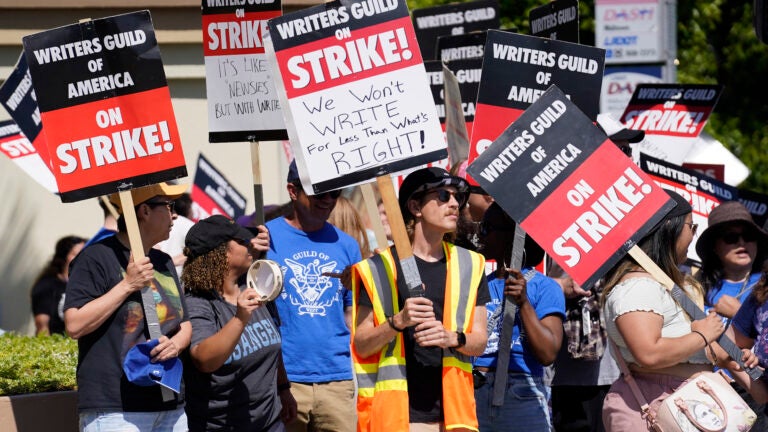 Writers have thrown down their pens and picked up picket signs for higher wages, more writers per show, and shorter exclusive contracts. Multiple shows have been impacted by the Writers Guild of America strike, including late-night talk shows.
We asked readers for their favorite show that has been impacted, and if they had any reaction to the Hollywood writers' strike. The majority of the 50 readers who responded to our poll said that their favorite shows impacted are "Abbott Elementary" Season 3, late-night talk shows, "Saturday Night Live" Season 48, and "Stranger Things" Season 5.
Melissa L. in Ipswich said her favorite shows impacted include "Cobra Kai" and "Stranger Things." "[I]t's their final seasons and I need my closure," she said.
Other respondents said they were made unaffected by, but supportive of the strike.
"I wish the writers success, and support their strike. Union strong," said a Boson.com reader.
The 11,500 writers from the Writer's Guild of America went on strike for the first time in 15 years on May 2 after months of negotiations between the WGA and major studios failed to produce a new contract. The strike is mainly seeking to address issues brought on by the industry's shift to streaming, specifically around higher pay and better working conditions for writers.
Streaming services use fewer staff, or mini rooms, for television series that have limited episodes making reliable income for writers harder to come by. And with the rise of streaming, more writers regardless of experience are working at minimum rates than they did ten years ago, according to the Guild.
Daniel Weidknecht, who is a member of the Writers Guild of America and teaches film at Suffolk University and Boston University, participated in the vote to approve the strike authorization vote last month. More than 90 percent of WGA members voted in favor of the strike. He told Boston.com the work stoppage means writers are not only picketing, but cannot write anything that could be later sold or used.
"You need to dry up the pipeline for the companies which means that you don't continue writing," he said.
As part of the WGA strike, writers agree to stop feeding the "pipeline," with the knowledge that going back on their agreement could result in an expulsion from the Guild, according to Weidknecht.
Today's advanced technologies such as AI and streaming platforms has changed the way film writers' work is done. Weidknecht explained that pay structures are based on practices that are no longer in place today.
"There's no such thing as a 24-episode season anymore. They still pay you the same per episode, but there's only six episodes per season now," said Weidknecht.
Many contracts also block writers from working on a different show at the same time, which does not allow writers to make a sustainable living. That is why writers are asking for a living wage and shorter exclusive contracts.
Weidknecht said there are a number of productions that film in Massachusetts and if we don't have writers, there will be nothing to shoot here.
"It is highly technical, skilled work that should be compensated justly," he said.
Reader submissions have been lightly edited for clarity or grammar.
What readers say about the WGA strike:
TV Show: "Abbott Elementary" Season 3

"I love 'Abbot Elementary' because it shows the real lives and struggles of teachers. I think people don't realize that teachers are making a better living than WGA television writers. What used to be a livable salary has shrunk down from working 30 weeks on over 20 episodes and through production to Netflix's model of writing in a mini-room and just having 8 episodes. Writers are working just a few weeks and then have to struggle to find another job, it's turning into a gig economy. It's not a sustainable career anymore. One of the writers on the Emmy-nominated 'The Bear' had trouble making rent. Meanwhile executives are raking in millions. "

-Amy, Weston
TV Show: "Abbott Elementary" Season 3

"This show is funny and smart. I love the dynamic of the characters and its just great entertainment after a long week. I would be sad to not be able to watch another season."

-Jill B., Weymouth
TV Show: "Saturday Night Live" Season 48

"It has been the comedy standard for almost 50 years. I know the present [cast] will not all return and it means that those who are leaving will not get the traditional last show send off. The producers should give the writers a fairer contract. "

-David B., Cape Cod
TV Show: Late-night talk shows

"I record Colbert and watch it every morning it's on. I like to start my day laughing. I hope the writers are successful in obtaining everything they ask for."

-Veronica D., Waltham
TV Show: Late-night talk shows

"Shows can be a relaxing and interesting way to end the day. I support the writers strike!"

-Naomi M.
TV Show: None

"I don't watch any of these shows, but I understand the writers' challenges and sympathize."

-A Boston.com reader
TV Show: None

"I don't anticipate having any trouble ignoring this until the conflict is resolved. The wealth of entertainment options in the 21st century is really quite vast."

-Bucyrus E., Attleboro
All the show impacted by the WGA strike that readers voted on:
"A Knight Of The Seven Kingdoms: The Hedge Knight"
"Abbott Elementary" Season 3
"Big Mouth" Final Season
"Billions" Season 7
"Blade"
"Cobra Kai" Final Season
"House of the Dragon" Season 2
Late-night talk shows
"Saturday Night Live" Season 48
"Severance" Season 2
"Stranger Things" Final Season
"The Rings of Power" Season 2
"Yellowjackets" Season 3
Need weekend plans?
The best things to do around the city, delivered to your inbox.