Readers Say
'Another learning year': What the dining scene will look like in 2023
We asked readers and industry professionals for their predictions and hopes for Boston's restaurant scene this year.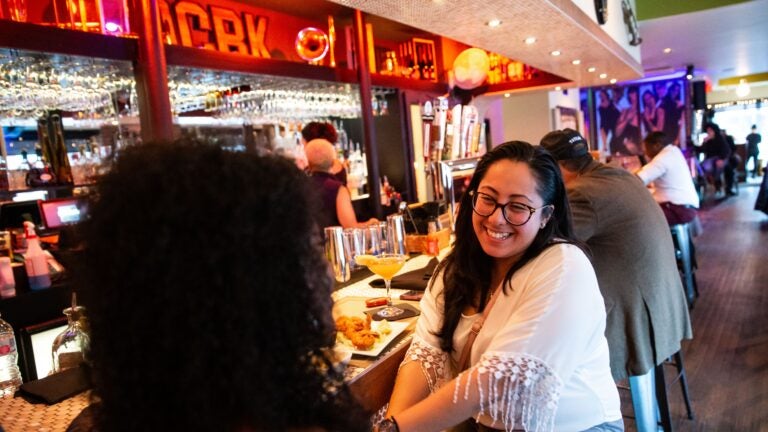 Forging ahead through this new year, we're emerging from some of the hardest days of the pandemic and seeing a possible economic recession looming over us. In 2023, many are wondering what this could mean for the restaurant industry, a sector that has had to pivot and innovate in order to survive. While the dining world must navigate an environment that is constantly changing, industry professionals are anticipating that this year will be one of creativity and growth.
We recently asked industry professionals and readers for their hopes and predictions for the 2023 restaurant scene, and we heard a few key themes. Nia Grace, owner of Darryl's Corner Bar and Kitchen and The Underground Cafe + Lounge, said that she thinks this will be "another learning year" – a time to put our thinking caps back on.
"We almost got comfortable again, in the last year. This will just continue to make us be more creative and get uncomfortable," Grace told Boston.com. She added that 2023 "is going to be back to the year of throwing it all against the wall [and seeing] what sticks, because we might not have that out of the box success [like in 2022], when we were feeling like we were getting back to our normal space."
The National Restaurant Association released a report in November that outlined 2023 trends we can expect to see in the industry. These included restaurant experiences, celebratory and culinary forms of exploration. While the recession is a concern, Grace believes many customers are hungry for live music and other cultural elements being part of their dining. Restaurants streamlining their menus and focusing on best sellers will be another trend, the report shared.
Irene Li, owner of Mei Mei, said that this year, she believes more pop-ups will go brick and mortar, predicting that the restaurant scene is "fertile ground" for growth. We may also see more collaborations, or "stores within stores," like Carolicious, an arepa shop within Aeronaut Brewing Company in Somerville. Dining may continue to be formatted differently, like in the case of Cafe Sushi, which stopped being a sit down restaurant in 2020 and now only offers takeout and delivery, in addition to its newly opened Cafe Sushi Shoten, a grab-and-go sushi and saki shop.
Hospitality publicist Nicole Russo thinks the fast casual trend will pick up. Eateries like ButterBird, slated to open in May, and takeout spot Johnny Pomodoro, which recently opened in Charlestown, will continue to emerge this year, and customers may be eager to get well-prepared meals on the go. Outdoor dining will continue to be an important part of the restaurant scene.
Below, you can find some key predictions that readers and industry professionals believe will play out in the dining scene this year, as well as their hopes for change. A majority of readers polled still want to bring back happy hour, while many industry professionals foresee restaurants continuing to pivot to survive. The labor shortage and improving pay for workers remains an area of focus for readers and industry professionals. Many are hoping to see more diverse dining options, from BIPOC-led businesses to Southeast Asian cuisine in Eastie. Whatever 2023 may bring, we're ready for the journey.
What's the biggest topic that you'd like to see addressed in the Boston restaurant industry?
Food and drink costs
Labor shortage
Liveable wages for staff
More diversity of cuisines offered
More government support
Bring back happy hour
Other
Many still want happy hour back, expanded liquor licensing
The topic that a majority of respondents (29%) wanted to see addressed this year is happy hour, which many believe should be brought back to Boston. Last August, we polled more than 500 readers on the issue following the Mass. House passing an amendment to the economic development bill that would remove the restriction. A majority of readers wanted to bring happy hour back. However, then-governor Charlie Baker stated publicly that he would "be hard pressed to support changing it" if it reached his desk. While happy hour has been banned in Massachusetts for the past 40 years, some feel bringing it back would help businesses recover from COVID.
An anonymous reader said they would like to see the "re-institution of happy hour, like other states."
"I think happy hour is fine," Li said. She added that she is more concerned with reforming liquor license laws in Boston. There is a limited number of licenses available for businesses, and frequently places can't afford the cost of one. "There are many, many restaurants, especially casual and immigrant-owned restaurants, that don't have access to liquor or beer and wine revenue," she said.
Last year, Mass. voted "no" on Question 3, which proposed an increase in the maximum number of licenses a company or retailer could hold. When we asked Boston.com readers how they felt about the ballot question, 75% said that they would vote "yes" on this expansion.
Restaurants will continue to pivot out of necessity
In 2022, restaurants struggled with economic fallout from the pandemic, which led to high food and labor costs. With a recession looming ahead, these factors will continue to create hardships for businesses, and both industry professionals and readers said that the cost of operating a restaurant has become a challenge. That condition may leave many restaurants faced with a decision to pivot or close this year.
Rising food costs will still be a problem, which could lead to prices on menus going up, Li said. "Things are going to cost more, and we're all going to have to decide if we're willing to pay it," she added. Some will choose to go out to eat less, while others will reallocate their dollars to the businesses they wish to support, she said.
If we head into a recession, Grace said that she sees its impact playing out in the restaurant industry in two ways.
"Takeout is going to be something that is still pretty big, where we want the food, but we don't necessarily want the expense of sitting, dining, tipping, etc.," she said. "I think concepts might have to change. Service models might have to change." For example, Grace said restaurants may decide to do counter service or use their spaces for different functions, like catering operations.
We will continue to see restaurant closures, she said, both from older restaurants that have decided it's finally time for them to close, as well as from younger restaurants that opened before the pandemic, only to find that the fight got too hard.
Russo said that she anticipates more pivoting, like the way that chef and restaurant owner Michael Serpa closed down Grand Tour to open Little Whale Oyster Bar in the same space, changing his concept.
Grace said that she sees the cost of operating a restaurant becoming an unsustainable endeavor. Landlords who may have given businesses a reprieve during the pandemic are asking restaurants to pay back what they owe now.
Reader Keenan L. from Salem shared his story of opening a small counter service restaurant in 2019 and finding the overhead cost to be almost unprofitable.
"The differences in costs and permits and hoops in opening a food service compared to retail was astounding!" he wrote. "The reality is the cost to produce food is way more than the public wants to accept and pay for."
Labor shortages will continue, but so will interest in unionization
The labor shortage, another form of fallout from the pandemic, will remain an issue. Russo explained that during COVID, restaurants shut down, and workers needed to find new jobs, never coming back. Grace added that many people left the industry because of the difficult hours, environments that can sometimes be unhealthy, and the strain that the work puts on people's bodies. "Nobody is willing to work for low wages or bad jobs anymore. Better opportunities out there," a reader who identified as Ghost said.
Li said that while there will still be problems with staffing, there will also be continued interest in unions. She would like to see more forms of transparency in the workplace, like open book management, that would empower workers.
The Boston area has seen an increase in unionization efforts from local coffee shops in recent years.
"In a lot of ways, COVID showed all of us—whether we're workers or owners—how powerless we are," she said. "I think that unions and other kinds of organizing have been a response to that. Workers don't want to live with so little power." She added that bringing on worker owners and creating cooperatives, will continue to be part of the conversation.
Tipping structure needs to improve
Li said that she would like to see tipping culture change in Massachusetts.
"[Tipping] is changing. I'm hoping that at the legislative levels, we will see more changes to wage structures," Li said.
Currently, tipped workers can be paid subminimum wage, which was recently raised to $6.75 an hour, as long as the tips they collect will bring their earnings up to at least $15 an hour. Li would like to see the demands of One Fair Wage brought into practice. OFW is a national coalition, campaign, and organization that advocates for service workers to earn non-discriminatory tips on top of a full minimum wage from their employers. Senator Pat Jehlen is currently championing a bill, which would enact One Fair Wage legislation in Mass., phasing out the subminimum wage for tipped workers by 2027.
An anonymous reader told us that they would like to see the tipping structure improve, because it does not benefit diners. The reader wrote, "why should I have to pay 20-30% tip so that restaurant owners can avoid providing a livable wage?"
Diversity of cuisine
Russo said that she is hopeful that this year, we will see new flavors and different kinds of ethnic cuisine emerge on the food scene. Reader Anne told us that she would like to see more global representation within the Boston dining world. "I live in East Boston, and I am [hoping] for a more robust restaurant scene," she said. "I'd love to include better Asian and Southeast Asian food in this neighborhood!"
Grace added that we are observing more BIPOC individuals getting licenses and creating profitable concepts, something that she feels makes a city exciting.
"For a world class city, like we are, to keep expanding our culinary palate, it's amazing," she said. "At one point in time, you could count on there being a great Italian area …. and great seafood, and that's what you would have. But now we're getting so much more culturally diverse in the cuisine."
Sign up for The Dish
Stay up to date on the latest food news from Boston.com.