Readers Say
Readers want Joe Mazzulla gone from the Celtics but are unsure on Jaylen Brown
Seventy-five percent of respondents want a new head coach.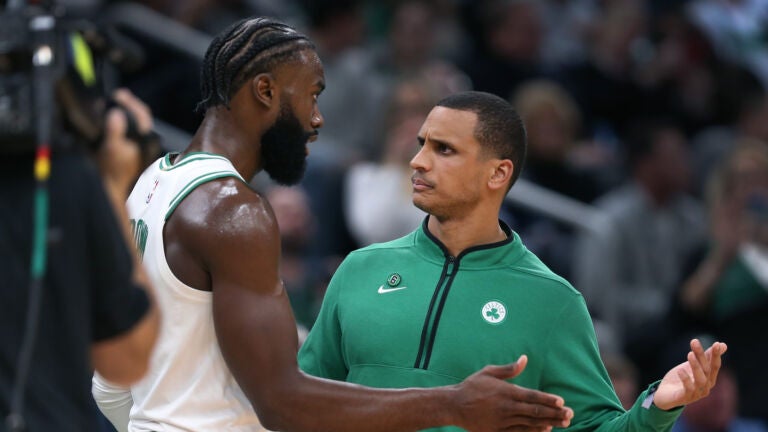 On Tuesday, Boston.com readers were polled about two major decisions the Celtics are facing this summer following their Game 7 loss to the Heat in the Eastern Conference Finals.
The first question asked readers if they wanted Joe Mazzulla back as Boston's head coach. The second asked if the Celtics should give Jaylen Brown a super-max extension this summer.
When it came to Mazzulla, the majority of respondents want him gone. Seventy-five percent of the 359 voters said the Celtics should not keep the coach around for a second year.
When it came to Brown, the crowd was split. One hundred and seventy eight voters said Boston should sign him to the extension that would make him the highest paid player in the league, while 181 voters said it's not a good idea.
Should the Celtics keep Joe Mazzulla as their head coach next season?
Do you want the Celtics to sign Jaylen Brown to a max extension?
For the second part of the survey, readers were asked "What's to blame for the Celtics' playoff exit?" Examples of the full responses from both sides can be found below.
Some responses have been lightly edited for clarity.
Why did the Celtics fall short?
"Not only did the Heat never miss — the Celtics couldn't hit the side of a barn from the inside! Jayson Tatum and Jaylen Brown are bums who should not receive millions more dollars for mediocre play. And this whole team has an attitude problem!" – A Boston.com reader
"Joe Mazzulla is too inexperienced for this group of players. The Celtics can do much better." – Tim S., Grafton
"Ime Udoka's stupid decisions off the court." – Kyle, Newburyport
"Lack of defensive focus, saving timeouts for summer league." – Dave, Portsmouth
"Tatum disappearing as always when it matters." – Todd G., Attleboro
"No leadership or accountability from the top 2 players. Immaturity and low IQ players." – A Boston.com reader
"They don't play team basketball. Not physical enough." – A Boston.com reader
"Coaching, no killer instinct, turnovers, a lack of a balanced scoring attack and a well coached Miami team with a great gameplan." – Shayne H., New Jersey
"Offense is geared all around the 3-point shot." – A Boston.com reader
"Coach's lack of experience and Brogdon making bad plays the first 3 games of the Heat series." – A Boston.com reader
"Bad coaching and focusing on things outside their control, namely the referees." – Chris P., Manchester, New Hampshire
"Discipline. Stubbornness. Complaining." – Fred, Florida
"Inconsistent point guard play. They need a PG who can score consistently." – Siv, Dartmouth
"Poor coaching and no ability to pivot when game plan is not working." – A Boston.com reader
"Mazzulla is not a competent NBA head coach." – A Boston.com reader
"Brad Stevens not hiring a veteran coach." – Scott, Salem
"Lack of team chemistry and bringing a high level of intensity to every game." – Dennis, Peabody
"The Celtics org for letting Ime go, the coach for poor coaching and the team (esp Brown who failed brutally, why would you give him a contract?)." – A Boston.com reader
"Underestimating the Heat and not starting the series with enough energy to win at least 1 of first 2 games at home." – Jeff I., Hanover, New Hampshire
"Game 7 – Tatum's injury – without him, no one else could carry on, either offensively or defensively, but it shouldn't have come down to a Game 7 in the first place." – A Boston.com reader
Sign up for Celtics updates🏀
Get breaking news and analysis delivered to your inbox during basketball season.