Readers Say
Readers say the Orange Line shutdown is 'horrible' but 'needed'
"This seems like a mess, but this transit system has been neglected for decades."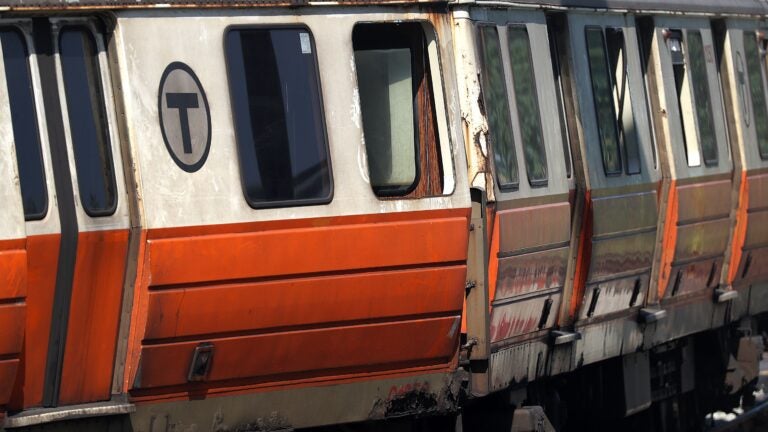 Starting August 19, MBTA will shut down Orange Line service for an unprecedented 30 days — a move that has many riders dreading the next month of commuting.
We asked Boston.com readers if they agreed with the MBTA's month-long service shutdown, and most said the move was drastic but necessary to address critical problems with the transit system. Sixty-nine percent of the 567 readers polled said the closure was needed.
"It will absolutely make my commute a bit more difficult in the short term but honestly anything to feel safer when it's back up and running," Michelle M. from Marblehead said.
The last year has been particularly fraught for the MBTA. Orange Line service was already slowed for the summer because of safety concerns and last month, one of the trains on the line caught on fire as it was crossing the Mystic River.
Despite the needed repairs, however, for readers who live along the Orange Line and regularly rely on its service, the announcement wasn't a welcome one.
"This is going to actively disrupt my commute each and every day," Corey from Malden told Boston.com. "I am so beyond frustrated by this."
Kristen Z. from Malden said the shutdown will "completely destroy" most of her ability to get around Boston. While she thinks serious maintenance is necessary, she's doubtful the MBTA will make big changes in just a month.
"It's needed, but I'm not at all confident it would be limited to 30 days, or would do enough to fix service issues. Things have been left unresolved and unfixed for way too long. I'll be very surprised if it's only 30," she said. "They do track work or service maintenance on the regular. The shutdowns and the shuttle buses are all too familiar. What I think the T management doesn't want to admit to the public is that the ONLY way the Orange Line runs at all is with constant 'repair.' It's not improving anything. It's a periodic shot in the arm to keep it from dying altogether."
Below, you'll find a sampling of reader reactions to the upcoming Orange Line shutdown.
Do you think the Orange Line should be shut down for 30 days?
Yes, serious maintenance is needed.
Some responses may be edited for length and clarity.
Do you think the Orange Line should be shut down for 30 days?
Yes, serious maintenance is needed.
"It will be horrible for me, I use it every day. But something needs to be done. It's been neglected for 40 years and can no longer be ignored. A woman jumped off a bridge for her own safety … what other input do they need?" — Karen, Wakefield
"The fact is this is going to be going on during a period in which college students move in and will likely get their U-Haul trucks 'storrowed' on Storrow Drive. This is going to cause a major traffic mess around the entire Boston area for the next month. I also don't understand how 200 buses which at most can move 80 people each are going to move 100k+ individuals during rush hour. Hopefully, the commuter rail will help with some of the burdens.
"Generally, this seems like a mess, but this transit system has been neglected for decades. I'm glad the repairs are going to get done, however, I imagine it's going to affect a large number of individuals' lifestyles whose companies will not be sympathetic to their struggles regardless if this makes their commute more difficult. I'm lucky I don't have to go into the office daily, but I'm 100% betting this is going to make life annoying for at least 30 days, and will not be surprised if this is extended to even longer." — Katie, Melrose
"I live on the Orange Line and don't own a car. I do walk and bike most places, but not having the Orange Line for quick (hah! – sometimes quick) access to the rest of the city is not ideal. I will say I think that this needs to happen. We can't keep using bubble gum and hopes to keep the MBTA running and we're basically at the point of cataclysmic failure. That said, the city and state need to offer substantive, reliable, safe options in the meantime while this gets fixed. This can't be unduly borne by individuals who rely on the T as their primary mode of transportation and who don't have the luxury/privilege of other options." — ​​Lauren, Jamaica Plain
"Getting to and from work in Back Bay from Jamaica Plain will be a big pain. But I would rather not end up maimed or dead in the next subway failure." — Libby C., Jamaica Plain
"I agree with the shutdown for 30 days. Honestly, July 15 would have been a better start date since this shutdown overlaps the time students are moving into colleges. Fortunately, I do not have to commute into the city day to day. I probably will want to drive if I have work assignments in Boston that are near Orange Line T stops, especially in the southern branch of the Orange Line." — Adam H., Beverly
"It will impact my commute, however, it needs to happen. I would be in favor of a 60- to 90-day closure if it meant a completely new train deployment (new Orange Line cars) and a complete overhaul of most stations. I have been on many cars lately without A/C as well as broken dirty escalators and stairs. If they are going to overhaul, do it right!" — John F., Mission Hill
No, it's too disruptive.
"I am a nurse in the Longwood Medical area. I understand that the T, specifically the Orange Line, is in need of big repairs. Safety always comes first. That being said I feel it is far too disruptive, especially right as school is starting. People rely on safe, reliable public transportation. Looking objectively this will help out in the long run but I feel the MBTA's public reputation is well underwater at this point. They almost need a rebranding." — David M., Jamaica Plain
"I come into the office five days a week via the Orange Line. It will be massively disruptive, especially since I will be 8-9 months pregnant during the closure. Oof. My plan is to take the commuter rail (leaving ~30 mins earlier than normal) and then the Green Line and then walk further than I typically need to walk. I will also need to walk further when returning home and will leave work about 20 minutes later than normal. Not looking forward to it at all. Adds an extra hour+ of commuting each day." — Desire B., Malden
"Should've done this during the pandemic [lockdowns] when nobody was riding the system." — Lori C., Lynn
"It would make accessibility to Boston a serious challenge, not just to me but to several thousand other riders. When there wasn't service a while back, I had no idea where shuttle buses were picking up or when." — Jimmy, Belmont
"Devastating. It will be virtually impossible to get to work on time. For me personally, the #39 bus could be an alternative, but unless they increase the frequency substantially, it won't be viable. When will the T/commonwealth realize that the T is not a luxury, not an option, it's a necessity for the vast majority of the riders? We have no other choice." — Tim K., Jamaica Plain
"The Orange Line is constantly under maintenance. Very often there are buses substituting service on parts of the line, such as from Community College to Oak Grove. This has been going on for years. They need to explain the type of maintenance that is needed that wasn't able to be conducted by closing parts of the line on the weekends and at night, a practice that has been ongoing for several years now." — KF, Everett
Boston.com occasionally interacts with readers by conducting informal polls and surveys. These results should be read as an unscientific gauge of readers' opinion.