Readers Say
Docs are warning against COVID complacency, but Boston.com readers say they're prepared
"Stop pretending that it's over would be a good start."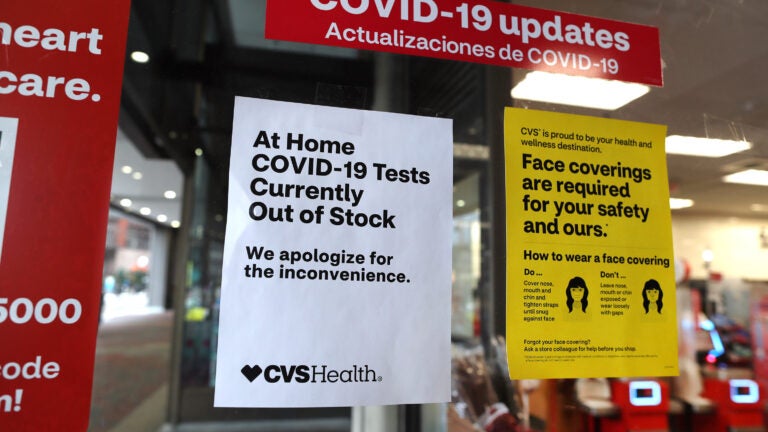 Like so many other things in the modern United States, opinions about how or whether we should be preparing for another wave of COVID-19 — or even the next pandemic — would seem to indicate that people are living in entirely different universes from one another.
"Get on with life and live with [it]," said Diana from Melrose in response to our question about how people should be preparing. "I'm 67 and have no intention of limiting my life — who knows when I may get run over by a car?"
Dave, a fellow Melrose resident, meanwhile, had this to say: "Mask wearing is a NORMAL part of life in many Asian countries ever since the explosions of SARS and bird flu. The same should become standard here." We have a feeling it's awkward when the two of them run into each other in the Whole Foods.
When it came to most of the more than 1,000 Boston.com readers who responded to our survey, though, most say further preparation is necessary, and that that's exactly what they're doing.
Fifty percent of respondents said they're well stocked on masks and tests, and are still taking precautions, while 26% say they're taking at least the basic steps of having masks and tests on hand. Only 22% said they're doing nothing and have moved on with their lives.
In terms of numbers, having 1-49 masks in the house seemed to be the sweet spot, with 57% saying they had that many stocked up, and 24% saying they had more than 50. And as for tests, 60% had 1-9, with 26% being stocked up with 10 or more.
Are you doing anything to prepare for the next COVID-19 wave?
No, the pandemic is basically over, I'm not concerned
I have test(s) and/or mask(s) on hand, that's about it
Yes, well stocked on masks and tests, and still taking precautions
Other
How many unused, high-quality masks do you have in your home?
Zero
1-49
50+
How many at-home COVID tests do you have?
Zero
1-9
10+
Given that doctors are concerned that various factors could make the next wave hard to detect right away, there's a good argument to be made for erring on the side of caution — but based on the responses from our readers, it's far from an argument that everyone subscribes to. Here's a sampling of what they had to say.
Responses have been edited for length and clarity.
We need to prepare!
"The White House warns that there is not enough funding to 'provide a second booster shot for those who need them.' The immunity from the first booster shot is waning for the majority of people. … So hunker down when the next variant arrives." — Lyle, Cambridge
"Stay careful and cautious with respect to others … Not everyone experiences COVID infections the same, some are mild while for others it's deadly. Yes, it's been a long two years. Get over it and be a responsible person." — CHA, Metrowest
"Everyone should be fully vaccinated. Having masks on hand is just common sense, too. But frankly, this should not be left to individuals. Life isn't 'every man for himself.' Our leaders are failing us, and if our society is no longer built on taking care of each other, it is morally bankrupt." — AK, Brighton
"We should enjoy this lull while we can but expect that more is on the horizon (and hope we have prepared unnecessarily)." — Casey, East Boston
"Come on, people … read the news. Europe is being hit hard with BA.2, it's coming to the USA in a week or two. Be courteous, at least wear a mask in stores or as you walk in restaurants. A little common sense goes a long way toward keeping COVID-19 at bay. I don't think mask rules should have ended; it's such a small thing to do and it's proven to keep COVID-19 from spreading. We shouldn't be preparing for another round of COVID-19, we should be acting like COVID-19 never left!" — Barb, Onset
"Stay cautious even as you start to do more activities among others, especially if there are older or younger members in the family who may be at higher risk. COVID was brought home by grandchildren in school, and although we were all vaccinated and cases were mild, it was not pleasant and I still have lingering symptoms months later." — Debbie, Newton
"By still wearing masks in public settings, following all of the original CDC guidelines and realizing that while we might be done with the virus, COVID is not done with us! Get vaxxed and boosted everyone!"
"Get vaxxed, get boosted, and stop believing that this is over. It is not. Not many people are getting boosted and still too many not vaxxed at all. We can enjoy this slight respite. We are allowed to feel good for a while, we deserve it. But I do not think we should be celebrating or anything because NO ONE KNOWS what this virus will do next. So get ready. Stock up on the tests and masks while you can get them." — Joyce, Somerville
"Weekly trends should continue to be reported to the public, and with that information people can scale their activities based on their level of comfort and risk assessment. Furthermore, employers should be taking the temperature of staff to ensure that decisions are being made with employees' comfort and health in mind." — Desmond, Boston
"I just don't give up masks, hand-washing, or avoiding indoor gatherings in between surges, because I know COVID-19 is still out there. I'm keeping an eye on when I can get a fourth vaccine shot. I'm getting an outpatient surgery that I've put off for two years before the next wave hits. And I'll probably order a new box of masks pretty soon." — Lauren, Cambridge
"Think of this like a serious flu season where vaccines, masking and distancing are the best protectors for catching it. COVID is worse than the flu, but we have seen lower flu cases as a side effect of COVID protections, so we can see that they are working. Let's keep it up!" — Wayne, Tewksbury
"Stop pretending that it's over would be a good start." — John, Weston
"Learn from the past. Give the scientists time to really understand this disease. Don't overwhelm the hospitals. Every time there's been an announcement that if you are fully vaccinated, you are safe has been wrong. I plan on wearing my mask and avoiding crowded places until there are close to zero COVID numbers for a while, maybe a year or more. This is a little understood virus that has done great harm, and I'm not going to play chicken with it." — Terry, Hyde Park
"By at least thinking of the random elderly person or immune compromised person they may meet indoors somewhere and keeping a mask with you and putting it on indoors. Be thoughtful, have some empathy, don't be a narcissist." — Rick, Plymouth
"We should start to get 'flu/infectious disease' forecasts off wastewater like we do with pollen counts or the weather. When the levels are increasing, people should be masking indoors when they'll be in close proximity to each other and should avoid dining in establishments that have close quarters with poor ventilation." — Dave, Melrose
"I think there will be many waves. While the hoarding of toilet paper and paper towels may be extreme, I do have a pretty considerable stock of KN95s for future waves. I have several COVID tests but am wary because they have 'expiration dates' of later this year, so I'm not comfortable stocking up on them because no one has been able to say if they truly 'expire' or if that is just a suggestion." — Brandon, Quincy
"I wish those people who don't take this seriously would smarten up. It's not cool to deny the risk. You may think so, but you don't get 'popular social points' for being stubborn. Those people are perpetuating the pandemic, and the reason why the U.S. has by far the most cases in the world. What if a virus with the killing power of ebola came along? Would you deny that too?" — A reader in Salem
"I know everyone is tired of the pandemic (myself included), but the reality is it's not over. While cases are low, I fully support relaxing measures in a way that makes sense; however, for many Americans that are immunocompromised or live with/care for those that are, day-to-day life is still a challenge, especially when it seems you are the only one still wearing a mask. What may be a minor case for you could kill someone I love. In this moment, I'm getting a little more comfortable, but I still wear a mask wherever I go and have not resumed many pre-pandemic activities. If I see cases start to rise, I will scale back even more. I am fully prepared and expecting another surge, so I have a stock of good masks and kits that I have purchased or received through the federal program." — Alexandria, Haverhill
"Wearing a mask in public has become second nature to me. I've loved having two years of no stomach bugs, no flu, no head colds, etc., and I also never got COVID. I can't believe the amount of whining about something so small as a mask." — Amy, Quincy
The middle ground:
"What a tragic missed opportunity by 'public health officials' to encourage healthy lifestyle changes, given this disease has highlighted the vulnerabilities of those with poor health habits. Eighty percent of hospitalized patients have been overweight/obese, but rarely a peep on this from the 'experts' that insist on relying on nothing but big pharma to keep us alive. A robust immune system boosted by responsible health habits will always offer effective protection from severe illness from this virus … and those to come." — Todd, Oxford
"Get used to it. On the plus side we have vaccines, especially MRNA, that are very effective against severe disease. Focus on those most at risk and go back to the new normal. Risk of severe disease is very low for the vast majority of the population at this point, but also know this isn't static. This type of virus mutates. Fortunately it looks to be mutating to less severe." — David, Natick
"Staying aware, LISTENING to doctors and DPH, washing hands or sanitizer, mask on MBTA." — ERG, Hyde Park
"Bring mask mandates back. It's easy and not a big deal."
"I don't think anything special is required — just don't make a giant stink if another variant comes along and starts putting a ton of people in the hospital, requiring some sensible restrictions and mandates to prevent a healthcare crunch." — Mike, Dedham
"Anyone who is vulnerable should consider getting vaxxed/boosted if they haven't been already, and everyone needs to be focused on improving their general health and physical fitness. There's not much else one can do on an individual level." — Chris, Worcester
"Don't panic, start realizing it's endemic, mask up when there's a surge, then put the masks away when it's over. Get a fourth booster." — Fran, Arlington
"Making sure individuals have the necessary PPE and tests. A failure to plan is a plan to fail." — Nikki, Boston
"Watch the numbers published for Mass., get another booster when recommended, and don't overdo it in terms of large social events until we get through the summer. Keep masks and tests on hand and be ready in case numbers start to spike but enjoy the fact that we have very low numbers right now. Let's hope it lasts!" — Tracy, Bolton
"Government money needs to stay readily available. Individuals should pay attention to scientists and doctors in the future." — Lisa, Sudbury
"Two years experience tells me that the majority will do nothing and will wait for disaster and expect government to 'save' them yet again." — Portia, Plymouth
It's over, move on:
"Just live their lives. We have put our lives on hold long enough. The kids have suffered enough!!!" — Michelle, Wilmington
"Get your shot and be done with it! It's a common cold or flu for most people!" — Kevin, Braintree
"Throw out the…politicians who locked us down and implemented mask mandates and vaccine mandates." — Alex, Mashpee
"Those who are otherwise healthy but are organizing their lives around avoiding COVID are beginning to appear to have anxiety disorder. We should be concerned for their mental health and, if they are parents, the impact on their children's mental health." — Sally, Wayland
"This whole line of questioning is idiotic nonsense created by people whose livelihood is dependent on epidemics. Please kindly go away." — Joe
"Protect the vulnerable and leave the rest of us to work and get the country and world working again." — Ed, Shrewsbury
"Don't prepare. Be healthy and exercise outdoors for a healthy immune system. Get sick, it will build your natural defenses. Lose the mask." — Becks, Marblehead
"Individuals should assume responsibility for taking better care of themselves by exercising, getting sufficient sleep, time outdoors, and eating healthier. Use common sense; if you're unwell, stay away from others until you recover." — Ayn
"Buy more toilet paper. Other than that, absolutely nothing."
"We've lived as prisoners for two years. Let the virus take its course. I'm not masking back up again." — John, North End
"We should be more worried about World War III happening than a wave of COVID. If you're vaccinated you should have nothing to fear." — Rene, Revere
"Unless you're someone who is unvaccinated with 4+ comorbidities, the science is largely settled that COVID is statistically irrelevant to you. As for the 'next pandemic' your guess is as good as mine — and just that, a guess."
"Nothing. Time to move on. I'm vaccinated and boosted. I have a better chance of being killed in a car accident than dying of COVID."
Boston.com occasionally interacts with readers by conducting informal polls and surveys. These results should be read as an unscientific gauge of readers' opinion.