Readers Say
Boston.com readers share their love for and frustration with Tom Brady
Reactions were mixed from those who feel nothing but love for Brady, and those who still feel some pain.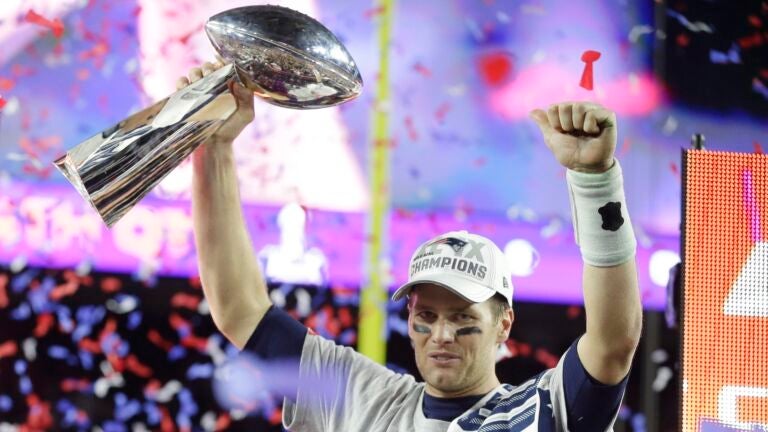 Following Tom Brady's announcement that he would be retiring from football for good this time, we wanted to know what Boston.com readers had to say about the longtime Patriots quarterback.
We first wanted to poll which sentiment took hold of the majority of Patriots fans, providing three answers for readers to choose from for our first question: "What's your reaction to Tom Brady's retirement announcement?"
The majority of our readers had positive feelings about Brady's decision to retire.
What's your reaction to Tom Brady's retirement announcement?
Finally! It's about time. 👋
Wishing him well 💛
I wasn't ready for this 😥
The questionnaire also asked for a more personal response to the prompt, "What's your message for Tom Brady now that he's retiring for good?"
Due to the high number of responses, we were unable to include all of the messages meant for Brady, but we did choose the ones that we felt best represented the two main feelings for the quarterback.
Kind words for Brady
"You are a world class role model as a player and as a person. Thanks for all the memories. I came to see you play the Patriots in October 2021 to pay tribute to all that you did for New England. My son Beau and I will never forget what you mean to us. God bless you and your family."
Paul Horan, Princeton, N.J.
"Tom, please come back to Foxboro and retire as a Patriot. Your NE fan base never got a chance to thank you and give you the celebration you deserve!"
"Thank you for all the memories Tom! You've made the last 2 decades in New England the best time ever! Wishing you all the best and looking forward to seeing and hearing you on TV!"
"Glad he is going out on a positive note and his legacy is "the greatest of all time!! The NFL Hall of Fame should create a Bronze Statue of Tom in his honor and be placed at the NFL Hall OF Fame!!"
Brian Panella, Sherman Oaks
"Tom: You raised the standards for football and turned me back into a fan. You are forever the GOAT. Thank you for making the game great again!"
Michelle Desaulniers, Boston
"Tom, thank you for your many years of dedication to football. From keeping us on the edge of our seats during the Super Bowl against the Falcons (always remember 28-3!) to watching you win your first Super Bowl with the Buccaneers, you have provided us all with many memories. And you've done it all while keeping a smile on your face. I hope you enjoy your retirement & get to relax. You deserve it!"
"Tom you did it, congratulations on a well fought and fulfilling career. Thanks for showing us that age is just a number and for inspiring us to accomplish our dreams. We wish you well on the next chapter of your life. From: a long time fan."
Jordan Call, Bluffton, S.C.
"Thanks for the memories! You brought PRIDE to the New England Program!"
"Tom, Thanks for the 20 years of memories with NE and for showing us all whats its like to always win championships! You will forever be the GOAT QB Best of luck TB12! Enjoy a well deserved retirement ! We will miss you on the field! #TB12 #Lordoftherings"
"I've been married 23 years to a beautiful woman. I've also followed your career all those 23 years. It's been truly amazing watching you play all these years, especially since you have been one of very few constants in my life. Happy retirement, Tom. I will definitely miss watching you play."
"Come on! You definitely have one more year! Go out and get one more SB for old times sake!"
"Thank you for bringing the Vince Lombardi to New England (all 6 times). You brought me/us so many great memories. Enjoy your retirement and don't be a stranger to New England (many of us would love to buy you a beer!)"
Brian Whitley, Malta, N.Y.
"Thank you for being the spark and the fuel that fired the best 20 years of NE sports. You are loved and will be missed."
Adam Arzoomanian, Cranston, R.I.
"Thank you for all you gave to Pats Nation, and for the inspiration you gave to the world. You opened our eyes to the power of total dedication to a dream. Wishing you the same joy and success off the field that you've always had on it!"
Those who still feel some pain
"I am very happy for him, but wish he had retired after his last season with the Patriots. Seeing him in a Tampa Bay jersey never seemed right. He has had a great career, and I am thankful for all the joy he has brought to so many in New England."
"Good riddance Tom!! Please get out of your broadcasting contract and just go away. You left us and we'd like to forget about you for a while."
"Who cares? Not like I believe it anyway. He'll be playing for someone else next week. What a joke."
"Don't let the door hit ya…."
Mikhaela E Houston, Easton
"I thank him for helping bring 6 Lombardi trophies to 1 Patriot Place. However, he's been dead to me since he left the team, and really dead to me since he made no mention of the Patriots or Pats fans in his first retirement. If you don't think that was petty and intentional, I have a bridge to the Cape to sell you."
Barry Leavitt, Minneapolis, formerly Sharon
"Should have stayed with NE and retired on top!"
"Was one more year really worth it? Good luck in retirement."
"I still feel sad about the way that Tom's tenure in New England ended; in my mind it never should have happened at all. Perhaps this final retirement will lead to an eventual – and overdue – reconciliation with the team that he helped lead for two decades, especially with Belichick. Neither would have been as great without the other."