Readers Say
Some Boston.com readers are stressed, some unstressed — for the same reason
"I have been here for over 20 years and I have hated every stressful minute of it."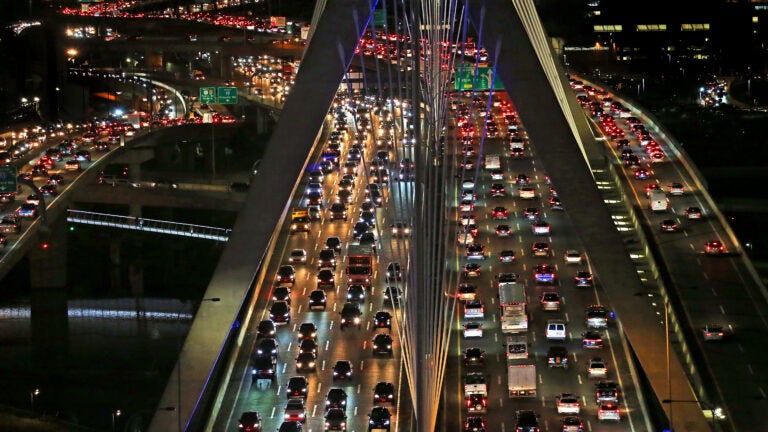 A new study from WalletHub may have found that Massachusetts is one of the "least stressed" states in which to live in the U.S., but a query of Boston.com readers revealed that not only are we not not stressed, just the suggestion that we might be is enough to give us a conniption.
"Every aspect of life here is stressful," exclaimed Joel from Lexington, while Brian from Waltham agreed that "the Bay State has no relaxing qualities," adding, "I am counting down the days until I move to Florida."
All in all, 74% of the more than 500 Boston.com readers who responded graded themselves at 6 or higher on a scale of 1 to 10 for their Massachusetts stress level, with the highest number (19%) placing themselves at an 8, and 18% rating themselves as "OFF THE CHARTS."
Which isn't to say there's nobody here with a normal pulse rate: 27% of respondents rated themselves a 5 or lower on the stress scale, with 6% even putting themselves at zero — "totally chill."
How would you rate your stress level living in Massachusetts?
Higher than 10 — I'm OFF THE CHARTS!!
Oddly enough, many of both the stressed and non-stressed people cited the exact same source for their current condition — the state's decidedly liberal bent.
Our elected officials "in national, state, and local politics just make me want to vomit from the stress," wrote Stephen from Sudbury, who rated his stress level at an 8. And Richard from Arlington blamed "wokeness" and "self-righteous liberals" for his "higher than 10" stress rating.
But on the other side of the spectrum, Doug from Methuen (stress level: 1) wrote that "The political atmosphere makes us less stressful — our politicians care." Renee from Marlborough agreed, grading her stress level at 4 and saying, "Living in Massachusetts is not as stressful because I think our leaders seem to be sensible, caring, and give thought to what is best for our residents."
There are other factors causing Boston.com readers to reject WalletHub's stress survey, too. A top one is traffic — even those who consider themselves non-stressed, like Doug from Methuen, cited traffic as a stressor. And the other is cost of living, raising the very legitimate point that the least stressed in these parts seem to be among the most well-heeled.
"The extraordinarily high cost of living. Housing. Food. Transportation. Everything is double what it costs in other parts of the country, save for say L.A., San Francisco, and N.Y.," said Brian of West Roxbury. "I am a lawyer and have a second job on the side, and I still have no realistic hopes of ever owning my own home anywhere in the Greater Boston area. It's as depressing as it is stressful."
Here's a sampling of what both the stressed and unstressed had to say about life in Massachusetts:
Responses have been edited for length and clarity.
Why are you stressed in Mass.?
"Every aspect of life here is stressful … The ridiculous traffic and obnoxious drivers. The cost of living — food, housing and taxes. Constant pressure to keep up with the Joneses. People here are 'cold.' Everyone is constantly on-the-go." — Joel, Lexington
"The people. Transplants especially, who think of Mass. culture as a caricature and everyone here should assimilate to some sort of generic ideology." — "Joe Six Pack," Cambridge
"The pace. Everybody is in a rush. We pride ourselves on getting things done even if they are not properly done. And the drivers — how some of these people got their driver's license is beyond me. There needs to be a PSA that it is OK to turn right unless there is a sign that you can't turn on red." — Drew, Mansfield
"Everything is expensive and unaffordable with the salary that I have. I barely survive. Also, the people are not that friendly. The laundromats suck. There is not much variety of food to try." — Tanjeena, Allston
"The weather is awful for way too much of the year. Thinking about shoveling snow makes sweat appear on my brow, and I still have flashbacks every time I hear a plow outside from worrying years ago about parking my car in the wrong spot during a snow emergency and getting towed." — Dan, Jamaica Plain
"The people. Everyone competing for every last crumb, inch of road, pack of IPA like civilization depends on it." — "NevskyPesky," Dorchester
"The weather is awful for seven months a year. The state has not paved many of its roads since our own John F. Kennedy served as president. Rude people, high taxes, lots of traffic, terrible weather — the Bay State has no relaxing qualities. I am counting down the days until I move to Florida." — Brian, Waltham
"High cost of living, high pressure environment, traffic absolutely everywhere all the time. Can't even escape the city to relax without fighting traffic out and back." — Elizabeth, Chestnut Hill
"Everything is so expensive!!! Mortgages are through the roof. Childcare is impossible to find!! So much traffic! People are so impatient — got a new horn??" — Amanda, Arlington
"Too many people … taxes are too high, I'll never be able to afford a house, most public schools are awful so if I ever have children I'll have to send them to private school if I still live here. It is the quintessential progressive paradise where it is impossible to make a life for yourself as middle class." — Brian, Malden
"The psychiatrist/psychologist stats are essentially irrelevant. If one actually needs to speak with one it is still borderline impossible … apparently every one of them books months out." — Sean B.
"Traffic, overpopulated, mean, entitled Massholes. I have been here for over 20 years and I have hated every stressful minute of it. Good jobs though." — Juliette, Stow
Why aren't you stressed in Mass.?
"Happy I don't have to drive into Boston. Living in the wonderful Pioneer Valley." — Bruce
"The legal weed lol." — Vin, Allston
"Proximity to oceans, mountains, great hiking and biking trails; the seasons! I love them; cultural reasons; diversity of people; living around so many smart people/universities; politically active folks; we are a BLUE, fairly progressive state." — Catherine, Maynard
"Ocean, mountains and diversity, at least from an LGBTQ viewpoint." — Joe
"We tend to fight for social services and have a lot of quality tax items that are paid for by the people and help the people positively. Having an educated populace makes people more 'welcoming' in our Boston way." — Kevin, Woburn
"There are a lot of career opportunities here. Being financially sound removes an unbelievable amount of stress. Same with the level of healthcare that can be found in Mass. It can't be too bad with a healthy body and a roof over your head." — Dan, Jamaica Plain
"Massachusetts is a beautiful place to live, with the great trails, mountains, rivers and the ocean. It's a beautiful environment to enjoy the outdoors — you can hike a mountain and swim in the ocean, all in one day! I love living in Billerica, Mass., because of the outdoors. Billerica is a beautiful place!" — Mary, Billerica
"As a blue state, we tend to have less of a focus on things that many red states scream about constantly … guns, abortion, education, helping immigrants. Those are things that are important but Mass. residents seem to know where the state stands on those things." — Steve, Lynnfield
"In most cases we are not a state guided by religion, women have higher incomes, we have the best education system and the weather means we have more down time due to the cold. We need far more work on racism but in so many areas we do not have to fight our own local and state governments to do the right thing." — Michael, Brookline
"Competent politicians/leaders who truly want to serve/protect the greater good, access to everything close by (stores, food, healthcare, museums, sports, education, beautiful open spaces — beaches! mountains! Legacy Place!), a liberal community that generally values the same things I do." — Kerry, Pembroke
"Living in Massachusetts is not as stressful because I think our leaders seem to be sensible, caring and give thought to what is best for our residents. I don't always agree with their choices and I'm pretty sure Charlie Baker does not like the teaching profession, but on the whole he's concerned about our health and seems to not be as focused on being popular. … At least in this state I believe it seems as if we mostly treat people with respect." — Renee, Marlborough
"Living here my whole life and having most of friends and family here makes life less stressful. You know where things are, you know what to expect in most situations, you know there are lots of people close by you can count on. Familiarity and reliability are great things to have to relieve stress." — Chris, Westwood
Boston.com occasionally interacts with readers by conducting informal polls and surveys. These results should be read as an unscientific gauge of readers' opinion.