Readers Say
6 readers share how the war in Ukraine is impacting their loved ones
"My family wants the world to know that Ukraine needs help."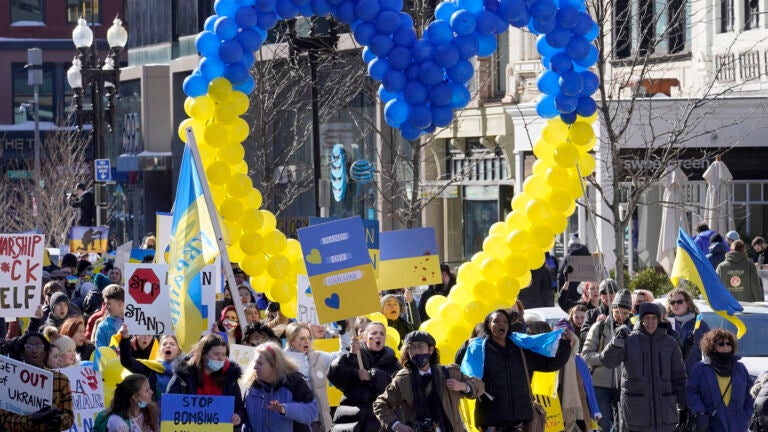 For Ukrainian-Americans and Ukrainians living in the United States, the news and images of Russia's invasion of the country have been made the last couple of weeks a harrowing experience.
Rallies in support of Ukraine have drawn thousands in Boston, and as the war continues, a growing number of organizations are mobilizing to help Ukrainians who have fled the country and those staying behind.
"The world I live in is different today than [days] ago," Robert S. from Brookline, who identifies as Polish American, told Boston.com. "I want to actively support Ukrainians and those Russian dissidents who stand for human dignity against the tyranny of Putin. 'We are all Ukrainians.'"
There are about 1 million people of Ukrainian descent living in the United States, and here in New England, many have shared their stories. As they think about their loved ones abroad, readers told Boston.com that they are struggling with feelings of fear and uncertainty about the future.
We heard from several readers with close ties to Ukraine who shared what it's like to hear devastating news coming out of the country. Below you'll find six readers' accounts of how the war in Ukraine has impacted them and their loved ones.
'I now truly understand the fortitude of my ancestors'
"My grandfather came to this country as an immigrant from Ukraine in the early 1900s. I have always been taught that the Ukrainian people's history is one of suffering and enduring. My grandparents instilled in me a sense of pride for being Ukrainian, that we should be grateful we live in America, but that we must never forget our heritage. The Ukrainian people are great, peaceful people who possess strength that inspires. As I watch the unfolding horror in Ukraine, my grandparents' words take on a deeper meaning. I now truly understand the fortitude of my ancestors. I will take to the streets in their honor and in the honor of my fellow Ukrainians who are currently fighting the essential fight for freedom. We hear you and stand with you!" — Jennifer I., Charlton
History repeats itself
"So horrific and senseless. Praying for the people of Ukraine. I'm glad my grandmother isn't here to see her homeland and community be murdered again. Her family was killed during the Nazi invasion of Ukraine. She escaped then and immigrated to the U.S. in the 90s." — Laura M., Yarmouth
"My father was born in Ukraine during World War II and my mother just after the war in a displaced persons camp in Germany, where her Ukrainian parents met. All were welcomed to the U.S. a few years later as refugees. Our family still has many aunts, uncles, and cousins living in Ukraine who we maintain contact with, particularly throughout this latest war with Russia.
"Ukrainians have been working so hard to build a free and prosperous nation since independence from the Soviet Union, and the world is now becoming aware of their struggle and determination these past 30 years. Unfortunately, this drive toward nationhood has always been a threat to the authoritarian rule of Putin, culminating in the current senseless invasion.
"Some of the younger generation in our family has been trying to leave Ukraine and have had challenges at the Polish border. Sadly, the older generation that survived the hardships of both World Ware II and the Soviet Union are simply too tired to leave, and resigned to their fate, come what may. For the family members here in the U.S., this is absolutely heartbreaking and the kind of story you won't necessarily hear on the news." — Steve W., Somerville
Friends and relatives 'hide in bomb shelters'
"My family in Ukraine have been in bomb shelters, which are basements underneath their apartments. My grandma and her husband are seeking protection in a school near them. My mom's god-children are in Kyiv, and they recently went to another place to seek shelter. They're all scared, and my family is worried. I feel guilty being able to be safe while my family is struggling. I keep up and try to support them and alleviate their anxieties as much as I can." — Mariya K., Sharon
"This war now ruins my country. I temporarily moved in the U.S. and now I cannot be sure that I would be able to return to my home in Ukraine. I do not know if my house in Chernivtsi will not be destructed. All my friends and relatives now hide in bomb shelters. They cannot sleep and often experience panic attacks." — Olga K., Brookline
'This week has been devastating'
"My wife and adoptive son immigrated from Ukraine in July 2020. It took two long years of working through the immigration system because my wife could not visit the U.S. during this process. I have personally visited this country 17 times. She has a daughter, grandson, brother, and mother there, plus many friends and loved ones. We have been worried for weeks, but this week has been devastating. My wife has been on her phone all day and night trying to find out the situation of family and friends. Her daughter lives near the Kyiv airport, her mother and brother in Kherson along the Black Sea.
"My family wants the world to know that Ukraine needs help. The world is finally beginning to understand the resiliency and character of these people. Please keep this story on the front burner, as sadly this country has a short attention span." — Joseph L., Salem
Responses have been edited for length and clarity.
Are you Ukrainian or Ukrainian American? Tell us your story.