Readers Say
Readers share how their pipes fared during those freezing temps
"I spent half a day warming up the pipes with a propane torch."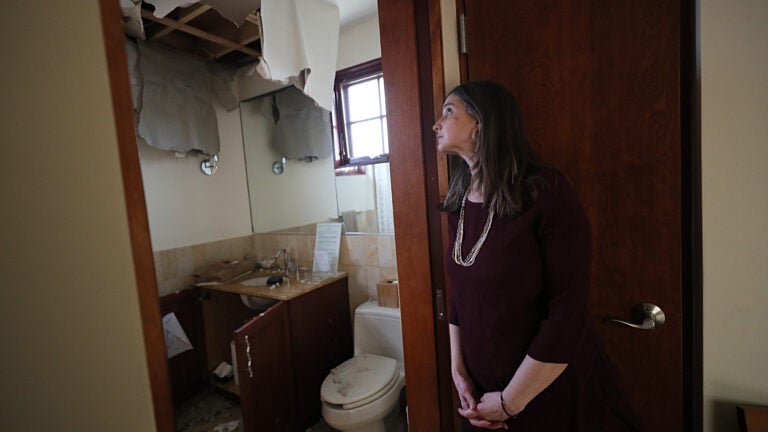 The weather may be warming up now, but New England residents won't soon forget the below-zero temperatures that caused burst pipes all across the region.
We asked Boston.com readers to tell us if they were one of the many people dealing with plumbing issues and we heard from readers here in Massachusetts, Rhode Island, and Maine sharing the details of their burst pipe-induced headaches.
"A pipe in my basement (coming from the outside) burst and I had to shut off the main water to get it to stop leaking into my basement. I was lucky enough to find a plumber who came out Sunday evening to fix it so that I had water to my house, but he had to come independently from his company and wouldn't take any more calls," Christine, a homeowner in Milford, shared.
Thankfully, it wasn't all nightmares. Only 35 percent of the 97 readers polled said they're dealing with burst pipes and even with frozen pipes, some readers got lucky in the freeze.
"Our pipes froze but we figured it out it early and our neighbor just happens to be a plumber," Sarah from Natick shared.
Did this weekend's freezing weather cause your pipes to burst?
Yes
No
While she was lucky enough to find help when her pipes burst, many people across New England haven't been so lucky. Plumbers have received hundreds of calls a day since the weekend freeze and for some, the demand got so high they've had to stop taking calls altogether. Regular customers may have to wait a week or more to get their pipes fixed, and others are facing an even longer wait, Carl Jonasson, owner of Needham-based plumbing company C.H. Jonasson Corp., told the Boston Globe.
Also affected were local hospitals that have been forced to close units in the wake of water damage from burst pipes. The emergency room at Boston Medical Center was shut down earlier this week and patients were diverted to Tufts Medical Center, where a burst water pipe lead to elevators being out of order.
Like many local businesses, renters, and homeowners, our readers are dealing with the aftermath of plumbing damage. Below you'll find responses from readers sharing how their homes fared in the cold weather and how they're coping now that it's passed.
Responses have been lightly edited for length and clarity.
Water-damaged homes and businesses
"Over the weekend, I was lying under the covers and I heard the sound of rushing water from above. Without warning, water began to flow from the ceiling above me like a river. Before I could communicate with friends on what to do to shut off the water to the house, the entire house flooded from the third-floor turret room and adjoining bathroom, down to the second-floor bedrooms and bath down to the living room and dining room.
"If I wasn't home that day and this happened, my beautiful living and dining room a few steps down from the kitchen and entry would have been an indoor swimming pool. Spent Sunday and Monday getting everything cleaned up. Tuesday I spent the entire day vacuuming all three floors of leftover debris and tearing apart the ceiling in my bedroom to find and stop the burst pipe. Then [I used] Murphy's oil soap washing three stories of Brazilian hardwood floors in my recently renovated home." — Robert G., Newport, R.I., homeowner
"A pipe burst in my basement during the cold weather, currently dealing with the fall out of a soaked wall-to-wall carpet in a finished basement, as well as navigating the first home insurance claim I've made — as a brand new homeowner!" — Deborah N., Auburn, homeowner
"I own Vibrant Beauty Salon in the South End. We experienced a devastating loss on Sunday due to frozen pipes in the building. I lost almost everything and if I don't move quickly and wisely I will lose my team and clients too. Deep sigh." — Allyson A., South End, business owner
Insufficient insulation
"Outside wall insulation was not enough to prevent pipes inside the basement to freeze. We noticed at -28 with -60 windchill that is cold enough to freeze other pipes because the vent from the dryer was allowing frigid air to come into the laundry area." — Finn G., Bethel, Maine, homeowner
"We had multiple pipe bursts from this cold weather. We determined the cause was either insufficient insulation in the wall or a problem with the one heating zone where the pipes burst in the house. It was really a big mess. We had water pouring out of three different areas of the house. It was leaking out of the tile in front of the fireplace and leaking in multiple places in the basement. We are still dealing with it. Our contractor helped us find where the burst pipes were, then when we turned the zone on there was another leak." — Kevin C., East Greenwich, R.I., homeowner
Dishwasher troubles
"The pipe and the dishwasher froze but didn't burst. I spent half a day warming up the pipes with a propane torch and the dishwasher with boiling water." — A.I., Belmont, homeowner
"Pipes froze, causing the weakest link in the system to burst. Fortunately or unfortunately, it was our dishwasher, which flooded the kitchen." — Matthew, Waltham, homeowner
"Dishwasher drain pipeline froze and broke resulting in a flood." — Tony R., East Boston, homeowner
Homebuyers remorse
"Both my husband and I are tired of dealing with pipe bursts plus snow/yard waste removal costs. Home ownership is almost endless work both inside and outside. The structure is not fun anymore. We are planning to sell our home this spring/summer and move to a retirement community in the South." — Judy T., Lynnfield, homeowner
"Five years ago, my home roof was leaking in spring, and cost a large sum of money to repair. Last weekend, a pipe in one of my bathroom burst, flooding everywhere. I start to question the notion that buying a home is always a good investment. After property tax, repairs, snow removal, etc." — Anonymous, homeowner
Service demands through the roof
"Our property manager had to call in Servpro hopefully for mold remediation. The gym of one of the luxury buildings downtown is flooded due to a pipe leak in the basement. The major concern for our members is working out in the mold. They had Mastodon Moving come in and move the items but they are waiting for the remediation company and said it will be weeks before it is fixed." — Ari, West End, renter
"I work in sales and marketing for a moving company. We work with many insurance, mitigation, and remediation companies. Requests for moving items away from a leak/flood from burst pipes have soared. We have gotten calls from major institutions, libraries, housing authorities, and more to assist with their moving needs. We work hand-in-hand with Servpro and they are swamped all over the state." — Sarah, Boston, business owner
Boston.com occasionally interacts with readers by conducting informal polls and surveys. These results should be read as an unscientific gauge of readers' opinion.