Readers Say
'Many childhood memories': What Peaceful Meadows means to readers
The Whitman location will close at the end of the summer.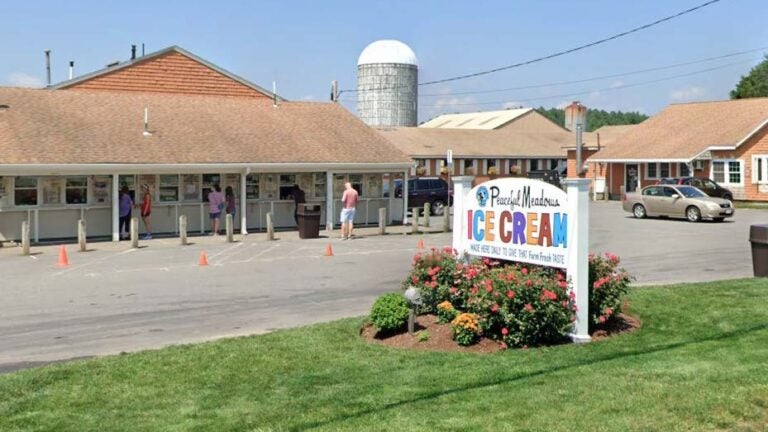 If you're keen on all things ice cream, you're probably familiar with Peaceful Meadows Ice Cream, a longstanding business that serves up cones, sundaes, and more to hungry customers. You may have been saddened to hear that their flagship location in Whitman, which has been open since 1962, will be auctioned on August 29.
The auctioneers' website and Facebook page said that the family who owns Peaceful Meadows will be "voluntarily selling" the Whitman ice cream operating complex and over 50 acres of agricultural land, each being offered "individually and in the entirety." Other parcels from the owners, including a single family home and two family home, will be bid on separately. Peaceful Meadows has a second location in Plymouth that will stay open, but readers have shared that the Whitman location is a loss.
We asked Boston.com readers for their memories of this branch of Peaceful Meadows. They told us about how they would visit the ice cream shop while growing up and how it connected them with family. They also let us know about how the farm environment made the experience of getting a scoop special. See what readers had to say about Peaceful Meadows in Whitman.
Readers share memories of Peaceful Meadows in Whitman
Some responses have been lightly edited for length and clarity.
"Peaceful Meadows was a beloved part of many childhood memories. From ice cream cones after a visit to King's Castle, to visiting the new baby cows in the barn, to trips with my high school friends in our parents' borrowed car as a sign of independence, and everything else in between. As an adult I even took my husband, who was born in Arlington, Massachusetts, and never had the Peaceful Meadows experience as a kid. I can't believe it's closing. I was looking forward to taking my daughter on a trip home one day. This is truly a sad day!"

—Amanda S., Georgia
"I was born in 1958 and lived in Whitman with four siblings. Our parents would say 'who wants to go to Peaceful Meadows?,' and we would all pile into the station wagon. It was a fun family outing to eat the most delicious ice cream anywhere (my father's favorite [was] pistachio)… When I was a little girl, I would also go with my Aunt Gretchen to their store where she would buy eggs, milk, and a special treat for me, and of course, visit the cows. When me and my girlfriends got our licenses, the first thing we did was drive to Peaceful Meadows. On first dates we would go to Peaceful Meadows. When we got married we would introduce our spouses to Peaceful Meadows and tell family stories… I am sad it's closing. It's been a happy part of my life."

—Diane D.
"Absolutely heartbroken over this auction of a wonderful establishment that had wonderful employees all around! I am 69 years old and have been going there since I was a kid living in Brockton. I will [so] miss this total establishment and their people!"

—Charles S., Avon
"When I was five years old, my Nana and my 10-year-old cousin were visiting, so after dinner, all six of us piled into the family station wagon and went to Peaceful Meadows. My parents took our orders and my Nana, who was originally from Fall River but now lived in Florida, ordered her favorite, frozen pudding. I ordered my favorite, strawberry. We all got cups with cones on top. It was already twilight, so when my parents got back to the car, everything looked the same. I was sitting in the middle front seat between my parents and my Nana was in the back. I started eating my ice cream and tried to say something to my mother, but she told me to just eat it, as strawberry is my favorite. So I tried, but finally got up the gumption to say to my mom, 'But how come my strawberry ice cream has raisins in it?' She frustratingly said 'Give me that!' and then tasted it. She said 'This isn't strawberry, it's frozen pudding.' And we all turned and looked at my Nana. She was finishing the rest of my strawberry. She look[ed] up and [said] 'What? Well, I don't know how you make frozen pudding up here.' And my dad [replied], 'Mom, you are from up here! Didn't you figure it out when you only had strawberries and no raisins or dates?' She shrugged, and that was it. I got nothing, except that every time we went to Peaceful Meadows after that, someone in my family would say 'Jessica, do you want frozen pudding or strawberry?' I'd get other flavors like maple walnut or cookies and cream after that, but since it came out, my favorite has been cappuccino chunk, and I think that is my family's all-time favorite flavor."

—Jessica P., East Bridgewater
"We took our daughter there many times while she was growing up. Besides their delicious ice cream, sited next to a 'fragrant' farmyard, you used to be able to visit the cows that were eating or 'chilling' in the adjacent barn."

—Dave T., Braintree
"As one of six children of Irish born parents, we trekked from Quincy to Whitman to enjoy ice cream amongst the cows. Our neighbors could never understand why we didn't frequent Brigham's or Friendly's, both conveniently located in Quincy. Since my parents grew up on farms in Ireland, they wanted us to experience ice cream with the cows. I can still smell the barn as I enjoyed my ice cream, always a cone turned into a cup, as my mother could not tolerate melting ice cream on our Sunday best! Many good memories at Peaceful Meadows!"

—Trish, Marshfield
"Whenever I would visit my mother in Brockton, she and I would always make a few trips to Peaceful Meadows. When my children were born, we even brought them there, and they not only loved the ice cream but also loved going into the barn to see the cows."

"Although my mother passed five years ago, on the rare occasions that I was back in Brockton, I would make sure to make a visit to Peaceful Meadows. In fact, my last visit was on June 28, 2023, and I said to my 93-year-old aunt, "Let's go to Peaceful Meadows." Little did I know that this would be my last visit, and I only found that out last night when I was talking to my aunt. Peaceful Meadows will be missed by many. Their ice cream, frappes, etc., were all delicious, as were the many flavors of ice cream and the help, always bright and cheery. This has been a Whitman institution and will be missed by many."

—Marion C., New Jersey, formerly Brockton
"I grew up in Rockland, and we would go there in the summer time. It was better than Dairy Queen because we could pat the cows. In the 70s, the barn was open. Black raspberry was and still is my favorite, probably because of those fun memories."

—Kim F.
Sign up for The Dish
Stay up to date on the latest food news from Boston.com.