Readers Say
8 local TikTok creators to follow, according to Boston.com readers
From foodies to comedians, Boston.com readers think these are the TikTokers to follow.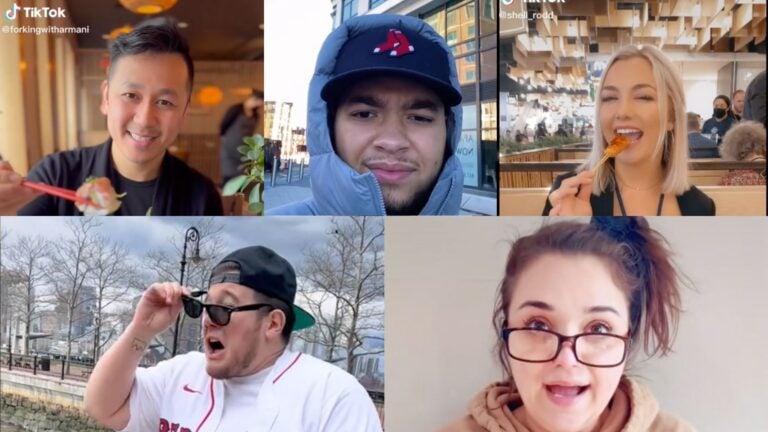 From foodies to impressionists, Boston has its fair share of star TikTok creators.
Boston.com asked readers who their favorite local TikTok creators were and 8 came out on top for their unique contributions to the experiences, places, and people the city has to offer.
Ahead, check out the local TikTok creators that readers recommended in our survey and on social.
Responses may be edited for clarity.
@chelsearosefitzy
Chelsea Fitzgerald is the undisputed fan favorite of Boston.com readers.
Her account, a mix of Massachusetts-based humor and restaurant skits have won her many local fans and over 150,000 followers.
"She is hilarious and portrays characters worthy of SNL. She has original content everyday that is so funny and very relatable. However, she also is sober and is very vocal about her addiction and helping others in their recovery. She does weekly sober lives answering questions and giving advice to those still struggling. Talk about using her platform for good!"

– Nate K., Cape Cod
"She creates hilarious skits regarding the restaurant industry with the added twist of Cape humor. She hits the mark with each character, because anyone who has ever worked in the industry has met at least one of them."

– Beth L., Webster
"She is extremely funny. Then on top of that she is a great advocate for her sobriety and telling her story to help others."

– Christina C., Worcester
"Chelsea understands the heart of what it means to be from New England. She's funny but not mean. She's real and raw. She mixes comedy about restaurant work and family with deep discussions about addiction and her sobriety. She is the best Boston area tiktoker hands down. Go visit her at the Lobster Clam Lighthouse Shanty Sea Shack. Be sure to ask for Rachel."

– Victoria M, Framingham
@marcearth1
This Roxbury native is known for his bringing a fresh perspective of Boston to his TikTok.
From using comedy to highlight his experience as a person of color in Boston to using his platform to highlight Black businesses and spread awareness about homelessness, Marcus came highly recommended from readers.
"@marcearth1 this guy is the truth."

– @bjosuagwa via TikTok
"The only TikTok Boston Tiktoker I follow, don't need anyone else!"

@rustyshackleford352 via TikTok
"@marcearth1 doesn't miss! I love his content and the energy he comes with every time."

– @eatzwithtrip via TikTok
@olddirtyboston
This account is a townie go-to and was a frequent reader suggestion.
Run by the creators of the podcast of the same name, this account regularly highlights the restaurant's, businesses, and characters of Boston and beyond.
"@olddirtyboston The real deal right here. Boston raised.

– @bostonk5 via TikTok
"@olddirtyboston all day, everyday"

– @vegabond_gorilla via TikTok
"@olddirtyboston legendary"

– @charhaar via TikTok
@tommyguarino
This creator represents the quintessential Boston local. With over a million followers, Guarino's skits cover everything from Massachusetts drivers, to Dunkin' to Boston sports.
"He is ACTUALLY from Boston not the burbs and knows what he is talking about – so relatable and funny."

– Olivia, Haverhill.
"He's hilarious in using Boston stereotypes in his videos,"

– Jeremy, South Boston
"Has to be @tommyguardino."

– @tommymcglash07 on TikTok
@Forkingwitharmani
This foodie account, run by Armani Thao, takes viewers to some of the best restaurants in the city trying some of the areas nicest restaurants and tastiest looking dishes.
"His content is genuine and I always enjoy seeing his content. His photos and videos are amazing."

– Ellie, South End
"Different from the rest and really has an influence on his audience based off of the content that's being shared."

– Natra K., Lowell
@shell_rodd
This food and lifestyle account takes you to some of the coolest, and tastiest, spots in the city, including Boston's trendiest bars.
"This content creator makes amazing, creative and vibrant videos. You can really tell that so much effort goes into making her videos. Her videos are also the perfect length, not too long not too short and she's always promoting the best places. I know for sure when shell posts it's going to be a good place. I have been to a bunch of places she has suggested and they're all amazing."

– Ariele C., Lynn.
"She has Style, class & love watching her recommended food places. She makes me want to explore them all."

– Jackie C., Everett
"@shell_rodd love love love her videos."

– @jadacbraga via TikTok
@bostopianews
Run by podcaster Evan George, this account features Boston-based daily news updates in under a minute. @Bostopianews has amassed over 20,000 followers and was a frequent suggestion by readers.
"For sure my brotha @bostopianews"

– @stayeatinbruh via TikTok
@cornersofboston
This creator, Brian Pu Ruiz, puts Boston and New England in a romantic light, showing snippets of a prettiest restaurants, cafes, and neighborhoods in the city and around New England.
"This account is the visual version of a deep breathe. It's also a great way to find hidden gems in the city including cafes that I definitely have on my list to check out."

– Katelyn, East Boston
Boston.com Today
Sign up to receive the latest headlines in your inbox each morning.