Readers Say
'Hotels all the way': Readers share why they're shying away from Airbnb
"If the options are there, I will always pick a hotel."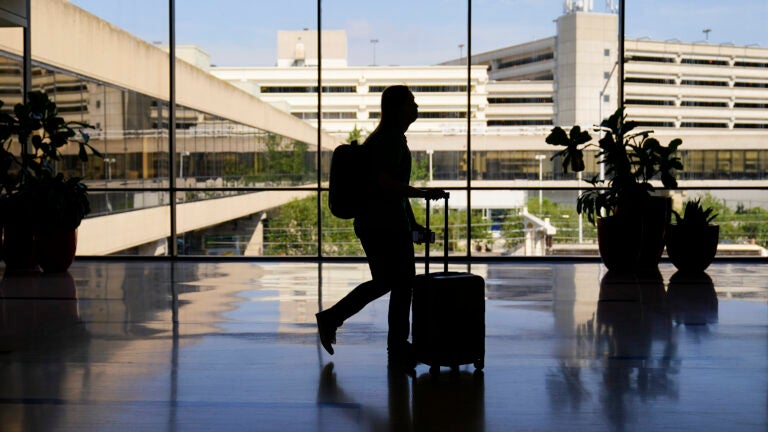 Americans are back to traveling and some are rethinking where they stay when they leave their homes for a trip.
We asked Boston.com readers for their travel habits and lodging preferences since the pandemic, including if they prefer hotels over short-term rentals like Airbnb. Of the 75 readers polled, 73% said they prefer hotels, 16% said it depends on the trip they have planned, and 11% said Airbnb. Hotels are preferred for shorter, solo trips and Airbnbs are best for longer stays with family, friends, and pets, according to our readers.
Sam Randall, a representative for Airbnb, told Boston.com that the company continues to see guest satisfaction and has made changes to improve stays. Some of those changes include allowing guests to opt-in to a feature that will display the total price, including all fees before taxes, upfront. The site's search algorithm also prioritizes total price over nightly rates, according to Randell.
According to the company, Boston guests select their listings to save money, for the location convenience, and the ability to have a private space.
Which do you prefer when traveling?
Airbnb
Hotels
It depends
Have your lodging preferences changed since pre-pandemic?
Yes
No
Despite this, several of our readers said they prefer hotels over Airbnb because it no longer feels as affordable as staying at a hotel. Readers cited cleaning fees and lack of reliable service as why they gravitate toward traditional hotels when they travel.
"If the options are there, I will always pick a hotel. I like the experience better — room service, cleaning, and concierge," said Keri from Maine. "The only thing is that they are often harder with small children."
For Airbnb fans, having space for a family and pets when traveling was a big reason they remain loyal to short-term rentals over hotels. Nearly 90 percent of Airbnb listings have kitchens, according to Randall, and that along with the immersive experience of "traveling like a local" keeps guests booked.
"For families or groups, Airbnb listings offer added conveniences and amenities — from kitchens and game rooms to pools and other shared spaces, with options outside of typical tourist destinations," said Randall.
Despite rumblings about travelers returning to hotels, Airbnb has some of the highest guest demand it's ever had, according to Randall. In the third quarter of 2022, Airbnb hosts welcomed "a record 90 million guest arrivals and Nights and Experiences increased 25 percent from the previous year."
"As guests increasingly return to cities and cross borders — while continuing to visit small towns and rural destinations — Airbnb hosts are uniquely positioned to capture additional market share."
Since the pandemic, Boston.com reader JKM from Lincoln has preferred to stay at Airbnbs when traveling.
"The best way to avoid COVID is to stay in a place you have entirely to yourselves," she said. "Plus, you can have better control over your diet, and reduce your restaurant expenditures."
Boston.com readers are loving their hotel stays and told us why in our informal survey. Below you'll find a sampling of responses from readers sharing where they prefer to stay when they travel and what circumstances could change their minds.
Responses have been lightly edited for length and clarity.
Which do you prefer when traveling?
'I know what I'm getting into in a hotel'
"Hotels are more accommodating and offer rewards and loyalty programs. I only use short-term rentals if traveling with a huge group where it ends up being more economical on a per-person basis." — Grace G., Malden
"I am not paying a cleaning charge and then told me to strip my bed and towels, and take out my trash." — Stan
"I know what I'm getting into with a hotel. I don't with Airbnb and the long lists of complaints about surprises including rules, tasks, and fees that make the prices comparable make it far less attractive." — Donna J., Dracut
"I vote for hotels. Airbnb is too strict. When I stayed at an Airbnb, my host threatened to charge fees if anything went missing or out of place, I mean anything. I can't relax under that kind of stress. I have good manners and take care of the places I stay. I've been choosing hotels since. I've also had several female friends complain about their male hosts hanging around when they weren't supposed to be there, very creepy. Hotels all the way." — Melissa
"I like the idea of an Airbnb and still prefer this option for large groups or a ski weekend but I hate the added fees and taxes, the lengthy sets of rules, the inconsistency in product and experience, etc. Hotels feel easier for shorter stays, offer more amenities, and are stress-free. Renting timeshares is the most underrated option and a great hybrid of the two options." — Jamie, Marblehead
"I don't like surprises in travel. If I have a problem with a hotel room, I can usually get it remedied quickly." — Kevin F., Connecticut
'The choice is influenced by the destination'
"When I travel with kids, it's easier to have a separate bedroom for them to sleep in since they go to bed earlier than my husband and I. It's also helpful to have a kitchen so we can save money by making our own meals instead of having to eat out for every meal (with a family of four, it adds up). Staying at an Airbnb allows us to afford that. Suites at hotels are typically much more expensive. Also, I find many hotels pretty generic, and the same or similar to most other hotels. When we stay at an Airbnb I feel like we are staying in a place that allows us to really experience that location more authentically than a hotel can. If the purpose of my accommodation is mainly just a place to sleep, or if I'm traveling without my kids, a hotel can make more sense in that situation." — Laura, Medford
"We do an Airbnb for family trips when you're going in be in one spot for a week or more and want a larger space with multiple bedrooms/baths. But we only book with "super hosts" with lots of reviews. A few years ago I was booking Airbnbs for most everything. However, we've begun to stick with hotels for shorter stays. Like everyone says, Airbnb is no longer a good deal. I hate the cleaning/service fees markup and have had a couple not so great experiences when something broke and wasn't fixed and couldn't get into the property. Hotels can certainly have their own issues and you're not guaranteed a great stay, but there's more consistency and accountability. A lot of rental hosts don't really know what they're doing, are in it for a quick buck, and don't deliver a good experience. Why risk being a horror story?" — Jennifer, Newton
"If we travel with our dogs, we always pick an Airbnb stand-alone house. Much better than hotels and you never have to worry if the person in the next room (or room above) will disturb the dogs with noise. Also, if we travel in Europe we prefer Airbnb as it 1) lets you stay in real neighborhoods rather than tourist zones and 2) we like to make breakfast and some meals so it really helps to have a kitchen." — Diego F., Brighton
"The choice is influenced by the destination. On a trip that is urban or touring frequently, I prefer a hotel. Location, concierge services, etc. are useful and enhance the experience. On a beach trip, a condo or apartment is the best." — Terese, Gloucester
'I've always enjoyed the flexibility that Airbnb offers'
"In Italy, staying in an agriturismo is such an amazing experience! Beautiful setting and delicious food. Have been using Airbnb for many years all over the world and have been mostly very pleased (just a few stinkers). I love staying in a cool residential neighborhood (Edinburgh) with real residents or a beautiful setting (Norwegian mountains) and they are comfier with more room to spread out, even to make a quick meal if there's a kitchen. Often you meet cool people who own the Airbnb who can be lovely to chat with and provide cool travel tips. Airbnb can be part of the travel adventure and we have had really nice experiences staying with them. They are often more affordable as well." — Julie, Hopedale
"With a family of four, I can usually find a two-bedroom Airbnb for the price of a hotel room, especially for a greater than one day stay. No brainer." — Paul D., Lexington
"More space and creativity in an Airbnb. Also, privacy." — Pam, Massachusetts
"I've always enjoyed the flexibility that Airbnb or VRBO afford me. I can cook breakfast or have a space where I can eat takeout comfortably. Hosts are always amenable to suggesting places to visit or eat, or the best bus route to get somewhere. And I've met hosts with interesting backgrounds and some have provided cooked-to-order breakfasts, wine, beer, and/or snacks. Great perks! Bottom line: many times the return on investment is better with an Airbnb/VRBO than what a hotel provides." — Chris S., Brookline
Boston.com occasionally interacts with readers by conducting informal polls and surveys. These results should be read as an unscientific gauge of readers' opinion.