Readers Say
'Play the game': Readers think the NFL should go ahead with Patriots-Bills
"The NFL will be under great pressure not due to human compassion, but due to their bankroll."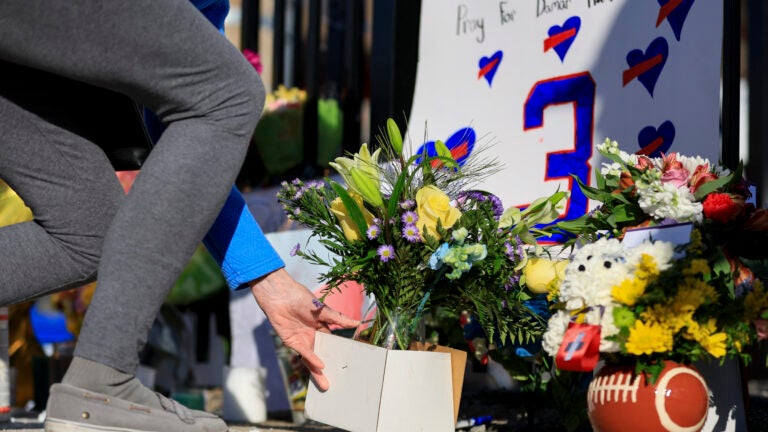 Football fans are still reeling from Monday's Bills-Bengals game, where Bills safety Damar Hamlin, 24, suffered a cardiac arrest on the field. The game was postponed as Hamlin continues to fight for his life in the hospital, but the rest of the season hangs in the balance as the NFL makes scheduling adjustments.
As of Thursday morning, the league plans to continue with the Sunday night game between the Bills and the Patriots, a move that many Boston.com readers say is the difficult, but correct, call. After NFL officials announced that the Bills-Bengals game would not continue this week, we asked readers if it was a good idea to move forward with the season as planned. Of the more than 800 people who responded to the poll, 70% said it was best to go ahead with the Bills-Patriots game.
"Move on with the season. This is a great game and players know the risk," Moe A. said. "Remember Darell Stingly way back? The season didn't stop then."
On Wednesday, the team said in a statement that Hamlin "remains in the ICU in critical condition with signs of improvement noted yesterday and overnight." Hamlin's father gave the team an update on Wednesday night, indicating that his son's condition was improving, according to CBS Sports.
NFL officials say they haven't ruled out the possibility of postponing Sunday's game and will include the Bills in that decision-making process.
"We'll allow Sean [McDermott] and his team and his staff and the players, which are the most important things here, to guide us if we have to make that decision," said Vincent.
Is the NFL doing the right thing by going ahead with Patriots-Bills game?
Yes, keep the game as scheduled.
Not at all, it should be rescheduled.
It depends.
The Bills haven't held practice since Hamlin's tragic accident. Some readers think the league should allow the team the time to properly process what they experienced on the field as they wait for good news about the teammate's condition.
"I believe until that young man has made a significant change and is able to breathe on his own, the game should not be played. His teammates I'm sure are still traumatized … Let them heal. Prayers for Damar from a long-time Pats fan," said Nancy F. from Lowell.
Most readers agreed with the NFL's decision to suspend Monday's game, but are also eager to see the season play out as planned.
"They were right to suspend the game at the time. The NFL should just declare that game finished with the score at the time as final," said Andrew M. from Weymouth. "For this week, with all tragedy, it's important to move forward after."
Read ahead to see how readers are reacting to the NFL's decision to play through the rest of the season.
Responses have been lightly edited for length and clarity.
Is the NFL doing the right thing by going ahead with the Patriots-Bills game?
Yes, keep the game as scheduled.
"If a co-worker suffered an episode at work (a scenario that has and does play out across the world), at the moment, activity ceases and the welfare of the affected person takes center stage. Once that person is under medical care and stabilized, even if in critical condition, regular updates and communication will inform and comfort everyone. While concern for that person's welfare remains at the top of everyone's mind, business and life resume. I feel it is the same here. The NFL is a business. The players go to work and while we all sympathize and wish this didn't happen and want a full recovery for this young man, the NFL can't and shouldn't shut down. I agree with the league's action of suspending the game. That was the right and only decision in that moment. From here on out, they should resume normal business." — K. Cafferty, Buford, Ga.
"Although Damar's medical emergency was shocking, the NFL should be OK to move forward now. Suspending and postponing the Bills-Bengals game was the right thing to do. Now it is time to move forward." — Laura K., Halifax
"Damar Hamlin is in the best hands and improving each day. What happened was a tragedy that sadly happens more often than anyone wants to believe in youth/school sports. At the professional level, players know there are risks involved and are lucky enough to have qualified medical professionals at their sides in an instant. The right call was made to cancel the game at the time of the incident and maybe it can be made up by extending the season a week for the Bengals and Bills (week 19 for those teams only and only if it has any bearing on seeding after all week 18 games are done).
"What happened was devastating and scary but the world keeps turning and Damar thankfully continues to improve. This is not meant to sound callous or hurtful to anyone, only realistic. What I hope comes of this, besides the full recovery of this young man, is an awareness that ALL youth sports and school sports nationwide become federally mandated to have a qualified paramedic and AED device at all events." — Tonya, Connecticut
"I remember what the NFL did in 1963 after JFK was killed on a Friday. They played all games on Sunday. Play the game." — Joey V., Franklin
"It's extremely unfortunate that something like this happened, especially in such a highly visible way. Damar is getting the best medical care available, and that will continue. He's loved and cared about by thousands. We all dearly want to see him walk out of that hospital on his own, and maybe even play football again. Playing the games or canceling the games won't change any of that.
"It would be great if the NFL embraced the moment and continue with the schedule, and at the same time, use the incredible reach of their platform to educate about heart health. CPR and AEDs can and do save lives. As unfortunate and rare as it is in young, healthy people, a cardiac arrhythmia that causes sudden cardiac arrest occurs thousands of times every year. There are many times when immediate CPR and/or an AED could have saved someone's life. Information like this is very important. At times, it can be the difference between life and death." — Jay M., Waltham
"This is truly an unfortunate injury, however, unless the NFL is going to fold or end the season now, it is imperative to play the sport. After the marathon bombing, the Red Sox with Big Papi leveraged the opportunity to show leadership and strength. It will not be easy. Witnesses to this event will be forever changed. Hamlin's life is forever changed. Sensitivity to Hamlin's condition is imperative, [as is] moving forward. Is football dangerous? Yes, it is! Fold or play are the two choices. The NFL will be under great pressure not due to human compassion, but due to their bankroll. It will be interesting to see how it unfolds. Concussions don't get this much attention yet are equally as debilitating." — SLC, Merrimack, N.H.
Not at all, it should be rescheduled.
"The team is waiting for some more encouraging information regarding Damar. The league should respect their decision before moving on. Some things are more important than football." — Charles, Roanoke
"Players' lives are more important than a football game. You can push playoffs and other games back. Damar Hamlin is the only thing that matters." — David F., Carver
"Unless there is a positive change in Hamlin's condition, players on the Bills (as well as the Patriots, and really any player/team connected to the Bills and Hamlin) will likely not be fully focused going into the game. This puts them at risk of injury themselves. This is a sport, for entertainment. It's not the end of the world to delay a game." — Tom, Dover
"Football is a dangerous game that commands laser-sharp focus to execute. As we saw live on TV, the Buffalo players are in a state of shock. There is no way they can safely take the field this Sunday and perform at the level the NFL demands. Most of the league should play this weekend as scheduled, but asking the Bills players to go out there for our entertainment is a recipe for disaster." — David E., Marion
"What is it saying when it is more important to play than to allow people to work through family crises on so many levels? Maybe the NFL believes the game is above the players and fans." — Steve, Easton
"I say suspend the entire week until everyone knows how Hamlin is progressing. Ditch the bye week before the Super Bowl and push everything one week. People's lives are far more important than a game." — Billy S., Salisbury
It depends.
"If we get some extremely good news on Hamlin's health over the next 48 hours then, yes, they should play. If he remains in critical condition the season should be postponed until his health improves enough that he is out of danger." — Dan S., Wakefield
"On one hand, is humanity. On the other, is business. While I hope for a delay, it really doesn't solve anything. There's no good time to restart or reschedule. Whenever it is, it'll be an undesirable but inevitable day. And for Patriots vs. Bills, I mean how can the Patriots win without it looking tactless? God bless Damar Hamlin." — Randy D., Billerica
"The Buffalo Bills as a team should determine whether the game is played. It should not be decided by the league. The players need to discuss internally their feelings and decide whether they are in the frame of mind to play or whether they would like to wait for further developments in Damar's recovery. This is not an injury, it is a life-or-death situation. Football is entertainment and takes a backseat to the severity of the situation. I also think Damar Hamlin's family should be consulted." — Dave W., Bridgewater
"Patriots should forfeit the game. Yes, it may cost them a playoff spot but they aren't going anywhere this season anyway. Give the Bills more time to prepare for the inevitable completion of the Bengals game. Would be a classy move by Patriots." — Steve G., Lynnfield
"I would prefer that they freeze the season at 17 games take a break, and go straight into the playoffs. Trying to fit another game in just because makes no sense. Take a week off and let these guys get their minds straight." — Lee F., Saco, Maine
Boston.com occasionally interacts with readers by conducting informal polls and surveys. These results should be read as an unscientific gauge of readers' opinion.
Get the latest Boston sports news
Receive updates on your favorite Boston teams, straight from our newsroom to your inbox.