Readers Say
Readers think these issues should be at the top of Healey's agenda
"People shouldn't be moving out of Massachusetts because they either cannot afford a home or cannot find work."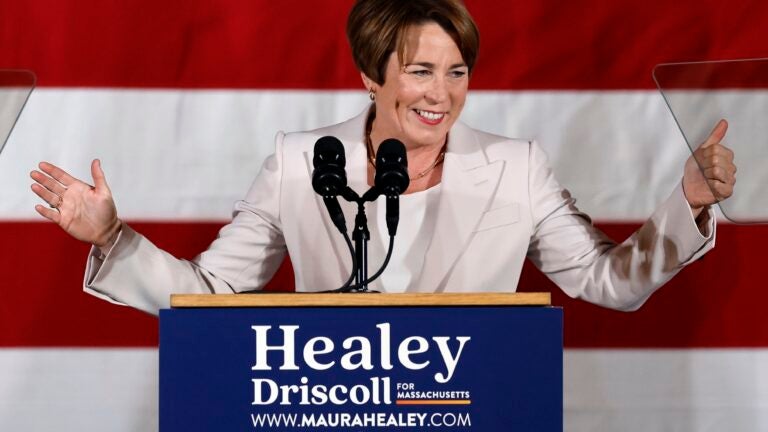 Governor-elect Maura Healey takes office on Jan. 5, becoming the first-ever woman to lead Massachusetts and the first Democrat since 2015. She's got big shoes to fill as America's favorite governor leaves office, and according to Boston.com readers, her list of priorities will be long.
After Healey won the election in November, we asked Boston.com readers what they'd put at the top of the incoming governor's to-do list. Transportation, and the MBTA specifically, was the most common suggestion from readers, but there was no shortage of policy issues that came up in our survey.
Gene from Weymouth gave his suggestions in no particular order: "Housing costs, housing availability, making sure our schools maintain their best in the country ranking, plans to help students recover academically from COVID, addressing the soul-crushing and demoralizing traffic, doing our part about climate change and environmental protection, continuing to reduce crime and helping keep Mass. one of the safest states in the country, support for community hospitals so the big hospital in Boston don't always get all the money, and make Mass. a destination for businesses with good paying jobs to come here and stay here."
Healey and Kim Driscoll, the incoming lieutenant governor, will be sworn in at the Massachusetts State House at 11:30 a.m. on Jan. 5. The Healey-Driscoll administration has started hiring for executive roles and putting together governing plans behind the scenes.
Ash V. from Pepperell wants to make sure the new governor is focused on the Commonwealth as a whole, not just Boston. Among their suggestions are more investments in educational training programs, sustainable energy jobs, and basic infrastructure for roads and bridges.
"Some of our towns have many boarded-up storefronts and people are just getting by. Among Governor Healy's top priorities, I would like to see more support for small school districts so that our children have the same educational opportunities larger, wealthier districts do," they said. "I also think affordable housing alongside a diverse economy is critical. People shouldn't be moving out of Massachusetts because they either cannot afford a home or cannot find work."
During a speech she made at her victory party, Healey said she was ready to work for the Commonwealth.
"I'll work with anyone who's up for making a difference in this state," she said. "I want you to know I understand what you feel. I understand where you are, and I'm going to do everything in my power to help you because we're all in this together."
Below, you'll find a sampling of responses from readers who shared what they think Healey's administration should be focused on from day one.
Responses have been lightly edited for length and clarity.
Transportation
"Governor-elect Healey undoubtedly must make a more efficient and customer-friendly MBTA her highest priority, if only for public relations reasons. Most voters expect this to be her top priority. An important aspect of making the MBTA more efficient and customer-friendly is hiring some new people in top and middle manager positions at both the MassDOT and MBTA. All too often, Republican-to-Democratic and Democratic-to-Republic gubernatorial transitions place a priority on placing campaign workers in positions that serve neither the new Governor nor the Commonwealth. The worst administration transitions are when firing decisions in year one are determined by one's partisan affiliation and not by one's competence." — James H., Everett
"Please focus on public transportation, roads, bridges, and sidewalks!" — Paula, Boston
"Build the North-South stations rail link." — Timothy P., Gloucester
"Fix the T. It is an absolute clown show. Not a day goes by without a problem on the Red Line. There is no way that Boston can be considered a 'world-class' city with unreliable public transportation." — Joe B., Boston
"Public transportation. The T is woefully mismanaged, causing an extremely negative impact on people's lives and the state's economy. New leadership is required. Leadership that embraces an openness to identify and adopt best practices employed at other transit systems and beyond to launch necessary short and long-term reforms and initiatives. Perhaps a fresh approach and perspective should be considered. Governor Healey only has to look at Massport and its highly successful airport and seaport management and operations. Both the T and Massport share identical responsibilities: move people and promote commerce. Lots of best practices to be gleaned from what's working really well in the Commonwealth." — Robert D., Winthrop
"Fix the MBTA from management on down! The city of Boston deserves a world-class public transportation system. That the city has no representation on the MBTA board is obscene. It should have at least half of those seats since the city is the focus and primary destination of the entire system. When management is so concerned with system expansion and a city resident cannot go from the North End to Copley Square without delays and breakdowns, things are in pretty bad shape. Get their priorities straight." — Joseph Z., Boston
Public health
"Public health! Treat COVID like a real health threat and work on vaccine uptake, along with addressing hospital understaffing and lack of beds. We need intervention from the top to create more beds, less ER wait time (if there is capacity at all), and attract practitioners to Mass. Mass. also needs a program to continue to provide free COVID vaccines and treatment! Having the wherewithal to enact periodic public space masking requirements when hospital capacity is overwhelmed should also be a priority." — Susan B., Cambridge
"Maura Healey should work with the health department to publicize the harmful effect of smoking anything. Young people are smoking and ruining their health and there is no negative publicity from the health department. Those who sell all types of smoking products are profiting off the detriment of the well-being of the youth. Reducing the demand for smoking products by speaking against the products will give incentive to not sell these products. The popularity of smoking is encouraged by the tepid response of the health department." — Doreen, Waltham
"True single-payer, government-run universal healthcare." — Steve F., Hudson
Money matters
"It has been reported the Commonwealth has a $2 billion dollar surplus. The state income tax is 6.25% and local taxes in many communities are .75%. Inflation has been a burden along with rising rates for electricity and fossil fuels. I would like Gov. Healey to work with the new state auditor to audit state agencies and look for ways to save money. Consolidate, eliminate redundancy, and centralize to reduce state spending. Private enterprise deals with layoffs, reduced budgets, and cutting costs to remain profitable. State government needs to show the people they serve they 'feel their pain' by affecting positive change." — Robert B., Hanson
"Lower taxes. They are too high. High taxes hurt the economy and make it harder to attract talent to the region." — Jay, Dover
"Her campaign ads said she was going to reduce taxes, let's start there. Why not eliminate the gas tax at least it will apply to everyone." — David, Plymouth
Education
"Most people will say the top priority for the governor-elect should be the MBTA and I agree. But I would also like to point out that statewide education should be a major priority as well. After lower standardized test scores this year, our students need help and support from the state to gain an advantage. I also hope that the governor-elect works with the state legislature to dramatically increase the state's education budget for the preschool childcare system, the K-12 system, and the public college system from the money gained in Question 1. As an aside, I hope that money from Question 1 is actually an [addition to] the current education budget and not replacing dollars that go elsewhere." — AJ, Fenway
"Expand and grow the vocational schools. We need tradespeople now more than ever." — Paul D., Hull
Boston.com occasionally interacts with readers by conducting informal polls and surveys. These results should be read as an unscientific gauge of readers' opinion.