Readers Say
More than 150 readers voted: Here are the best food trucks in Boston
This longtime favorite received more than half the vote.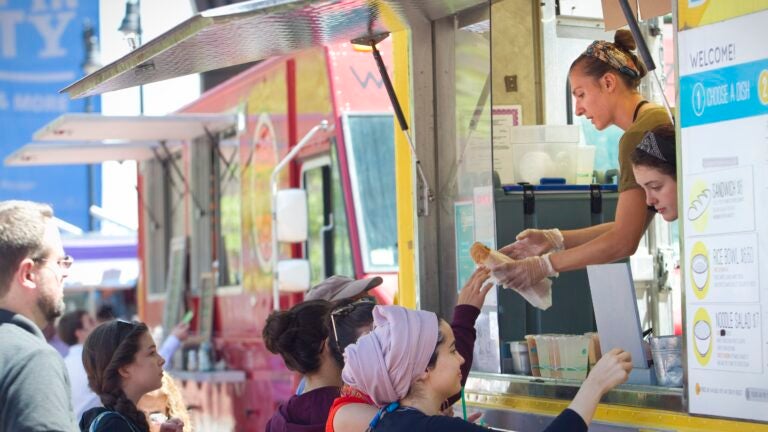 Food truck season is in full swing. With many vendors stationed around Boston serving your favorite meals in the middle of the day, it can be hard not to pick something up for lunch. From tacos, waffles, and Asian-inspired sandwiches, there are so many options to choose from. So which one is the best?
We asked for your favorite Boston area food truck, and received over 150 responses from readers with a clear winner. Popular recommendations included trucks serving Middle Eastern street food and Asian-inspired dishes, while others voted for trucks serving tacos, New Orleans fare, and even cookies.
Ahead, we rounded up your top five picks and highlighted your favorite meals from each truck.
This longtime favorite took a majority of the vote (54%), and we can understand why. Their fleet of trucks serving Middle Eastern halal street food offers savory plates of chicken—baked, grilled, then finely chopped—with rice, doused in its famous white sauce. You can also choose to order a beef and lamb mix gyro, or oven-baked tofu for the vegetarians. Other sauce varieties include hot sauce, a mint-cilantro-jalapeño mix, and barbecue.
"Chicken and salad with creamy garlic sauce mixed with BBQ sauce and pita chips!!! The guys and girls that work on the truck are the BEST!"

—Sally, Winthrop
"Large combo with hummus. It's fast, convenient, tastes great, and cheaper than most lunch options."

—Sam, Quincy
"Chicken and gyro combo with rice. I love this truck because it's fast, yummy, filling, and the white sauce is to die for."

—David P., Everett
"The chicken and rice plate with crispy onions, seasoned ku-mato, hummus, and pita. I like their garlic sauce and extra hot sauce."

—Kevin O., East Boston
Asian-inspired eats are on the menu at this fun food truck. Their sandwiches, styled after the Vietnamese banh mi, come with a variety of fillings. Try "The Namesake," a toasted baguette with miso pork, or "The Korean Style," which comes with gochujang chicken, pickled carrots and daikon, and other toppings. They also serve rice bowls, noodle soups, and drinks, like Thai basil limeade, milk bubble tea, and spicy ginger lemonade.
"The classic banh mi sandwich is my go to, but I love that they're constantly experimenting with new proteins, flavors, and combinations."

—Monica H., Salem
"Sesame soba noodles and spicy ginger lemonade."

—Anonymous
A food truck serving burgers and barbecue, this vendor tied for second place with Bon Me, each receiving 14% of the vote. Readers were fans of the "Lemmy," which has bourbon BBQ, hardwood smoked bacon, smoked onion crisps, and cheddar cheese. You may also look to the "Simmons," a vegetarian option, that is made up of a black bean/quinoa burger, topped with lettuce, cilantro aioli, and cheese. And you'll want to pick up a portion of hand cut fries to go with your burger.
"Any special they are running. All of their specials are super creative and just really make them stand out from your run of the mill burger place."

—Dennis, Boston
"Great Burgers that have unique variety specialty items, which are palate surprises. Egg rolls are definitely one of those surprises. Efficient service and good vibes from owners, who are down to earth. Plus, fries are on the money!"

—Terrance, Brighton
When you're craving something sweet, Zinneken's is the way to go. This food truck specializes in authentic Belgian waffles. Choose between a Liege or Brussels waffle, then pick from a variety of toppings like strawberries, crumbled Oreo cookies, and Nutella. You can also try one of their Favorite 10 confections, like "The Gourmand," with bananas and caramel, or "The Dame Blanche," with whipped cream and chocolate.
"Liege Waffles! Love their smell! And of course, they taste so good!"

—Dominique F., Cambridge
"I always order 'The Zinneken' with banana and that's amazing 😌."

—Rachel, Boston
This food truck offers a creative take on Asian street food, specifically, the dumpling. A meal box, like the "Classic Pork Dumpling Box," which contains pork- and napa cabbage-filled dumplings, a side salad, and served with either scallion fried rice or garlic noodles. You can also pick up appetizers like Japanese fried chicken and spring rolls. To drink, try a raspberry lime rickey, a mango oolong iced tea, or a Thai iced tea.
"Veggie dumpling box with a spring roll."

—Anonymous
"Dumplings and noodles."

—Mikey N., North End
Boston.com occasionally interacts with readers by conducting informal polls and surveys. These results should be read as an unscientific gauge of readers' opinion.
Sign up for The Dish
Stay up to date on the latest food news from Boston.com.