Readers Say
Should Massachusetts regulate ghost guns? Readers say yes.
"Ghost guns absolutely need to be regulated to keep the rest of us safe."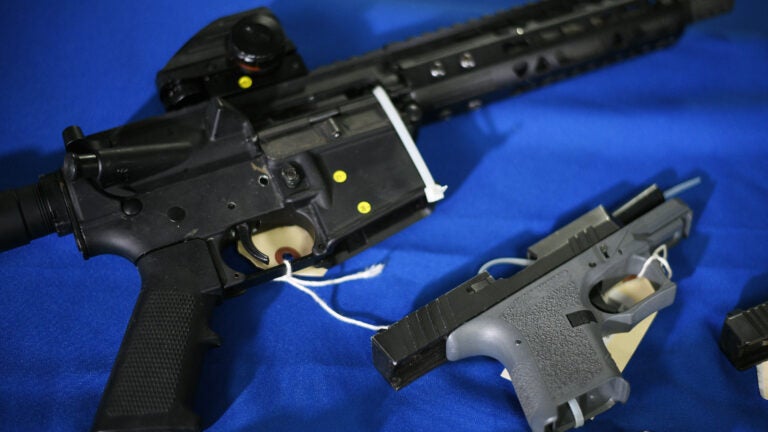 The Massachusetts House approved a gun bill last week aimed at modernizing firearm laws, cracking down on unregistered "ghost guns," and updating the state's firearm registration system.
The bill (H. 4139) was passed with a 120-38 vote and will be sent to the state Senate. Both chambers of the Legislature must agree on a single bill to send to Governor Maura Healey's desk for her to sign before it can become law.
The bill expands the state's ban on assault weapons by prohibiting new purchases of AR-15-style weapons, banning someone from turning a legal firearm into an illegal automatic weapon, and modernizing the state's firearm registration system.
"The provisions in it are all calibrated to make us safer, to continue to allow those who responsibly own and safely handle firearms to do so, but to crack down on those who cannot," Representative Michael Day, the bill's sponsor, said at the Oct. 18 hearing.
Included in the bill are measures to crack down on untraceable guns, also called "ghost guns," which Day said are "flooding our streets and taking lives indiscriminately."
We asked our readers if they think Massachusetts should regulate ghost guns, and the majority (62%) of the 240 respondents to our poll said yes, with 38% against regulations.
Do you think Massachusetts should have stricter regulations on ghost guns?
A report by State Police found a 75% increase in the recovery of untraceable guns between 2021 and 2022 alone.
These homemade guns are "Frankensteined" together without law enforcement being able to find out where they originated, Day said at the hearing. On top of this issue, dealers have found a way around the state's existing assault weapons ban by selling gun frames, receivers, and other parts, which allows individuals to easily assemble them and "make fully functional guns that are otherwise illegal here in Massachusetts," according to Day.
To address these problems, the bill proposes including frames and receivers in the definition of a firearm, requiring that all frames and receivers have a serial number that is reported to the federal or state government. It would also modernize the registration system to close loopholes in the Massachusetts Gun Transaction Portal.
Gun owners, such as Jim Wallace, executive director of the Gun Owners' Action League opposed the bill, telling the Boston Herald that "there's nothing in there that goes after the criminals."
The National Rifle Association also strongly opposed the "ominous" bill, saying it "includes the worst anti-gun legislation in the country."
Below we compiled a sampling of responses from readers sharing their thoughts on the latest gun reform efforts in Massachusetts.
Some responses have been lightly edited for clarity.
Should Massachusetts regulate ghost guns?
Yes
"Ghost guns are clearly intended to circumvent current gun laws and so the loopholes allowing them to circulate need to be closed for the safety of all of us in the Commonwealth." – Jim O., Groton
"Without a question of a doubt, all loopholes to unlawful carry and access to illegal guns should be quashed immediately, and breaking these laws should be met with harsh repercussions." – Brian, East Boston
"Statistics show that states with stricter gun regulations, like Massachusetts, have lower per capita gun deaths. Why on Earth would we choose to then allow unregulated, untraceable ghost guns?" – Bea P., Medford
"Ghost guns are just as deadly as regular guns, but they are completely under the radar. They can be bought online by anyone too young or too old to safely operate a gun, or those with criminal records or mental health issues. Ghost guns absolutely need to be regulated to keep the rest of us safe." – Jennifer, Peabody
"Taking some steps to lower gun violence in our society is a no-brainer. I hope our country does more. This is not to neglect or be inconsiderate of the well-behaved gun owner but to have tighter controls over weapons that don't have a place in our society." – S.L., Adams
No
"I want to responsibly, lawfully carry to defend my family and myself. But the legislation hampers it too much, such that it's essentially a ban." – Jack, Boston
"I'm a big advocate of sensible gun control, but laws making ghost guns illegal are all but unenforceable. Unless the Commonwealth requires some form of license or permit to own a 3-D printer and those who own them can be constantly monitored so that they will not manufacture gun parts, the only time someone can be arrested and prosecuted is when they are already under investigation for manufacturing gun parts or some related crime. I want ghost guns off the street, but this is another example of politicians and law enforcement trying to play catch-up with technology that's way ahead of them and their attempts to slow it down or stop it." – Adam B., Salem
"Tightening restrictions on serializing receivers makes sense to reduce the proliferation of ghost guns sold in stores. But that is not typically what ends up in the hands of criminals anyway. Current law is essentially a gun ban on semi-automatics and makes it incredibly difficult to own and maintain guns, even to legally conceal carry. Serializing mags is ridiculous and just adding red tape to make owning weapons more difficult. The majority of the bill is not centered around ghost guns." – Matt, Medway
Boston.com occasionally interacts with readers by conducting informal polls and surveys. These results should be read as an unscientific gauge of readers' opinion.