Readers Say
More than 1,000 readers voted: Ricardo Arroyo should resign
"I question his integrity and honesty — he needs to resign."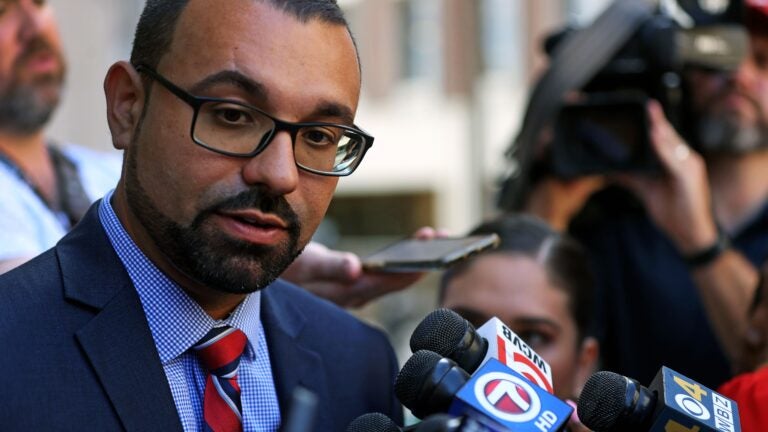 The fallout of Rachael Rollins' resignation as U.S. Attorney for the District of Massachusetts has reached Boston City Council, where Councilor Ricardo Arroyo faces calls to resign over his alleged involvement in Rollins' ethics violations.
More than one thousand Boston.com readers agree: Arroyo should resign from City Council.
Recent reports from the Department of Justice inspector general and U.S. Office of Special Counsel accuse the former attorney general of meddling in the race for Suffolk County district attorney to swing the race in favor of Arroyo.
During the race for Suffolk DA last year, and facing news coverage of sexual assault allegations made against him when he was in high school, Arroyo messaged Rollins and said an investigation into his opponent Kevin Hayden "[w]ould be the best thing I can have happen at this moment."
"Understood," Rollins responded. "Keep fighting and campaigning. I'm working on something."
Rollins allegedly leaked sensitive information to local news outlets to create the public impression Kevin Hayden was or would be under DOJ investigation.
In the wake of these federal reports, City Councilor Erin Murphy called for "swift and appropriate consequences" for Arroyo and told Boston.com she believes the councilor should resign. Without naming Arroyo, City Council President Ed Flynn said recent reports had "cast a shadow over the Boston City Council" amid the budget and redistricting process.
We asked Boston.com readers if they agree with calls for Arroyo to resign and of the 1,174 readers who responded to our poll, 94% said it was time for the councilor to step down from his seat.
"Anyone who acts in concert with another person to violate federal law does not have the ethics nor the intelligence to represent anyone," said Jose F. from Boston. "This, along with the sexual assault he was accused of doing, is unacceptable. He should resign."
Should Arroyo resign from City Council?
Arroyo released a statement last week, stating that he was saddened by the news but that investigations into Rollins allege no wrongdoing on his part.
Later that week, he spoke with WHDH outside his home in Hyde Park and reemphasized his statement.
"I've done nothing wrong and so, I'm absolutely not resigning," he told reporters.
My statement regarding Rollins investigations. pic.twitter.com/ldtvPtbje3

— Ricardo Arroyo (@RicardoNArroyo) May 18, 2023
Boston Mayor Michelle Wu called this "a sad situation all around" but said the consequences should come at the ballot box. Boston will vote in municipal elections in November.
"For elected officials, our number one source of accountability is being on the ballot and putting our views and commitments and positions out to the public," Wu said.
Six percent of the readers polled said Arroyo shouldn't resign, and of those, several agreed that his position on the City Council should be left to voters in the fall elections.
"In my opinion, the evidence presented to date doesn't indicate he did anything wrong. Every politician has 'mentors' who they turn to for advice and support. If the voters in his district don't agree with his reflections on the situation, they can vote him out of office," said Gary B. from Cambridge.
Ahead, you'll find responses from readers reacting to the controversy surrounding Councilor Arroyo and sharing their thoughts on whether he should remain on the City Council or step down from his elected office.
Responses have been lightly edited for length and clarity.
'On ethical grounds alone, he should resign'
"Elections shouldn't have interference of any kind. With so much distrust in government, it's imperative everything is on the up and up. Everyone I talk to has lost faith in all our political institutions. Far too much corruption." — James M., Dorchester
"He knew exactly what Rollins was doing, and his claim of being ignorant of her plans is just unbelievable. She didn't do what she did because she liked Arroyo, he was complicit in her plan. Also, he should've resigned after his [alleged] assaults on women came to light." — Jim, Hyde Park
"He may not have done anything wrong in his own words, but he also did nothing to stop it from happening. On ethical grounds alone, he should resign." — Patrick F., Brighton
"It is clear that accepting Rollins 'advice and support' went beyond acceptable limits and Arroyo should have not continued communicating with her. I question his integrity and honesty — he needs to resign." — Maria B., South End
"He just doesn't get it. His Wednesday statement says there was no wrongdoing on his part. If he thinks colluding with a federal law enforcement official to make up allegations out of clear cloth to stain his opponent in an election race to become THE law enforcement official in the county is okay, then he is not suited for any public service. This is what is wrong with our democracy." — Richard, Roxbury
"He conspired with another person in a position of authority within our government to use that governmental power to influence elections. That power belongs to the people and is not to be wielded for personal benefit. Clear corruption." — Ja, Brighton
"Cleary he welcomed her interference. He reached out to her and has specific asks which is damning in my mind. Elected officials, let alone those who are tasked with enforcing the law, asking for and accepting favors for illegal action is abhorrent. I am well aware that as a woman of color Rollins faced a microscope I can only imagine was enormous; however, she clearly did nothing to assuage concerns that she was dirty and Arroyo's cooperation with her is just as vile as her actions. He is clearly unfit to serve Boston. We have a lot of work to do here to clean up our image and we need people who put the city and citizens above personal achievement." — C. Manley, West Roxbury
'The pot is calling the kettle black'
"He fights hard for the people of Boston who are often overlooked or ignored. His work speaks for itself. I think wishing a messy story about your opponent would come out, right after that opponent [allegedly] leaked a messy story about you, is a very human response." — Kyle, Dorchester
"No need to resign…but don't run for re-election. Don't run again and learn from your mistakes. Instead of finding ways to lift oneself up, the 'best thing' that can happen to you is the potential demise of someone else? Couple that attitude with a questionable past, not the type of person or mindset I want representing the people, and not an indication of who we are as Bostonians. He should spare everyone the time and money and do his best to finish his term gracefully and not run for re-election." — Brian, East Boston
"There is no allegation of wrongdoing on Arroyo's part in the report and Erin Murphy's statement reeks of political dog-whistling." — D.L., South Boston
"The pot is calling the kettle black. Most members of the City Council, including Erin Murphy, have pulled strings and used connections to get and stay elected. While his behavior is disappointing, it's commonplace in politics, especially in Boston. Sure, make him resign, but then the rest are one leaked text away from being next on the chopping block." — Emily, Hyde Park
Boston.com occasionally interacts with readers by conducting informal polls and surveys. These results should be read as an unscientific gauge of readers' opinion.
Boston.com Today
Sign up to receive the latest headlines in your inbox each morning.