Readers Say
Readers share their picks for the song of the summer 2023
Listen to the full playlist of reader-recommended songs.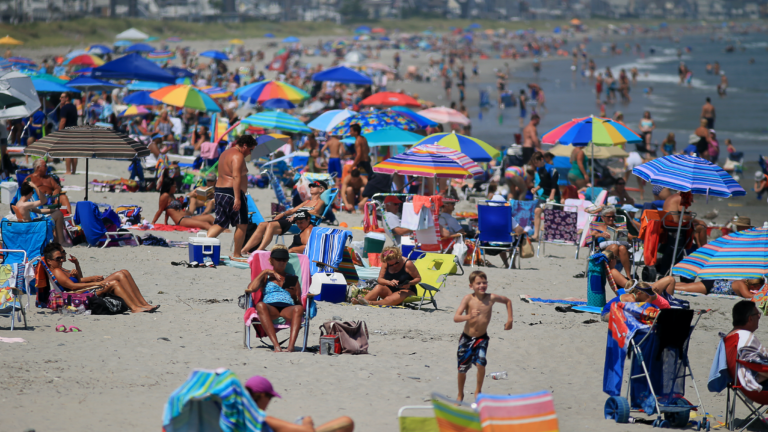 What song will you be listening to on repeat this summer?
We asked readers this question recently and received several responses to our survey and on social media with songs from artists like DJ Monique to Kesha to Katrina And The Waves'. However, only one artist received multiple votes, and you can probably guess who. Of course, Taylor Swift's "Cruel Summer" and "Dear John" were among our readers' summer song picks.
Below you'll find a compiled list of readers' suggestions and a Spotify playlist featuring readers' songs of the summer.
"Borderline," John Shakespear, feat. VQnC
Musician John Shakespear released "Borderline" this year. The soft song opens with a strumming guitar and quickly picks up beat. With its gentle but peppy vibe, this song could be the first song you listen to every day this summer.
"Walking on Sunshine," Katrina & The Waves
The lyrics "I'm walking on sunshine," will be blasting out of someone's car window this summer. This hit song was released in 1985 with their debut album which was a mix of New Wave, pop, and rock. Originally meant to be a ballad, "Walking on Sunshine" changed drastically into the upbeat song we know and love today. The song is meant to be optimistic and fun and is perfect for a sunny, summer day.
"Summer," War
Well, the name certainly fits. "Summer" by War was released in 1976 and is a R&B and is a single from War's Greatest Hits album. This song is mellow and groovy, setting the mood for sprawling out on the sand.
"Smooth," Santana and Rob Thomas
This song was released in 1999, carrying with it the nostalgia of early 2000s pop. "Smooth" was a success after ranking number one on Billboard's weekly Hot 100 for 12 weeks in 1999. This song could could be your new favorite for driving with the windows down or dancing in the backyard.
"Vacation," Connie Francis
Everyone loves vacation, especially in the summer sun. And that's what this song is all about. Ready for that beach getaway? This song released in 1962 is a classic rock, pop, bop encouraging listeners to go have some fun.
"Grease In Your Hair," The National
A recent release this year, "Grease In Your Hair" is softer than the previous songs on this list and may be great for staying in on a slow summer morning or a cool summer night.
"Not Strong Enough," boygenius
"Not Strong Enough" came out this year and has become very popular, reaching over 20 million streams on Spotify. This song from their debut studio album "The Record" is a powerful listen that may bring a tear to your eye.
"The Boys Of Summer," Don Henley
The number one track on Don Henley's "Building the Perfect Beast," this song was released in 1984 and won multiple awards including MTV Video of the Year in 1985 and a Grammy for Best Male Rock Vocal Performance in 1986. The lyrics reminisce about summer love that's been lost, and the concept of growing up.
"Cruel Summer," Taylor Swift
Of course, we could not have a summer playlist without Taylor Swift. And her 2019 song "Cruel Summer" seems to be the perfect fit. Another summer song about love, this song is about the uncertainties in a relationship during the backdrop of the summer months.
"Summer Jam," The Underdog Project
If there was any doubt about which song would be your summer jam, there isn't any more. This song by The Underdog Project was released in 2000 and encompasses an electro, dance party vibe perfect for a beach gathering or barbecue.
"Dear John," Taylor Swift
We all knew that "Cruel Summer" would not be the only Taylor Swift song on our list. "Dear John" is a breakup song about frustration and finally realizing how wrong someone was for you. This may not be the fun-day-at-the-beach song, but for anybody starting over after a relationship, this may make your summer playlist.
"WHARF TALK," Tyler, The Creator, and A$AP Rocky
Released in 2023, "WHARF TALK" is another sad, summer love song that may have a sad message, yet the tune is anything but. The song could easily be played when playing a game of volleyball or catching some rays on the beach.
"Flowers," Miley Cyrus
Did someone say hot girl summer? This song by Miley Cyrus released in 2023 is a different kind of love song. It is about loving yourself and knowing that you can be in independent without a partner and still buy yourself flowers. So whether you're taking yourself on a summer adventure this August or taking some time to focus on self care, hit play on Miley Cyrus's "Flowers."
"Francesca," Hozier
Hozier's 2023 single explores love, commitment, and strife in a relationship. The song references the tragic love story of Francesca da Rimini and the power of enduring the challenges to be with the one that you love.
"Slow Ready," Goose
Released in 2022, "Slow Ready" by Goose is indeed a slow and soft song. This could be perfect for the hot rainy summer days or nights swimming at the beach.
"Alone," Kim Petras and Nicki Minaj
This 2023 song by Kim Petras and featuring Nicki Minaj combines synth-pop and electro-pop. This song has a perfect dance feel or a summer party.
Need weekend plans?
The best things to do around the city, delivered to your inbox.