Readers Say
Stolen art has readers, local museum leaders calling for repatriation
"Museums are being held accountable — like many other institutions — to their histories, their power structures, their inequities."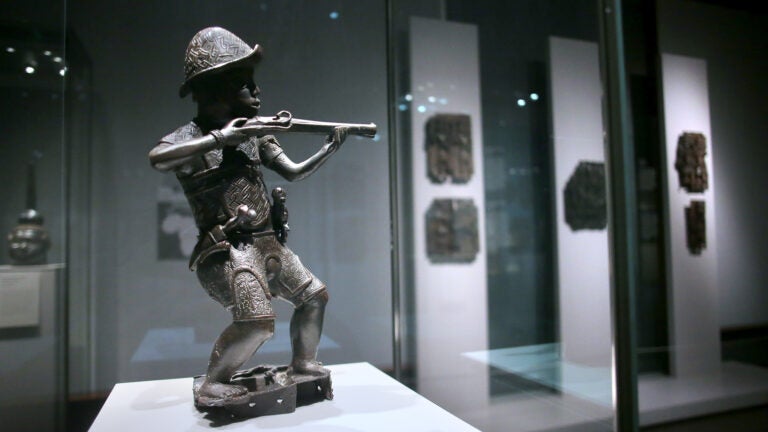 The Benin Kingdom Gallery at the Museum of Fine Arts has a sobering message among the intricate works of bronze helmets, leopards, tunics, and swords that make up the gallery. These rare West African works of art are only available for viewing here in Boston because of stunning acts of violence and theft.
"The works of art in this gallery were looted by British troops in 1897 from the Royal Palace in Benin City," a plaque at the head of the gallery reads. "We recognize the violence and cultural destruction so closely associated with these works of art."
Western museums like the MFA are full of looted art and antiquities, and in recent years, there's been a cultural and legal push to return those objects to their rightful owners. This month, the Worcester Art Museum turned over a bust from its collection to the Manhattan District Attorney's Office after learning that the piece was allegedly looted from Turkey. Given the news of the bust's return, we asked our readers if more museums should follow suit and return looted art in their possession.
"If they have stolen works, they should do their due diligence and return them to the proper owners, even if it means those owners will sell it," Charles L. from Newburyport told Boston.com. "Or museums could offer to pay the rightful owners to buy the works, which would make them legitimate."
For many readers, the answer is clear cut: Stolen art must be repatriated to its place of origin, owners, or heirs. Increasingly, the art world is coming to the same conclusion.
Returning stolen works
The Museum of Fine Arts has returned or resolved ownership of more than a dozen pieces since 1997, including as recently as April 2023. In 2015, the Peabody Essex Museum in Salem turned over the mid-19th-century portrait, "Maharaja Serfoji II of Tanjavur and his Son Shivaji II," which had been stolen from India. At the RISD Museum, the Benin Bronzes were at the center of a public repatriation effort.
Last year, the museum returned a Benin Bronze from its collection, along with the National Gallery of Art, the Smithsonian Institution, and the Nigerian National Commission for Museums and Monuments. Together, the three institutions returned 31 cultural objects, a move Sarah Ganz Blythe, the museum's interim director, said was a long time coming.
"In my experience, [this is] something that museums have always been working on and thinking about. I think the difference has to do with a commitment to being more transparent and sharing that that work is happening," she said. "It is considered the usual work of museums that one investigates provenance, that one restitutes or repatriates when called upon or when it's the right thing to do."
To return its Benin Bronze, "Head of a King (Oba)," the museum had to first acknowledge that the piece was stolen. From there, museum leaders gave up ownership and coordinated a return that would encourage other institutions to follow in their footsteps. After a four-year collaboration with institutions in the United States and Nigeria, the bronze was returned to Nigeria, where the Kingdom of Benin was previously located. It was one of the first Benin bronzes from an American institution to be returned.
"Museums are being held accountable — like many other institutions — to their histories, their power structures, their inequities," Ganz Blythe said. "How collections are formed [is] just part of being held accountable for what we are responsible for caring for."
Increased public pressure
The conversation around repatriation isn't a new one, Ganz Blythe told Boston.com. She recalled the 1990s movement to return Jewish art and cultural objects looted by Nazis during World War II and said the public has only gotten more vocal in the decades since.
In the age of social media, momentum has grown for repatriation efforts in Africa and Asia. A report by Open Restitution Africa found that academic writing on African heritage restitution increased by 300% between 2016 and 2022 and by 600% on social media.
Pressure has also increased to have Native American sacred items and human remains returned to Indigenous communities. A 1990 federal law called the Native American Graves Protection and Repatriation Act was meant to make that happen, but this year, an investigation by ProPublica found that more than 600 American institutions still have Native American remains and artifacts.
Harvard University has the fourth-largest collection of unrepatriated Native American remains in the nation, according to ProPublica. In 2022, Harvard's Peabody Museum said that it would return hair samples taken from 700 Native American children, and following ProPublica's investigation, the museum said it would begin the process of repatriation.
"[Museums] should prioritize Native American collections," said reader Shannon O. "These institutions have no right to possess them and should not be doing research, displaying, or anything, without the consent of the Nations/Communities affiliated with the Ancestors or items."
Wading through murky histories
Amina from Newark, N.J. told Boston.com that museums should be taking special care to determine an object's provenance before purchasing. Provenance is an object's ownership history of an artwork, from when it was first created to its arrival at the museum.
"First, the items should be transported back to the rightful owners (intact and with care) at the museum's expense," she said. "The museum should be held accountable for any future works of art in making sure of clear provenance."
But even now, it can be difficult to be sure of an object's history. The Archaeological Institute of America estimates that 85-90 percent of "classical and certain other types of artifacts on the market do not have a documented provenance."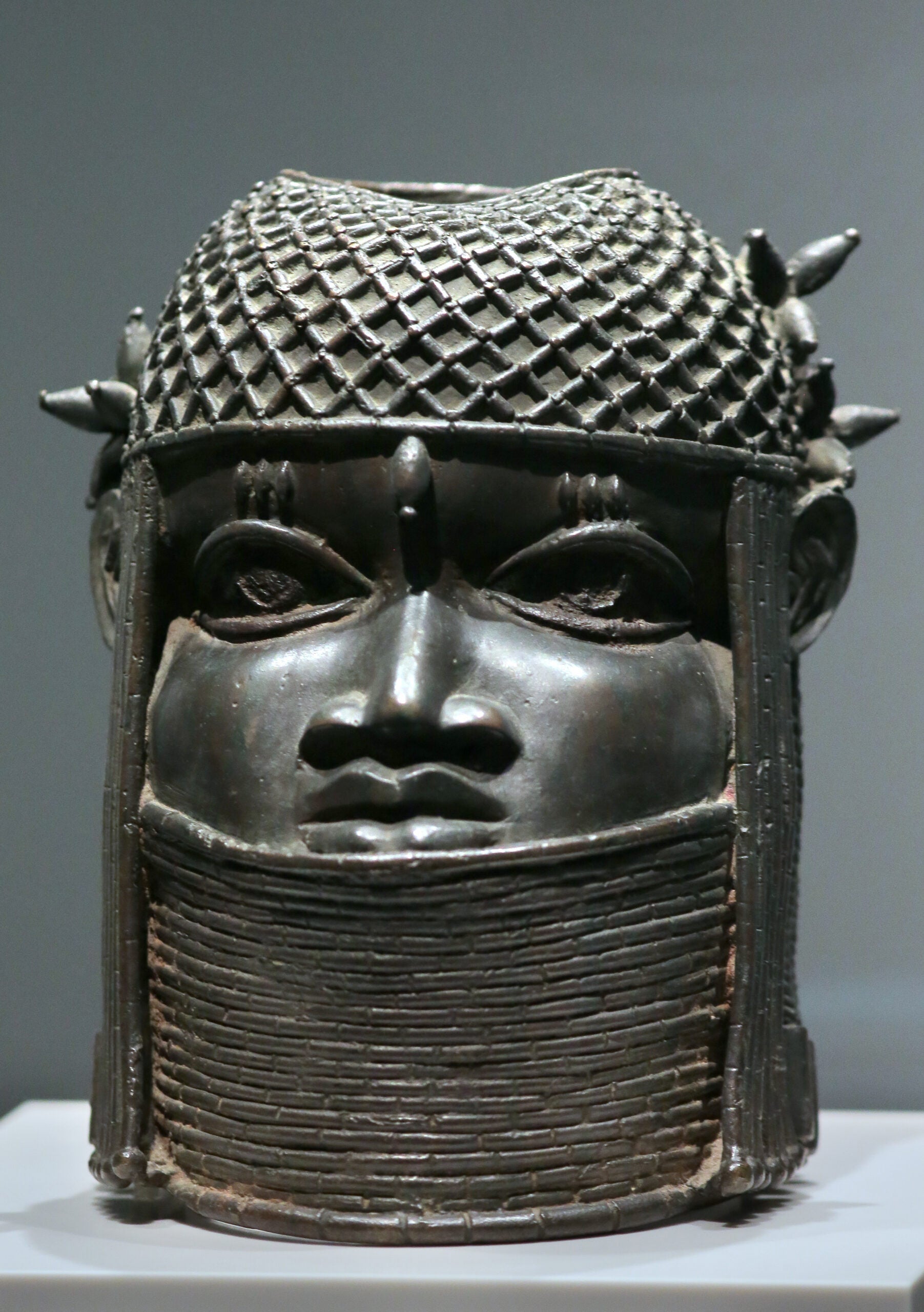 Despite the difficulties, Boston's MFA is committed to active and ongoing provenance research — whether a claim has been made on a piece or not. Victoria Reed, the museum's curator of provenance, told Boston.com that "museums have an obligation to research their collections thoroughly and systematically" and to examine claims both through a legal and ethical lens.
"Our role is to be responsible stewards of our collections, which are accessible to the public; exhibiting and retaining demonstrably stolen or looted art has no place in that stewardship," she said.
Reed was explicit that the Benin Bronzes on view at the MFA were "looted in 1897, and as such are not acceptable under our collections policy." The museum has reached out to colleagues in Nigeria to discuss how best to restore their rightful ownership, according to Reed.
An obligation to educate the public
It's impossible to visit many Western museums without thinking about the looting and theft that make them possible, so many museums are no longer trying to hide that uncomfortable history. They've put up plaques, added oral histories to guided tours, hosted seminars, and more.
Any stolen piece should be returned without question, said Noah S. from Newton. But beyond that, museums also have an obligation to educate the public about the histories of these looted works.
"Museums should also educate the public about stolen works of art, the historical, political, and social context in which they were stolen, why and by whom, and how the art world was and is impacted by systemic forms of persecution such as genocide, crimes against humanity, colonization, racial, ethnic, and religious discrimination, and war crimes," he added.
For a handful of readers, the opportunity for education is lost when a piece of art or cultural object is returned.
"Return these to Syria, Turkey, etc. and they will be gone forever," one reader said. "Don't let blindly following the trends of today, with no conception of history, allow us to destroy priceless artifacts."
But Ganz Blythe believes the work of museums doesn't have to rest on objects violently taken from their ancestral homelands or owners.
"I have a hard time making an argument that our education…is more important than the objects belonging to the rightful owner. I think there are many ways that we can learn about humanity and learn about one another, and that we don't have to only do so through taking objects away against people's will," she said. "I'm not concerned that we will lose opportunities to learn about our culture by returning what has been stolen."
Boston.com Today
Sign up to receive the latest headlines in your inbox each morning.