Readers Say
Here are the best breweries in Massachusetts
More than 500 readers named 91 spots to get a beer.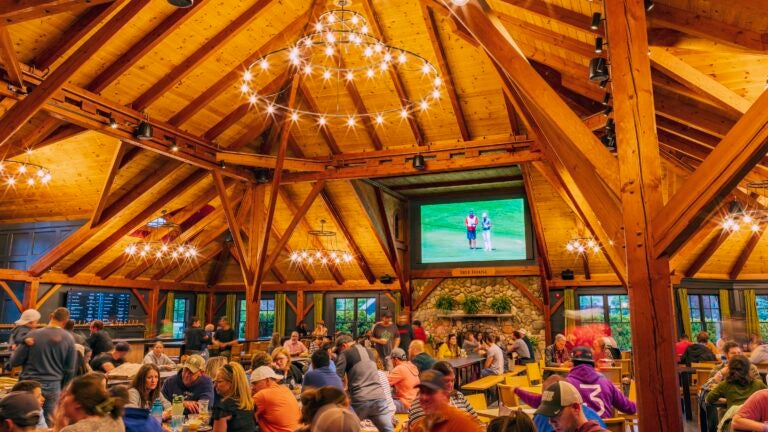 This summer, you may have a few activities to check off your list: visit a farmers' market, head out to the beach, and meet a couple of friends at a brewery. And let's be real, you probably already have your favorite spot for local beer. Massachusetts is home to over 200 breweries, according to the Massachusetts Brewers Guild, featuring quality drinks, beautiful scenes, and good food.
We wanted to know what you thought were the best breweries in the state, and over 500 readers responded. Tree House Brewing Company, known for its sprawling Charlton campus, among other locations, took the first place title, claiming 32% of the vote. Many readers enjoy drinking the Julius, an IPA with citrus flavors, and they mentioned that the hiking trails complete the experience. We asked CEO Nate Lanier what makes the beverages so refreshing and enjoyable, and he told us about how unique they are.
"The beer brewed at Tree House is a pure expression of the individuals who design and brew the beer, like a brush stroke or singing voice, so by nature it's nearly impossible to replicate," Lanier wrote in an email to Boston.com.
Below, find our guide to the top breweries in Massachusetts for 2023, featuring the top five spots, an interactive map, and list of all 91 spots to visit, according to readers.
Where to find the best breweries in Massachusetts 2023, according to readers:
A 🍺 means that this brewery was ranked among the top five in both 2023 and 2022.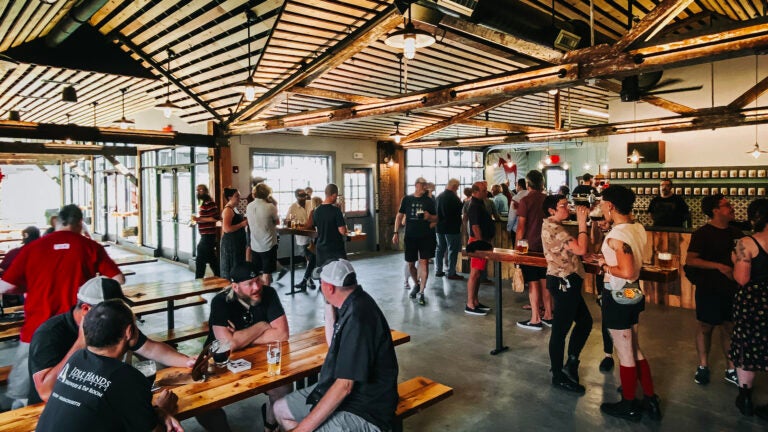 When you're looking for a waterfront experience, think of visiting Notch Brewing in Salem, but their Brighton location, similarly designed in the style of a Czech and German beer hall, is a great destination for Boston locals. Notch is known for their traditional lagers, which typically have modest alcohol. Reader Ben K. from South Boston said, "They shy away from the too trendy, almost cliche, oversaturated IPA market, which sometimes feels like an arms race between breweries like Trillium and Tree House. Instead, they focus on central European beers — like from Bavaria, [the] Czech [Republic], Poland, and the like. It's a fresh take and fills a massive hole in the craft beer market. These are less hop forward, more malty, and in my opinion, the best in the world!" Notch Brewing took 3% of the vote.
Readers love: German Afternoons, crisp, dry, and hoppy.
Multiple locations
Vitamin Sea originated when founder Dino Funari and friends began brewing in a basement, and it's taken off since then, having officially launched in 2019. Visit their South Shore taproom, and settle into a German beer hall atmosphere, in a space that also borrows industrial design features. You'll be able to sample New England IPAs like the Amity Means Friendship and the Wave Hunter, while they currently also have a variety of hard seltzers on tap (also: be sure to check out their slushies). Food trucks such as Bone & Bread and Meat & Cheese Project are known to be at the Weymouth location, while Vitamin Sea also is operating a pop-up beer garden on Athenaeum Street in Kendall Square. A new taproom and kitchen will be opening later this summer, close to Cape Cod. Readers like Eric from Canton said they offer "great beer at a great price. Vitamin Sea has the quality of the other breweries mentioned without the crazy prices." Vitamin Sea earned 3% of the vote.
Readers love: Any IPA, like Double Summer or Peninsula.
Multiple locations
You'll want to try what the team is crafting at Hopothecary Ales in North Reading. Just opened in 2021, the brewery features drinks that are inspired by apothecaries or medicine, since co-founder Steve Gabardi is a pharmacist by trade. Their 180-seat space includes two bars, a dining room, a patio, arcade games, and an area where you can view and take in the brewing process. Their menu boasts a range of beers, from ones that are "easy drinking," to fruit flavored ones (such as the pineapple coconut, a milkshake IPA from their Soda Jerk series), and malty and dark beverages. Bites include burgers on brioche buns, BBQ burnt ends mac and cheese, pizza, and Thai chicken lettuce wraps. An anonymous reader told us that they enjoy Hopothecary Ales because of the "great beers, full sit down food menu, full liquor selection, and family friendly! Even have skeeball! Hopothecary Ales has something for everyone!" They took 3% of the vote.
Readers love: Elixir, with flavors of candied orange, stone fruits, and dark resinous notes.
303 Main St., North Reading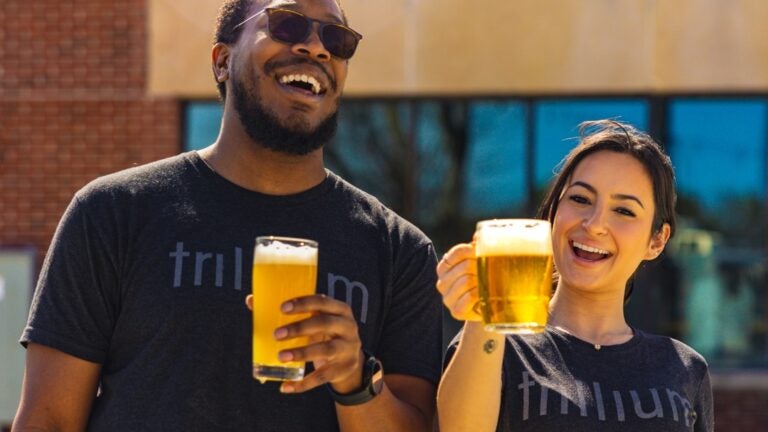 These days, it's hard not to find a Trillium near you. The brewery has locations in Canton, Fort Point, and the Fenway, as well as two beer gardens: one opened recently on Boston Common and features a performance venue, while they have another spot on the Greenway, joined by seasonal food trucks. At the Canton location where Trillium is headquartered, they specialize in wood fired pizza and barbecue. Readers named beers like the different Daily Servings, which start with a basis of a German-style beer called the Berliner Weisse, then focus on fruits, as favorites. Founder JC Tetreault said that the Fort Point pale ale is also a classic. "It was named after the neighborhood where our original brewery is located," he said. "It's focused on the Citra hop. As I was developing the recipes for the standard beers that Trillium would offer, Citra was really that hop that absolutely everybody loved." Trillium took 10% of the vote.
Reader Andrew T. from Canton said, "Their beer is fantastic, but their Canton location expansion has made the place a great place to meet up with friends and eat some delicious food."
Readers love: Daily Serving, with flavors of passionfruit, orange peel, and guava, or a pale ale like Fort Point.
Multiple locations
If you live in New England, you undoubtedly know that Tree House Brewing Company has something of a following in the region. At their primary location in Charlton, or "the mothership," according to a representative, you'll find additional features like hiking trails and a pavilion where you can experience live performances. In Tewksbury, Tree House recently opened a golf course and main club house. The Deerfield destination in Western Massachusetts is home to a full size "Summer Stage" where musical acts entertain audiences. Finally, Tree House also owns spots in Sandwich and Woodstock, Connecticut. CEO Nate Lanier said that the outcome of the beers is more important to the company than process efficiencies, and "the same people who designed and created our beers still have a hands-on process in their creation today." Readers mentioned that they enjoy drinking the Julius, and Lanier told us a little bit about why that might be. "Julius is popular because it is incredibly flavorful, easy to drink, and consistent," Lanier wrote to Boston.com. "It is a one-of-a-kind beer that sparked a craft beer revolution, and in spite of multiple attempts, it has never been replicated."
Reader Nicholaus L. from Hopkinton said, "I feel that they have mastered the New England IPA style with the super juicy and hazy characteristics. They have a great outdoor space with bands, food trucks, etc. in Charlton, MA, but have expanded to the Cape, along the ocean, and to several others. So for beer that you can only buy at their locations, there sure are a lot of locations to choose from at this point."
Readers love: Julius, bright and juicy, or Green, a tropical heavy IPA.
Multiple locations
Honorable Mentions 🏅
Widowmaker Brewing Co.: The popular brewing company will be opening a new taproom and kitchen in Brighton by late August. Readers enjoy the Blue Comet, which has a tropical fruit nose and "soft, biscuit, malt character." Multiple locations
Readers say: "Consistently pushing the boundaries of what is possible!" —Ron, Boston
Greater Good Imperial Brewing Company: Known for its big, bold beers, Greater Good produces beverages with hand selected hops from locations ranging from Oregon to New Zealand. 55 Millbrook St., Worcester
Readers say: "I've been going here since 2017, and my favorite thing is my familiarity with the staff there. They always make us feel welcome." —Jeff M., Leominster
Cisco Brewers: With locations in Nantucket, the Seaport, and beyond, Cisco Brewers offers beers like the Wandering Haze and the Grey Lady. Visit one of their spots, and let the conversation flow. Multiple locations
Readers say: "Atmosphere. It's the place to go before the beach or after the beach." —Jim A., Wrentham
Here are all the reader-recommended breweries in Massachusetts (2023):
Sign up for The Dish
Stay up to date on the latest food news from Boston.com.