Readers Say
Here are the best dishes for a summer cookout, according to readers
Readers love hamburgers, corn on the cob, and ice cream.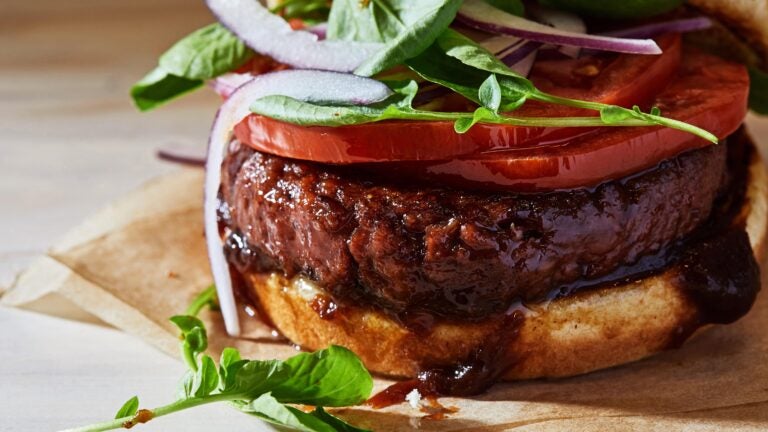 Memorial Day weekend is coming up, which means the season of summer cookouts is nearly upon us. You have the music planned, the venue chosen, and now you just need to make a menu. Luckily, our readers have a few ideas.
We asked readers for the ultimate summer cookout dishes, and 80 people voted. For a main course, readers love hamburgers, giving the menu item 31% of votes. When it comes to side dishes, corn on the cob was a favorite, while potato salad came in second place. Finally, for dessert, ice cream was a top pick, and strawberry shortcake nearly tied for the position.
Vote for your favorite main course.
Vote for the best side dish.
Vote for your favorite dessert.
Below, we've put together a summer cookout menu based on reader recommendations. You shared what you most enjoy about these dishes, and what makes them so special. Reader Michael D. from Marblehead said he anticipates the flavors of summer months in advance. "Thinking of these foods, in my mind's eye, make[s] March tolerable," he said. Read on, and see what your guests could be putting on their plates.
Responses have been lightly edited for grammar or clarity.
Hamburgers
A hamburger, accompanied by potato salad and key lime pie, is a classic menu item at a cookout, said Ronald from Boston. "The burger only counts if it has cheese," they said.
Hot dogs
"Kayem hot dogs on the grill [also] with a grilled bun. It's haute cuisine. No question," Kristine from Clinton said. "If you put mustard and onions on them and put them alongside some Wachusett chips, it's literally summer in a basket."
Liz N. from Florida told us, "Nothing says summer like a nice crisp hot dog on the grill. I love how it snaps when you bite into it. It just screams summer to me."
Smoked brisket
"I love good smoked/barbecued brisket with a spicy sauce," Elisheva T. from Wellesley Hills said. For her side and dessert? She said, "Who can say no to creamy Mac and Cheese? Key lime [pie] is the bomb! Cheesecake is amazing too — key lime cheesecake anyone?"
Corn on the cob
"Corn on the cob is a reliable side dish," Eliot from Brookline said. He added, "It's impossible to mess up corn on the cob!" An anonymous reader told us, "Choosing a side was tough, but it's hard to beat native corn."
Potato salad
Sydney from Weymouth told us that his husband recommends potato salad with ribs, quoting him as saying, "They taste the best, and you only have potato salad in the summer." He added, "They're just summery foods."
Ice cream
Kristine from Clinton said that she enjoys, "a scoop or two of Brigham's ice cream in a sugar cone, [that we get] at the Hannaford." Combined with a hot dog and corn on the cob, it makes for "the perfect summer afternoon."
After having a plate of surf and turf and corn on the cob, Claire B. from Maine said that ice cream is the best dessert. She added that it's, "A meal best enjoyed when it's still light late into the evening and the fireflies arrive, as you make your way towards the last melting bite of ice cream."
Sign up for The Dish
Stay up to date on the latest food news from Boston.com.