Readers Say
The best green spaces to explore in Greater Boston, according to readers
Here are 30 green spaces to explore and why readers love them.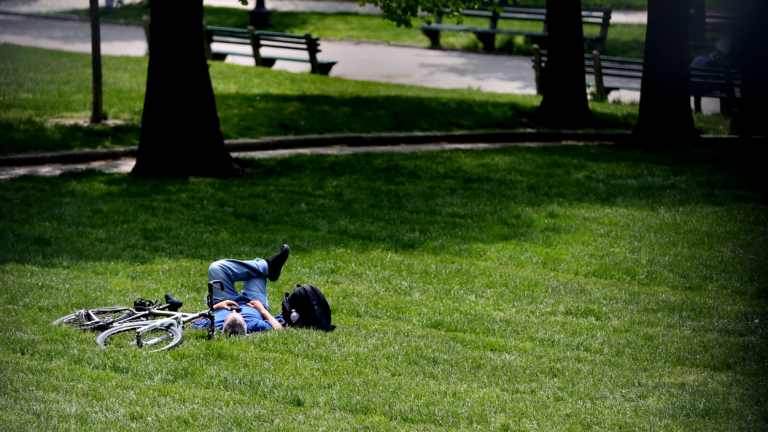 When the weather is great and you get that itch to get outside and soak in the sunshine, Boston has a number of easily accessible green spaces to help you do exactly that.
Surrounded by buildings, cars, and concrete it's easy to forget that there are still some green areas of refuge in and around Boston. As the days get longer and start to experience more consistent spring and summer-like weather, we wanted to know from Boston.com readers what green spaces in Greater Boston they love the most. In 2022, we shared a list of reader favorites, featuring a handful of the most popular places to visit. This year, we've featured all recommendations and what readers had to say about them. Those new to the list are marked with a 🌳, and updated with descriptions of each reader-recommended green space. Many readers voted for the Charles River Esplanade, the Boston Common and the Public Garden, and Mount Auburn Cemetery, which received the second highest number of votes, 8. However, it was the New England Botanic Garden at Tower Hill that received the majority of votes with 114.
Whether they voted for the Rose Kennedy Greenway or the string of parks known as the Emerald Necklace, above all, readers seem to love an opportunity to escape into nature with very little effort.
"Being outside, regardless of the weather, helps clear the head and get perspective," said Jill R. from South Boston, whose favorite green space in Boston is Castle Island Park and Fort Independence.
Below you'll find a map and a full list of reader-recommended parks, gardens, and trails in Greater Boston and beyond.
Reader submissions have been lightly edited for clarity or grammar. New 2023 suggestions are marked with a 🌳.
Adams Farm
Adams Farm is a town-owned farm in Walpole that is made up of approximately 365 acres. It also loosely includes land adjacent to the farm like private conservation trusts which amounts to more than 700 acres, according to the website. The farm offers more than 10 miles of nature trails for hiking, but also has open spaces for recreational activities, picnics, and sledding in the winter. The farm also has a community garden, a butterfly garden when weather is warm, and an abundance of wildlife throughout their trails.
"An absolutely amazing 700 acre green space with trails, beautiful fields, and gardens." — Barbara M., Walpole
Arnold Arboretum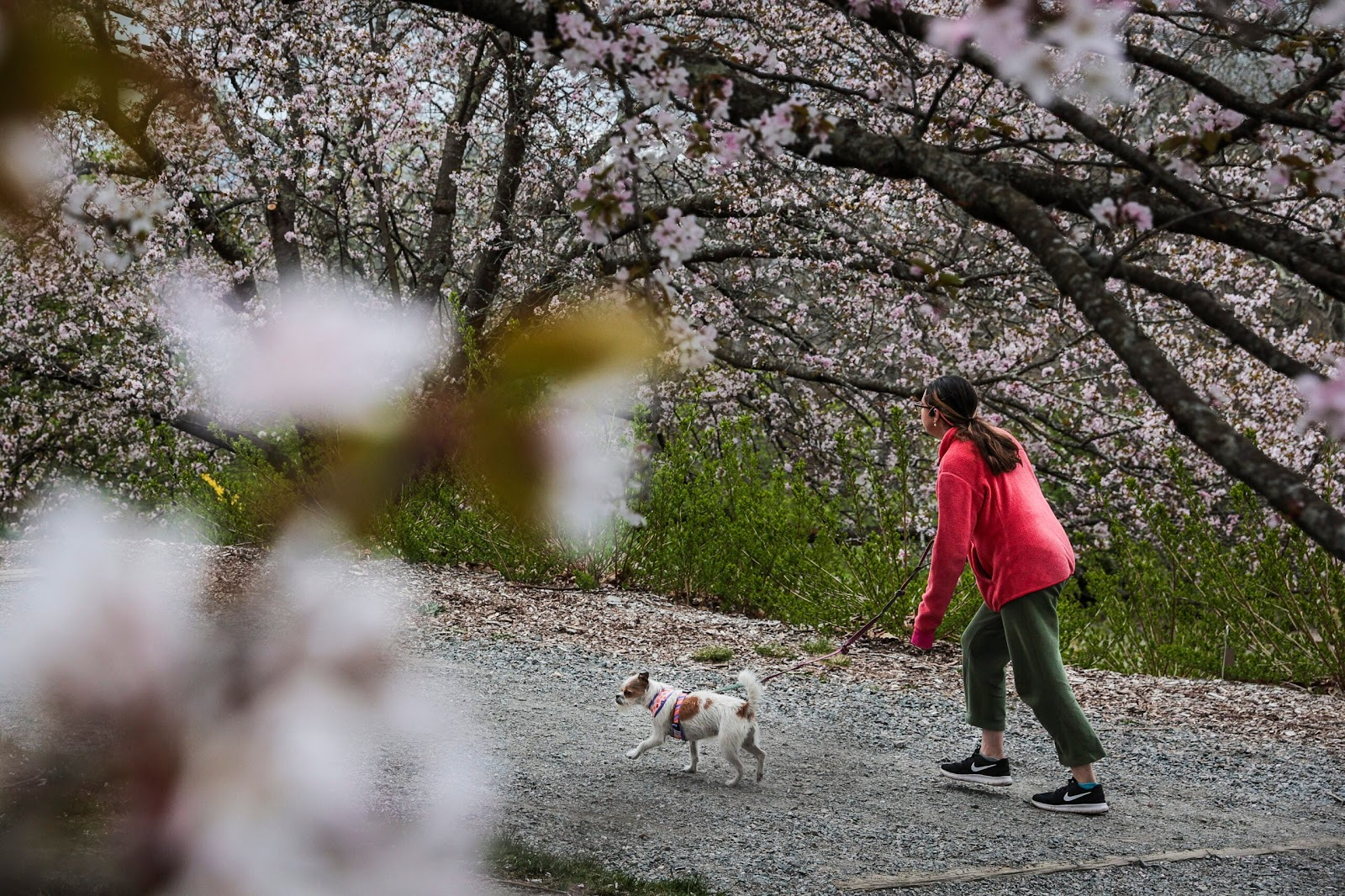 Harvard University's Arnold Arboretum "is a museum of trees teaching the world about plants." As of Jan. 2022, the 281-acre green space houses approximately 120,681 specimens in their Herbarium of Cultivated Plants. During the spring and summer months guests can walk to paths under the blooming flowers and learn about diverse plant species.
"I started taking walks at the Arboretum in 2020 during the pandemic and haven't stopped. I have gone weekly or twice weekly for three years now… I am constantly finding new trails to explore, enjoy talking with other tree lovers that I meet, admiring people's dogs, and having new favorite corners of the park…" — M.P., Brookline
"The Arnold Arboretum offers plenty of walking space, hills and water holes, views of Boston, and the widest variety of trees and flowering shrubs in the area." — William R., North Reading
"Less crowded and safer than most of the other green spaces in town. Lilac Sunday is the best weekend of the year!" — Barry M., Roslindale
"It's huge and I can find alone space and learn the names of the plants I encounter while there." — Holly, Jamaica Plain
"It's big and varied. Grew up going there for hours as a kid and then as a high school and college student running, sometimes with teammates; sometimes alone." — Tom D., N.J., formerly Jamaica Plain
Back Bay Fens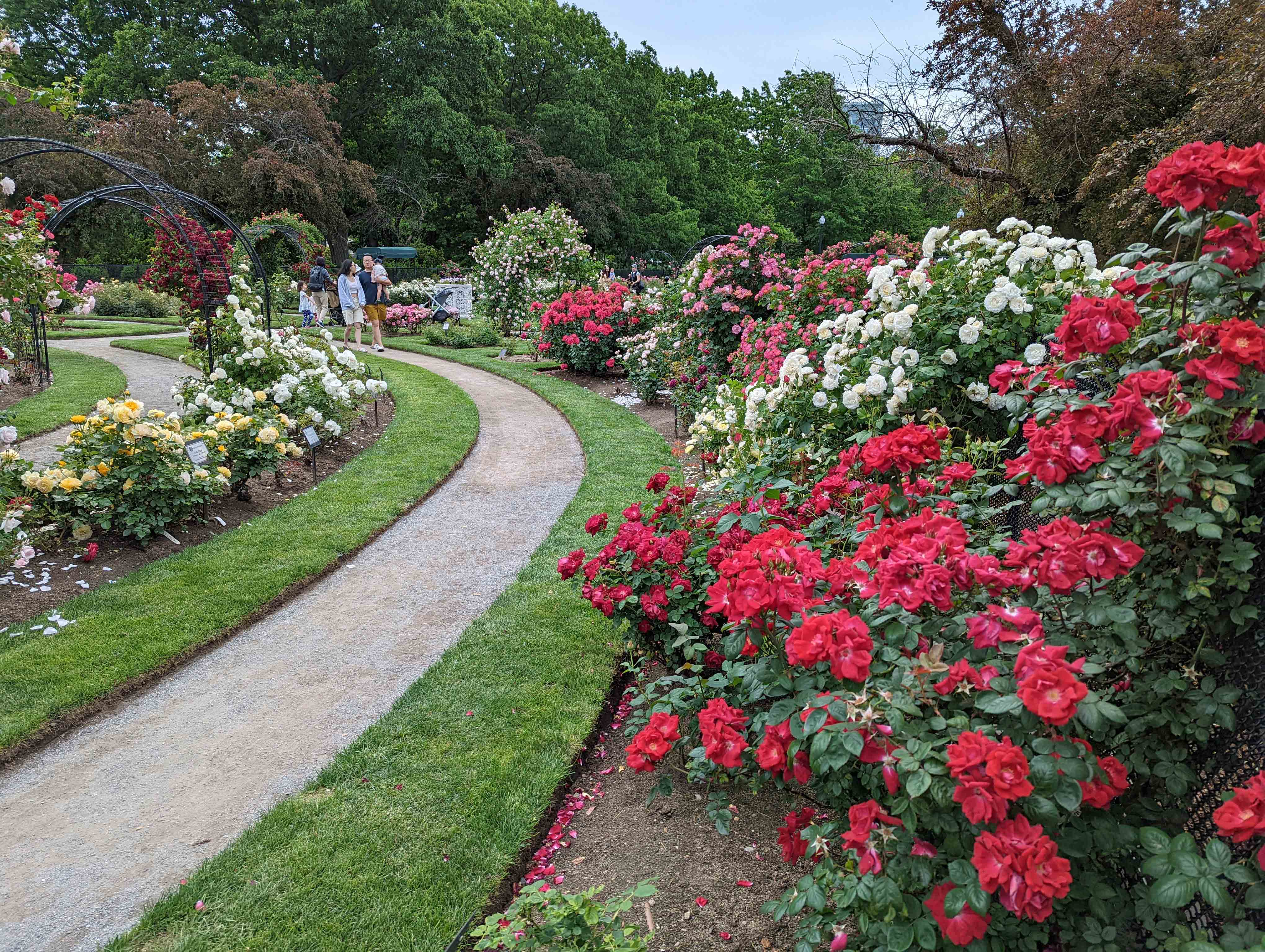 Back Bay Fens is part of the long string of parks that make up the Emerald Necklace. Located in the Fenway area, this park is made up of gardens, ball fields, memorials, and historic structures.
Blue Hills Reservation 🌳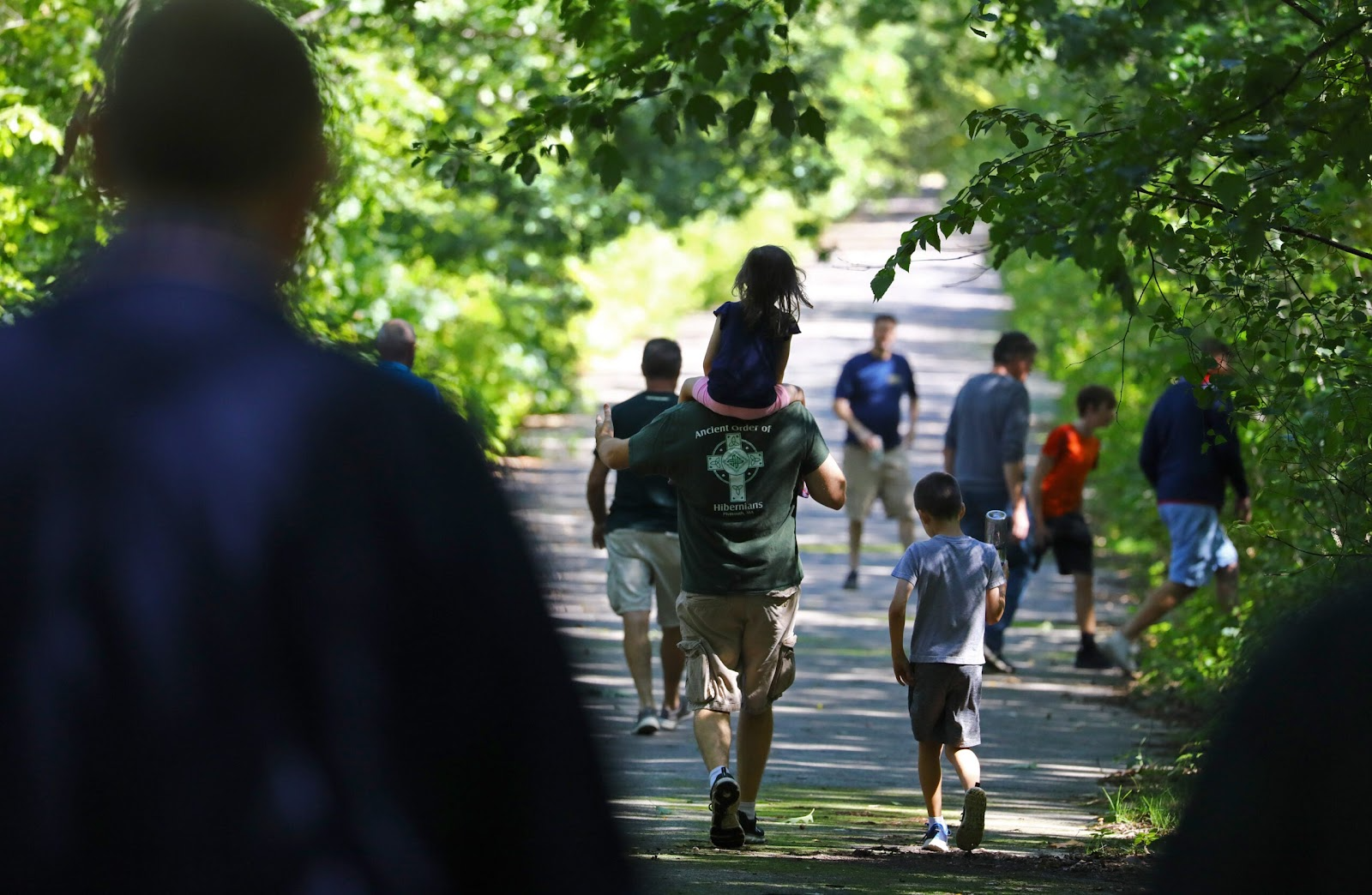 Blue Hills Reservation's 7,000 acres span from Quincy to Dedham and Milton to Randolph. The green oasis is only minutes away from Boston's downtown area and offers a swimming area at Houghton's Pond, hiking, and biking.
"It has great hiking trails and is so close to the city but feels like it's another world." — A Boston.com reader
"It is miles of green separation from the city buildings." —A Boston.com reader, Dorchester
Boston Common and Public Garden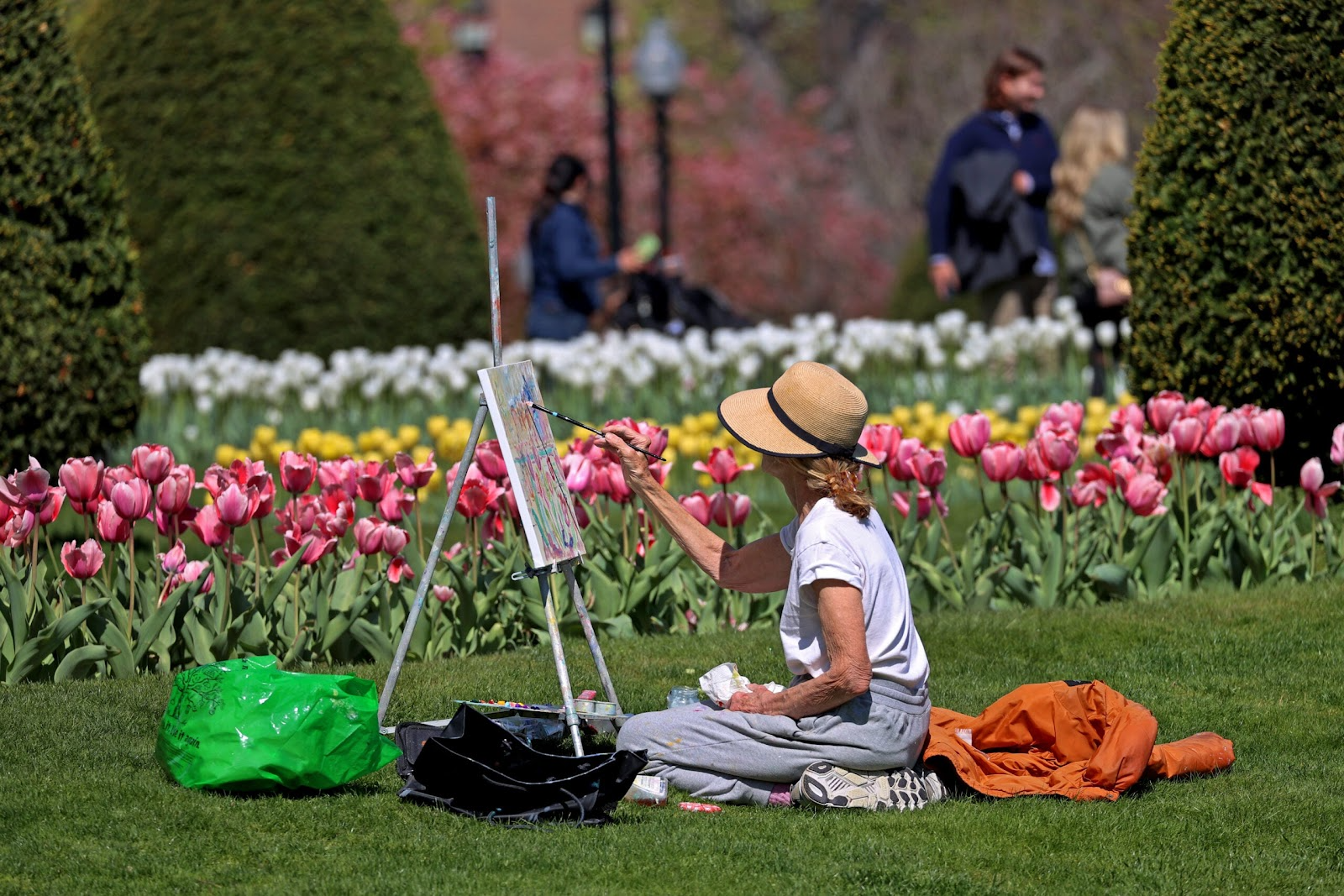 In its 350-year history, the Boston Common went from a cow pasture to a place with walking paths, fountains, and public art. The Public Garden has its own unique history, as well. The Public Garden. Established in 1837, the Garden was the first public botanical garden in America, and adopted a Victorian style incorporating "vibrant floral patterns" and exotic trees, according to the City of Boston.
"I am in the Common every morning and evening with my dog and I love interacting with all the other dog walkers and people using the park. It's a great vantage point to watch the city and still have this amazing feeling of being surrounded by a beautiful tree canopy. I especially enjoy watching children use the frog pond in summer and winter and who doesn't love a moment of peace on the swan boats." — Leslie A., Beacon Hill
"The Make Way for Ducklings statue! It's my favorite place in the city to people and dog watch, the people performing music are always a plus." — Taylor T., East Boston
"The Public Garden brings so much joy. I can't wait for the abundance of tulips and see what the gardeners come up with this year. And I adore the ducklings statue." — Gisela N., Beacon Hill"The Boston Public Garden is my favorite place in the world. I love to visit often in spring to see everything in bloom at different times. It's an oasis of calm in the city, even when crowded. As for views, the juxtaposition of tall buildings and trees is very pleasing to the eye." — Louise B., Brimfield
Boston Harbor Islands
Hop on the ferry, enjoy the ride, and take a trip to the Boston Harbor Islands. "Just minutes from downtown Boston," the islands are a great escape from the noise. The Boston Harbor Islands are made up of 34 different islands featuring picnic areas, harbor views, a historic fort, and camping grounds.
"It feels like a vacation just a hop, skip, and jump from home." — Alankrita, Cambridge
"The Boston Harbor Islands are pure magic. From the views atop the north drumlin on Spectacle to the history lurking in every corner of Fort Warren on Georges, to the stunning, spooky landscape of Peddocks. I'm obsessed." — Brittany, Arlington
Boston Harborwalk
The Boston Harborwalk is a 40-mile walkway right on the water. It goes through East Boston, Charlestown, North End, Downtown, Fort Point, South Boston, and Dorchester. While on the walk take a stop at one of the many playgrounds, parks, beach areas, and restaurants on the way.
"It's a very long path with varied scenery, lots of interesting harbor activity, architecture, and plenty of opportunities to stop along the way for a drink or a bite to eat." — A Boston.com reader
"With 43 miles of Harborwalk, Boston's coastline offers everything from big open parks to beaches to boardwalks to boat clubs." — Alice B., Jamaica Plain
"Best views, close to the some of the best restaurants, great for walking or riding your bike, ICA." — Maria S., South Boston
Castle Island Park and Fort Independence 🌳
Castle Island Park is fun in and of itself aside from also being home to the historic Fort Independence. Fort Independence served as a military fortification for hundreds of years, now acting as a historic monument on Castle Island. Castle Island itself is a 3-mile-long green space with plenty of areas for picnicking or taking a stroll on the harbor walk.
"Being outside, regardless of the weather, helps clear the head and get perspective." — Jill R.
"I went for ice cream here as a little boy." — Griffin M., Quincy
Charles River Esplanade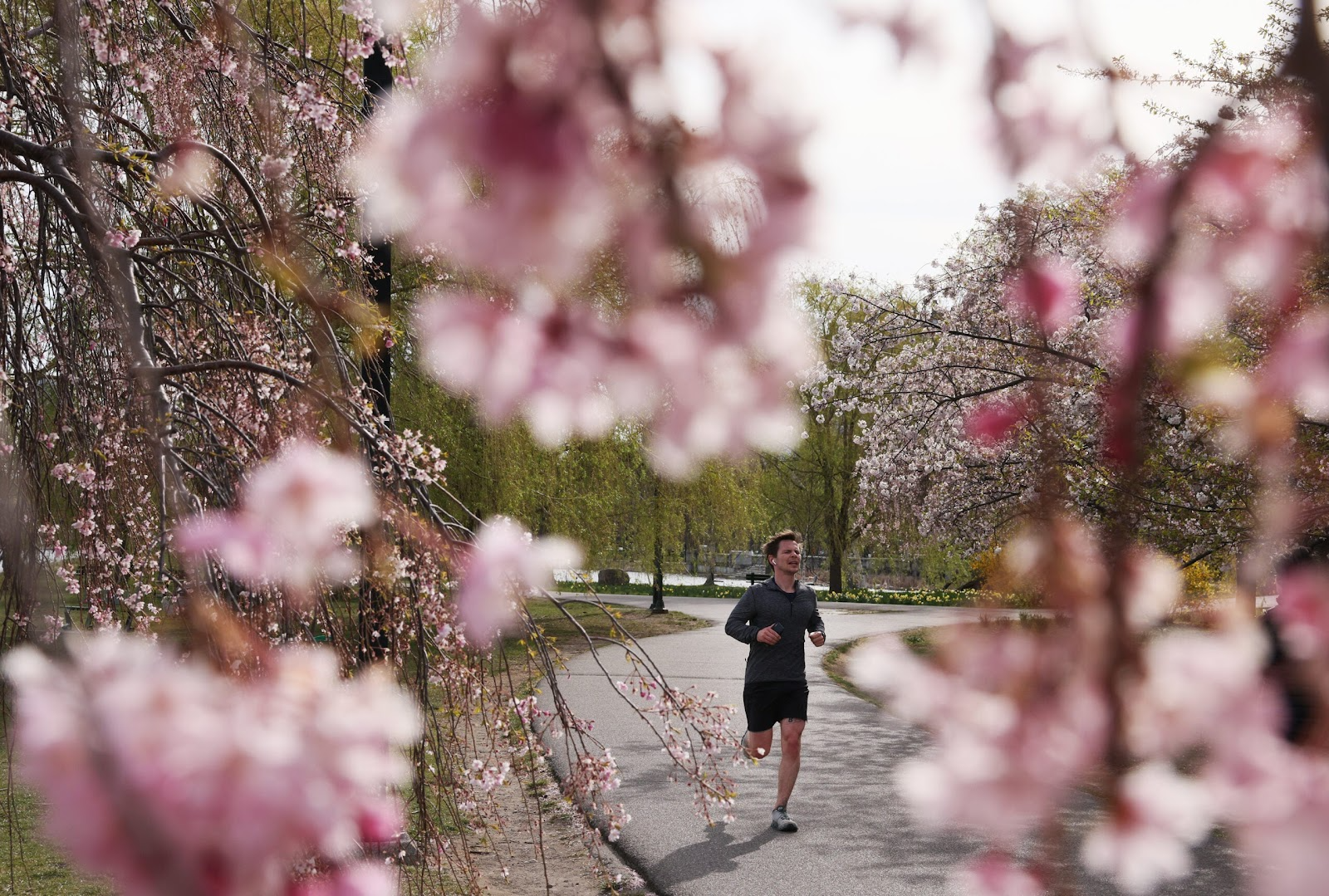 The Esplanade is a 64-acre park loved for its natural beauty and riverfront location. It is a natural green space on the Charles River that offers walking paths, jungle gyms, and recreational activities including boating, kayaking, and biking.
"The Esplanade is a gem. I love spending summer evenings on the Hatch Shell lawn with my friends. The park looks gorgeous at sunset." — Bryan M., Saugus
"The Esplanade is easily the best outdoor space in the Boston area. The sunset views along the river is the single best 'moment' you can have in Boston, perhaps outside a walk-off winner at Fenway Park. Their beer garden is the nicest in Boston. The playgrounds and gardens are well-kept. The pathways are always bustling. And it's definitely the best shade canopy in the city, even when the cherry blossoms aren't in bloom!" — Jeff S., East Cambridge
"Water is relaxing and people watching fun." — Joseph Z., Boston
"The Esplanade simply is never unattractive. Great paths for running and cycling, ample spots for picnics, even easily T accessible with waterfront views. It's simply wonderful." — Dan, Dorchester
"The beautiful flowers and green space with a wonderful river flowing by. Walking, jogging, biking, and hanging out with my family. This is one of the best places in the city." — Srivi, Sharon
Christopher Columbus Park 🌳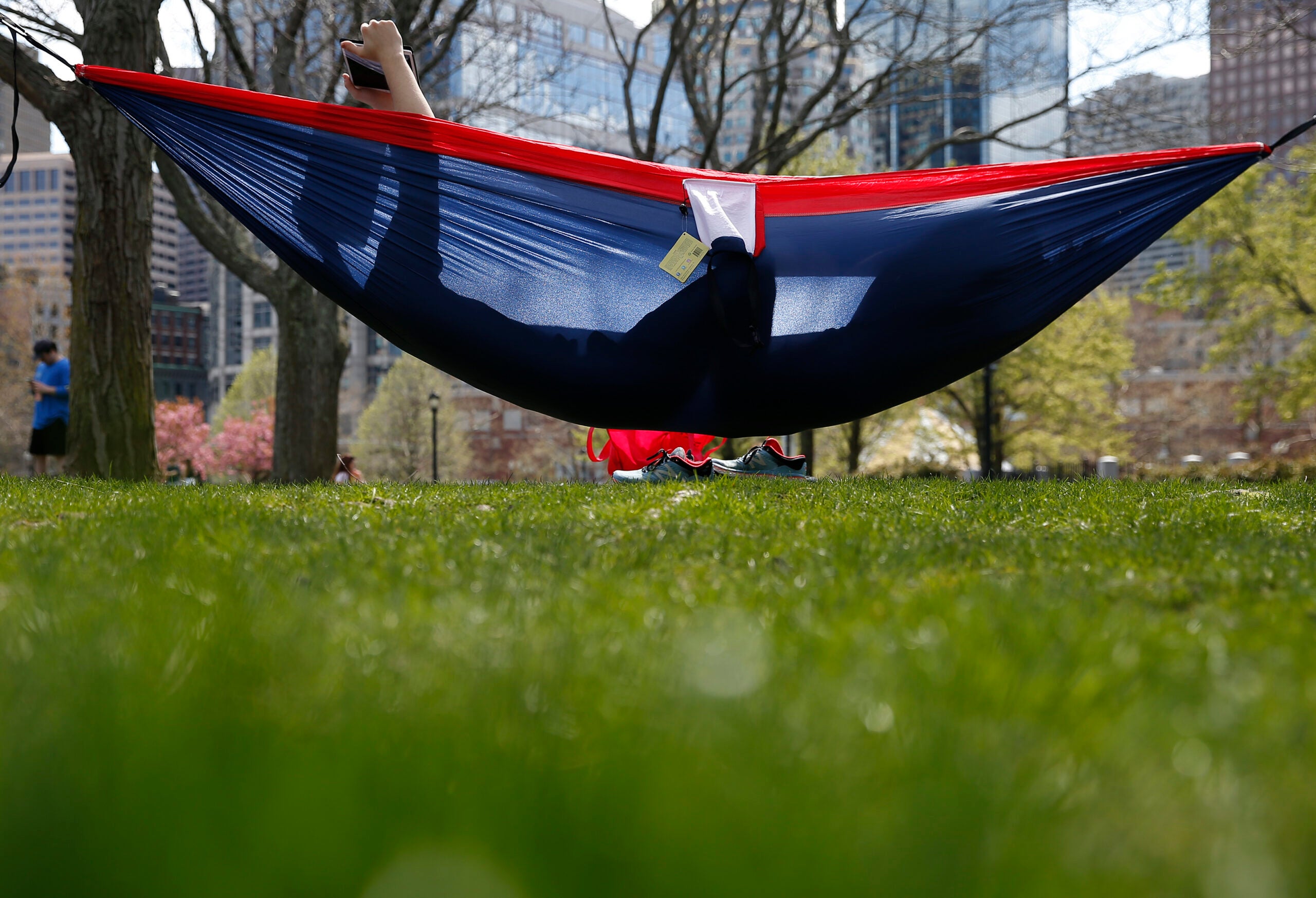 Christopher Columbus Park is right on the waterfront by the Long Wharf and its main attraction is its trellis which is covered in greenery when the warm weather months arrive. The park was built with the intent of offering the community and visitors the enjoyment and beauty of a public green space on the water.
Commonwealth Avenue Mall 🌳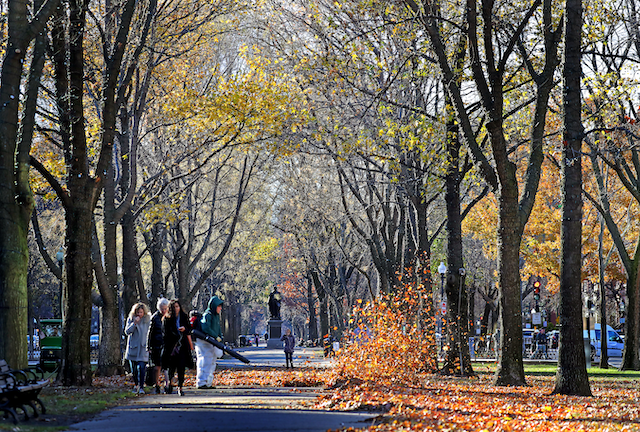 The Commonwealth Avenue Mall was designed by Arthur Gilman in 1856. The 32-acre Mall in the Back Bay is decorated with sweetgum, green ash, maple, linden, zelkova, Japanese pagoda and elm trees. The area connects the Public Garden to the Back Bay Fens and is equipped with pathways, benches, and statues.
"A peaceful stroll or bike through the heart of the Back Bay." — Philip P., Concord
Fenway Victory Gardens 🌳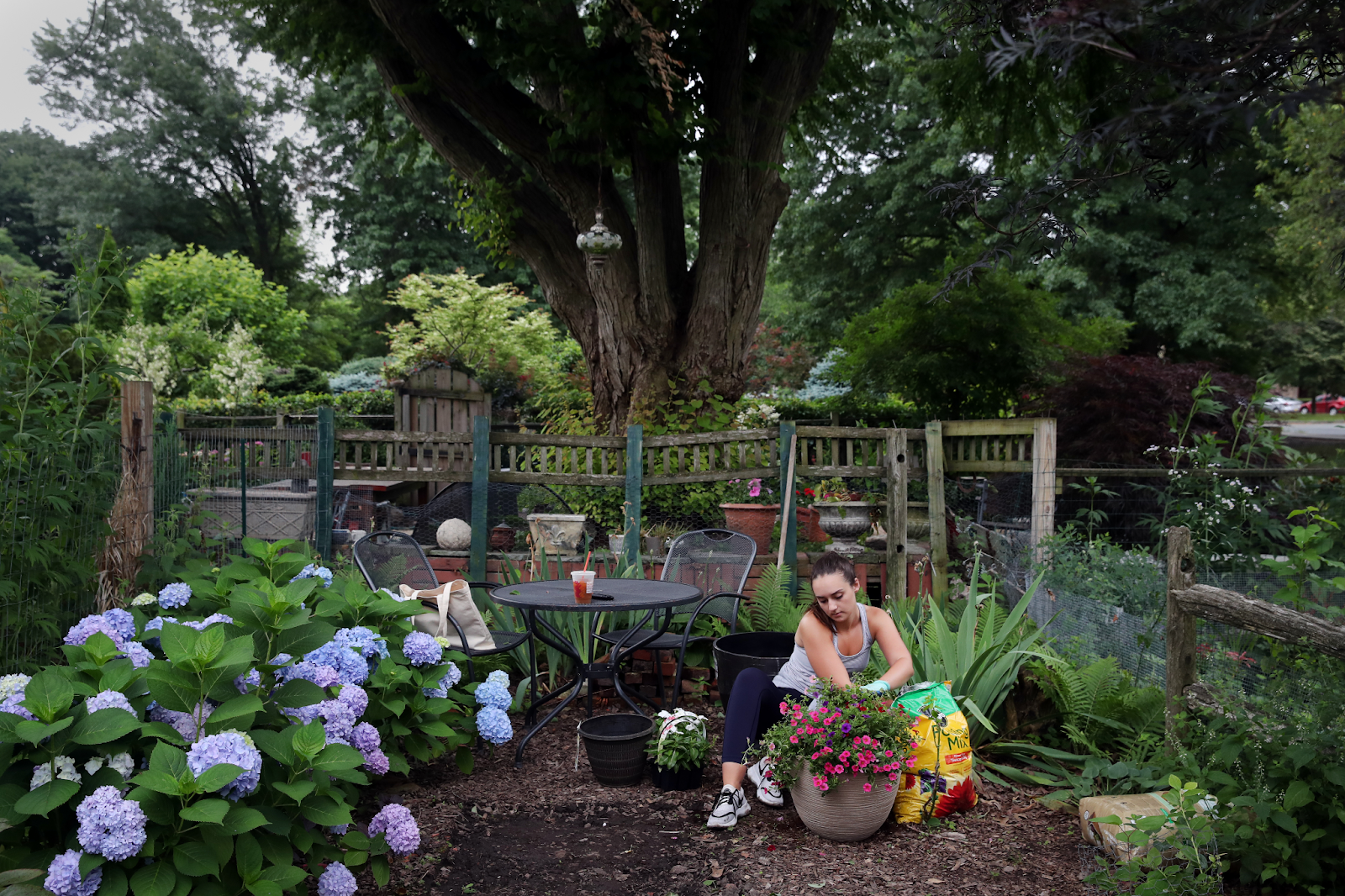 The Fenway Victory Gardens span 7.5 acres and are open to the public. However, if you are looking to be a little more hands-on, the space also holds over 500 gardens where Boston residents can grow their own flowers and vegetables.
"I love that the city gives me this opportunity to have a garden right next to downtown in the middle of a beautiful park." — A Boston.com reader
"The Fenway Victory Gardens are a little slice of heaven. Imagine a thriving urban neighborhood with all the typical urban amenities; meanwhile, for those of us who garden in this space, it is our yard, it is our slice of the outdoors, it is where we pick our dinner ingredients fresh from the stalk while the birds and the bees fly by…" — Christine N., Boston
Franklin Park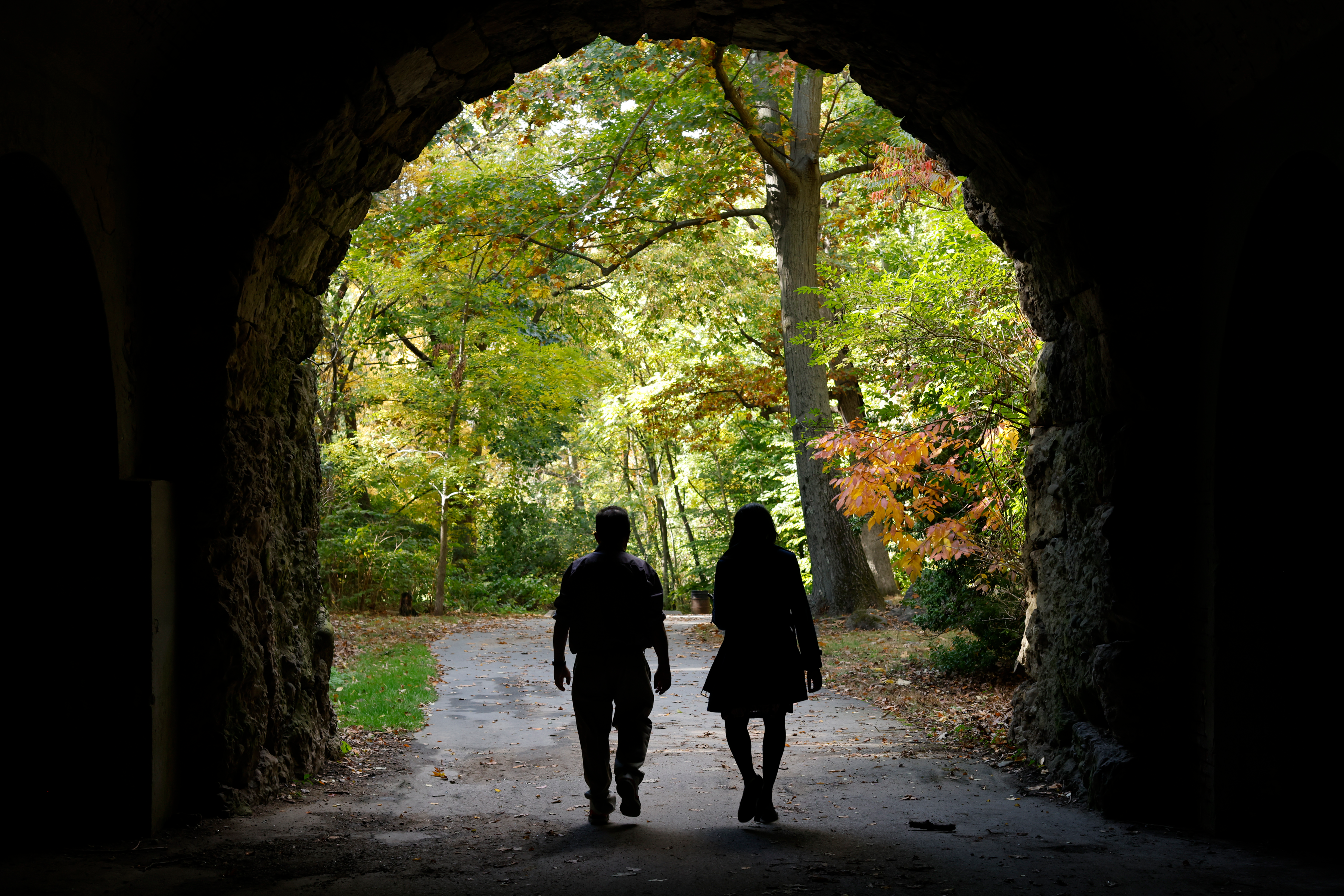 What is known as Boston's largest open space and considered Boston's "country park," Franklin Park is a part of the Emerald Necklace and was designed in the 1890s by Frederick Law Olmsted. The park is 485-acres of trails, playing fields, and historical features with attractions like the Bear Cages, Scarboro Pond, the William Devine Golf Course, a cross-country running course, the Franklin Park Zoo, White Stadium, the Elma Lewis Playstead, playgrounds.
"It has the criminally underrated Franklin Park Zoo." — Carlo, Jamaica Plain
"The park has so much going on you can walk around the golf course or the woods area. It is just pleasant, great trails and open to all. I live in Jamaica Plain so I have five good parks!" — Len, Jamaica Plain
Jamaica Pond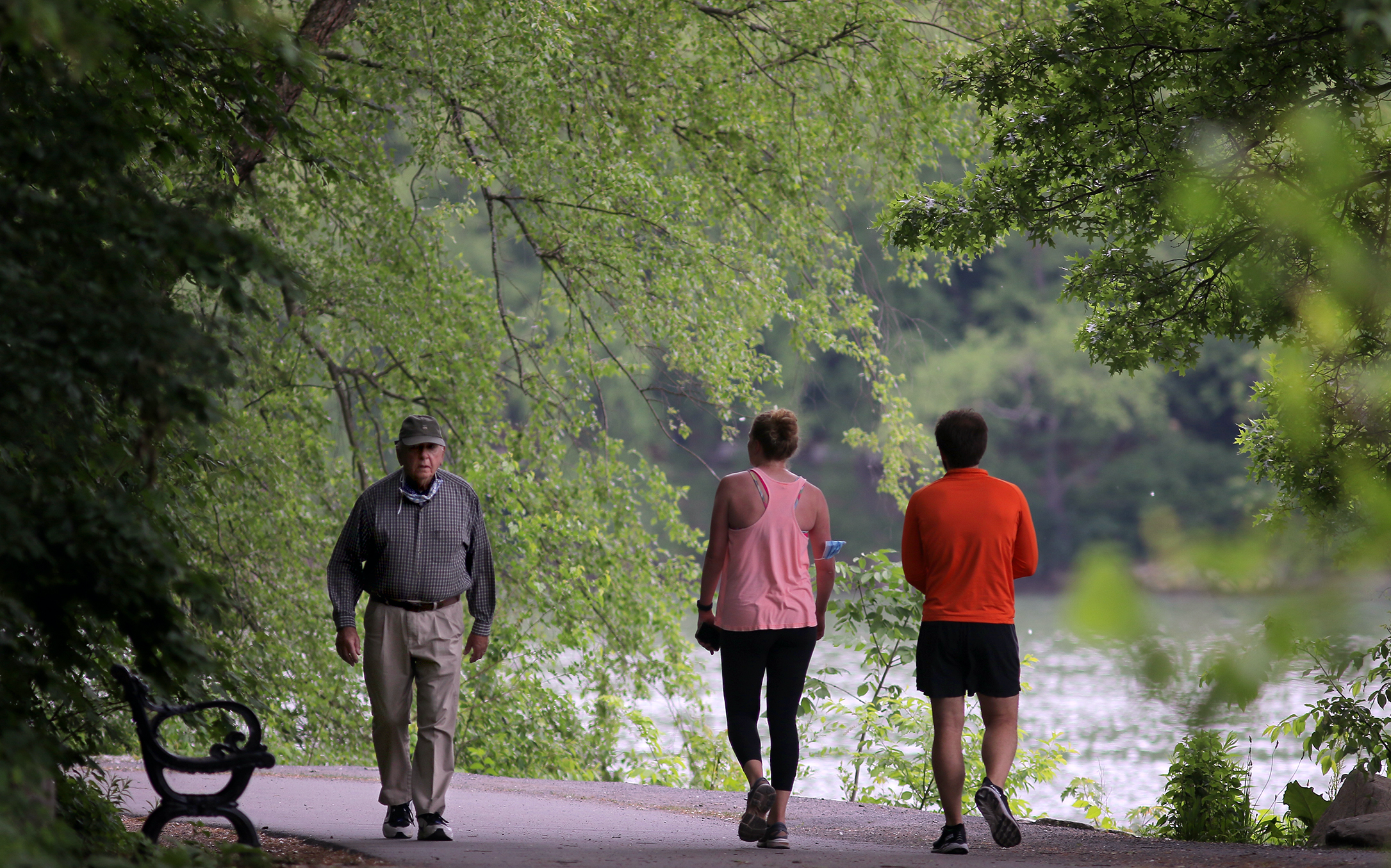 Established in 1819, Jamaica Pond is the largest standing body of water on the Emerald Necklace and needed very few alterations to make the space a beloved park. Jamaica Pond is equipped with a boathouse and bandstand and offers visitors concerts, children's programs, theater performances, rowing, sailing, fishing, running, and biking paths.
"This pond does so much for the community. It has fishing, sailing, walking and biking paths, lantern festivals, picnics, and more. Jamaica Plain is lucky to have it!" — A Boston.com reader
"There are so many places to visit on the Emerald Necklace from Franklin Park to Boston Common. The trail from Jamaica Pond to Kenmore Square is a favorite and we visit the Arboretum several times each week." — Deb M., Boston
Mass Audubon's Boston Nature Center and Wildlife Sanctuary 🌳
Mass Audubon's Boston Nature Center and Wildlife Sanctuary is a community-based urban sanctuary with over 350 species of plants, over 150 species of birds, and 40 species of butterflies. The sanctuary offers programs year-round as well as having walking trails and boardwalks for visitors.
"It's a wild oasis in the middle of the city." — Heather, Boston
Middlesex Fells 🌳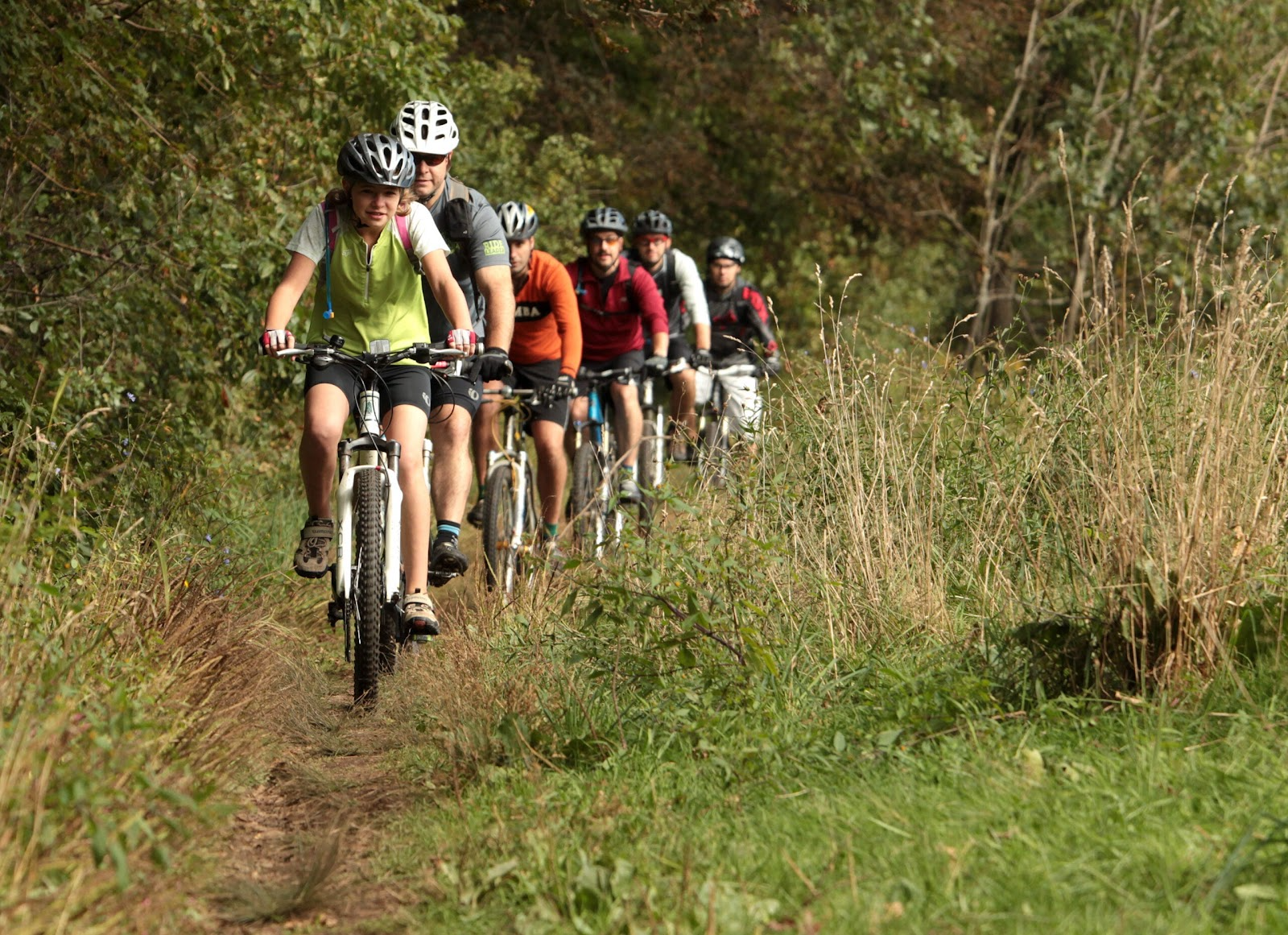 The Middlesex Fells is 2,200 acres of forest, wetlands, and hills. The area offers hiking, biking, and walking paths into the forest and offers options for boat rentals.
"It has great hiking trails and views of the Boston skyline." — James from Medford
"Just out of the city but with many hiking and walking options in the woods. This is a favorite area of mine to explore, it feels remote and lush without being a long drive away." — Ingrid G.
Millennium Park 🌳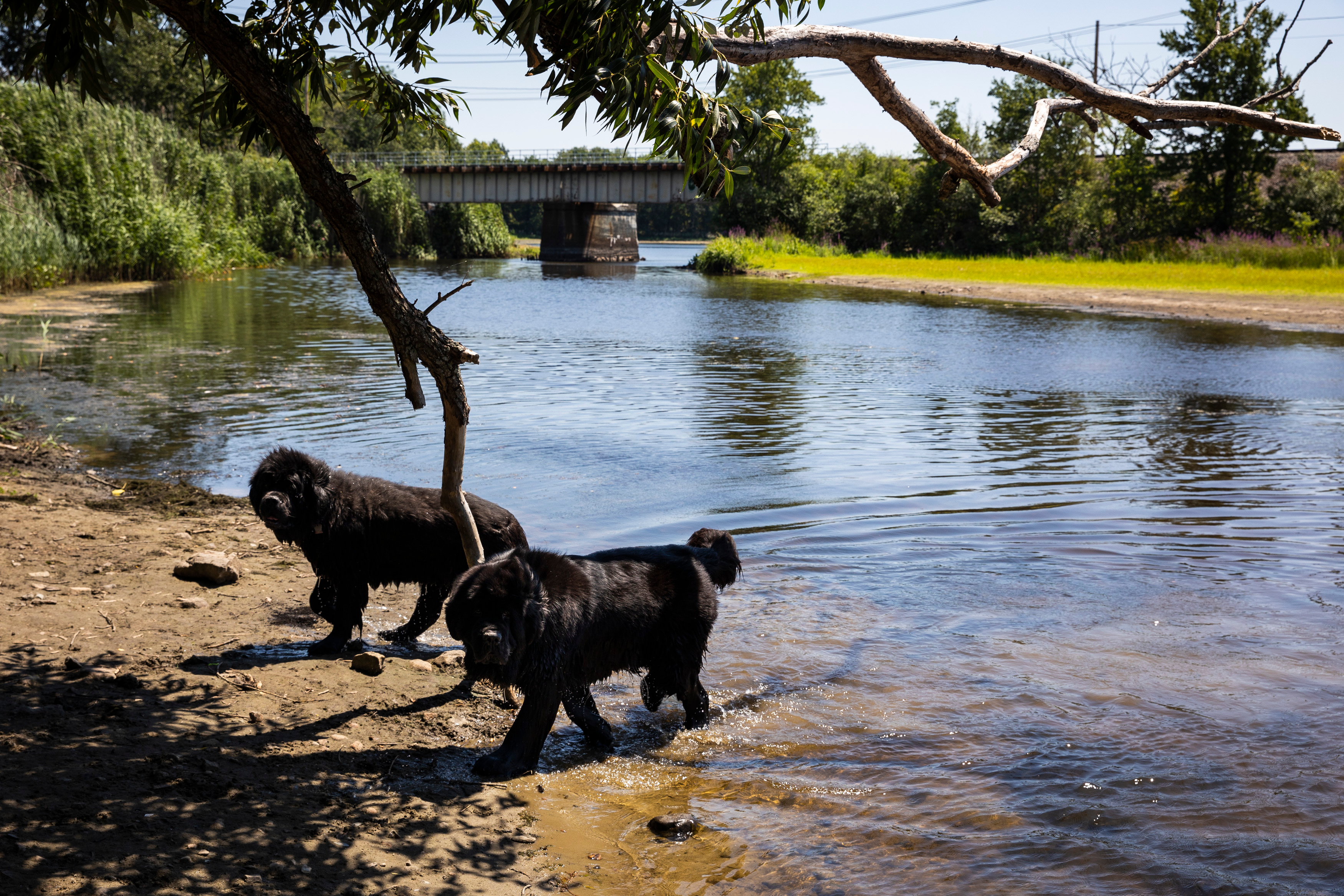 Millennium Park was established not so long ago in 2000 after it was renovated through soil excavated from the Big Dig. The park now has a playground, soccer fields, walking paths, and a canoe launch, however, it is planning renovations which will focus on the playground, pathways, and a restroom.
"Great place with just about every conceivable usage for a park." — A Boston.com reader, West Roxbury
Mount Auburn Cemetery 🌳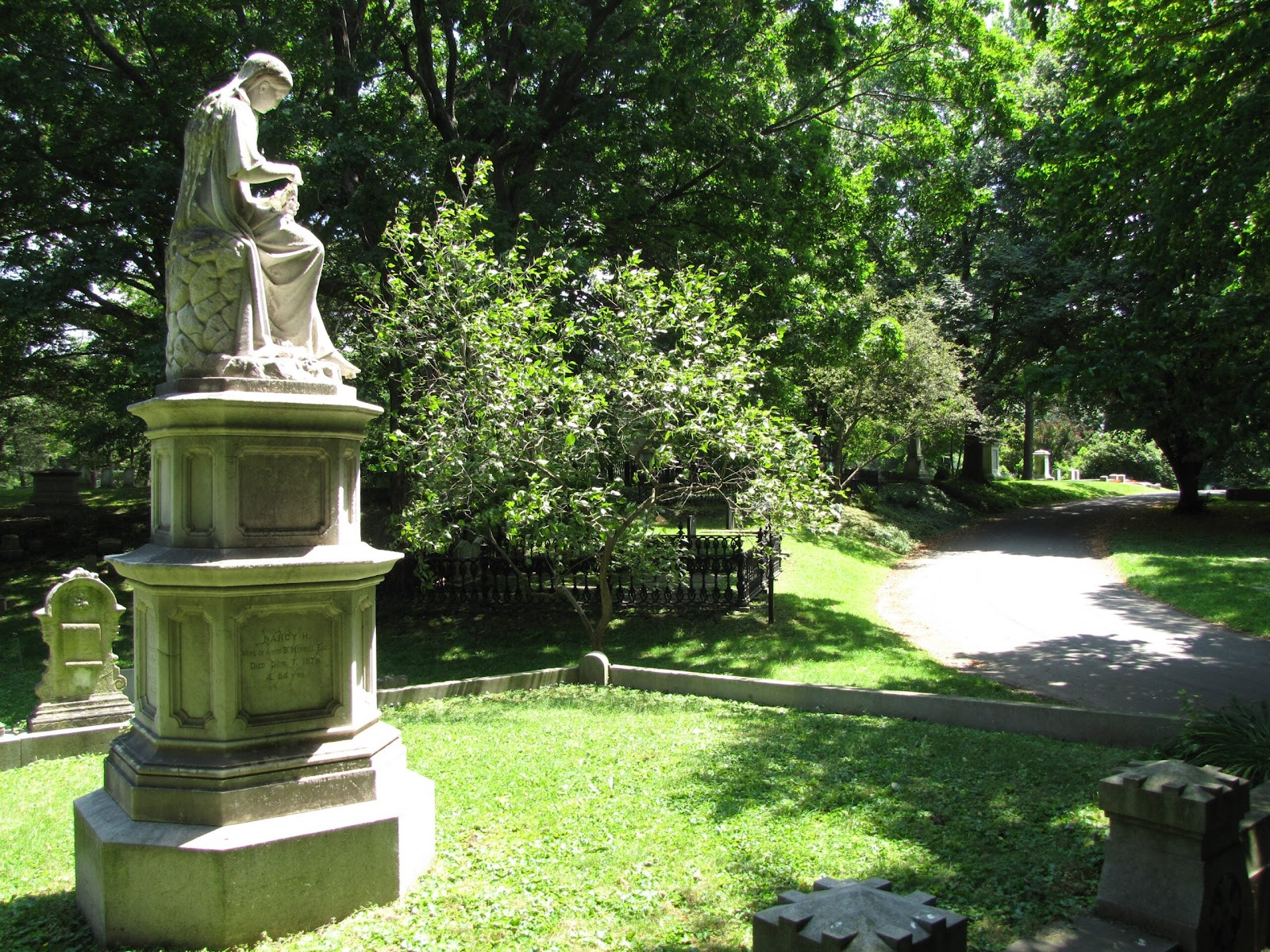 Mount Auburn Cemetery, often referred to as a "treasure," combines natural beauty, history, and memories, according to their website. Mount Auburn is more than just a burial ground, the landmark has a lot to offer for those who love history, nature, scenic paths, and birdwatching.
"Mount Auburn is a beautiful getaway from the city. Its vibrant public garden and green space make it the perfect place to connect with both nature and history." — Joe C., Boston
"Mount Auburn always feels like a safe, welcoming space. The meandering hills, dells, and thousands of trees make you feel like you're miles away from the city. It's such a calming, beautiful place to walk around." — Julie-Anne W., Somerville
"I always thought of Mount Auburn Cemetery as just an active cemetery until I visited for the first time last spring and then again for their Winter Solstice event. It was then that I realized that it isn't just a cemetery, but an urban oasis with history, a horticulturally rich environment, and even programming for people of all ages. What a gem." — Jovanny R., South Boston
Neponset River Greenway 🌳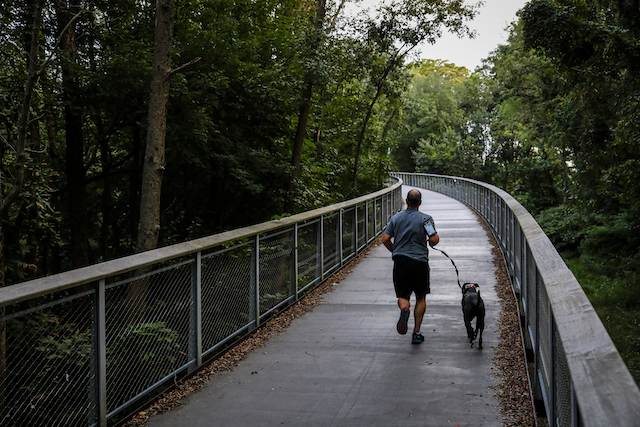 Neponset River Greenway is a trail running from Dorchester to Milton. It is equipped with trails for walking and biking under a dense canopy that you cannot get in the heart of Boston.
"It's unusual to find such an idyllic place to walk in a dense urban area like Boston, especially one that's accessible by public transit. The path runs between a river on one side and the historic Mattapan Line trolley on the other, with a lush tree canopy overhead and a variety of birdsong to accompany your walk." — Gaby G., South End
Noanet Woodlands 🌳
The Noanet Woodlands' 595 acres have much to offer with its network of trails bringing you to ponds, expansive woodlands, a former mill site, and Noanet Peak where you can see the Boston skyline. Birds like warblers and thrushes can be heard in the warmer months and other wildlife like bluegills, painted turtles, and bullfrogs can be found at the ponds.
"Great for hiking and being in nature, it's dog friendly, too." — Danyel, Fort Point
New England Botanic Garden at Tower Hill 🌳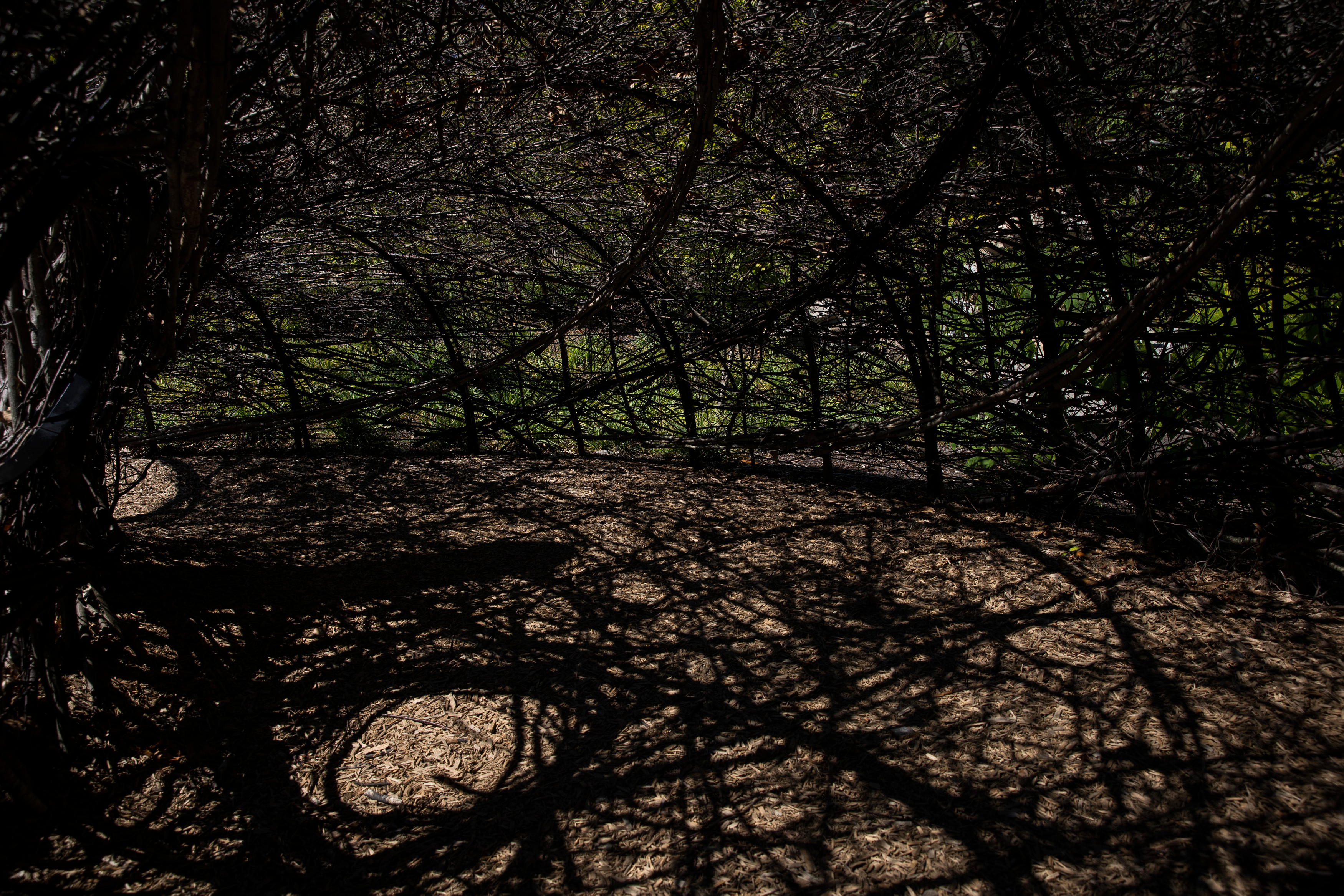 The New England Botanic Garden at Tower Hill is dedicated to being a place where people can "experience the wonder of plants, learn about the natural world, and make joyful connections." Today, the garden offers 171 acres of conservatories, gardens, a café, a gift shop, and walking trails.
"Peaceful, beautiful and a great place for walking." — Susan P., Worcester
"Beautiful grounds and beautiful view of the Wachusett Reservoir in a lovely rural setting." — Ann Q., Sterling
"Every season brings something new to see. A large variety of programs and events or just a beautiful space for a quiet walk." — Libbie R., Holden
"It feels very tranquil and peaceful. The grounds are well maintained with many trails to enjoy. All the flowers are beautiful. In addition, they offer many workshops for all ages." — Diane L., Northborough
Olmsted Park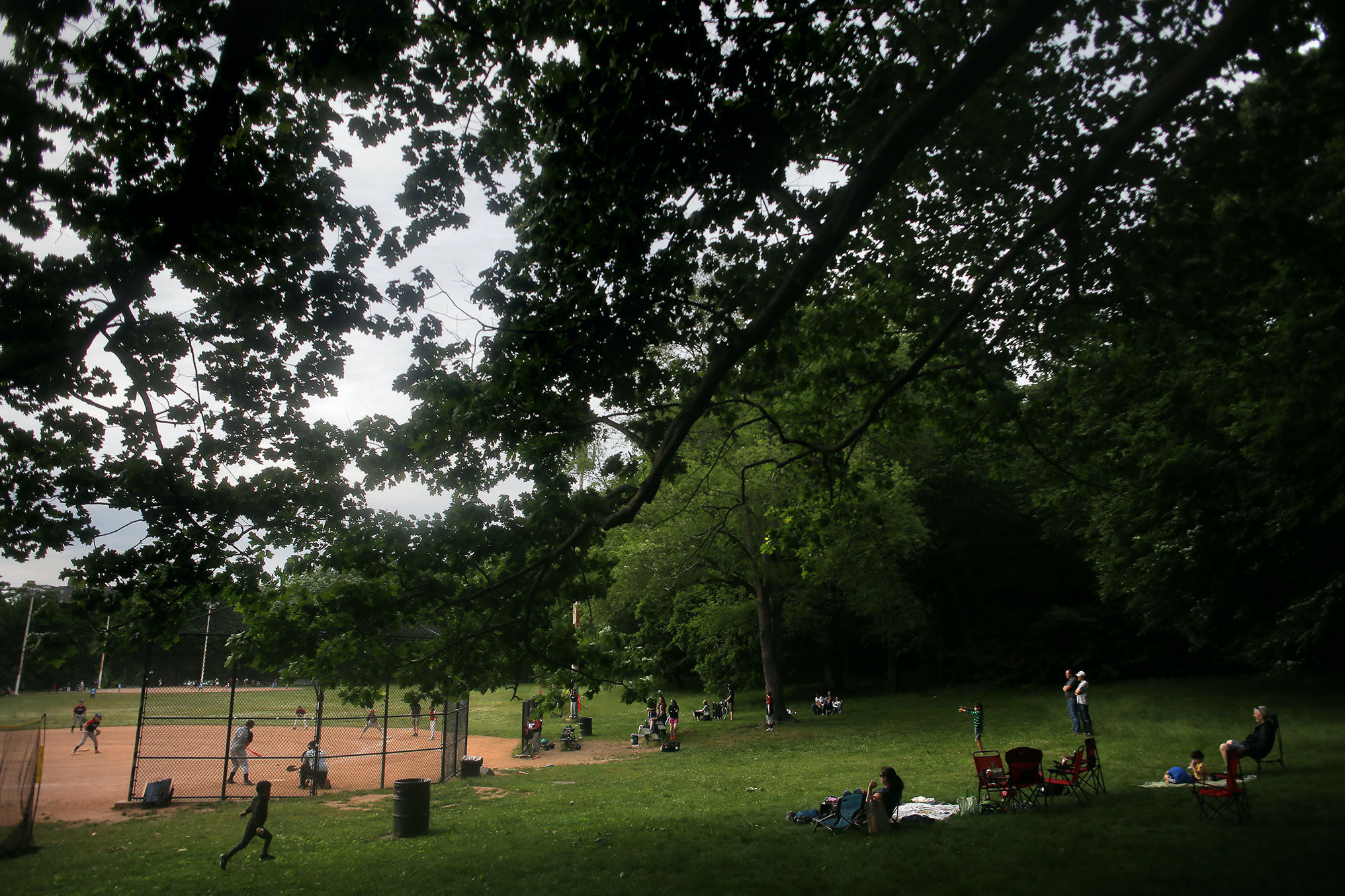 Olmsted Park, part of the Emerald Necklace designed by Frederick Law Olmsted features walking and biking paths, Leverett Pond, athletic fields, a wildflower meadow, and summer park concerts.
Paul Revere Park 🌳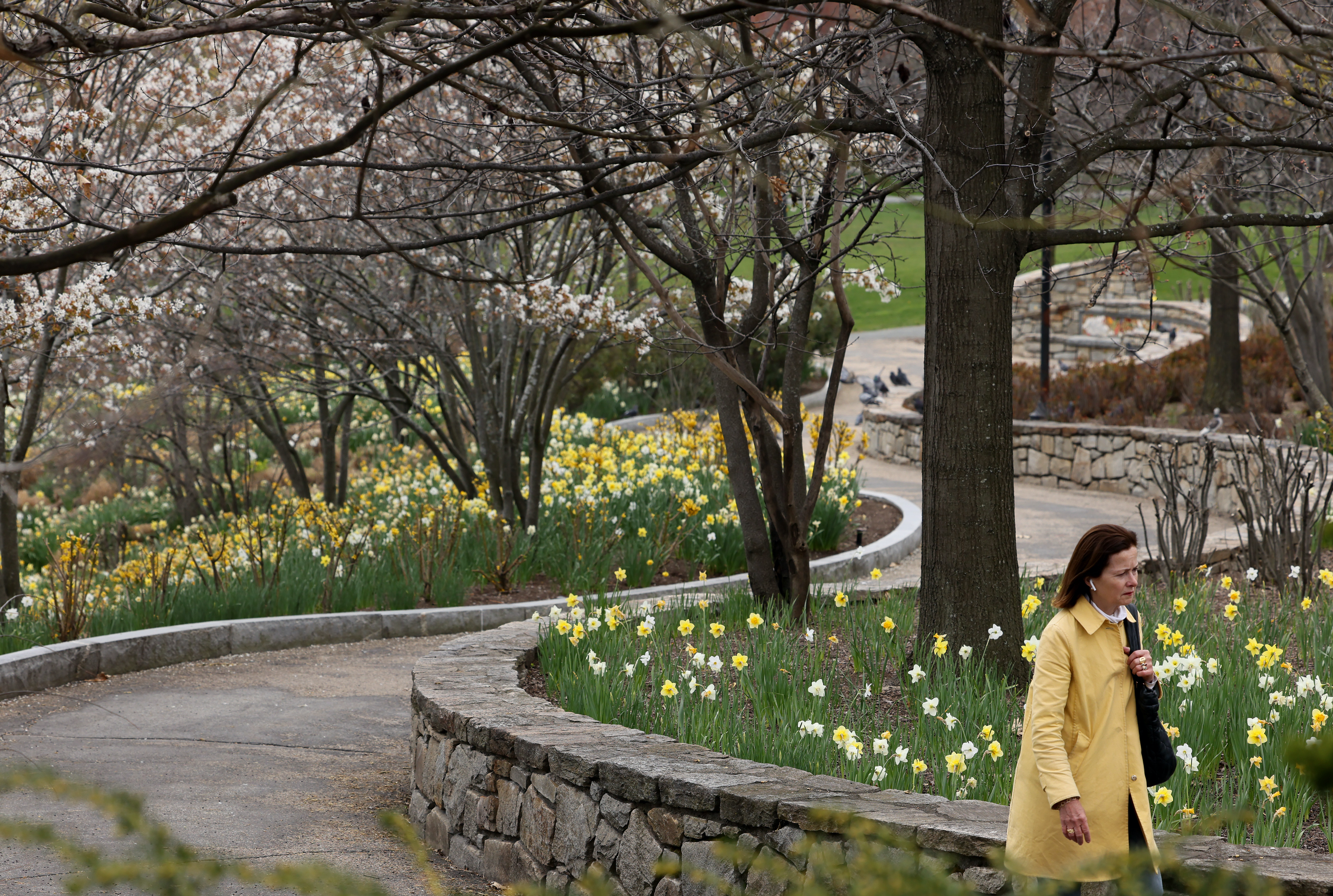 Paul Revere Park is a 5-acre green space along the Charles River and the Freedom Trail in Charlestown. It offers walking paths, a playground, an outdoor mural, and is a perfect place to bring dogs. Looking to relax and take in some sights? The park also offers amazing views of the Zakim Bridge.
"Great skyline views, great water views, there are multiple playgrounds for kids, a splash pad in the summer, skate park, open spaces for dogs… This place has it all." — Chris, Charlestown
Ramler Park
Ramler Park is a hidden treasure owned by the City of Boston, and maintained by The Friends of Ramler Park. The half-acre sanctuary is made up of a small garden lined with paths and benches. The garden has different flowers, trees, and a stone gazebo. It also provides free programs like music and cultural events.
"Tiny neighborhood park that is well looked after and loved." — Liz, Jamaica Plain
Riverway Park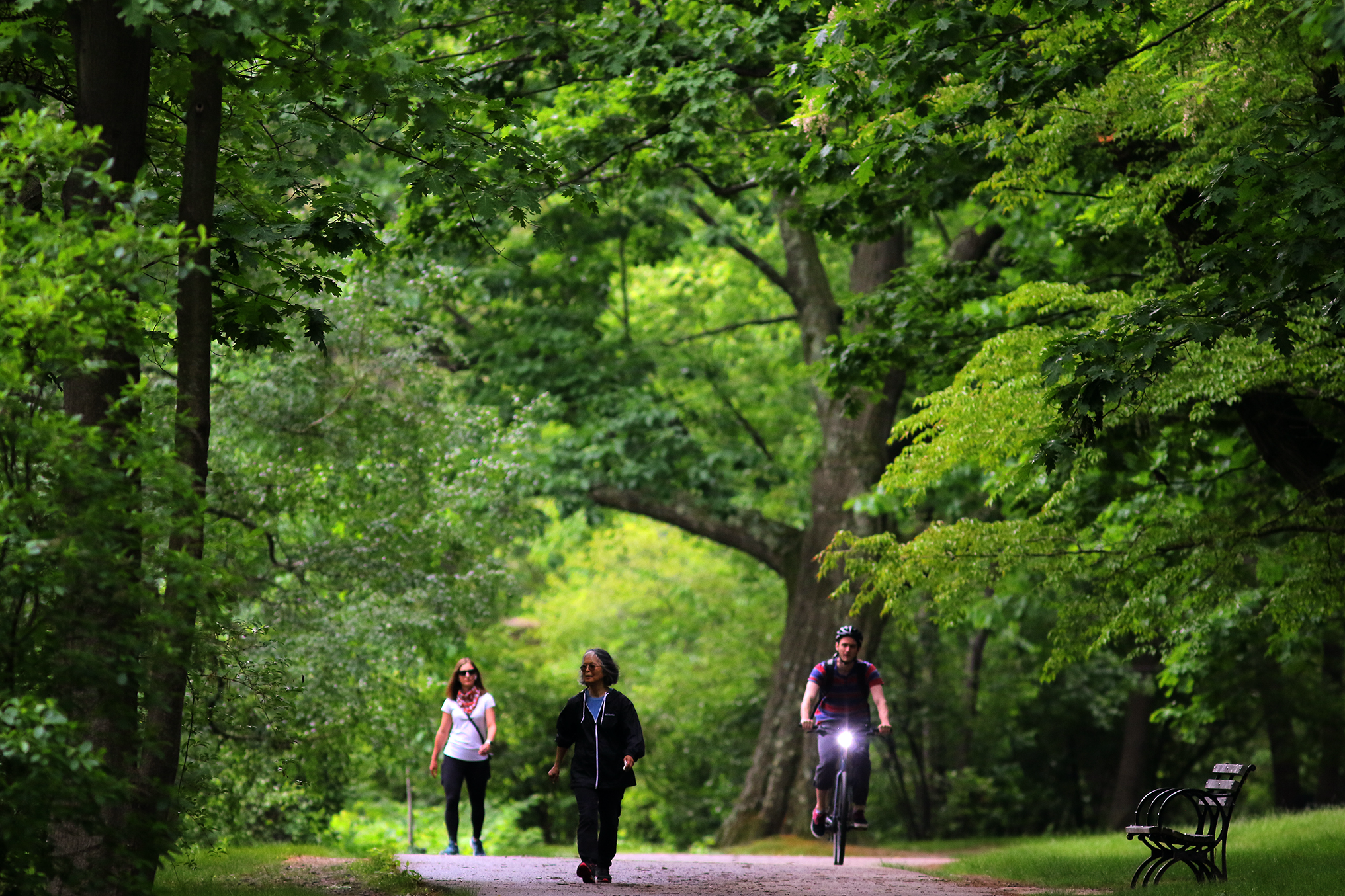 The Riverway Park is another green space along the Emerald Necklace which borders Boston and Brookline. The Riverway is a 34-acre park with walking paths as well as the historic equestrian path and stone gazebo at the Chapel Street Bridge.
Rose Kennedy Greenway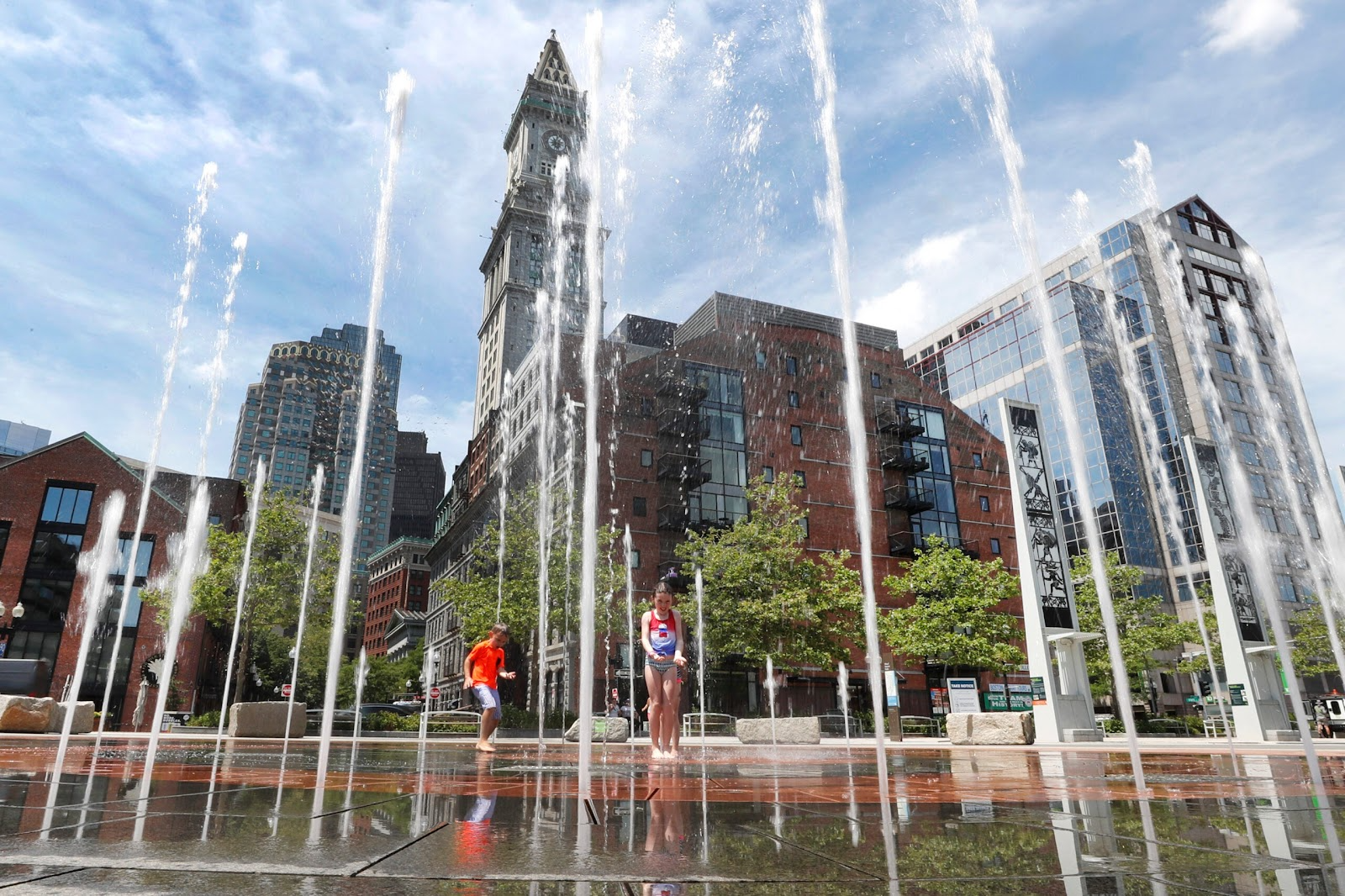 Located right by the North End, the Greenway has so much to offer. Stop by one of North End's bakeries and then lounge in the sun. In the summer spend the day cooling off with your kids in the fountains or take a spin on the Greenway Carousel.
"The Greenway is the best because of its location and contrast with the surrounding urban landscape. It's almost an oasis. There are so many great green spaces in the city. The Rose Kennedy Greenway was a highway and could be fancy condos, apartments, or businesses but instead is a great green space for my family and all residents and visitors." — Will V. West Roxbury
"The park is beautifully maintained, the art is always changing, the food trucks and beer gardens are delicious, there are always fun events and fitness classes, and the horticulture always looks gorgeous!" — Rebecca, Somerville
"It's near Faneuil Hall and the North End, has fun activities for the kids, and we can jump over to the HarborWalk. If we walk far enough, we can go to the Seaport!" — Gloria Jemery, Salem
"The ribbon of parks through downtown Boston is a boon to all residents, businesses, and visitors! I enjoy sitting on the lawns and benches, visiting the gardens, food trucks, beer, and wine gardens as well as the farmers and specialty markets. Not to mention, the spectacular public art, best in the city!" — Matt C., Boston
Shining Sea Bikeway 🌳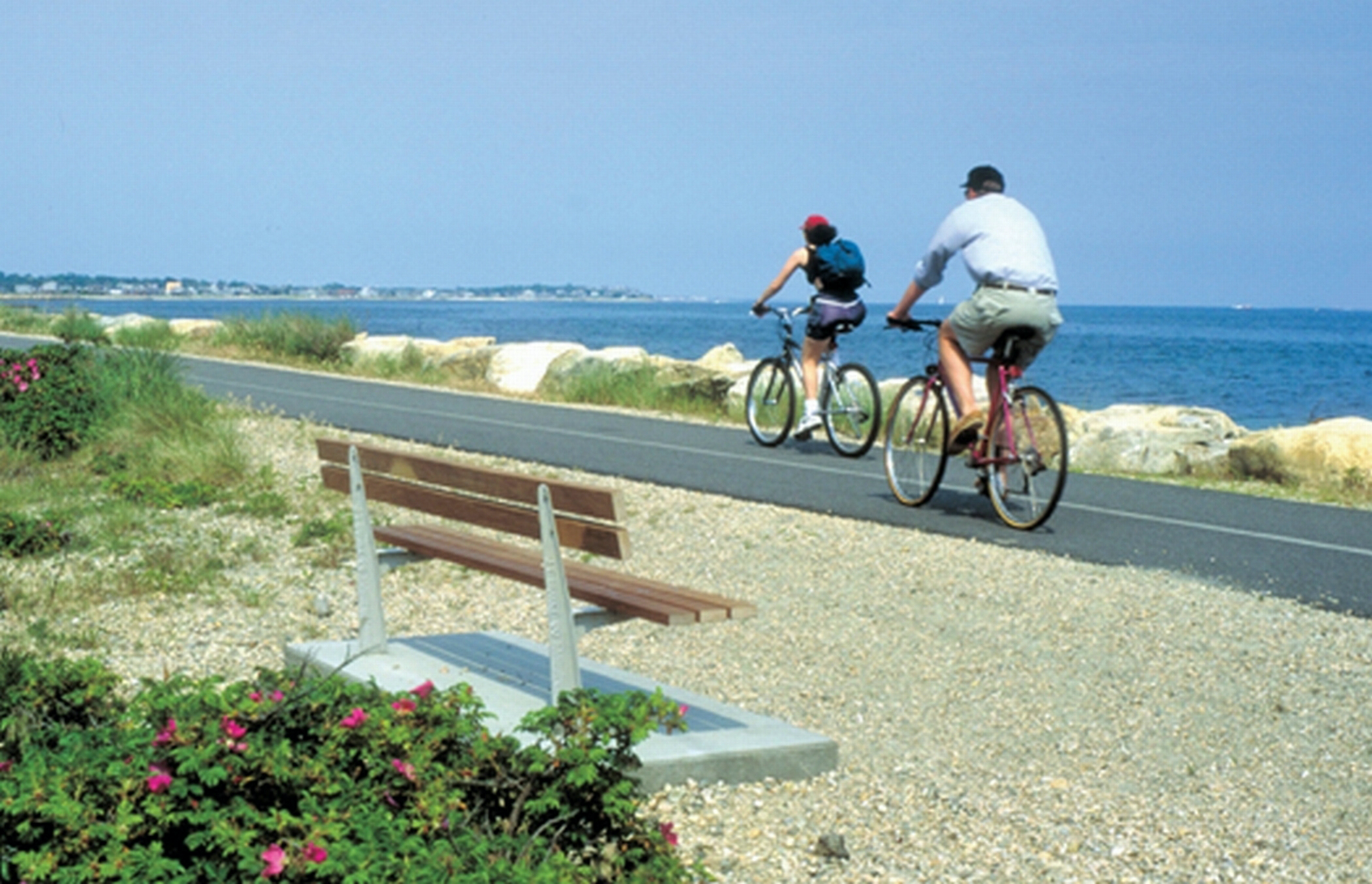 The Shining Sea Bikeway is a 10.7-mile cyclist path that opened in 1975 on the coast of Falmouth, Woods Hole, North Falmouth, and the Vineyard Sound. The bikeway is lined with native Cape Cod flower and tree species and goes through Sippewissett Marsh, cranberry bogs, and Chapoquoit Beach, and the Salt Pond Bird Sanctuary.
"Walking or riding along the ocean and can detour to the lighthouse and other lovely areas." — Sarah, Falmouth
Southwest Corridor Park 🌳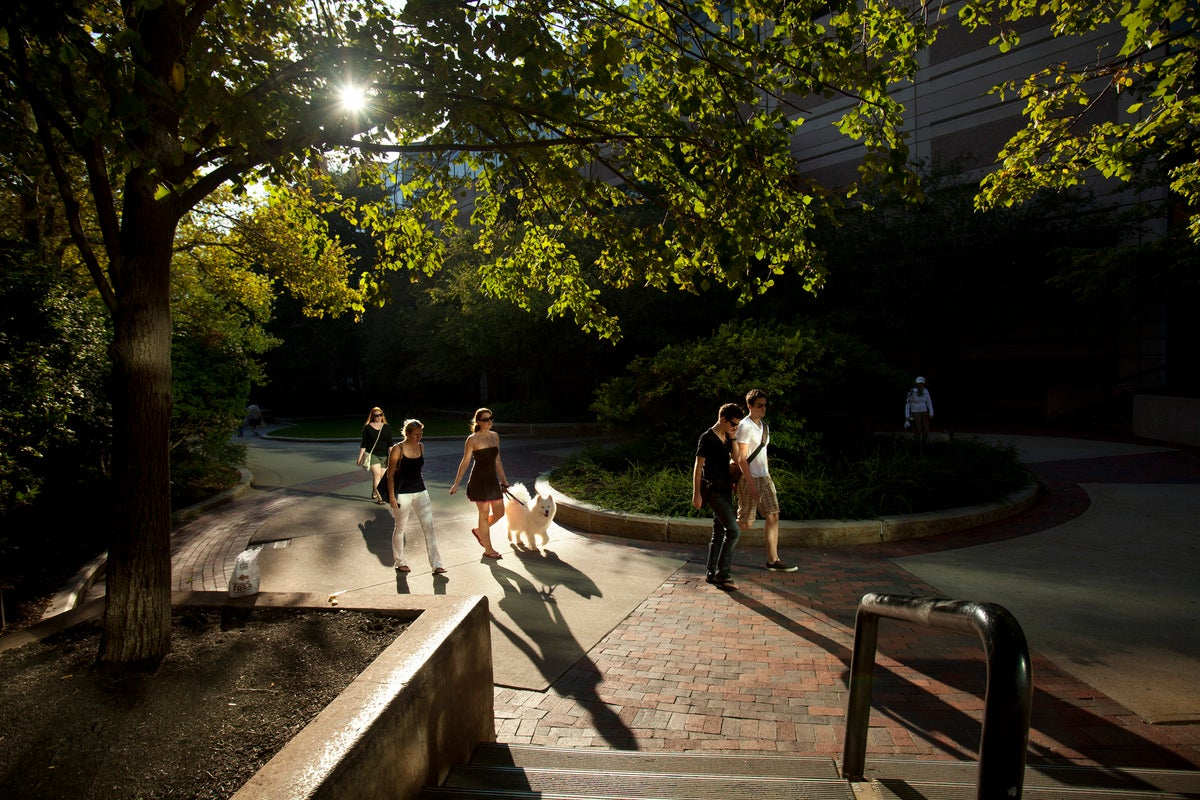 This hidden gem runs about 4 miles in length, running from Back Bay to Forest Hills. The Southwest Corridor Park has footpaths perfect for enjoying the nice weather, playgrounds, spray pools, basketball courts, and amphitheaters.
"It has beautiful gardens and large lawns. The friendly volunteers there do so much and will answer any questions." — L.H. from West Roxbury
Walden Pond 🌳
Walden Pond is a National Historic Landmark located in Concord and is known as the "heart of the Walden Pond State Reservation." You may know this location from Henry David Thoreau's "Walden." Check out the famed Walden Pond for a swim, a walk in nature, or a trip through history as you visit Thoreau's single-room cabin.
"If you want to escape work pressure, and really unwind, walk the perimeter of the pond any time of day." — A Boston.com reader
Wellesley College Botanic Gardens 🌳
The Wellesley College Botanic Gardens has over 22-acres of diverse gardens, greenhouses, and a visitor center that is open to the public. The garden is regularly used by students and faculty for courses, research, and community programs. The space houses thousands of plants with more than 1,500 different taxa from over 150 different plant families. The community's goal is to foster an environment for learning and for loving plants.
"Amazing new year-round indoor space reflecting all climates on earth. Arboretum, edible landscape, beautiful landscaping everywhere. An undiscovered gem." — Joeth B., Carlisle
Boston.com occasionally interacts with readers by conducting informal polls and surveys. These results should be read as an unscientific gauge of readers' opinions.
Need weekend plans?
The best things to do around the city, delivered to your inbox.