Readers Say
Here are the best places to get a lobster roll in New England
"That was a piece of heaven. That was worth the wait."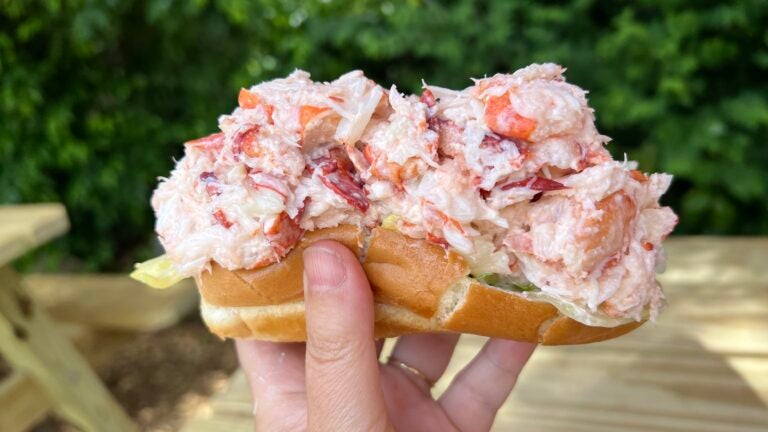 During the summer, there's nothing quite like ordering a lobster roll, and New England has a reputation for serving up a stellar dish. If you're spending a weekend on Cape Cod or exploring the seafood shacks of Maine, you're likely to find great takes on the menu item in the region. Whether you enjoy yours hot or cold, there's no denying the appeal of fresh lobster meat, piled on a brioche bun and served with a side of fries.
We asked readers for their favorite places to get a lobster roll in New England, and we received 315 recommendations in our form and on social media, naming 138 spots. Once again, Red's Eats in Wiscasset, Maine, was named the top pick, earning 8% of the vote. Another restaurant that placed among the top five in 2022, Belle Isle Seafood, remained a popular recommendation this year. We also polled readers on how they take their lobster rolls, and 54% of the 226 respondents said that they prefer a cold one, while 27% enjoy theirs hot.
The lobster industry has seen challenges such as high fuel and bait costs this year, according to Debbie Gagnon, owner of Red's Eats. While she said that she's experienced no problems in getting her meat from distributors and that the line of customers remains long at Red's, the fishermen in her family have experienced setbacks.
"My own nephew pulled all of his traps because of the cost of operation. The bait prices are incredibly high. The fuel is incredibly high. But all the Maine lobstermen have done everything that's been asked of them and more," Gagnon said. "It's been really crippling on the industry, really tough on them."
If you're looking to support the lobster business or just want a great meal to eat, think about visiting a restaurant in the region that serves lobster rolls. They aren't hard to find, and our readers are here to help, offering their recommendations for where to dine.
We've put together a guide to the best places to get lobster rolls in New England. Scroll down to see a complete list of eateries that you can stop by. We've also created an interactive map that features every spot readers shared with us, so that you can find a location near you.
Readers share how they take their lobster rolls:
Where to find the best lobster rolls in New England, in 2023, according to readers:
A 🏆 means that this spot was among the top 5 in 2022 and 2023. Restaurants are also marked for whether their lobster rolls are served 🦞 (hot) or 🧊 (cold).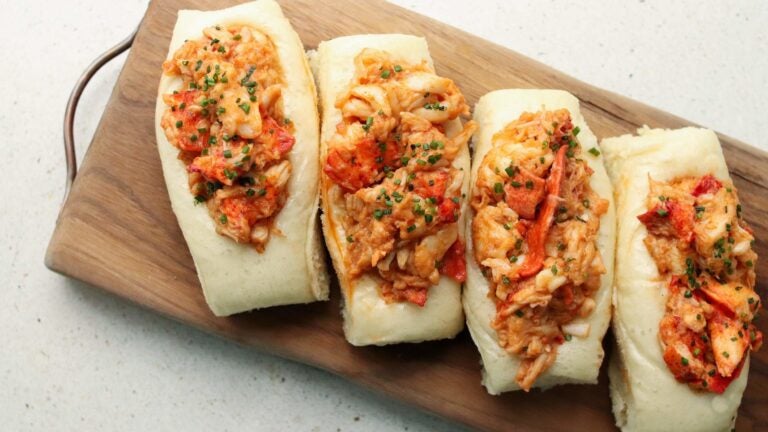 The lobster rolls at Eventide Oyster Co. are small, yes, but they're also unique. The dish is served hot, on a Chinese-style steamed bun, an unusual twist on the menu item. The meat is prepared in brown butter with a hint of lemon, and it comes garnished with chives. According to Amy Caramante, chief of company cultures and communications at Big Tree Hospitality, you can devour the lobster roll in about four bites. You'll find the original Eventide Oyster Co. location in Maine, and the Eventide Fenway in Boston was recently modernized and updated, Caramante told Boston.com. Reader Scott from Maine said he enjoys that the roll is "cooked in brown butter, on a house made bao sweet bun — small but unbelievably tasty!"
Eventide Oyster Co. took 3.3% of the vote.
Multiple locations
This eatery moved from East Boston to its industrial space in Winthrop in 2012, and today, patrons enjoy plates of seafood while taking in the view of Boston Harbor and the skyline. You have a choice of getting a cold lobster roll prepared with claw, knuckle, and tail meat, served with iceberg lettuce on a New England style hot dog roll, or you can pick a roll made with just tail. All come with a side of French fries, onion rings, coleslaw, or rice pilaf. The rolls are overflowing, so many eat them with forks. Reader Rob from Watertown said, "Belle Isle is a casual seafood restaurant in Winthrop, MA. Located on the water, there are great views of Boston and Logan Airport. The seafood is always fresh, and you get your money's worth. The lobster roll is filled with huge chunks of fresh lobster with a touch of mayo."
Belle Isle Seafood took 3.7% of the vote.
1 Main St., Winthrop, Massachusetts
Cape Cod locals and newcomers visiting the area flock to Sesuit Harbor Cafe, a seafood shack with a fun and casual environment. Covered in nautical decor, the spot has something of a following, with customers who treat dining there and scoring a picnic table "like a sport," according to manager Shawn Stuber. The cold lobster roll is served on a small bed of lettuce on a New England style hot dog bun, but you can also get it Connecticut style, without mayonnaise and accompanied by a side of warm, drawn butter. You'll also want to visit their Raw Bar, which features appetizers like fresh oysters, littleneck clams, shrimp, tuna sashimi, and lobster crab cakes. Breakfast, lunch, and dinner are served, so you can enjoy a meal at any time of day.
Reader Ashley from Watertown said, "The standard roll is with mayo, but you can ask for hot buttered. Best part, whichever way you order it, they do not skimp on the lobster!! Most generous lobster roll I've ever had, and light on mayo. The restaurant itself is amazing and has a perfect Cape Cod vibe! The place [overlooks] a marina and is often packed with customers. Sesuit is BYOB, with many people (myself included!) breaking open their coolers in the order line. Seating is entirely outdoors with beautiful views of the water."
Sesuit Harbor Cafe took 4% of the vote.
357 Sesuit Neck Rd., Dennis, Massachusetts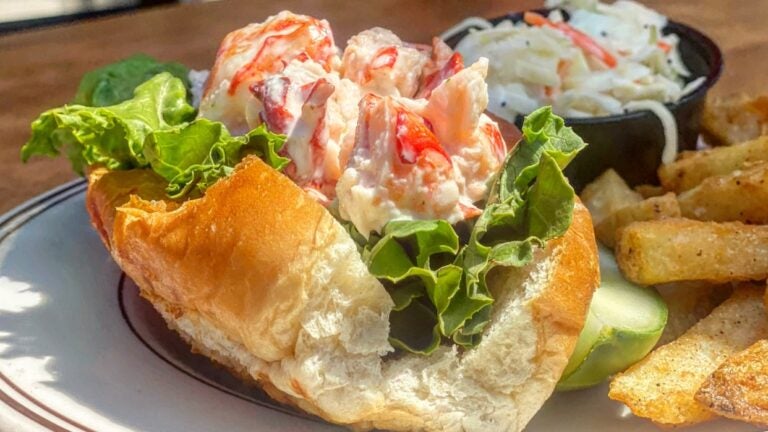 This Downtown Boston destination is steeped in history: according to Union Oyster House president Joe Milano, it is the oldest restaurant in Boston and the oldest restaurant in continuous service in the country, having opened in 1826. Today, visitors love the lobster rolls, with a slight preference for the cold ones. These are made with tail, knuckle, and claw meat, perched on a toasted roll, with some diced celery mixed in, and enough lettuce for crunch. The hot roll is made from lobster meat that has been sautéed in butter and has a bit of seasoning. The ambiance is lively and bustling, with the oyster bar near the main entrance being an attraction. John F. Kennedy was known to frequent Union Oyster House before becoming president, and patrons of the restaurant love to see the booth where he would sit and order a lobster stew, according to Milano.
Reader Wes from the North End said that the "hot roll is delicious, but the classic cold roll is my go to. Big chunks of lobster meat only lightly dressed; lobster is the star of the show by far. Anyone who appreciates a good sandwich knows the importance of the bread. The roll is on point, like a brioche with a nice buttery flavor, but not too flaky, so it stands up."
Union Oyster House took 5% of the vote.
41 Union St., Boston, Massachusetts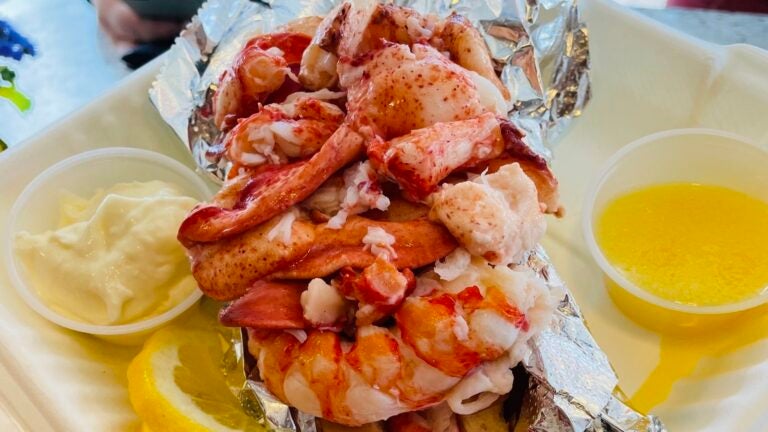 For the second year in a row, Red's Eats, a red shack in Maine that's been a destination of travelers and locals alike, was voted by readers as the best place to get a lobster roll. The eatery is open from mid-April through mid-October, and a line usually starts forming around 11 a.m., according to owner Debbie Gagnon. Their lobster roll is served cold, in a buttered, warm bun with Kate's Butter served on the side, as well as mayonnaise. "We don't measure, we pile it high," Gagnon told Boston.com. She added, "I do it straight, beautiful meat, so that our guests can dress it any way they want. They can take the tails off and dip them in butter, like an appetizer, or drizzle that beautiful, creamy butter over the top of the roll. Or add mayonnaise, if they'd like." Red's uses fresh lobster meat — the tails, claws, and knuckles. "We eat with our eyes first, and I tell you, this is a beautiful picture," Gagnon said.
Guests will come from out of state specifically to visit Red's, Gagnon said. One patron makes the journey to Maine, staying for five days and dining at Red's for exactly five days, as well. The appreciation that Gagnon gets from her customers is rewarding, she added. "It doesn't get any better than folks waiting in line, and then they make their way back up to the window to say, 'That was a piece of heaven. That was worth the wait.'"
Reader Brian L. from North Carolina said that when he looks for a lobster roll, "it all starts with the bread: whether it is a brioche bun or a split top bun of sorts, it needs to be grilled and buttered to add a little crunch. From there, you need to get enough lobster that equals the market value you're being charged. Red's gives so much lobster that when you first get your roll, you can't even see the actual bread because of the heaping amounts of lobster included. After that, they give you the drawn butter to drizzle on yourself which helps keep the roll fresh and not soggy."
Red's Eats took 8% of the vote.
41 Water St., Wiscasset, Maine
Honorable Mentions 🏅
McLoons Lobster Shack: This wooden shack in Maine has picturesque harbor views and award-winning lobster rolls that come with a pickle, a bag of chips, and coleslaw. Check out the Rolls Royce, which is double the traditional size, featuring half a pound of meat on a split top roll. 315 Island Rd., South Thomaston, Maine
Readers say: "Roll, mayo, lobster — simple is best. As fresh as it can get. Beautiful setting with lobster boats in the background. Don't forget to stop at the Lobster Lane Bookstore nearby." —David W., Connecticut and Maine
The Raw Bar: Last year's second place winner from Cape Cod is known for its classic, colossal lobster roll. Enjoy yours with a refreshing cocktail, from the popular rum punch to mimosas and margaritas. 259 Shore Dr., Mashpee, MA 02649
Readers say: "It's a lobster lover's heaven. The lobster could not be any fresher. All meat and no fillers. The traditional size is enormous, and the smaller size is still bigger than anywhere else. You can order cold. The experience at either The Raw Bar or the Marketplace Cafe (across from each other) is one of a kind. The experience is second to none. Plan to spend the night. Great food, atmosphere, music, shops and so much more. The visit alone is a vacation!" —Nancy S., Cape Cod
Here's the complete list of reader recommended spots to get a lobster roll in New England:
A ⭐️ means that this shop was voted among the top 5 at some point over the past two years.
Connecticut:
Maine:
Massachusetts:
New Hampshire:
Rhode Island:
Sign up for The Dish
Stay up to date on the latest food news from Boston.com.