Readers Say
These 10 dispensaries are the best in Mass., according to readers
Plus, a map of 100 reader-recommended adult-use dispensaries in the state.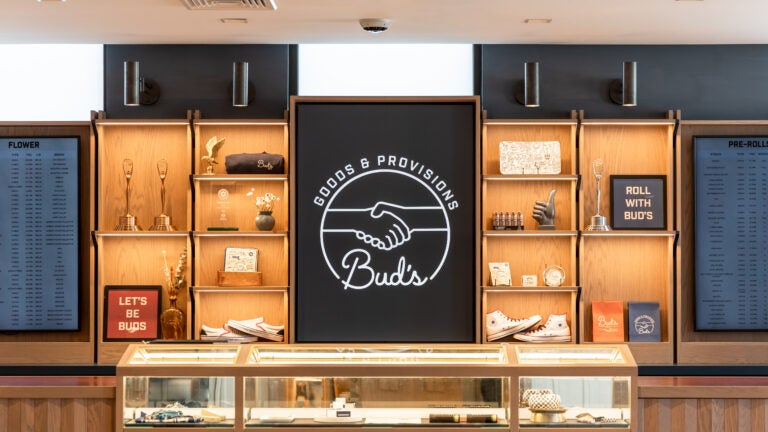 The recreational marijuana business is booming in Massachusetts and consumers are reaping the benefits. Not only are there a rising number of dispensaries across the state, but prices have never been cheaper for legal cannabis in the state.
Since 2021, we've asked Boston.com readers to tell us their favorite adult-use dispensaries and used their recommendations to create guides to the best pot shops. We've also mapped every reader recommendation so you always know where to go for the best flower, edibles, concentrates, and more.
Last year, the most popular dispensaries were Triple M Dispensary, which claimed the top reader-recommendation spot two years in a row, Ascend Wellness Holdings, Berkshire Roots, NETA Brookline, and SEED. While some of those shops made it onto this year's list, readers had a host of new suggestions, including Rooted In, Yamba Market, Western Front, and more.
Readers also shared that they're most likely to buy flower over other products like edibles and pre-rolls when they visit a dispensary.
What do you prefer to buy at a dispensary?
Pre-rolls
Edibles
Flower
Vaporizers
Concentrates
Other
Coming out on top this year is Bud's Goods & Provisions, a cannabis retailer with locations in Worcester, Abington, and Watertown. Readers said they chose Bud's as their favorite dispensary because of the variety, quality, and cost of the products as well as the "super friendly budtenders."
Alex Mazin, the founder and CEO of Bud's Goods & Provisions, said he thinks of dispensaries as "community, neighborhood businesses just like a liquor store or a pharmacy or a gas station or nail salon." As a Worcester native, Mazin knew that the key to success would be understanding the needs of the community his shops serve.
"We're focused on every aspect from the consumer's perspective. The service, the pricing, the menu offering, the decor, and the convenience," he told Boston.com. "Understanding Worcester is a much more predominant flower consumer than Abington and Watertown. Consumer are more product curious in Watertown so they're constantly trying new things, whether it's flower or consumables. [We] cater to those needs specifically."
Mazin said his business keeps things local by hiring locally and regularly curating the best quality products in Massachusetts. They also give back with community building and cannabis education events. Last month, Bud's hosted a veterans' breakfast in Abington and answered questions members of the community had about marijuana use.
Below, you'll find a ranking of readers' top 10 favorite dispensaries, along with a map of all 100 reader-recommended locations across the state.
A 🍃 means that this spot was among the top 10 in 2021 and 2022.
Multiple locations
Triple M was the top reader favorite in 2021 and 2022 and it came out lower on the list this year, fans of the dispensary still had positive reviews for its customer service and the knowledge of its staff. One reader from Cape Cod said they frequent this shop because of the "excellent budtenders who know what they are talking about and a wide variety of products."
401 Centre St. A, Jamaica Plain
Another popular dispensary among readers for three years running is Seed, the Jamaica Plain-based dispensary. At this shop, you'll find flowers, edibles, tinctures, vapes, pre-rolls, as well as educational materials on marijuana criminalization in America. Janine Yu from Sheffield said SEED is her favorite shop because she "loves their social justice mission."
Multiple locations
When Ascend opened in downtown Boston, the "marijuana supermarket" became the largest adult-use dispensary on the East Coast. Since then, they've expanded with locations in New Bedford and Newton. Readers said Ascend was the "easy choice" because of their great deals on strains like Mandarin.
331 Newbury St., Boston
This minority-owned dispensary recently opened on Newbury Street with a mission to give back to communities of color in Boston. The shop employs people who have been "negatively impacted by the war on drugs" and shares a portion of proceeds directly with employees.
"Although Rooted In is one of the newer dispensaries, it seems like it's always been around. Walking into this boutique store feels like a mom-and-pop shop that everyone in the neighborhood frequents," shared Peter L. from Boston. "I love the energy and vibe of this place and the customer service is top-notch. Looking forward to my next visit here. Y'all are doing a fabulous job."
580 Massachusetts Ave., Cambridge
This Black-owned shop in Cambridge was founded by an Iraq War Veteran who became an advocate for cannabis consumer rights in Massachusetts after becoming a medicinal cannabis user and a fourth-generation Cantabrigian. At their dispensary, you'll find a "broad selection of unique strains" and "quality products."
"I personally feel like the staff truly know what they are talking about when recommending certain products to certain needs," said KJ from Cambridge.
Multiple locations
NETA finds itself among the top-five best dispensaries in the area for the third year in a row. Fans of the original Brookline location say they love this dispensary because it has the "widest product selection in the state, frequent and attractive deals, speedy service, and unique ambiance due to the historical features of the [old Brookline Bank building]." Now that there are locations in Northhampton and Franklin, readers are frequenting there too.
"I actually go to the NETA Franklin store as a medical patient. I have tried almost everywhere inside of 495 and NETA always has the best prices, deals, and selection. It is also local with a grow facility in Franklin too. People are knowledgeable and friendly and there is never a long wait," said Christopher S. from Hopkinton.
1148 Bridge St., Lowell
This Lowell dispensary pays tribute to the history of recreational cannabis use in its name with a nod to 1973 when Oregon eased penalties for marijuana possession and paved the way for current laws. More locations are coming soon to Beverly and Gloucester.
"I love this dispensary because of the staff. I always come for one thing and leave about 30 minutes later, after a bunch of laughs and awesome vibes. If there was a lounge area trust me I'd be here every day," said Yuji R. from Nashua, New Hampshire. "When you walk in, you're walking into the greatest place ever. Everyone is so enthusiastic and ready and willing to greet you with loads of information and options. I've been to multiple dispensaries in the past but I will never cheat on Reverie 73. They are, hands down, the all-stars of dispensaries in the state."
Multiple locations
With shops in Melrose, Newton, and Marlborough, at-home delivery in Boston, and a wide selection of products, there's something for everyone who visits Garden Remedies.
"I've been coming to Garden Remedies for a long time and the improvements they've made with their flower have been amazing to see! They take advice from their customers and always give me options that are the best bang for my buck," shared Tom from Newton.
Multiple locations
Fans of Western Front come for the cannabis products and the hosts put on by the dispensary. The minority-owned shop is Chelsea's first dispensary and has another location in Cambridge. If you're new to cannabis use or have questions about products, the dispensary also offers free educational consults. The Chelsea location also features an art gallery where local artists display work in all mediums.
"The product line is fantastic, the price points are competitive, and the vibe is very cool!" Tim from Cambridge told Boston.com.
Multiple locations
This year's top reader pick is Bud's Goods & Provisions, a dispensary with locations in Worcester, Abington, and Watertown. At Bud's, you'll find curated lines of locally-sourced flower, pre-rolls, edibles, concentrates, vapes, accessories, and more.
"Bud's Goods is a little guy with a big future. They're not some giant, out-of-state conglomerate. They are hometown buds. Their prices are amazing and their selections are amazing. It's got a downtown Boston atmosphere inside with sports memorabilia everywhere and yet also the inside looks like a high-end boutique," said Sheri from Roslindale.
Boston.com occasionally interacts with readers by conducting informal polls and surveys. These results should be read as an unscientific gauge of readers' opinion.
Need weekend plans?
The best things to do around the city, delivered to your inbox.