Readers Say
We asked readers for the best movie theaters in Greater Boston. Here are your favorites.
Readers enjoy seeing great films at these destinations.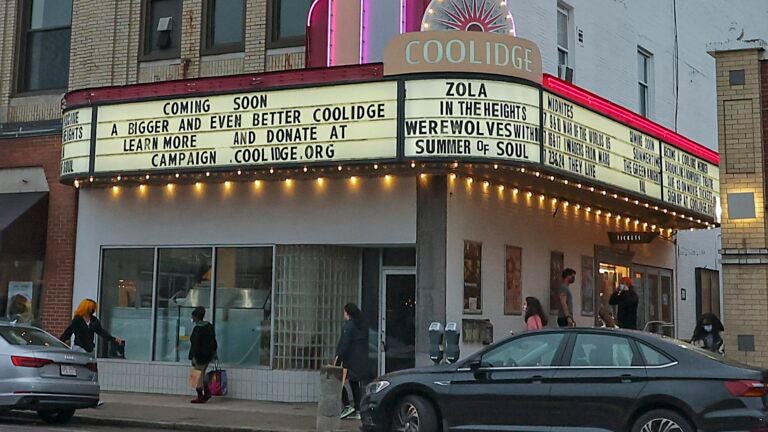 If you're looking for something to do this weekend, you're in luck: movie theaters are celebrating National Cinema Day on Sunday. More than 3,000 theaters, including those owned by AMC and Regal, will participate, selling tickets at the discounted price of $4 each. We know that this summer has seen some blockbusters — Barbenheimer brought crowds to the big screen in droves — and if there's a film that you haven't seen yet, you might want to take advantage of the special day.
We asked readers to tell us about their favorite movie theaters in Greater Boston, and we have a winner. The Coolidge Corner Theatre in Brookline, an independent, non-profit cinema, earned 15% of the vote. The spot opened as a church in 1906 and was redesigned as an "Art Deco movie palace" in 1933, according to their website. The theater screens documentary, animated, international, and independent films and series.
Reader Steve from Dorchester said that when it comes to good movies at the Coolidge Corner Theatre, he has seen countless. "They show so many great movies (new and old), and they have a ton of cool events like Q&As with the directors, experts explaining the science behind sci-fi movies before the show, and an annual Big Lebowski screening with trivia and costume contests," he said.
Other theaters that readers recommended included the Showcase SuperLux Chestnut Hill in Newton, which earned 14% of the vote. They also shared that they enjoy the Somerville Theatre, giving it 11% of the vote. One anonymous reader told us about her experience going to the West Newton Cinema.
"My nana used to take me to movies at West Newton when I was a kid, and I was able to take my firstborn to his first movie there as well ('WALL-E')," she said. "It is unique in its old-world charm, which sets it apart from the updated theaters."
Below, find a list of movie theaters in Greater Boston, including your favorites. Scroll down to see if there's a spot you'd like to visit this weekend.
Here's a list of movie theaters in Greater Boston:
A ⭐️ means that this movie theater was voted among the top 5 by readers.
Need weekend plans?
The best things to do around the city, delivered to your inbox.