Readers Say
Here are the 5 best movies filmed in Massachusetts, according to readers
More than 300 readers shared 42 recommended movies filmed in the Bay State.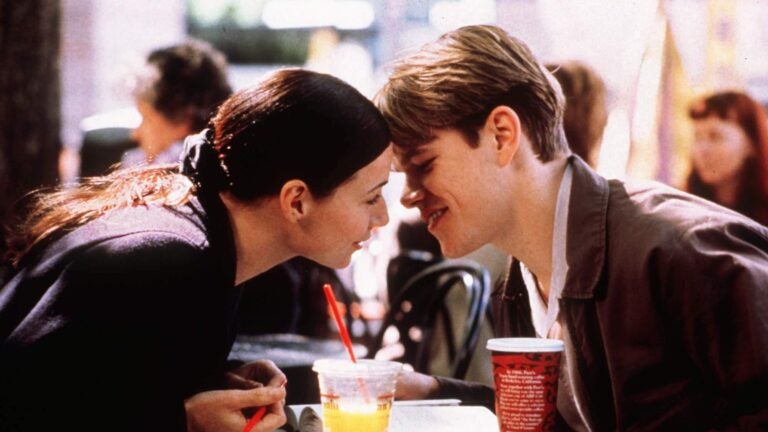 If you want to be reminded of some of the greatest movies ever filmed in your backyard, our readers have you covered. We recently asked for your favorite movies filmed in Massachusetts, and results show a long list of some classics with a touch of nostalgia.
After tallying up the 342 reader votes, there were a total of 42 movie recommendations with a clear top five list. Before we get into the results, though, we can't forget some honorable mentions. Our original poll included 14 movie options, but readers wrote in 28 additional movie suggestions that they thought were the best; one of which was voted into our final top five.
"Mystic River," a movie from our original poll did not quite make the top five, receiving 19 votes which accounted for approximately 5% of total votes.
There were also a handful of write-ins that received a noticeable number of reader votes. These included "The Verdict," "Manchester by the Sea," and "Love Story," which accounted for 2.6%, 2.3% and 1.7% of votes, respectively.
Now, on to the winners. Below is a countdown of the five best movies filmed in Massachusetts, according to readers, and how to watch them. We've also included a full list of reader recommendations.
5 best movies filmed in Massachusetts, according to readers
Kicking off our countdown with about 6% of the vote is "Jaws" making its comeback. The instant favorite and iconic movie directed by Steven Spielberg received 21 write-in votes from readers.
"Jaws" turned the idea of a peaceful beach getaway into a horror movie. After a woman is killed by a shark while swimming near a Massachusetts town, police chief Martin Brody (Roy Scheider) and mayor Larry Vaughn (Murray Hamilton) struggle to decide the right course of action. The mayor, who fears causing a panic and losing tourists, convinces Brody to stay quiet about the incident. That is, until the shark strikes again. Finally, marine biologist, Matt Hooper (Richard Dreyfuss) and ship captain, Quint (Robert Shaw), decide to go after the shark and a bloody battle ensues.
"Jaws is an iconic film that changed how films were made and marketed. It brought us a wunderkind named Stephen Spielberg and so perfectly captures the quintessential New England summer beach town feel. You can almost taste the salt in the air," said reader Jessica from Greenfield.
How to watch: Amazon Prime Video | Apple TV
The plot follows bank robbers, leader Doug MacRay (Ben Affleck) and his accomplice James Coughlin (Jeremy Renner). After a heist doesn't go to plan the robbers take a bank employee hostage. Unexpectedly, a romance brews between the hostage Claire Keesey (Rebecca Hall) and MacRay causing the criminal to re-think his ways. However, change is never easy and it leads to complications.
Joan from Charlestown described "The Town" as "realistic, action packed, great scenery, with a good story." This film and "The Friends of Eddie Coyle" each received 30 reader votes.
How to watch: Amazon Prime Video | Apple TV | Hulu
"The Friends of Eddie Coyle" tied with "The Town," both receiving almost 9% of the reader vote. In another crime film, Eddie Coyle (Robert Mitchum) is faced with several years of jail time after acting as a gunrunner for a bank robbery crew. Having limited options, Coyle decides to turn his "friends" in for a lesser sentence by working with detective Robert Foley (Richard Jordan). However, Coyle can't seem to stay out of trouble as he upsets the criminal crew, the detective, and his family with an assassin on his tail.
"Unselfconsciously Bostonian," said one reader.
How to watch: Amazon Prime Video | Apple TV | Pluto TV
In second place, and receiving about 10% of reader votes was "The Departed." Undercover cop Billy Costigan (Leonardo DiCaprio), works gain the trust of the head of an Irish gang, Frank Costello (Jack Nicholson). Things appear to be going to plan until a mole, Colin Sullivan (Matt Damon), infiltrates the police department. Both the police and the gang rush to discover the moles sharing their secrets, while Costigan and Sullivan try to figure out the who they can trust.
"It's not just filmed here, [the] setting and the characters are uniquely Boston. Also the cast includes locals who add to the authenticity," said Karin from Quincy.
How to watch: Amazon Prime Video | HBO Max | Hulu
Almost 38% of readers agreed that "Good Will Hunting" was the best movie ever filmed in Massachusetts. "Good Will Hunting" is the story of a young genius, Will Hunting (Matt Damon). Hunting works as a janitor at MIT until his genius is realized by professor, Gerald Lambeau (Stellan Skarsgard), who decides to help Will achieve his full potential. However, when Hunting runs into trouble with the cops, Lambeau sets him up with therapist Sean Maguire (Robin Williams). Throughout the film Hunting and Maguire work through their emotions and, eventually, become friends.
"This movie not only captured the beauty and rawness of Boston and the surrounding cities, but the essence of born and raised Bostonians, in contrast to those who did not grow up in the Boston area," said reader Diane from East Boston.
How to watch: Amazon Prime Video | Apple TV | Pluto TV
All of the best movies ever filmed in Massachusetts, according to readers
"A Civil Action" (1998)
"Ah, Wilderness!" (1935)
"Alice's Restaurant" (1969)
"American Hustle" (2013)
"Blue Hill Avenue" (2001)
"CODA" (2021)
"Free Guy" (2021)
"Furry Vengeance" (2010)
"Gone Baby Gone" (2007)
"Jaws" (1975)
"Knives Out" (2019)
"Love Story" (1970)
"Manchester by the Sea" (2016)
"Mona Lisa Smile" (2003)
"RIPD" (2013)
"School Ties" (1992)
"Shutter Island" (2010)
"Spotlight" (2015)
"Ted" (2012)
"The Fighter" (2010)
"The Brink's Job" (1978)
"The Departed" (2006)
"The Human Stain" (2003)
"The Perfect Storm" (2000)
"The Reincarnation of Peter Proud" (1975)
"The Thomas Crown Heights Affair" (1968)
"The Verdict" (1982)
"The Witches of Eastwick" (1987)
"Black Panther: Wakanda Forever" (2022)
"Borat" (2006)
"Don't Look Up" (2021)
"Good Will Hunting" (1997)
"Little Women" (2019)
"Mystic River" (1998)
"Mystic River" (1998)
"The Firm" (1993)
"The Friends of Eddie Coyle" (1973)
"The Social Network" (2010)
"The Town" (2010)
"Who's Afraid of Virginia Woolf?" (1966)
---
Readers: What's the worst movie filmed in Massachusetts?
Massachusetts is a fave film location for many reasons. There are city landscapes, dense woodlands, college campuses, seashores, and history. And aside from producing actors like Matt Damon and Ben Affleck, Massachusetts has also produced state tax incentives allowing a 25% production credit, a 25% payroll credit, and a sales tax exemption. No wonder people film here, but not all films come out as expected.
Okay, we've narrowed down the best, now we want to know the worst movies filmed in Boston. Was it the bad Boston accent? Bad acting? Or was it just not your cup of tea? We want to know.
Now, we are eager to know your votes for the worst movie ever filmed in Massachusetts. Share with us in survey below or e-mail us at [email protected]. We may feature your response in a future article or on our social media channels.
Tell Us: What's the worst movie ever filmed in Massachusetts?
Correction: "The Brink's Job" was released in 1978. A previous version of this story listed an incorrect year. Boston.com regrets the error.
Need weekend plans?
The best things to do around the city, delivered to your inbox.