Readers Say
Here are the best places to get a croissant in Greater Boston
Over 100 readers recommended locations where you can get the baked good.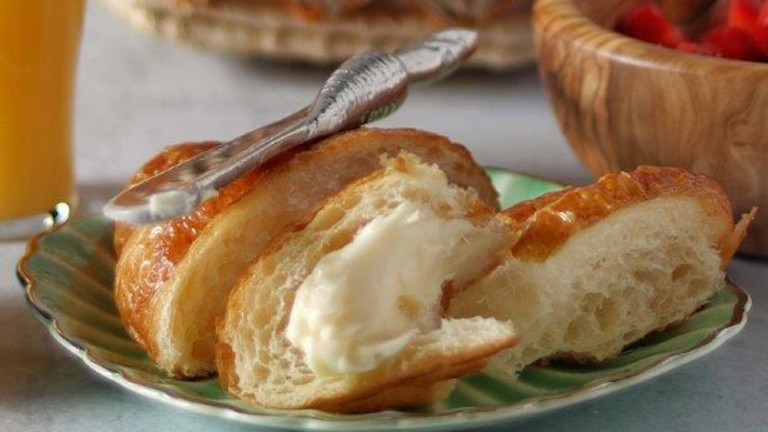 You don't need to venture to Paris to get the perfect croissant. Across Greater Boston, you'll find plenty of bakeries and cafes where you can stop by in the morning, grab the crescent-shaped treat, and enjoy it with a cup of coffee. Whether the ideal croissant for you is plain, sprinkled with almonds, or filled with pistachio paste, the baked good can make a difference in your day.
We asked Boston.com readers for their favorite place to get a croissant, and we received over 100 recommendations. Colette Bakery, with locations in Medford and Melrose, earned the title of first place winner, garnering 14% of the vote. And it's no wonder — their croissants are airy and crisp, with a caramelized buttery flavor. Speaking to co-owner Nathalie Beddiar, she told us about some of her earliest memories of having a croissant.
"My first croissant, I had it the first time I had teeth," Nathalie said. She laughed, "When you get your first tooth, you get your first croissant in France. I'm not from a baker family. I remember, every Saturday or Sunday, I would go with my father to get croissants when I was a kid."
Below, you'll find a reader-recommended guide for where to find the best croissants in Greater Boston, ranging from ones filled with chocolate to Gruyère cheese. The next time that you're craving a freshly made croissant, look to our guide and interactive map of 39 local bakeries and restaurants, and find a destination near you. We've excluded national chains like Au Bon Pain and Panera Bread, most of which received only one vote, from our list. Scroll down to read our list, and we promise you'll be dreaming of breakfast pastries for days to come.
Step into this sophisticated spot in Needham, and you'll immediately smell the fresh baked goods and coffee. French Press Bakery & Cafe serves up artisan croissants in a variety of flavors, from European butter to French-imported chocolate, and classics like almond and the applewood smoked ham with Swiss cheese. Described by owner Jay Spencer as a cafe with a "traditional European experience," you'll see bakers preparing items on site. Reader Ziran S. from Needham said, "The oversized buttery croissants are flaky and buttery on the outside, with more buttery and [chewy] and puffy layers for contrast in texture on the inside. The perfect bite is light and not greasy." French Press took 5% of the vote.
74 Chapel St., Needham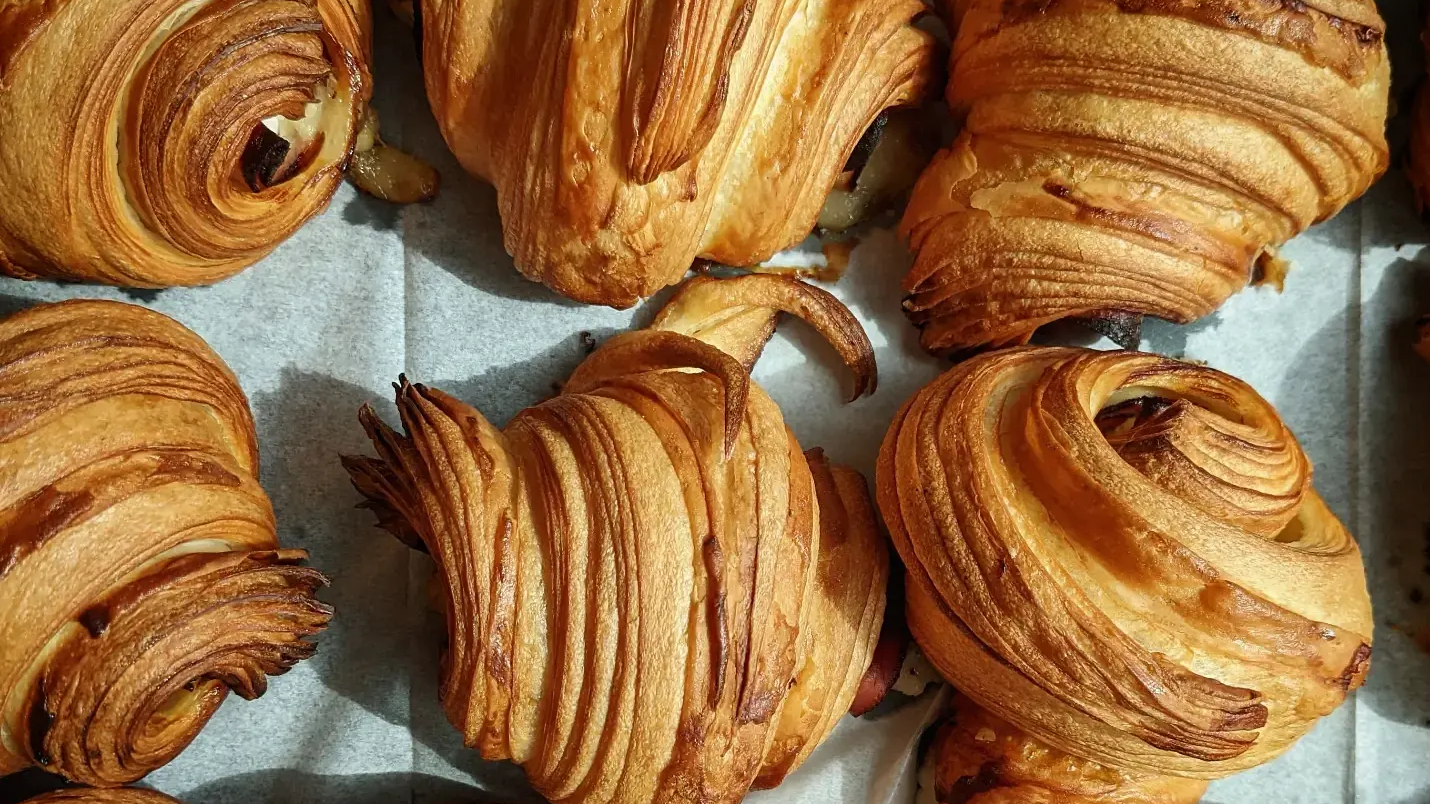 Imaginative croissants are being conjured up at Third Cliff Bakery in Jamaica Plain, which began as a roving vehicle at the Rose Kennedy Greenway in 2015. They currently serve flavors such as a savory vegan croissant, made with garlic scapes, thyme, and rosemary, to be enjoyed with a cup of coconut cold brew coffee. You can also try their kouign-amann, which incorporates lavender sugar, or the "family" croissant, in the shape of a rosette. Reader Jen C. from Watertown said, "Buttery, flaky goodness! And the flavor combos? You've got the classic chocolate, but then there's cheddar and kimchi, guava cream cheese, and rotating flavors (… recently, the Cuban[o] with a pickle in the middle!). Their vegan orange cardamom 'morning bun' will … keep [you] coming back for more." Third Cliff earned 8% of the vote.
3531 Washington St. Suite 103, Jamaica Plain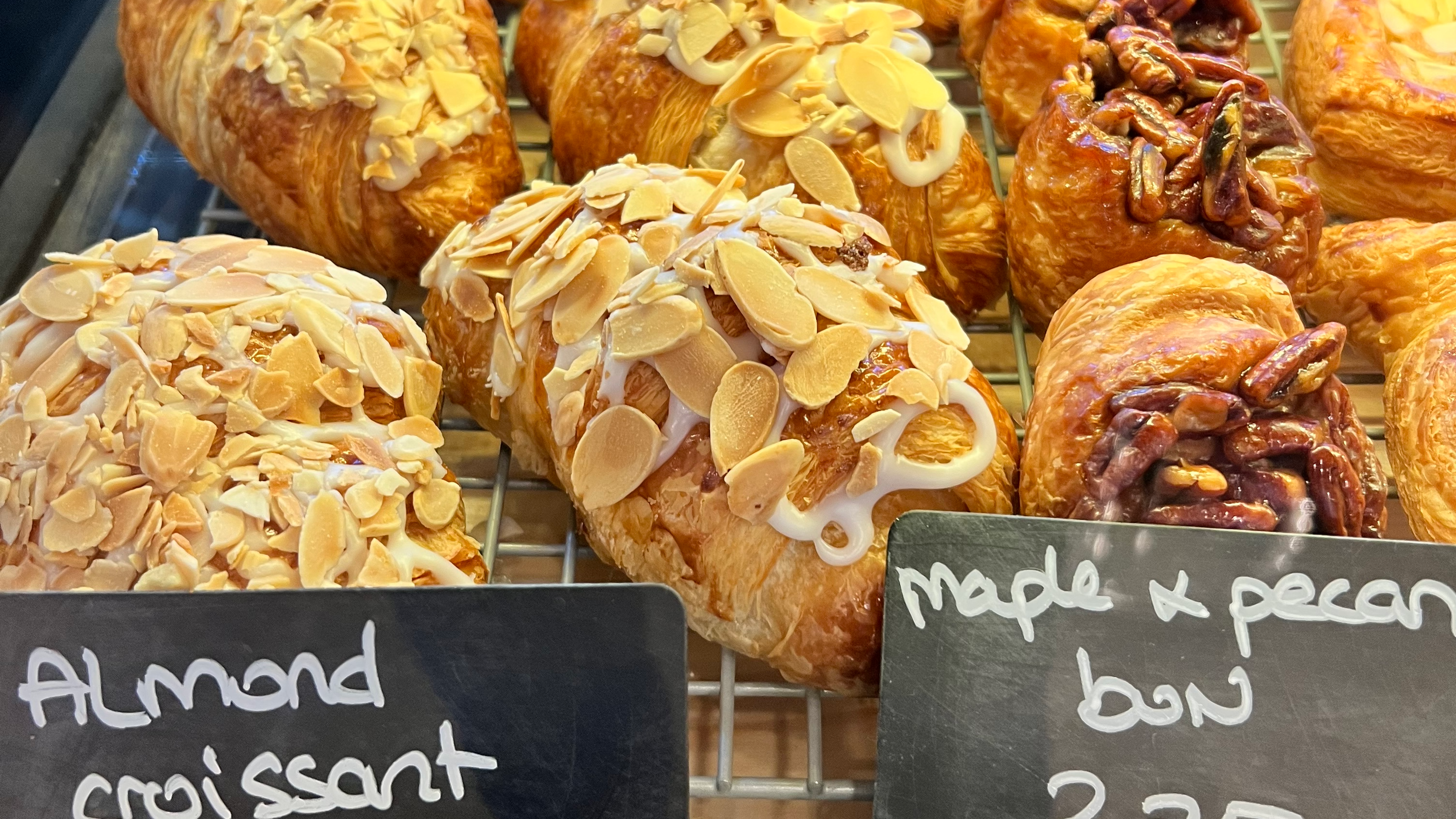 You might not know that when you visit Hickey's Wine & Spirits in Milford, you'll be able to find a hidden bakery, B. Food tucked away, in the shop. Here, croissant flavors, which include the almond and the chocolate and raspberry, can be purchased if you need a quick bite or want to surprise a friend. According to co-owner Daniel Bourget, the croissant dough is made from a mixture of white flour from King Arthur and all purpose flour from Ground Up, a company from Hadley. In the lamination process, they use Cabot butter, and they perform three simple folds. The result is delectable. "You have a crispy, crunchy outside and soft interior. When you smell it, it's almost like brown butter," Bourget said.
Wilma from Milford said, "The dough is tender and [the] crust is flaky and crispy; the plain ones are great with jams or to make [a] ham and cheese croissant, which they also have and is excellent. Their chocolate croissant is melt in your mouth delicious!" B. Food took 9% of the vote.
396 E Main St., Milford
Opening a shop in the middle of a pandemic, Nathalie and Franck Beddiar took a chance when they debuted Colette Bakery in Medford. The cozy spot, serving traditional French bread and pastries, offers a light, plain croissant, as well as one topped with sliced almonds and filled with almond cream, among other varieties. When you enter the simple bakery, you'll be able to see pastry chefs fashioning bread and raisin danishes through a large glass window. Nathalie told us that the croissants are reminiscent of what you would taste in France, using French butter and flour.
"It's very flakey, and you have the [taste of] butter in your mouth, all the time," Nathalie said. She added, "Sometimes, people want to add sugar and many other things. It loses all of the taste of the croissant. That's why we're different: we use an authentic, traditional way to make the croissant." On the weekends, they offer savory croissants. "We do the Parisian croissant, with ham, béchamel sauce, and cheese. Or the chicken curry croissant, with caramelized onion."
Colette Bakery has two locations, in Medford and Melrose, and they plan to expand to Back Bay in the fall.
Reader Scott S. from Medford said Colette is a "true, authentic French bakery! Our family loves all of their trays! Mine is the plain croissant! My wife loves the apple tart and turnovers. My kids love their chocolate croissants! Never disappointed. The line outside can be long, but so worth it!"
Multiple locations
Honorable Mentions 🏅
Quebrada Baking Company: This family-run bakery makes sweet croissants in flavors like raspberry, apricot, apple, and cinnamon almond. But you'll also want to look to their savory ones, such as the broccoli and cheese, mushroom and cheese, and spinach and cheese. Multiple locations
Readers say: "It's not even close. Their chocolate croissant has ruined all other chocolate croissants in the area for me. The crunchy [outer] layer, the chewy inner layer, the extra large helping of decadent chocolate — it's baking perfection. Pro tip: if you see them unloading a newly baked batch into the display case, change your plans and get two. One to enjoy while it's still warm, and one to give to a friend, to spread the good croissant word (or for yourself for tomorrow). —Bob S., Reading
PB Boulangerie Bistro: If you're eager to sit down with a tomato tart or oysters gratinée, visit this bustling bistro when it reopens in early June, but their boulangerie features items like the plain croissant, the chocolate almond, and also a delicious pain au chocolat. 15 Lecount Hollow Rd., South Wellfleet
Readers say: "Best croissant outside of Paris. It is exactly as a croissant should be, not doughy, with crisp layers on the outside. You are a short bike ride away from the Cape Cod National Seashore and one of the most beautiful stretches of beaches in the world. You can enjoy your croissant with a cup of hot chocolate sitting on the top of the dunes." —Donna M., Natick
The complete list of reader-recommended local places to get a croissant:
Sign up for The Dish
Stay up to date on the latest food news from Boston.com.