Readers Say
Here are the best restaurants and bars in Roxbury
Readers shared eight spots to visit in the neighborhood.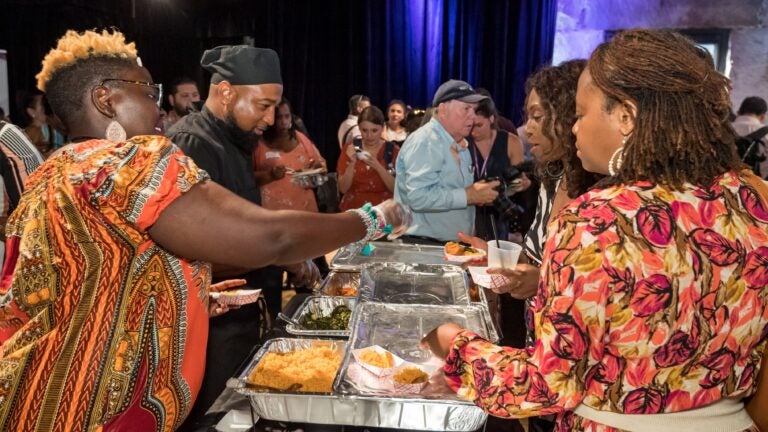 The vibrant and diverse community in Roxbury is known to be culturally rich, composed of destinations like the commercial hub of Nubian Square and the Frederick Douglass Historic District, a pending Boston landmark. It has been recognized as "the heart of Black Boston," and its dynamic energy is particularly apparent in the restaurants and bars that residents and visitors love to frequent.
We asked Boston.com readers for their favorite places to eat and drink in Roxbury, and we heard responses both through our site and from social media. It's clear that readers have strong opinions about the culinary scene in the area, naming a range of beloved spots. While we did hear about some locations that are on the line between Roxbury and its surrounding neighborhoods, such as MIDA, Wally's Cafe Jazz Club, and Victoria's Diner, we did not include them in our roundup. Another restaurant, Top Mix Bar and Kitchen, is temporarily closed.
Below, find a guide to eight reader-recommended restaurants and bars that you can stop by in Roxbury. We've also created a map that includes each recommendation.
The best restaurants and bars in Roxbury, according to readers:
If you're looking for Southern comfort food and a side of live music, visit Darryl's from owner Nia Grace. For dinner, try the shrimp and grits, Cajun roasted salmon, or the honey hot chicken sandwich. Sip on cocktails like the Hurricane On Columbus, featuring flavors of hibiscus and passion fruit, or the Un'Fashioned, made with Uncle Nearest whiskey. 604 Columbus Ave., Boston
Dudley Cafe is not just a spot to get a cup of coffee — they offer in-house youth empowerment programs and upcoming arts events, such as poetry slams and paint nights. When you're looking for something to eat, try the challah French toast, a rice bowl, or one of their many sandwiches. A chai tea latte, Thai iced tea, or mango lassi complements your meal. You can also visit their Cambridge location, on Massachusetts Avenue. 15 Warren St., Boston
Flavors of the Caribbean are featured at Fort Hill Bar & Grill, and owner Norvia Pena, who is originally from the Dominican Republic, showcases her home country's culture. On the menu, you'll find seafood like red snapper and golden fried haddock, a Rasta Pasta dish made with jerk alfredo sauce, and a variety of salads. 2805 Washington St., Boston
If you're craving soul food, make a stop at Maxine's On Saint James. There, you'll be able to order a plate of chicken and waffles, jambalaya, or fried catfish to go. For dessert, think of trying the banana pudding or a slice of carrot cake, and wash it all down with home brewed sweet tea or a soda. 304 Dudley St., Boston
Traditional Dominican food takes center stage at Merengue Restaurant. At the festive spot, you'll be able to enjoy mofongos, grilled lobster with peppers and onions, and fried king fish steak. Sip on a margarita and end your meal with vanilla flan, the perfect end cap to your evening. 156 Blue Hill Ave., Boston
If you live in Roxbury, you likely know about Nubian Markets, a cafe, market, and gathering space that "celebrates the African diaspora through food." You may want to sample the lamb couscous or the chickpea peanut stew, but you can also visit their halal butchery or pick up groceries, as well as products from local makers. 2565 Washington St., Boston
The Boston Globe described the history of Slades as a neighborhood joint that has been "a bastion of hospitality for the Black community" for over 80 years. While you're there, you can catch a set of live music, while savoring some of their BBQ ribs. Reader Nate from Dorchester said to order the "smothered pork chops and fried chicken wings or collard greens." 958 Tremont St., Boston
Owned and operated by Nigerian chef Cecelia Lizotte, Suya Joint is the place to go when you're seeking out authentic African cuisine. The goat pepper soup, jollof rice entree, fried plantains, and Egusi, a stew thickened with African ground pumpkin seeds, are only a few dishes you'll want to feast on. 185 Dudley St., Boston
Sign up for The Dish
Stay up to date on the latest food news from Boston.com.