Readers Say
The best sports bars in Greater Boston, according to readers
Here are 24 reader-recommended sports bars to watch the big game.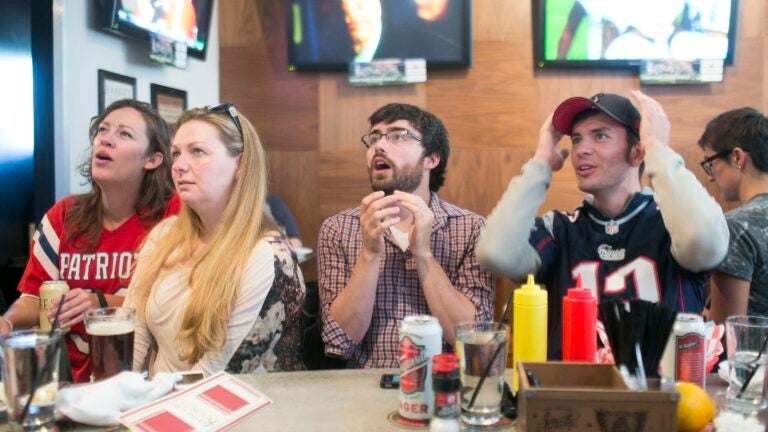 You know the spot. A place that will serve you a bucket of buffalo wings with a side of dip, with pitchers of your favorite beer. There are television screens all around to watch a big game from, and it's the best scene for when you want to relax with friends and unwind. With Super Bowl Sunday coming up on Feb. 12, you're probably thinking of heading over there soon to watch the game.
We asked readers for their favorite sports bars in Greater Boston, and we heard back from more than 100 readers in our survey and on social. You recommended 24 places with great drinks and terrific dishes to enjoy a game while you watch the Kansas City Chiefs and Philadelphia Eagles face off. Below, find the full list, as well as a map, to help you find a sports bar near you.
While not a traditional sports bar, Club Cafe frequently screens games and offers plates of disco fries and lobster mac and cheese. Ruth G. from Back Bay said they have "great egg rolls and flatbread pizza. Very tasty and easy to share with others at the table, watching the games on all the televisions placed throughout the bar and restaurant. Not what you expect here, but lots of comfort food, comfortable viewing, and friendly bartenders."
209 Columbus Ave., Boston
This Irish tavern in Watertown offers up nachos and pulled pork sliders to sample while watching a game. "It's a great neighborhood bar with wonderful, great food, and a solid beer selection. Plenty of regulars and newbies alike on any given day/night," Jeremiah G. from Watertown said.
164 Belmont St., Watertown
At this laid back pub, there are plenty of screens to watch a game from, as well as hearty dishes. Grab a lobster roll, a plate of broccoli chicken ziti, or try the Guinness beef stew to keep you energized while you take in every touchdown.
307 Harvard St., Brookline
Readers raved about a number of dishes at this Watertown neighborhood spot, naming the salt and pepper wings, the Southwest chicken panini, and the steak quesadillas. Mike A. from Plymouth said, "Awesome food and drinks, and the prices are affordable. Wherever you sit in the bar, you have plenty of TVs to watch at every angle and all the games you want to watch."
87 Bigelow Ave., Watertown
Near Boston University, Dugout Cafe is a historic pub that has been open since 1934. "This place is a legend. It is underground. Easy access and plentiful beers and cocktails. You may even run into a sports legend there," Carol C. from Berkeley Heights, N.J. said. Dugout Cafe is not open on Sundays.
722 Commonwealth Ave., Boston
At WynnBET Sportsbook, you'll find over 70 televisions, a collection of trophies to view, and an installation of sports accessories, as well as a full service bar and food from Shake Shack and Frank & Nick's. Tom from Charlestown said, "You can now place bets while watching sports on giant screens."
1 Broadway, Everett
You'll be satisfied with an order of spicy honey wings, a pineapple chicken sandwich, or salmon risotto from Fenway Johnnies. Cocktail options include the Pink Panther, made with strawberry puree and Ketel One, or the espresso martini. They are closed on Sundays.
Multiple locations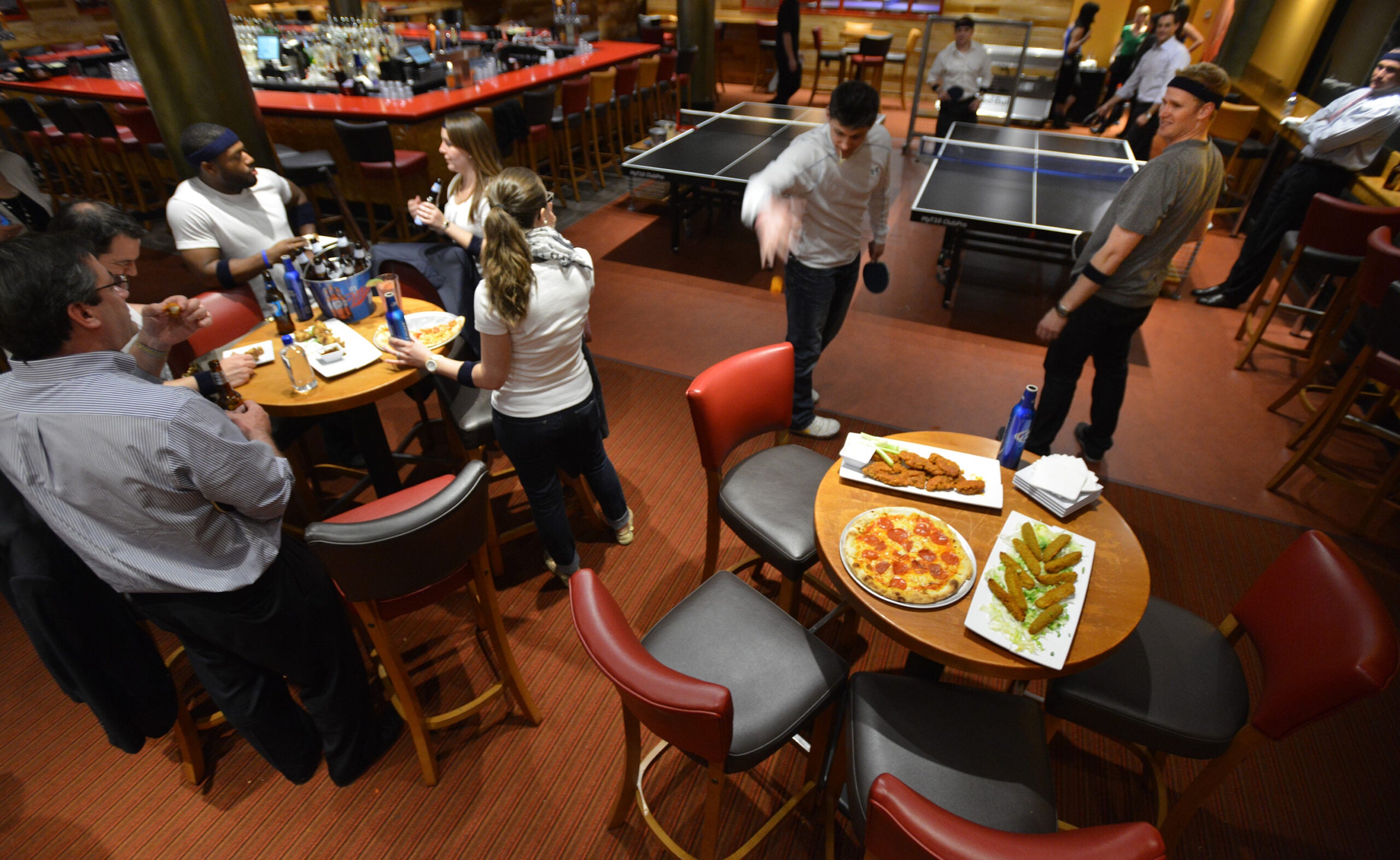 At this lively Fenway sports bar, order coal-fired wings in a range of flavors, from the lemon rosemary to the honey hot habanero. With a group of friends, you can enjoy a beer bucket, as well as burgers and sandwiches with house-made chips.
82 Lansdowne St., Boston
A Somerville mainstay, Olde Magoun's Saloon serves local and imported craft beer, as well as signature sandwiches and appetizers like the warm salted pretzels. Bob from Somerville shared that they have "excellent food (try the fajitas, steak tips, or the [flash fried] Brussels sprouts with [slab] bacon and amazing spices)."
518 Medford St., Somerville
From the team behind Trina's Starlite Lounge, this sports bar offers burgers, cocktails, and the Papi Chulo Nachos, house made tortilla chips topped with salsa con queso, monterey jack, and more. Craig from Cambridge said it is a "cozy, fun, and lively sports bar. Staff is always positive and attentive."
1 Beacon St., Somerville
This sleek, modern speakeasy cooks up dishes like the chargrilled filet mignon and drinks like the blood orange martini. Scott N. from Weymouth says that he visits the spot just for a "beer, burger, and fries."
110 Main St., Weymouth
In Cambridge, you'll find plenty of TVs and standard pub fare at this bar, whose menu features items like eggplant parmesan, sweet potato fries, and grilled cheese. "Read the lyrics from [the] 'Cheers' theme song. It all applies to Shine," Johnny B. from North Cambridge said.
2046 Massachusetts Ave., Cambridge
There are plenty of branches of Tavern in the Square in the Boston area: if you're passing through North Station or South Station, you'll have to stop by. Serving up grilled pizzas to go with your beer, the spots are fun and casual. Jeff S. said that he visits because the locations have "lots of TVs."
Multiple locations
This Framingham bar has been around since 1933, doling out a variety of wings, gourmet pizzas, and burgers with fries. Tom M. from Framingham said that The 4's Sports Pub has "all sports coverage with passionate fans."
666 Waverly St., Framingham
In Allston, you'll have a stellar time at The Avenue, which offers a range of burgers, tacos, and quality cocktails. With an appetizer of sweet potato tots, coming with maple bacon ketchup, you're ready to watch a game on a full stomach.
1249 Commonwealth Ave., Boston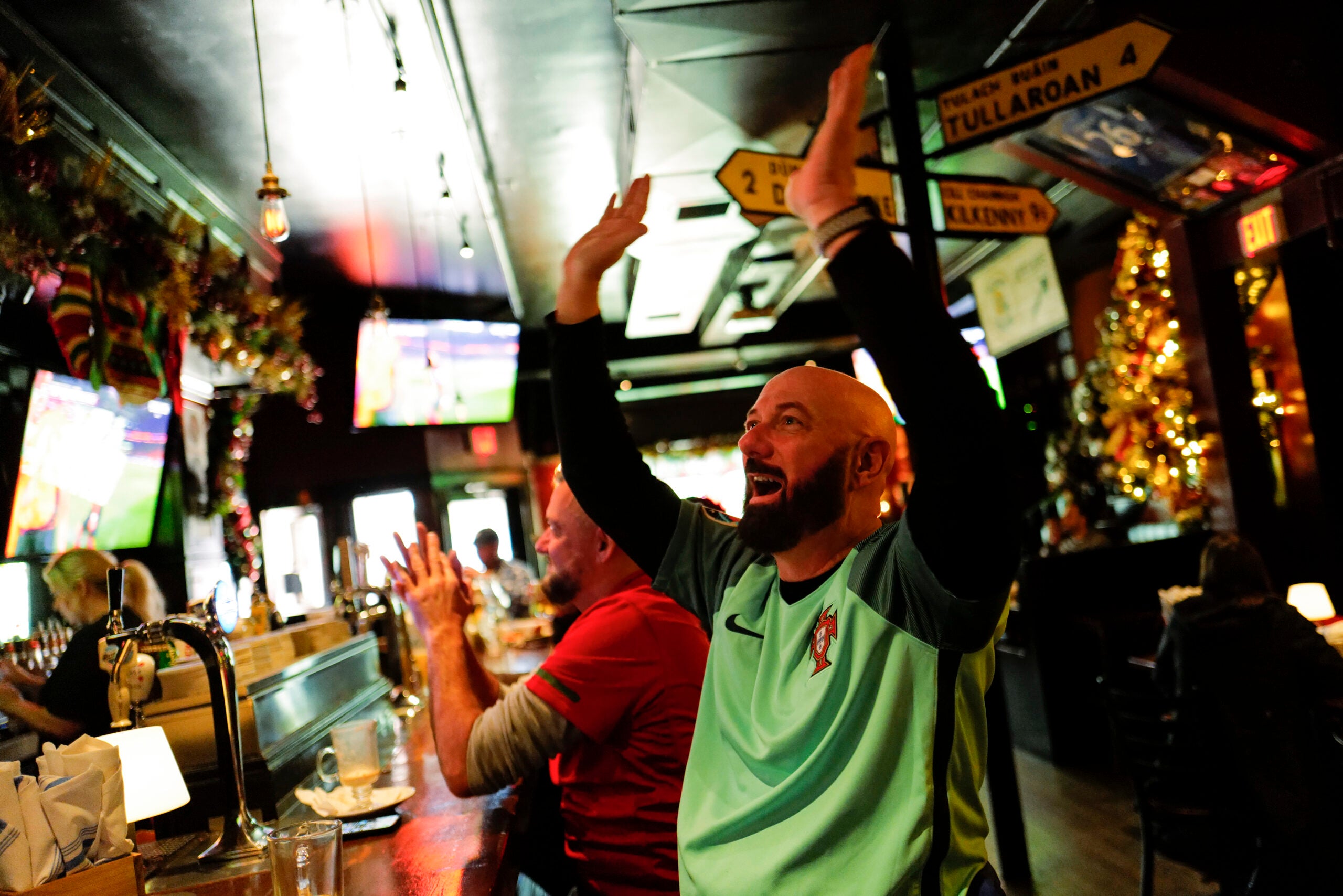 Watch a game at this Irish sports bar in Dorchester, and you won't regret it. While cheering on your favorite team, dig into a burrito, chicken parm sliders, or the O'Malley's Gaelic Fries, served with bacon. "It is a great atmosphere for United States national soccer games," Andrew from Brighton said.
934 Dorchester Ave., Boston
A neighborhood haunt, this is the place to stop by for a great meatball sub or a build-your-own grilled cheese. Sip from a spiced pear martini or the Coco Diablo, made with Dos Maderos rum and cream of coconut.
421 Marlborough St., Boston
In Quincy and Norwell, The Fours restaurants and sports bars aim to "capture the excitement and lore of New England sports." On the menu, you'll see dishes like buffalo fingers, Caesar salads, and "Hall of Famers" sandwiches make an appearance. Enjoy a martini or a Lord Hobo IPA on draft with your meal.
Multiple locations
This four level sports bar near TD Garden is the perfect place to get a view of the action from, when a game comes around. Dan from East Boston said you can order "pitchers of Bud Light and various fried things. Boston's best balance of packed standing-room hooligan energy and cozy tables where you can actually hear your friends."
262 Friend St., Boston
This popular sports bar near TD Garden and North Station has two levels and three bars, the place to come with friends for a burger and a Sam Adams lager. Try the bourbon glazed salmon or the loaded waffle fries, to celebrate a team victory.
​​85 Causeway St., Boston
Indulge in some modern Irish pub food at The Phoenix Landing, where you can view a game while noshing on mozzarella sticks, curry cheese fries, or a fried chicken sandwich. If you're looking for something more than sports, they host regular local DJs, as well.
512 Massachusetts Ave., Cambridge
At the Omni Boston Hotel at the Seaport, visit the tasteful Sporting Club. You can enjoy your drink in the main room, which features 12 high definition TVs, or take it to the Trophy Room or Chill-Out Lounge. "The monitors are tremendous. Good selection of bar food and beverages," Tom J. from Brighton said.
450 Summer St., Boston
At Tony's in Lynn, feast on steak tips, shrimp scampi, or a jumbo burger, while keeping your eyes on a screen. Anthony from Lynn said they serve "great apps, awesome menu with daily specials. Great draft beer selections, awesome service, and great atmosphere. A true neighborhood pub with tons of TVs to watch multiple games at once."
196 Franklin St., Lynn
Order a side of mussels, fish and chips, or Bolognese pasta at this Fenway spot. The wood fired pizzas come in flavors such as buffalo chicken, white clam, and prosciutto and fig – a perfect pairing with your Guinness.
58 Hemenway St., Boston
Sign up for The Dish
Stay up to date on the latest food news from Boston.com.