Readers Say
Here are the best townie bars in Greater Boston and beyond
Looking for a low-key bar near you? We've rounded up a list of 111 reader-recommended spots.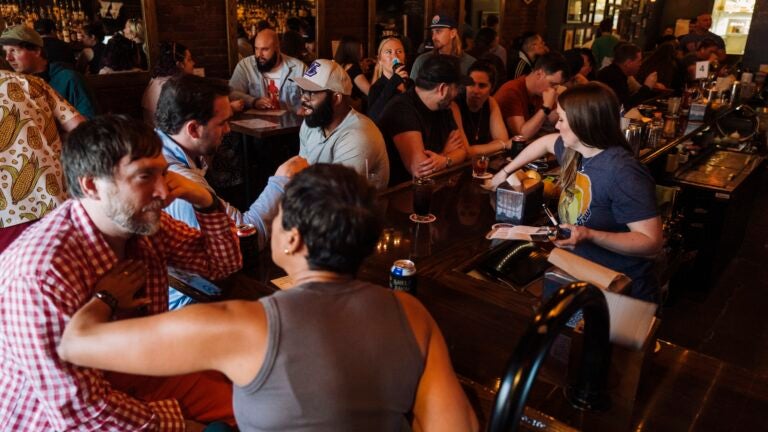 Thanksgiving Day will be here before you know it, and you've probably been working hard to make this holiday a memorable one. Planning a celebration can be stressful, though, and perhaps the only thing you really want to do is find a good place to unwind and take a breather.
If this sounds like you, you might be looking to a local pub for a drink and good conversation with your neighborhood bartender. We asked readers for their favorite townie bar in Greater Boston — the reliable, no-frills place where people have been going for years. We received recommendations from 114 readers who told us about 77 spots, with Eagle Brook Saloon earning the majority, or 6%, of the vote. Our top three bars were among readers' favorite picks last year. The first place winner from 2022, Sligo Pub, closed this past June.
Below, we've combined our 2022 and 2023 reader recommendations into a full list of 111 townie bars you can visit across Greater Boston.
🍺 Looking for the best townie bar near you? See our interactive map below.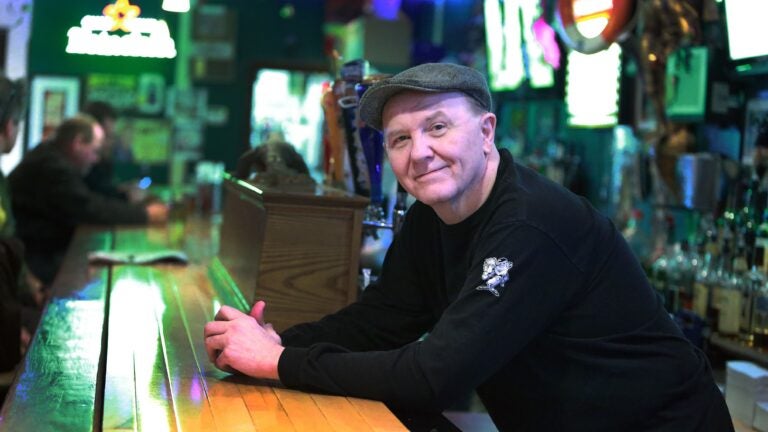 In Jamaica Plain, you'll find Galway House, an Irish watering hole that has been around since 1960. At this spot, you can grab a cold glass of Guinness, while enjoying fried sea scallops, chicken marsala, baked lasagna, or the Galway Famous Sirloin Steak, a classic order. The regulars feel like family, owner Edward Lanzillo said, and the staff enjoy talking with guests they've known for years. Adam from Jamaica Plain said, "The staff are legit locals. The food is great. The décor is beautifully awful. Music is always great, if Steve is tending bar! The mix of the patrons is second to none — old and young, all races, all kinds of folks working in all kinds of fields. I used to sit next to an MIT professor at the bar; he would be grading papers while enjoying his pint. Great contrast with the tradesmen who also enjoy the Galway."
Galway House took 3.5% of the vote.
710 Centre St., Jamaica Plain
This Norwood spot has been a fixture in the community since 1939. Owner Colleen Padden called Lewis' Bar & Grille a meeting place, where you can run into a friend from high school or connect with someone new, if you come by yourself. Popular drinks include The OVC (Orange Vodka Collins), made with fresh orange juice, vodka, a splash of soda, and simple syrup, or the weekly margaritas. Their menu features poutine, crispy fish and chips, tacos, and a variety of burgers. Other house specialties include the Nashville hot chicken, mac and cheese, and New York-style pizza, coming in flavors like truffle mushroom and meatball and ricotta. Dan O. from Norwood said he enjoys, "The Lewis Burger (don't knock the egg salad!). Fried food is excellent. Drinks [are] generous. Castle Island (brewed in Norwood) on tap… Been going there for 50+ [years]!"
Lewis' Bar & Grille took 4% of the vote.
92 Central St., Norwood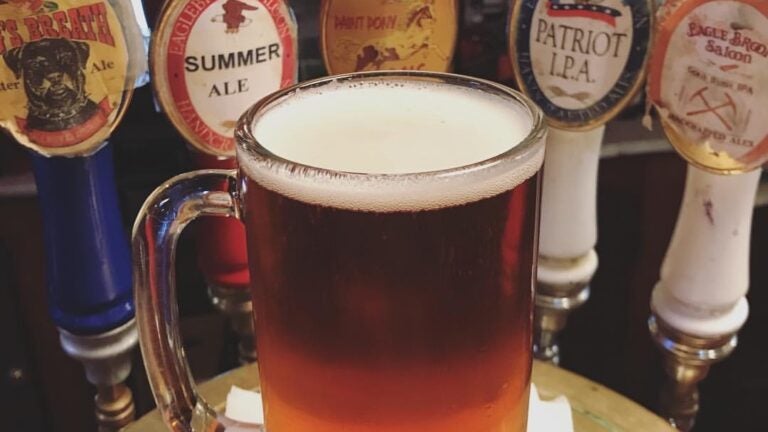 Visit Eagle Brook Saloon in Norfolk, and experience an "Old West" themed tavern that's been open since 1981. Co-owner Chuck Horne said of his staff and patrons, "The thing that makes this place go is the people." During the early years, Patriots coaches and team members used to frequent the saloon, and today, many football fans will visit before and after a game at Gillette Stadium. Guests often order Eagle Brook's own hand-crafted ales, including the Dog's Breath Bitter, the Paint Pony Pale Ale, and the Six Rings New England IPA. From their menu, you can also find the loaded mashed potato pizza, herb roasted half chicken, or the Carson City Stew, filled with beef chunks and served with cornbread. One reader called the spot a place that feels "like a family reunion."
Eagle Brook Saloon ranked as the second place winner in last year's guide. Thomas from Franklin said, "My answer has not budged on this. Times have changed, and the cast of characters shifts. But it's still my favorite place because you truly do know 90% of the people in there. Wedding receptions, rehearsal dinners, wakes, and so many more memories have been made in its wooden walls. There's a simple and notable pleasure in having a bartender know your order before you sit down. And that's what you get at the Eagle Brook. For me, it's all about the buffalo chicken pizza and the buffalo wings. Of course, these are washed down with their own Blueberry Ale."
Eagle Brook Saloon took 6% of the vote.
258 Dedham St., Norfolk
Honorable mentions🏅
Silhouette Lounge: This Allston bar is the place to get pitchers of beer, order signature hot dogs, play pool and pinball, and snack on free popcorn. Guests love coming here for PBR, Narragansett, and classic well drinks. 200 Brighton Ave., Allston
Readers say: "It never changes, cheap beer." —Anonymous
J.J. Foley's Cafe: The oldest Irish pub in Boston can be found in the South End. Having opened in 1909, the watering hole is where you can get Guinness with a shot of Jameson, fish and chips, or steak tips. 117 E. Berkeley St., Boston
Readers say: "Great owners who work the bar and restaurant, great food, and a well poured drink that is still affordable!" —Greg S., South End
Anchor Pub & Grille: A nautically themed tavern, sip on a cocktail like the Painkiller, made with Captain Morgan spiced rum or the Blue Buoy Cooler, featuring Triple Eight blueberry vodka, lemonade, and lemon. 20 Cabot St., Beverly
Readers say: "A place right over the Beverly Salem bridge where blue collar and white collar workers drink together. Food is great, and seafood [is] phenomenal. Murals on the wall, large square bar, Keno, pool, [and] darts. Very reasonable prices and great drinks." —John L., Beverly
Here's the full reader-recommended list of the best townie bars, from 2022 and 2023:
Sign up for The Dish
Stay up to date on the latest food news from Boston.com.