Readers Say
'The law needs to be updated': Readers weigh in on state's secret recording rules
Boston.com readers support exceptions to the two-party consent recording law.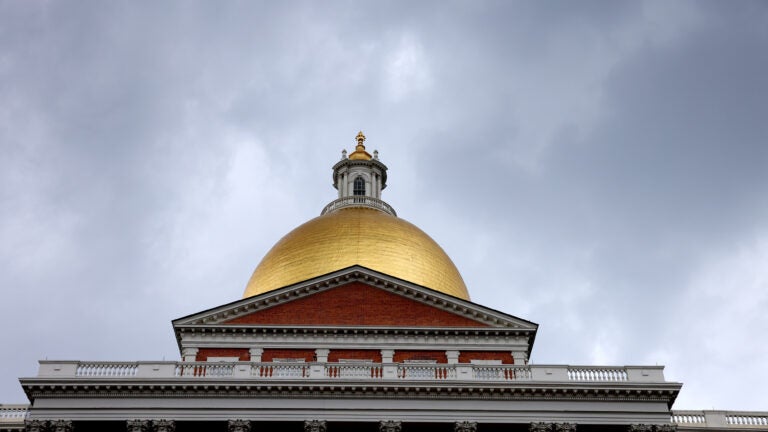 Current Massachusetts law makes it a crime to secretly record someone without their permission, but after a victim of abuse was charged for recording evidence of her abuse, one lawmaker wants to reexamine that law.
Sen. Patrick O'Connor of Weymouth hopes to file an amendment before the end of the current legislative session that would change the state's wiretapping laws after a woman whose husband attempted to suffocate her with a pillow was criminally charged for secretly recording her husband.
"As they're trying to get out of an abusive relationship, as they're trying to move from a victim to a survivor, to have this be then put up as a barrier to them to come forward, as a barrier for them to fully heal from the pain that they're feeling, is something that the state should definitely change," O'Connor told WCVB.
We asked Boston.com readers if they think sufferers of domestic violence should be given an exception to secretly record their abusers, and 90% of the 149 people who responded to our survey said they should be allowed to record evidence of their abuse.
Massachusetts is a two-party consent state, meaning that both people in a conversation must be aware that a recording is in process in order for it to be legal. Most readers think this law goes too far in general and would be in favor of Mass. becoming a one-party consent state.
"Self-preservation should be the only standard. Citizens should be able to record without anyone's permission," said Ned S. from Dorchester.
Should sufferers of domestic violence to be allowed to secretly record their abusers?
Is the Mass. rule that both parties must agree to recordings too strict in general?
Some readers shared how their own experiences with domestic violence made them sympathetic to the woman who was abused, and supportive of O'Connor's proposed amendment. One reader said being able to record their abuser in a one-party consent state enabled them to get a restraining order.
"It's close to impossible to prove abuse if it doesn't leave any physical marks. Most abuse happens behind closed doors so there are no witnesses. If you're getting a protection order, being able to prove that abuse or another crime occurred is invaluable. Recording, while currently illegal, is safer in the moment and immediate," they said. "I still live in fear every day of [my abuser] finding me and know that if it wasn't for that recording no one would have believed the truth, because I had no physical marks."
Support for an exemption to the two-party consent rules was nearly unanimous among readers. Below you'll find responses from readers sharing why they think the law should be updated, and a sampling of readers who think lawmakers should proceed with caution if changes are to be made.
Some entries may be edited for length and clarity.
Should sufferers of domestic violence be allowed to secretly record their abusers?
'Mass. should move to a one-party consent state'
"When someone is in imminent danger and the recording can be proof of the danger, the recording should be allowed. A threat to any person should be considered an extenuating circumstance that waives the rule." — KC, Medfield
"Someone who is making a threat or confessing to doing something illegal will likely not 'agree' to be recorded." — Susan
"When people are in fear for their lives they are not thinking about if recording is legal. They are thinking about keeping their children safe and gathering evidence in case they are murdered. Right now it would be illegal to audio record someone murdering a child. The law needs to, at the very least, have intent added. Right now it's just straight, 'did you record,' and obviously, the Plymouth DAs office didn't use their common sense in prosecuting this case." — Sara, Plymouth
"Victims must be allowed to collect evidence of verbal/emotional abuse. Testimony can be twisted and used against a victim, direct audio proof cannot." — Terry, Quincy
"The law needs to be updated to reflect technological and societal changes. There is a vast difference between a victim recording their abuser and an Airbnb host secretly recording their guests." — Rob, Tewksbury
"Mass. should move to a one-party consent state. As long as one person in the conversation consents to be recorded, then the recording is legal. Exceptions should be law enforcement or criminal justice authorities. They need to get a warrant. As it stands right now, Mass. is a two-party notification state. If one party objects, their only legal recourse is to leave the conversation. Domestic abuse victims should not be the only exception to the wiretapping/eavesdropping laws. All persons should be able to benefit." — Gene, Weymouth
'There need to be limitations'
"Changing the wiretapping law to favor one party or another in a dispute is unfair. And may lead to abuse, or entrapment, or reverse abuse." — Chas C.
"In general, it is suitable for both parties to agree. However, where there are mitigating circumstances, such as the one in the article, there should be some type of exception." — Grace H., Somerville
"If the person being recorded without consent is found innocent of the allegations, then the person doing the recording MUST be held criminally and civilly accountable. A victim of a false allegation, potentially those which may include wiretapping violations, should have legal ramifications to seek justice against whoever commits a crime to victimize them. Changing the wiretapping law will have downstream consequences." — Charles, Amherst
"It's not too strict as long as there are reasonable exceptions made such as with victims of abuse. How else does one prove it? Even if there are witnesses often they will not come forward, the abuser will not own up to it, and the abuser usually has everybody else around them fooled. The victim didn't consent to be abused but they are going to be in trouble for not getting consent for recording it?! That being said, there need to be limitations. Recording the abuser when it's irrelevant should not be allowed, nor should somebody else have his privacy be violated unless it is extenuating circumstances such as the abuser confessing to someone else." — Flo, Saugus
Boston.com occasionally interacts with readers by conducting informal polls and surveys. These results should be read as an unscientific gauge of readers' opinion.