Readers Say
Here are the TV political ads driving Boston.com readers crazy
"Here I thought I knew how the government worked, but apparently, the U.S. government is run totally by the N.H. rep, N.H. senator, Nancy Pelosi and then Joe Biden."
So in case you thought there was a sizable portion of the local electorate just waiting for the right political ad to come along before making up their mind about this year's election … Yeah, that's not happening.
At least not according to Boston.com readers, who, when asked about their influence, responded overwhelmingly — perhaps historically so — that the political advertisements clogging local TV airways play absolutely no role in determining how they vote.
"Honestly, all of them are a turn off. They're all so negative, defensive, and anything but informative on candidates' stances or solutions to issues," noted one anonymous reader. Another, Julie L. from Jefferson, New Hampshire, said that "Nothing anyone says can be taken as truth. Just give me a list of candidates and I'll do my own research."
And Jenny of Boston complained, "They all look the same: Negative ads are in black and white with dramatic voices meant to cause fear (like a bad infomercial). Positive ads are all happy colorful horse s—t with a candidate surrounded by low-income minorities, children and disabled people."
Or as Jerry A. from Rockland put it, "The problem with political ads is that they are rarely if ever completely truthful and take liberties with the truth most of the time. Hard to be swayed when you won't likely believe the ad to begin with."
In total, when asked "Do you ever find yourself influenced by TV political ads?," 82% of the almost 150 respondents answered "Are you kidding? Never," with another 6% offering "very rarely." Ten percent admitted to being "sometimes" influenced, but that was as far as it got.
Do you ever find yourself influenced by TV political ads?
Yes, often
Sometimes, if they're especially well done
Very rarely
Are you kidding? Never
Other
Grumbling over Granite State ads
In fact, based on the vehement responses from some readers over ads they found particularly egregious, it would be a reasonable assumption that at least some of them might vote against the advertiser in question, just because they're so annoying.
Unfortunately, though, a lot of the most aggrieved ad-watchers won't be able to take revenge on the candidates in question, because they live in Massachusetts and the ads they're seeing are for races in New Hampshire — a major sticking point among the cranky readers who responded.
"Why the hell do we in Massachusetts have to endure all the N.H. political ads?" asked Jude of Milton, while Brian D. of Millis implored, "Please make them stop — I don't care about NH!" But with New Hampshire being part of the Boston television market, and boasting only one network affiliate of its own (WMUR), that's not likely to change anytime soon.
And at least one reader took a more philosophical approach: "Living in Massachusetts, it's interesting to watch the NH ads," wrote Bob of Stoughton. "Watching them, I can't help but think, 'Are New Hampshire-ites so gullible that these are effective?' Here I thought I knew how the government worked, but apparently, the U.S. government is run totally by the N.H. rep, N.H. senator, Nancy Pelosi and then Joe Biden."
The ads that stand out
As for specific ads readers cited as getting on their nerves, by far the most mentioned was the anti-Don Bolduc ad "This Guy's a Disaster" from the Democratic Senatorial Campaign Committee (DSCC). (It's not on YouTube but you can watch it here.)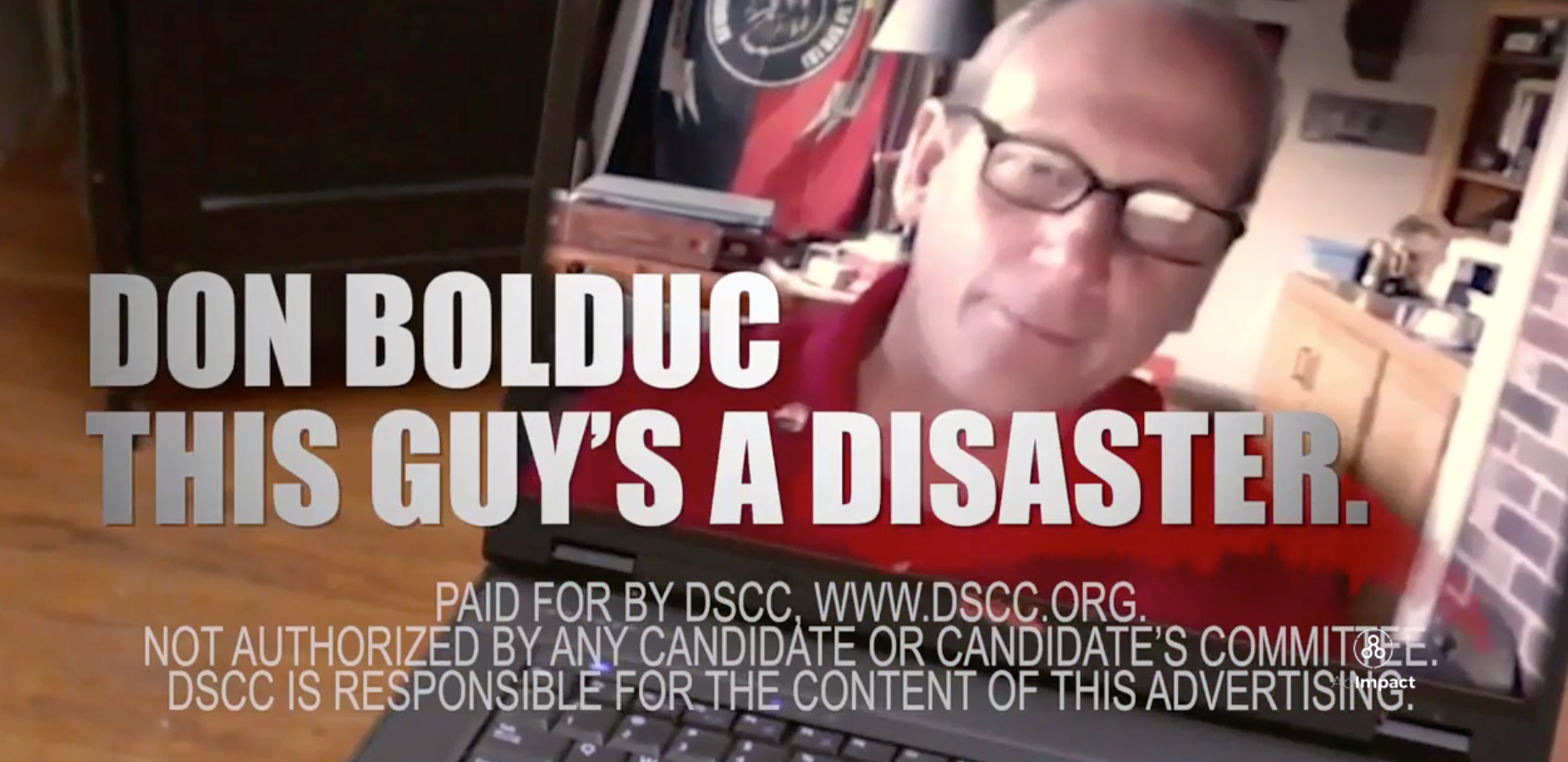 Some of the remarks:
"The [guy] in the anti-Bolduc NH ad. 'I ehhhhned my Social Secuhity! This Boduc guy is a disastah!'" — Ethan, Sandwich
"The older man who looks like Santa saying one of the candidates is a 'disaster' because he wants to 'take away' his social security, and he 'earned' his social security … I laughed the first time I saw it, now I'm just sick and tired of seeing him and knowing that's not the full truth of what the politician is actually thinking about doing with social security." — Dan, Quincy
"I laugh every time I see the 'Don Bolduc, this guy is a disastah' ad." — Anonymous
Ads decrying the damage Question 1 will do to the Bay State's accidental millionaires also drew brickbats from our readers:
"Grossly misleading." — Joe D., Swansea
"The super rich bleating about how a yes vote on Question 1 will be bad for everyday people — give me a break." — Susan, Raynham
The Yes on 1 ads aren't beloved either, though. "So misleading to the people thinking the taxes collected would go to schools and transportation when it's subject to the state legislature decision. Taxes would go to an overall slush fund and never go where this ad is suggesting," opined James of Quincy.
And at least one reader took exception to the ad from Republican candidate for attorney general Rayla Campbell that claims Massachusetts children are accessing "books with sex acts."
"She's clearly overcompensating and trying to distract from her utter lack of basic qualifications so she can get into office and meddle with elections," said Kathleen of Carver. "I'm sure the other 'America First' Secretary of State GQP candidates, with whom she just met a couple weeks ago in a forum hosted by Lara Logan, are using the same playbook."
Meanwhile, here are some of the ads from elections past that stood out in our readers' memories:
"Kevin White, a man in love with his city." — Bernadette, Seabrook, New Hampshire
"LBJ's ad showing a nuclear explosion." — Lynn C., Madison, Alabama
"Just the Christy Mihos ones." — Kurt
"The John Kerry swiftboat ad, the Mike Dukakis Willie Horton ad — both were a disgrace." — Deborah B., Brockton
"Anything by Ross Perot grabbed my attention, as he was really a unique candidate with a unique approach." — Evan, Wakefield
"The anti-marijuana commercial from a few years ago. 'KEVIN!!????'" — Cory, Franklin
Boston.com occasionally interacts with readers by conducting informal polls and surveys. These results should be read as an unscientific gauge of readers' opinion. Some responses have been edited for length or clarity.