Readers Say
These are the best places to cry in public, according to readers
"Cry wherever you want! Let's normalize emotions."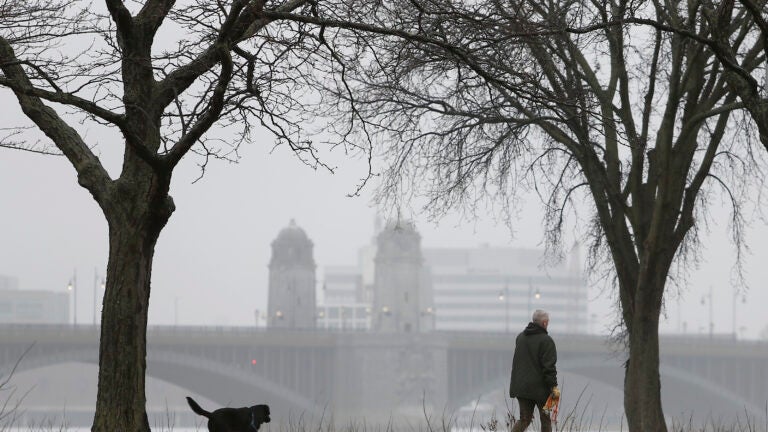 When you're going through an emotional moment in Boston, rest assured you'll be able to find the right backdrop for crying sessions — and people who support your feelings.
Sometimes shedding some tears is exactly the cathartic release you need to feel better. Crying helps relieve stress and emotional pain, and has therapeutic benefits. With that in mind, we asked readers to share where in Boston they've been brought to tears. Readers shared stories of breakups, losing loved ones, and, of course, emotional moments at Fenway Park.
Everyone should feel free to "cry wherever you want," one reader responded. "Let's normalize emotions."
A key factor for a lot of readers is going to a place where "no one will judge you," such as one reader who said they did their crying at the North End bar Sullivan's Tap.
Last year, when we asked readers where they were letting their emotions out, their top five locations were along the Charles River or the Esplanade, on the T, in the Public Garden, Boston Harbor, and the Christian Science Plaza. Of the 336 people who voted, most said if they're going to have a public cry, they'd rather it be along the Charles River.
Which of these locations is best for a public cry?
Along the Charles River/The Esplanade
On the T
The Public Garden
Boston Harbor
Christian Science Center
Here's a round-up of what readers had to say about the times they've had publicly cried in the Boston area.
Responses have been edited for length and clarity.
Arboretum
"I've lost a lot of loved ones over the past few years, and I always feel most connected to them when I'm in nature. Not only is the Arboretum a beautiful nature escape in the city, but there is an abundance of secluded beautiful spots for a therapeutic cry (and it's COVID safe!)" — Emily G., Dorchester
Copley Square
"There are people around, but they are not paying attention. Sunglasses are essential. Sitting facing the church is best regardless of the weather." — Della, Boston
Faneuil Hall
"After coming from the Holocaust memorial, it was nice to sit down under a tree and bawl." — Jonathan B., Boston
Fenway
"I think everyone probably knows why! Being a Sox fan is a roller coaster of emotion." — Lulu H., Medford
"Yankees beat us. And it sucked." — Lucy, Stoughton
Fresh Pond
"Spent the early months of my divorce walking Fresh Pond every morning crying my heart out. No one bothered me while several people gave me the sweetest smiles to keep my head up!" — Michelle, Cambridge
The Greenway
"You can put sunglasses on and stick your feet in the water. The fountain drowns out the sound of sobs." — Jackie M., Boston
Reflecting Pool at the Christian Science Plaza
"Walked to the reflecting pool with a college boyfriend. Knew we were going to break up, it was the right thing. But when he did it, I was a mess. We sat cuddled up by the water and people just walked by us for over an hour as I cried and he rubbed my back. It was the right thing. That was over 20 years ago!" — Karen, Boston
The old food court at the Prudential Center
"When I was in college and needed to cry I would walk around Boylston/Copley and would inevitably end up in the food court at the Prudential Center (before it became Eataly). I could always find a table and it was busy enough to be left alone. The Pizzeria Regina's there didn't hurt either." — Briana, Boston
Panera Bread
"Panera Bread is the perfect backdrop to a quiet, emotional outburst. The hustle and bustle of people constructing and consuming half sandwich/half soup combos distract from the actions of any particular individual. Other tables are full of families, friends, and coworkers getting a bite to eat, but it also serves as the perfect venue for all sorts of other encounters. The public breakup, the Craigslist exchange of money for goods. Each other group had its own agenda. No one will notice, for long, the individual having a moment of reflection, fear, or doubt that spurs on tears. Plus you can grab a cookie on the way out to feel better." — Marc Doofson, Quincy
On The T, while masked up
"While riding the T home from work, I began thinking about family and regrets. My eyes welled up and the tears started coming. They dripped down my face and soaked into my mask. No one noticed. The T is loud and everyone avoids eye contact. Perfect place to let the tears quietly flow." — Virginia C., Cambridge
Below you'll find a map of more than two dozen places where Boston.com readers recommend getting in a cry.
If you're having a hard time, here are places that can help.
Boston Medical Center Behavioral Health
National Alliance on Mental Illness
Boston.com occasionally interacts with readers by conducting informal polls and surveys. These results should be read as an unscientific gauge of readers' opinion.