Readers Say
8 tips for first-time renters in Greater Boston
We asked readers and an industry professional what to know if you're in the market for a Boston-area apartment.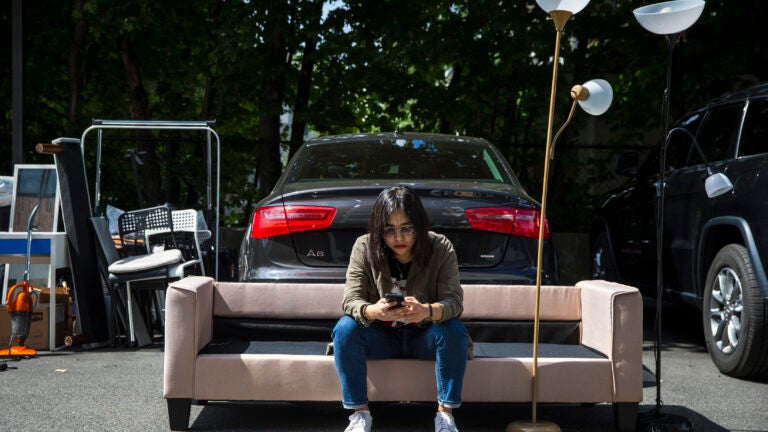 Apartment hunting season is well under way in Boston, but for those of you renting for the first time you may find yourself at a loss.
When do I start? Where do I look? Do I need in-unit laundry? What am I forgetting? These may be a few questions that you are struggling with right now.
Boston apartments are hitting record high prices and low vacancies, making apartment hunting even more competitive this year. A Boston Pads 2023 report cited the real-time availability rate for Boston apartments in January was at 2.04%, which marked the lowest apartment availability on record for Boston in January. Meanwhile, the vacancy rate in Boston for January was at a historic low at 0.55%.
We asked readers to share their tips and tricks for first-time renters in Greater Boston, and they shared how to best prepare for entering the rental market in the region. We also spoke with Demetrios Salpoglou, CEO of apartment rental agency Boston Pads, on his advice for first-time renters and what he thought about our readers tips as well. Below you will find a reader- and expert-recommended list of tips for first-time renters in Greater Boston.
Think about what you value.
Salpoglou suggested thinking about what your values are in an apartment before you even start your search, so you don't have to decide right before you sign a lease. Do you need laundry in the building to be comfortable, or can you go down the street? How close do you need to be to the train? Do you need parking? Salpoglou added that rent will begin to decrease the further you get from public transportation.
"After about 12 to 14 minutes away from transportation, rent starts to go down, so it really comes down to what your values are," he said.
List your must-haves.
You should definitely have a list of priorities for your perfect apartment, but also remember to be realistic.
"One of the best ways to do this is to assign a weighted average to what's most important to you," said Salpoglou.
For example, in-unit laundry may be a 10, whereas parking is a one because you plan on taking the T. This doesn't mean you won't have to sacrifice some of your wants, but you will know it is truly important to you when it comes to an apartment and what is not.
Have roommates if you want to save money.
A good option to think about is finding responsible roommates that ideally have similar living habits and who will be able to help pay rent and utilities.
"I am a big believer in affordability and think there's a huge discount between the one bedroom to a two bedroom, but also from a two bedroom to a three bedroom. So, if you're looking to save money roommates are the way to go," said Salpoglou.
"If you have to be here, get used to having roommates," said Jay from Cambridge.
Make a tenant résumé.
Just as renters are looking for certain qualities in an apartment, a landlord is looking for certain qualities in a tenant. Tony from Somerville suggested advertising what you're looking for on a site like Craigslist where you exclude sharing certain personal information. Similarly, rental résumés are also a good way to stand out in a competitive market. "Mention your good things like: good credit, non smoking, no pets, if you are quiet, etc. When you are looking for and how long you plan to stay," Tony said.
When landlords see that you have good tenant practices they may take these into consideration before agreeing to sign with you.
Salpoglou added that sending photos of your current living space may help. "Some tenants, when they're applying for an apartment, have texted me pictures of their current apartment to show the landlord — landlords love that," he said.
Research the neighborhood to determine when to start looking.
When would be a good time to start looking for an apartment in the Boston area? Depending on where you are looking to rent, Salpoglou suggests starting now.
Many make the mistake of starting too early and taking longer, he said. Don't do this. Instead know when to start for looking for the neighborhoods you want to live in.
"Every neighborhood has a different peak time when most of their inventory comes out," said Salpoglou.
Do your research and know when listings become available for each neighborhood so you will have an easier, more efficient hunt.
Start looking early and 'have your money ready.'
Once you know when to start looking, you'll want to see as many properties as you can and you want to start early. Nat from Dorchester is among some readers who recommended getting started early. "Start now," they said.
Salpoglou added that you should be organized and ready when you find the right place.
"In a low inventory market you have got to be serious, you have to be organized, and you have to have your money ready," he said.
When you find the one, you have to be ready to jump on it. Know what you're looking for and be ready to sign for it when you find it.
Avoid a September 1 move-in date.
Salpoglou said you should try to avoid moving September 1 — the city's largest moving day of the year. "August is much better for a move because there's less moving vans, less traffic, and less trash. There's also less places available to rent," he said.
By avoiding September 1, known locally as Allston Christmas, you will avoid the hassle of navigating around the thousands of college students moving as well. Ultimately, if you want a smoother move-in and move-out experience, August is the time for you. Keep in mind that apartments with August availabilities will go quickly.
Boston may — or may not — be a perfect fit.
"Don't move to Boston," said a reader from Brighton.
Boston can be expensive, finding housing can be difficult, the trains are not always reliable, and the weather is constantly changing. It can take a lot of work to just find a place.
"I would say the rents are higher in Boston, but then I also think that there is a large group of people that love city living, don't like longer commutes, and really enjoy everything at their fingertips," said Salpoglou. "It really depends on the person's preference and I think that is an individual decision."
So, it comes down to what you value, not only in your living style, but also in your schedule and financial breakdown as well. If you prefer a less expensive rent over shorter commutes, living directly in the city may not be your best bet. But if you enjoy having the perks of being close to all the excitement, even at a higher cost, Boston might be your perfect fit.
"Boston is a very expensive city, but if you're willing to put in the extra effort, you can hunt for a deal," said Sophia from South Boston.
Address Newsletter
Our weekly digest on buying, selling, and design, with expert advice and insider neighborhood knowledge.