Readers Say
These are the 10 best gyms in the Boston area, according to readers
See the map of more than 70 locations across Greater Boston where readers are staying fit.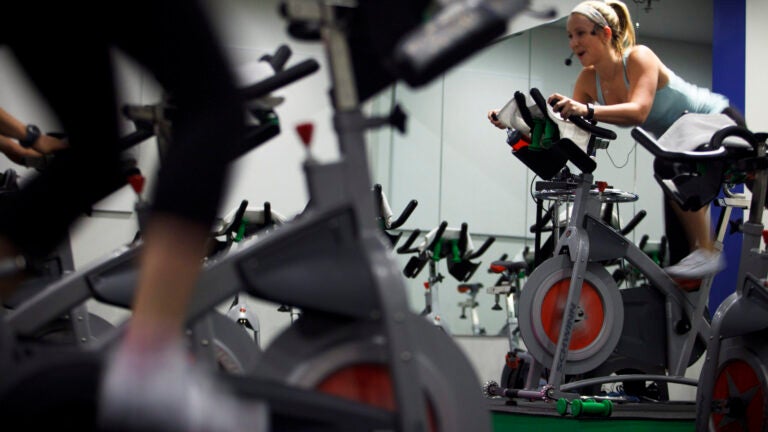 As we near the end of January, our resolutions to get fit and exercise more may be starting to fall by the wayside. The best way to stay motivated and keep moving is to find a gym, fitness studio, or class where you can actually enjoy your workouts.
That's why we asked readers to share their favorite gyms in the Boston area — the ones that keep them coming back even after a particularly grueling workout. They sent in more than 70 recommendations for gyms and studios that have helped them stay motivated in their fitness goals. Whether they were recommending one-on-one trainers, group fitness classes, or open gyms, readers felt strongly that you can't go wrong with a workout at their gym.
Where do you prefer to work out?
At a fitness class/studio.
Most readers told us they prefer to work out in-person at a fitness class or studio, but many were forced to find ways to adapt their gym routines throughout the pandemic. Sharon W. said her favorite way to work out is with Gym Bungerz, a fully online CrossFit gym. She found their classes when COVID made virtual training the only possibility and hasn't looked back since.
"On January 20, 2020, I could deadlift 205 pounds at the gym. Today I am 51 years old, and in my home gym, I deadlifted 255 pounds," she said. "[GymBungerz] literally astounding to have coaching and training for EVERY type of athlete. We are all in different towns, different states, and EVEN different countries, but all 'together' to get our sweat on!"
Having a virtual option has become essential for most gyms in and around Boston, and for our readers focused on their fitness, that means there's an abundance of options to get your body moving. Other gyms mentioned were NB Fitness Club, The Handle Bar, and CrossFit 617.
Below you'll find a countdown of the top ten reader-recommended gyms and fitness studios in the Boston area as well as a map of all the gym locations mentioned by readers. The list includes a range of fitness studios including barre, spin, boxing, strength training, and more.
At this studio, you get the double whammy of boxing and spin in each one-hour workout. One reader praised the trainers for their commitment to creating a challenging environment and said "the workout never gets easier — you just get stronger!"
"This workout and all trainers have helped my workout and mind tremendously! Each trainer brings professional and personal touches to each workout. I look forward to my classes and setting new goals weekly. I literally box my stress away (with good form of course.) They are like family, I love it!" said Chrissy B. from Newton.
If you want a targeted and personalized approach to your fitness, readers suggest Ethos Fitness + Performance. This fitness center does one-on-one training and small group sessions of two to three people, which readers said helps them feel more confident that they're going to "achieve real long term health and performance gains."
"Ethos is 100% committed to my well-being and goals," said Deborah H. from the South End. "I adore that the programming pushes me but also doesn't destroy me. It allows my workout to fit in with my life and day without taking over. And most of all, the community is great!"
MoveStudios is Boston's first "mobile fitness studio." The gym, which was founded by Drew LaCombe, fits completely into the back of a truck and comes to you for private one-on-one sessions as well as small group sessions. The studio comes complete with the equipment you would expect of any gym like a squat rack, weights, a bike, battle ropes, and more. Readers who recommended MoveStudios said it's been a life-saver throughout the pandemic.
"Drew is very kind and knowledgeable. Having a mobile gym that is exclusive and private allows for safe usage in unprecedented times," said Shannon T. from Peabody. "In the winter, it has heat and in the summer, all of the sides are able to be open and allow for good airflow during the workout. MoveStudios offers more than the large gym companies because you feel valued and your results don't only matter to you but to Drew as well."
Readers describe Redemption Strength & Conditioning as "welcoming, effective, and accessible." The studio offers group classes as well as one on one training. Outside their work in the gym, the studio also sets up fitness challenges and activities around the North End to partner with and support other local businesses.
"The group workouts are tough and varied at a good schedule. Plus, who can beat outdoor workouts with friends in a North End park?" Katie J. from the North End said. "I've also gotten so much out of the personal training. Love the open, encouraging, and fun group atmosphere!"
Whether you're looking for boxing, circuit training, treadmill classes, or the freedom of an open gym, EverybodyFights has you covered. Readers praised the staff and instructors at the gym for always motivating guests to be the "best version of themselves."
"The classes and coaches here and nothing short of amazing. Regardless of the time of day, the coaches are pumped up and motivate you to push yourself and others around you. Furthermore, EBF has a sense of community and many people build friendships. The gym is kept incredibly clean, including the bathrooms which have great amenities that allow you to decompress or get ready for your day!" Chris H. from South Boston said.
For fans of indoor cycling workouts, readers say B/SPOKE Studios is one of the best options in the city. Their signature workouts include cardio, hand weights, and core work set to high-energy music. The studio also offers virtual rides, strength training, and yoga sessions.
"The atmosphere and the family that is created there are like no other. Everyone cares about one another and is there for the next person, like one big family," said Alexis from Barnstable. "Those 45 minutes in the dark room are a break from the outside where you can be yourself and still have the support of all those around you, which is an incredible feeling."
4. Backyahd Boston (1 Black Falcon Ave., Boston)
This gym was founded by three local trainers who readers say have a hand in every aspect of the gym experience. Backyahd offers a range of classes in strength and conditioning, circuit training, boxing, yoga, and more. They also regularly feature local guest trainers from in and around Boston.
Kristen D. from South Boston said she takes classes at Backyahd three or four times a week and feels "the all-around strongest I've ever been."
"Their style is functional fitness, which means we do compound movements that strengthen multiple large muscle groups at once. No class is ever the same — the workouts are different and creative every day and the instructors continue to push you personally to be challenged. It's hard but FUN!"
One reader named Kelsey from Malden called BronCore Fitness her "happy place." Fans of this gym have high praise for the personal touch the trainers bring to each session. Classes are offered both indoor and outdoor and readers said the personal trainers push you in the best ways possible.
"I like to workout at BronCore fitness because the trainers, especially Bron, make you do exercises you would never do yourself. You would never push yourself to hold something for an extra 5 seconds or do 3 more reps. They put you through a WORKOUT," said Alexandra D. from Boston. "I want to die when I leave because I am exhausted but you feel so good when you are done! Everyone who works there is so nice, it is very clean, and the music is great! I have recommended this studio/gym and Bron to everyone I talk to!"
2. MyStryde (226 Causeway St., Boston)
MyStryde is all about getting the most out of the treadmill. Runners both expert and amateur will find a good workout and great community, according to readers. Although the classes are mainly geared toward runners, the studio also offers strength training and cycling options.
Reader Casey O. from the North End said MyStryde is one of her favorite things about living in Boston.
"As someone who has considered themselves a 'casual runner' (aka slow and not always motivated) for years, every time I attend a MyStryde class I leave feeling like an Olympic track star," she said. "Most importantly, the staff here really care about their guests and building a community. They know your name, they know if you're training towards a specific goal, and they recognize when you are making progress."
1. FORMAT (420 Commercial St., Boston)
The top reader pick was FORMAT, a barre studio in the North End that also offers HIIT and strength training workouts. The studio started virtually after the COVID-19 pandemic forced the owners to hit pause of a brick-and-mortar opening. Many of the readers who wrote in said the energy and enthusiasm for getting in a workout are just as strong online as it is in person.
"FORMAT is the absolute best sweat and studio in the city. Their classes are challenging in all the best ways. They give options for modification as well if you are earlier on in your fitness journey," said Kristin from Charlestown. "[Owners] Thalia and Caitlin have cultivated an amazing community of people who love working out and bettering themselves together."
For those who want to try out the studio but are still cautious about working out indoors, FORMAT continues to offer virtual sessions.
"It takes a special group of women to be able to be motivating over Zoom and encouraging you to keep showing up. I am so excited to join them in their beautiful new studio in the North End! I love that every class is different, challenging, and most importantly, fun. FORMAT has redefined barre in the best way possible," said Alyssa F. from the North End.
Find all the recommended gyms and studios in the interactive map below.
Boston.com occasionally interacts with readers by conducting informal polls and surveys. These results should be read as an unscientific gauge of readers' opinion.