Readers Say
This is the Boston Calling performer readers most want to see live in concert
Goose, Nine Inch Nails, and Metallica were your top picks.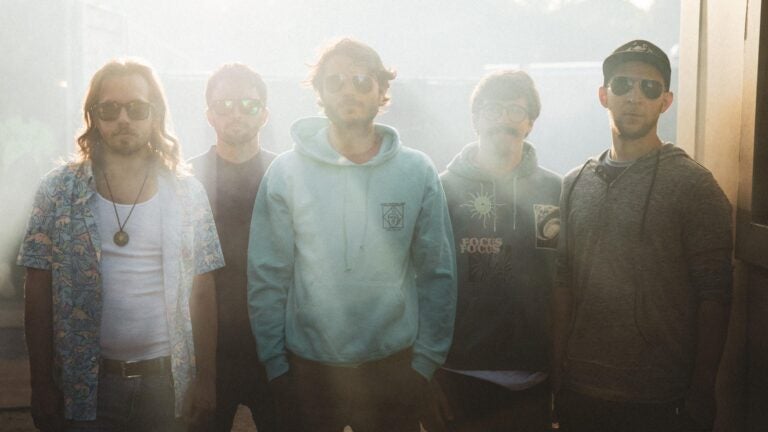 This year marks a momentous return for Boston Calling. The three day concert over Memorial Day Weekend, May 27 through 29, is coming back for the first time since 2019.
With headliners like The Strokes, Nine Inch Nails, and Metallica, along with local acts such as Oompa and Paper Tigers, the show will be filled with dynamic performances. Taking place at the Harvard Athletic Complex in Allston, the extravaganza will feature 30 local food vendors, life-size games, and a 100-foot ferris wheel.
We wanted to hear from readers if they planned on going, and who of the 2022 lineup they would most like to hear live in concert. It was a close call when it came to attendance from respondents, 37% of whom said they plan to be in the audience, while 33% said are not going. Another third of respondents (30%) remain undecided.
We heard back from almost 300 readers about the Boston Calling artists they would most like to see perform live, and rounded up your favorites. Here is a list of the top five Boston Calling performers by vote, and why readers chose them.
Superfans of this indie-groove band from Norwalk, Conn. came out in droves to vote, with one reader saying that she has seen them perform live a dozen times. As a rising jam band, Goose has been compared to Phish before, but their songs have been described as being "catchy and pop friendly," with indie-rock and trance influences that contrast the funk and progressive rock inspirations behind Phish. Some of their top tracks are "Arcadia," "Wysteria Lane," and "So Ready." Their newest album "Dripfield" is set to be released this June.

"The energy that is created at a Goose show is like nothing I've ever felt before. Every single time. And I've been an avid concert-goer for most of my life! I've been lucky to see a lot of live music. But Goose is different. I don't know why. Of course there are a lot of factors involved, many of which are subjective. But some things are objective. Like the fact that they are incredible musicians. The way they communicate with each other is so cool to experience with them. They're young and energetic, ever-evolving, they're constantly trying out new ideas, they play honestly/authentically and are very patient with improvisations, their production and crew are above and beyond, and they are just really kind human beings."

—Tamara, Norwalk, Conn.
"Best new band to come around in years. They healed my mental health during the peak of COVID. Their fan base is a community of really kind souls."

—Janet, Manchester, Vt.
"Because they have massive surging energy surrounding them right now, and they bring that to every performance. Can't wait to experience it live!"

—EJ B., Burlington, Vt.
The heavy metal band was formed in 1981 in Los Angeles, and they are still performing live for audiences across the country. Considered one of the most influential "big four" acts when it comes to thrash metal, Metallica is known for their aggressive, fast tempos, and long instrumentals. Old favorites include "Nothing Else Matters," "Enter Sandman," and "The Unforgiven."
"I listened to Metallica 30 years ago, and now they are my guitar playing son's favorite band—being able to bring him to see them live is going to be awesome!"

—Ray, Newmarket, NH
"I have been to every tour to come around Boston since 1998. This will be number seven. One of the all time greats. Their show is an event. They get the adrenaline pumping and just kick ass."

—Don, Haverhill
It's no surprise that industrial rock band Nine Inch Nails made it to the list, with their pulsating rhythms and raw vocals from singer Trent Reznor. The group's songs are often characterized sonically by distortion and dissonance, while exploring themes such as religion, greed, fame, and regret. Readers said they are excited to see the group, who released their first album, Pretty Hate Machine, in 1989, in concert. Popular hits include "Closer," "The Hand that Feeds," and "We're in this Together."
"Been on my bucket list to see live for a long, long time."

—Jay, Framingham
"Trent is a great performer."

—Jill, Boston
This Australian rock band came together in Melbourne in 2010, and they have consistently released music since then with 20 studio albums and 10 live albums. King Gizzard has ventured into a variety of genres, including psychedelic rock, garage rock, thrash metal, and acid rock, among others. According to Cosmic, if you're spending enough time listening to the band's music in "The Gizzverse," you'll find recurring characters such as "gamblers, cowboys, Australian Rules footballers, people-vultures, Balrogs, lightning gods, flesh-eating beasts, sages and space-faring eco rebels."
"They are the best contemporary rock band at the moment. No other band comes close to what they have achieved so far."

—Stu, South Boston
"Haven't seen them yet, and this will be my only chance until October."

—Wallace
The origins of the rock band from New York City trace back to when lead singer Julian Casablancas got together with fellow teenagers to make music in the late 90s. Since then, The Strokes has achieved fame in the alternative music scene, influencing performers like The Killers, Arctic Monkeys, and Franz Ferdinand. Over time, fans have listened to tunes such as "Someday," "Reptilia," and "Last Nite."
"The melodies are transcendent, the lyrics are relatable, and they're basically the catchiest band in the world."

—John I.
Boston.com occasionally interacts with readers by conducting informal polls and surveys. These results should be read as an unscientific gauge of readers' opinion.
Correction: A previous version of this story referenced top tracks from another band, also called Goose. Boston.com regrets the error.