Readers Say
Readers think transportation is the state's biggest issue. Here's why.
Gridlock traffic and MBTA woes are hurting the quality of life in the Bay State, according to Boston.com readers.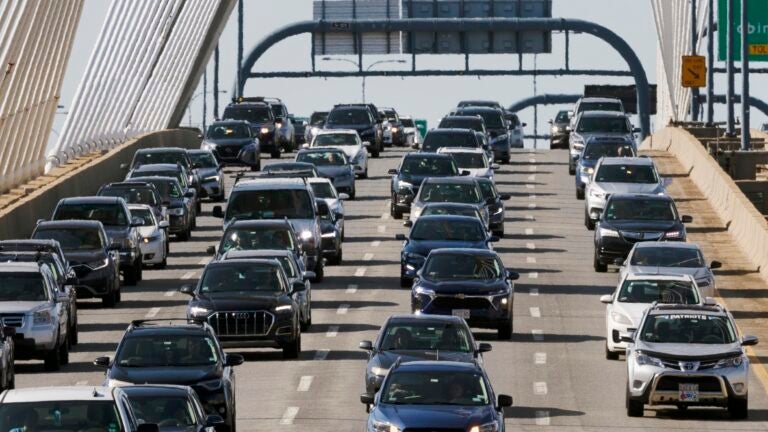 Just under a year after Gov. Maura Healey was sworn into Massachusetts' highest office, voters are waiting for improvements in some key areas.
A UMass Amherst/WCVB poll released last month surveyed 700 residents and found that while 58% of respondents are satisfied with the governor's performance so far, many are worried about where the state stands on housing and affordability, immigration, and more.
In a recent informal poll done by Boston.com, readers shared that housing was among their top concerns as well, but they believe the biggest issue facing Massachusetts is transportation and infrastructure.
We asked readers to tell us which of the following issues was most important to them: the housing shortage, immigration, crime, transportation and infrastructure, health care, reproductive rights, taxes, climate change, and homelessness. Of the 295 people who responded to the survey, 36% voted for transportation and infrastructure.
Whether it was gridlock traffic, crumbling roads and bridges, or the seemingly endless problems with the MBTA, readers said the state has serious work to do.
"If we cannot get around safely, efficiently, and economically, why live here?" Ric from Dorchester asked.
Which issue do you think Massachusetts leaders should prioritize?
Housing shortage and affordability
Transportation and infrastructure
Boston traffic is among the worst in the world, according to an annual study from transportation analytics company INRIX. It's so bad that the average commuter lost 99 hours sitting in traffic in 2022. Those opting for public transit instead of driving aren't in much better shape, with slow zones, staffing shortages, and safety concerns all slowing down travel times.
Healey has called these problems with the T "unacceptable" more than once and addressed infrastructure concerns with a $375 million bill to support improvements to bridges and roads.
While some of these problems began under the previous administration, readers say they're looking to Healey to come up with the right fixes as quickly as possible. Below you'll find responses from readers sharing their thoughts on the state of transportation, immigration, housing, and affordability in Massachusetts.
Some responses have been lightly edited for clarity.
Which issue do you think Massachusetts leaders should prioritize?
Transportation and Infrastructure
"Traffic is out of control, fourth worst in the world. Everyone has to cut through neighborhoods just to get under 45 minutes what used to take 20 minutes. More traffic and slower speeds cause more time away from family and more pollution. We need to expand roads and roadways. The inability to flow is what causes heart attacks. Massachusetts is in a heart attack for our residents." — Will, Medfield
"I travel across Massachusetts a lot. We have a lot of infrastructure that is subgrade and falling apart compared to other states. Our train and transit system is deplorable. Auto traffic is at a standstill around Eastern Massachusetts at any time of the day. Why does it take one hour to get across Boston from the North Shore to the South Shore? Why is Route 95 still a parking lot every day? There are no projects to improve Route 2 traffic from Fitchburg to Greenfield." — Jan L., Peabody
"How can Boston continue to be considered a major U.S. city with the T in such a crisis? We should be expanding the T at this point, not putting out fires (literally)." — Cassandra S., East Boston
"It is a quality of life issue, and ask anyone in MetroWest, it is a safety issue, too. Everyone has taken to cutting through residential streets just to reduce commuting time and avoid traffic. Even Google Maps has adjusted its algorithms and has cars and traffic rerouted through neighborhoods. We need to widen and expand streets, raise speed limits, and offer remote work (which is truly green climate change)! Otherwise, cars idling in traffic will raise smog, pollution, and jobs will leave the state." — Matt M., West Roxbury
"The T is still a disaster and needs a major capital investment. Instead of rolling back taxes on rich folks and not spending huge excesses, they should be majorly investing in the T and infrastructure like bridges that are falling apart." — Jim, South Boston
"Quality of transportation is at an all-time low. Traffic on each and every major interstate, back roads, and bridges crumbling, and public transportation continues to raise rates while the service becomes less reliable. All I've heard is time to replace the Tobin, time to replace the Cape bridges, too. Yes, I believe they need to be replaced but what about the now? I could care less whether there is a Democrat or a Republican in office, people in this state deserve better. We already pay top-tier pricing on everything, how about putting our money to work." — Jimmy, Ipswich
Immigration
"The immigration issue has put a horrific strain on our housing, education, and medical systems." — K.G., Boston
"The current situation is grossly unfair to longer-term unhoused Massachusetts residents, especially veterans, and their families." — Mac, Gloucester
"This affects other issues, specifically the housing issue and the economy and taxes vis-a-vis the tax burden on residents due to that mandatory housing law. It may feed into crime as well, never mind health care. In my opinion, this immigration mess is the biggest issue affecting our state." — Mark H., Stow
"It's costing the people of Massachusetts a lot of money to house people who have broken the law. The taxpayers shouldn't have to foot this load considering how the economy is. Have you vetted the people that are here? I hope nobody gets hurt because of these reckless policies." — Deborah, Chelmsford
"No state can absorb the influx into this country without impacting current residents. There is a legal path to immigration for a reason. All the [undocumented immigrants] that come here cost the taxpayer significant sums of money. Each state has plenty of issues to address with its own U.S. citizens without taking on the burden of another country's citizens. Enough is enough." — S.M., Boston
Housing shortage and affordability
"Prices are inflated. Mortgage rates are up, people with low rates have no incentive to relocate or move which leaves shortage in the market." — Shawn, Hanson
"Housing is healthcare. If you do not have a place to place your head at night, there is no opportunity for good health. Gentrification is also hurting many as we either cannot or may not be able to afford to live in the communities we have resided our whole lives. Good housing helps to fix much of the other problems listed." — Steven H., East Taunton
"I have three children who recently graduated college. We would love for them to live somewhere nearby, but housing costs are so insanely high, it's hard to imagine how they will ever be able to do that." — Matt, MetroWest
"A studio apartment is $2,000 in Boston. It's out of control!" — CCB, Boston
Taxes
"I believe that the housing crisis definitely is an issue but I am more worried about taxes. If people keep moving out of Massachusetts in droves, then those of us who stay behind will have to pay more in taxes (especially property taxes) regardless of Healey's new tax relief law…We need to start thinking of better solutions rather than just relying on taxing the common folk here in Massachusetts. I have been a Bostonian all my life and still can't believe how overcrowded and expensive it has gotten in the last 20 years. Something needs to be done while we are still building new housing." — Jaylyne, Roxbury
"Property taxes are driving retired citizens from Massachusetts." — J.T., Barnstable
"Revenue, or lack thereof, is the root or solution to many of these other issues." — Brian C., Marblehead
Boston.com occasionally interacts with readers by conducting informal polls and surveys. These results should be read as an unscientific gauge of readers' opinion.