Readers Say
Tuukka, Tessie & Tallarico: Here are 70 Boston-themed pet names from Boston.com readers — and some stories behind them
"When my son moved into his first apartment in college, the first thing he did was buy a parakeet and named it Larry Bird."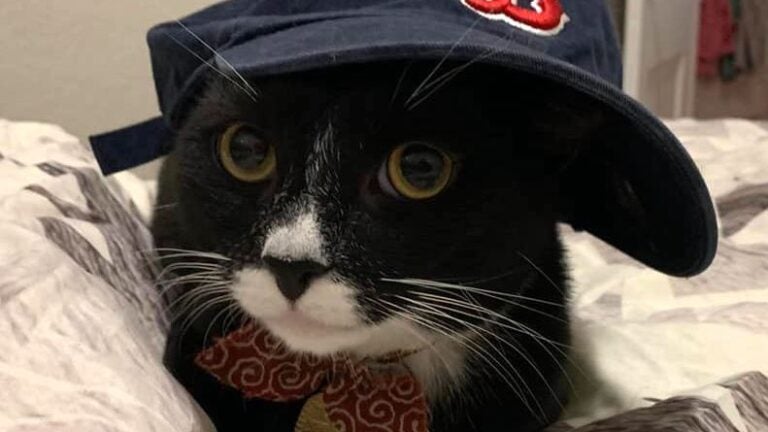 It seems one thing is for certain: Boston.com readers love their pets, love the Boston area, and are really, really clever when it comes to naming.
You'll recall that in honor of Bob Eckstein's new book "The Complete Book of Cat Names (That Your Cat Won't Answer to, Anyway)," we went searching for readers who'd named their pet or pets after a New England, Massachusetts, or Boston landmark or personality. And they came through, with more than 70 examples of furry-friend monikers any local resident might find wicked familiar.
A few takeaways: Sports references were by far the top category, with names from all of Boston's top franchises plus some venues and mascots thrown in to boot. (One person even had a goat named "Gillette.") Also, there's no shortage of pets named after Massachusetts municipalities, from Agawam to Yarmouth.
That's not to mention those named for historical figures, like Abigail, a 13-year-old cat from Plymouth. "She was named for Abigail Adams," said owner Kathleen A. "But really, my husband has a thing for Laura Linney who played Abigail Adams on the HBO series." Alrighty then.
Granted, some were a stretch, like "Jean-Luc" after Jean-Luc Picard of "Star Trek: The Next Generation." "Star Trek names are not Boston, you say? They ARE Boston — Spock grew-up in Cambridge!" insisted Jeff K. of Middleton, alluding to Leonard Nimoy's hometown. But why not name the cat Spock then? Highly illogical.
See below for all the locally themed pet names suggested by Boston.com readers, and some of the stories behind them.
GEOGRAPHY/LANDMARKS:
Agawam
Becket (after the town of Becket in the Berkshires)
Berribog (found in the cranberry bog in Carlisle)
Boston
Brewster
Brighton
Bunker (after Bunker Hill)
Calumet (after Calumet Street in Mission Hill)
Chappy (after Chapaquidick)
Chestnut (after Chestnut Hill, home of the BC Eagles)
Chester
Copley
Dot (after the nickname for Dorchester)
Eastie
Green Line (a.k.a. "Greenie")
Manchester
Medford
Nashoba
Nauset
Putney (after Putney, Vermont)
Ruggles (after the T stop)
Yar (short for Yarmouth)
SPORTS:
Beckett (after Red Sox Josh Beckett)
Bergeron/Bergy
Bruin
Chara
Cousy
Dusty (after Dustin Pedroia)
Fenway
Gillette
Jacoby (after Jacoby Ellsbury)
Josephine Cam Neely
Kiké
Lady Brady
Larry Bird
Louie Tiant
Mookie Petts
Papi
PapiTom
Pasta (after Bruin David Pasternak)
Pedroia
Pesky
Marchand
Remy
Rondo
Scally (after Celtic Brian Scalabrine)
Soxy
Tek
Trot
Tuukka
Wally
Willie (after Patriot Willie McGinest)
Zak (after Patriot Scott Zolak)
HISTORY & HISTORICAL FIGURES:
Abigail (after Abigail Adams)
Cabot (after Henry Cabot Lodge)
Frederick Paw Olmsted (found in Franklin Park, famously designed by architect Frederick Law Olmsted)
Lady Constitution (a.k.a. "Tutti")
Mayflower
Rocky (after Plymouth Rock)
Whitey Bulger
NICKNAMES & SLANG:
Bean
Wicked Pissah
Mush (slang for "dude," often used in North Newton)
BUSINESSES & PRODUCTS:
Arthur T. (after Market Basket owner Arthur T. Demoulas)
Dunkin
Razzi (after Papa Razzi restaurant in Wellesley)
Moxie ("a god, now deceased," named after the soft drink invented in Lowell)
Quirk (after Quirk Volkswagen in Braintree)
Teddie (after the Everett-based peanut butter company)
ENTERTAINMENT:
Cleo (after the Boston band Letters to Cleo)
Sam and Woody (after the "Cheers" characters)
Tallarico (after Aerosmith singer Steven Tyler's given last name)
Tessie (after the Dropkick Murphys song)
The stories behind the names:
Some responses may have been edited for length or clarity.
"Bean is a Boston terrier, and yes we realize how cliche her name is. My daughter lived in a BU neighborhood this past year and I relished parading her around campus when visiting. For extra fun, I often put her in my oversized Bean bag when going into stores and restaurants." — Annie, Eastham
"Becket, our golden retriever, is named after the town of Becket in the Berkshires. My grandparents owned a house there when I was a child and we have special items in our home that had been in their home. Looking at that memorabilia is how Becket's name came about." — Beth D., Marion
"Bergy is a good all-around Irish setter doodle that brings it every single day. Good leader in the dog, errr, clubhouse. Pawsitive attitude and good role model for others around him. Good stick handler. Loves the number 37 and is a presumed hall of fame dog. (Insert Zam-bone-ee joke here.)" — Peter L., Dover, N.H.
"Razzi is an 8-year-old Australian cobberdog. We named him after the Wellesley restaurant Pappa Razzi. I met my husband there. We met there for a drink (first meeting) and ended up getting married a year later. When we got our beloved puppy, we named him after the place we first met! Razzi is also a trained and certified therapy dog. We visit schools, colleges and nursing homes." — Deb S., Waban
"Mayflower, or May, was our first Boston terrier who was adopted in Cambridge in 2009 and moved with us to Sweden in 2013. She died of cancer in 2016 after suffering from Cushing's syndrome the last year of her life. We named her Mayflower because we had wanted a Boston terrier for so many years since we fell in love with the breed while at BU, and we really felt like having her was like 'having our ship come in.'" — Alyssa B., Finland
"Fenway was a dachshund, a.k.a. wiener dog, so we sometimes called him Fenway Frank." — Angela H., Worcester
"A couple of years ago, when my son moved into his first apartment in college (University of Arkansas) at 20, the first thing he did was buy a parakeet and named it Larry Bird." — Ruth K.
"Josephine Cam Neely: Josephine came from a Black Crowes song, but my husband is a huge Bruins fan so he wanted to give our chocolate lab an appropriate middle name. My husband is the only guy in the house (even the dog is a girl), so he needed something. I felt this was an OK compromise." — Serenity, Quincy
"Ruggles is my goldendoodle, named after the Orange Line stop. I went to college at Northeastern and studied architecture, and the studio was below the Ruggles station. I always thought 'Ruggles' sounded like a dog's name, and since I have fond memories of college, it was a perfect fit!" — Abby, Waltham
"Tessie is our calico cat. When she was a kitten I had dreams of her running to my side every time I played the Dropkick Murphys song, but turns out that's not a normal cat behavior." — Beth, South Boston
"Over the past few years we've been lucky enough to become even bigger Boston Bruins fans. Our son, Pierce (who is named after Paul Pierce), named our Portuguese water dog pup Tuukka one night when we were deciding on a name before picking him up. As soon as he said 'Tuukka,' we all knew that was his name. He's now 4 months old and built like a goalie so it's all the more fitting." — Larry L., originally from Allston, now in San Clemente, California
"When we were naming our bolognese 17 years ago, my family and I looked towards our love of sports for inspiration. Many names of great players, past and present, were thrown in the ring. We were finding that past players names were very common pet names and current player names were too risky; what if they got traded? So we went with a beloved mascot whose name would stand the test of time: Wally." — Emily, Norton
Boston.com occasionally interacts with readers by conducting informal polls and surveys. These results should be read as an unscientific gauge of readers' opinion.