Readers Say
'I am very tired': Here's what readers said about their long COVID symptoms
"I will have days that I feel great, but then I will have a day or two that I am very tired and everything hurts."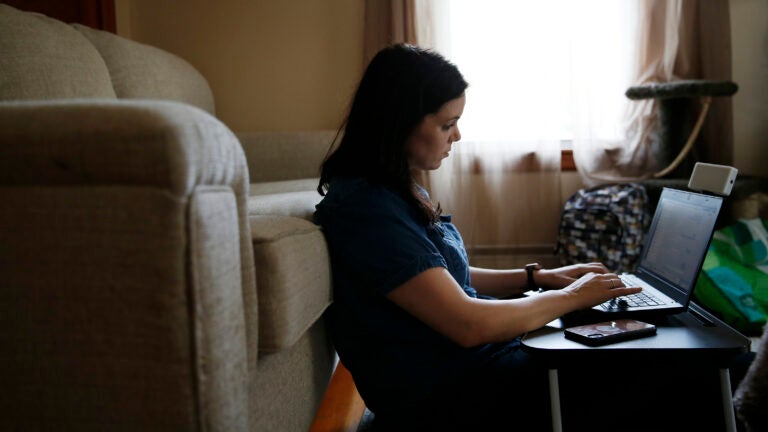 As the pandemic continues, some have been left with lasting symptoms for weeks and months after contracting the disease—including many readers.
Boston.com recently asked readers to share their experience with the phenomenon that researchers are still trying to learn more about in adults and children.
Responses echoed the symptoms that have been associated with long COVID, including brain fog, muscle aches, trouble breathing and loss of smell, taste, and hearing.
A new study from the Centers for Disease Control and Prevention found that 1 in 5 U.S. adults who survive COVID develop at least one health condition associated with long COVID.
Along with the long-term health effects, Harvard economist David Cutler recently told Boston.com that more than 1 million people could be out of the labor market at any given time. A survey by the COVID-19 Longhauler Advocacy Project found that 95% of long COVID patients have had employment impacted, significantly affecting their finances.
As readers shared with us their symptoms, a few included how it's affected their ability to work. Creg G. in Somerset is a physical education teacher and wrote, "I haven't been to work full time or do my job well in almost 18 months."
Below we share a sampling of reader experiences with known or common symptoms of long COVID.
Responses may be lightly edited for clarity.
Readers share their long COVID symptoms
"I now have parosmia. My smell came back, but not totally correctly. (Parosmia distorts ones sense of smell and has been associated with long COVID.) A lot of smells now have a metallic garbage scent to it — feces, sweat, humidity, raw onion, and raw bell peppers, to name a few. I used to love onions and peppers, and now the smell and taste of a bell pepper is totally unappetizing."

— Dorise H., Amherst
"I now have profound hearing loss with aids necessary for both ears. My straight hair is coming back in curly after losing two-thirds of it. I had to reschedule an exam for professional advancement for months (causing me to miss annual cut off dates) because I was unable to study and retain information with 6 months of brain fog. What a difference since it lifted!"

– Anne M., Lenox
"I lost my sense of smell and taste for a week while sick in January 2021. Both came back after a week but a few months later I started smelling smells that were not really there, and then realized that I could not smell anything again. It's been over a year since I've been able to smell food, flowers, my kids, my husband, the beach. Most of the time there's a burning plastic/chemical smell, so bad I can taste it. It's especially bad in the middle of the night/early morning. I've been to my primary [care] doctor and an ear, nose, and throat doctor several times and nobody really knows what to do. Once in a while I will get a whiff of something really strong — peppermint, basil, garlic — but that comes and goes."

– Christine L, Scituate
"Heavy coughing from the time I get up in morning until I go to bed, and continues around the clock."

– Sheere, Danvers
"The recovery was longer than anticipated. I went on Paxlovid and things improved. Then about 5 days or so after that treatment completed, I came down with a bad case of bronchitis and when that cleared up I got a sinus infection so I was sick for over a month! Now I will have days that I feel great, but then I will have a day or two that I am very tired and everything hurts. I am irritable and just feel like I am weighed down by a lead weight. This happened to me yesterday (from me writing this), my knees hurt, I had a headache and my body just didn't feel right. Today I feel fine, my knees are a little achy."

– Dennis
"I'm at PE teacher and I haven't been to work full time or do my job well in almost 18 months. My symptoms are fatigue, PEM [post-exertional malaise], insomnia, tremors, and nerve damage. I've tried numerous, medications, supplements, and physical therapy with little relief. We need help ASAP!"

– Creg G., Somerset
"Vertigo with periods of great fatigue after the vertigo subsides."

– Billy B., Southbridge