Readers Say
Patriots fans don't think Lamar Jackson is worth the risk for New England
65 percent of Boston.com readers want Bill Belichick to stay away from the Ravens quarterback.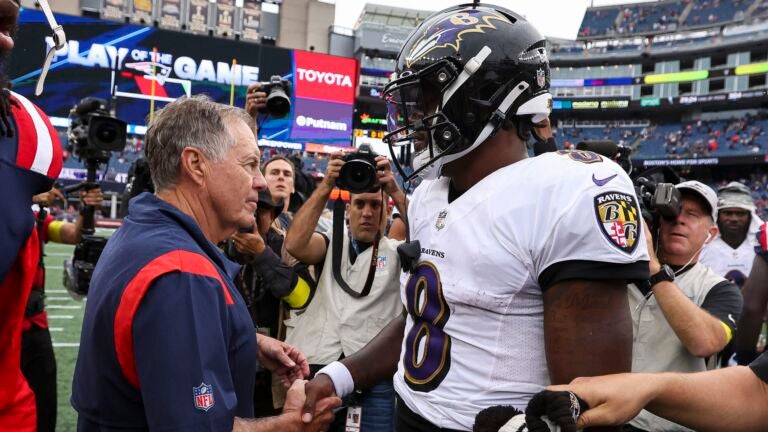 With all of the rumors circling about the Patriots potentially being in on Ravens quarterback Lamar Jackson, Boston.com wanted to know what its readers thought.
In a poll this week, readers were given the prompt, "should the Patriots pursue quarterback Lamar Jackson?" Readers then had the simple choice of selecting yes or no.
In total, 487 readers responded to the poll. At 66 percent, the majority of readers went with no.
Should the Patriots pursue quarterback Lamar Jackson?
Yes, Jackson is a huge upgrade who gives them a chance to contend right away.
No, the cost is too high, let's stick with Mac Jones.
Following the yes or no question, respondents were asked to provide their reasoning for their choice. Readers were also given the option to include their name and neighborhood so that their quotes could be properly attributed to them.
The reasonings against pursuing Jackson ranged from his injury history to just Belichick's past choices at quarterback. The pro Jackson party believed that his skillset was just too good to pass up for a team that is always looking to contend.
Here are some of the top responses, both for and against the Patriots trying to sign Jackson.
Why there may just be too much risk involved with Lamar Jackson
"Too risky to bet the house on one person. I don't invest my little bit of money in an undiversified portfolio. I play for the long game, unlike teams such as the Browns or even Broncos. The Patriots play always on a multi-year radar, long-term vision." – Jon Kohl, Foxboro
"1. He wants a ton of money, way more than they ever gave Brady, all guaranteed. 2. That's a lot of money for someone who has taken so many hits and it will only get worse long-term. 3. You would deplete the talent on your team due to the compensation." – Bob, Salem
"Two first round picks and the imbalance his salary creates toward cap is too much to overcome. Plus he's been injury prone the last two years." – Bob L.
"Too much money, injury history and playoff eggs…" – Jay, Los Angeles
"Too costly and Tom Curran is right that there are negatives too when considering Jackson's play. And this just doesn't fit with BBs approach to building a competitive team." – TM, Edgecomb, ME
"He wants way too much money. Injuries are a part of his baggage and one player doesn't make a champion." – Kelly Ferguson, Marstons Mills
"One dimensional often injured QB at ridiculous cost in $ and draft capital. No thanks. Build around Mac skillset." – Bornstedt, Boston
"Mac will be a much better quarterback under O'Brien. As the Patriots open up their attack on offense Mac showed great abilities to see the field and make big plays at crunch times." – Scott E Morrissette, Sanbornton, N.H.
"Better to spend to upgrade the offensive line and wide receivers; thus providing Jones the opportunity to shine." – Ron, Clifton
"2 first round picks as compensation to Baltimore on top of 40mm to Lamar makes this undoable. See if we can win with Mac on his rookie deal instead." – Sean, Hudson
"Lamar has had injury problems the last two years. The odds that those problems get better with age are slim to none. If injuries continue to be an issue, and they limit his ability to be the running threat that he is, his value as a player is greatly diminished." – Chris, Portsmouth
"Specifically, Jackson has not finished the last two years. A guaranteed contract would be absurd. Use the money on a better supporting cast. WR1 for instance and a shutdown corner or safety." – Sue Ayotte, Groton
"There's no reason to pay an oft injured QB – as talented as he is – that type of money when you have a young QB that has shown real promise and allows you to do other things w/ that money to build their team." – Mark, Foxboro
"Price too high, especially considering Jackson's likelihood of injury. He would be an upgrade, but where did Baltimore wind up?" – Tom R. Conway, N.H.
"Scrambling qbs like him in most cases end up injured…he has already started that process.." – Dan, Norway, Maine
Why fans think he's worth the risk
"It gives the Patriots a realistic shot at a Super Bowl, which is always the goal for this team." David Kaitz, Boynton Beach, FL
"We can go to the super bowl with him." – Jeffrey, Boston
"Defenses are faster and stronger than ever. Pure pocket passers like Mac need a A+ offensive line AND wideouts that can get separation. Patriots have neither as of right now. Lamar can cover up those deficiencies and give the coaching staff a bit more versatility." – Steve Blackett, Brandon, VT
"Mac Jones is not Lamar Jackson." – Steve Mros, Foxboro
"He's a game changer and with Bill B he will take the pats to the next level and beyond!" – Luis Martinez, Webster
"The fans deserve the best QB available." – Lee, Ipswich
"Jackson's presence would make the patriots a difficult team to defend against. Running options and play action with Stevenson makes the other team have to cover opening the middle of the field. Third downs and 2 minute action will be exciting." – Christopher Sylvia, Durango, Colorado formerly New Bedford
"Jackson brings a whole new dimension to the QB slot. I like Mac Jones, but Jackson is on another level, being a dual threat." – Jan, Michigan, formerly from Watertown
"Mac Jones is not the answer." – Steph Pratt, Pebble Beach
"Game changers are worth a risk. Team becomes relevant and exciting." – Dave O, RI
"Jackson is 5x better than that spoiled, entitled little whiny brat Mac Jones. But, this is the Patriots, and they are cheap, frugal and would never pay Lamar." Jeff, Easton
"It is a QB league and he is one of the elite. He will bring way more to the Patriots than both first round picks combined. Not to mention the Patriots play Josh Allen and Aaron Rodgers twice a season and to get to the Super Bowl they will likely need to play Herbert, Burrow, and Mahomes. It will take an elite QB to overcome those odds." – Alex Eigenmann, Dublin
"This is a no-brainer. Sure, he's a risk from a reliability perspective, but if we can, and will, keep him protected and healthy, we have instantly catapulted ourselves back into (deep) playoff contention, if not a true Superbowl candidate, THIS YEAR. Lamar Jackson is a major upgrade to ANY quarterback currently on our roster. Belichick is too old to start over with this growing/rebuild, he needs to make some big boy moves right now."
"Rare talent & rare circumstance to find an elite player at the position. He's not going back to Baltimore, they will move on from him. Trade Mac Jones, get a 2 back, his ceiling is maybe mid tier qb. We need to compete with Mahomes, Burrow, Rodgers, Tua, Allen, Herbert, etc etc. Those guys are in the same category as Jackson, Mac Jones … please. I could be wrong, but I do not think so. Make the deal, take the chance, or stay in mediocrity for the next decade." – Joseph Damico, Boston
"I think he brings a lot to the team and can possibly make them a Super Bowl contending team."
Sign up for Patriots updates🏈
Get breaking news and analysis delivered to your inbox during football season.