Readers Say
More than 2,000 readers voted: Here's what they think should happen with outdoor dining in the North End
"The North End should not be excluded."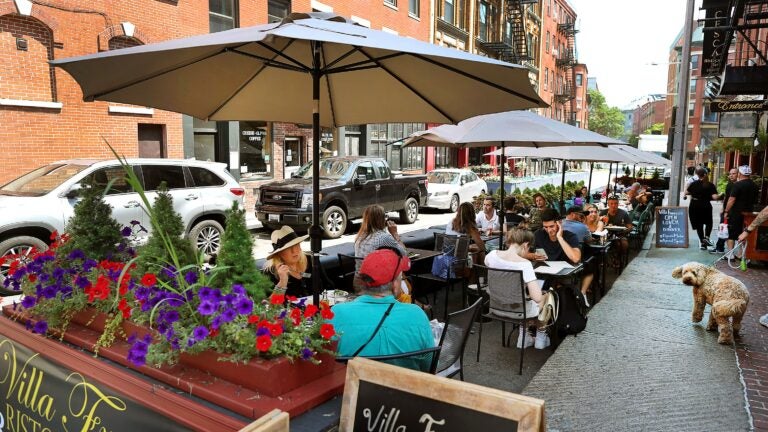 Local restaurants in the North End have been dissatisfied with the city's plan to limit outdoor dining in the neighborhood this summer, and a majority of Boston.com readers are in agreement.
On Feb. 16, Mayor Michelle Wu announced a new outdoor dining program for the city that also placed restrictions on the North End. While most restaurants in Boston will be able to set up tables on adjacent street and sidewalk areas starting on May 1, North End restaurants will be limited to sidewalks of "adequate" width, according to a press release. The regulations, put in place because of concerns about noise, crowding, and loss of parking, would reduce outdoor seating for many eateries, restaurateurs said.
Workers from the restaurants have called these rules unfair, and Karen and Frank Pellino, owners of Casarecce Ristorante, even started a petition asking the city to more fully include the North End in the outdoor dining program. The Change.org petition now has over 2,000 signatures. Many of the signatories are North End restaurant workers, Frank said.
Wu's decisions around outdoor dining in the North End became controversial last year, when she imposed a $7,500 seasonal fee for restaurant owners opting to host outdoor table service.
On Tuesday, the owners of five North End restaurants alleged that they were discriminated against by Wu because they are white and have Italian heritage, in an amended complaint. The claim came about months after a judge "nearly dismissed the restaurateurs' case altogether," and the cohort had first filed the lawsuit last May, calling the fees unconstitutional. Wu, the city's first woman and person of color to be elected mayor, had said the fees were needed to address the neighborhood's unique challenges.
We asked readers whether tables should be on the streets in the North End and what practices they would like to see put in place, and between our two polls, over 2,000 people responded. A majority felt that the streets should be open to outdoor dining in the neighborhood. Readers like Nicole S. from Quincy were intent on finding solutions.
"Outdoor dining makes a neighborhood become really vibrant and alive. I think the concerns are legitimate, parking and crowding are problems, but there are other ways to work around this than stopping outdoor dining in the North End," she said. Other readers, like Doug D. from the North End, said that resident overflow parking, which could become a problem if dining in the streets was put into play, could be subsidized by the city at nearby garages.
Read on to learn about the recommendations that readers made, which include reopening on-street dining, closing down Hanover Street to vehicles, and why others believe the current rules either work or are working toward a "middle ground."
Do you agree with the decision to limit outdoor dining to sidewalks and patios in the North End?
Yes, it was too crowded there with tables on the streets
No, I'll miss the street tables
Other
What practices would you like to see put into place for outdoor dining in the North End?
There should be on-street dining.
Shorten the length of the program or outdoor dining hours.
If there is a fee for on-street dining, it should be reduced.
I don't think the current rules should be changed.
I have mixed feelings about this.
What readers think about outdoor dining in the North End
Bring back tables on streets
"Outdoor dining should be allowed, as it was last year. It adds a lot to the city, and the North End should not be excluded. The area needs this character, as so much of the North End has been gentrified and lost its charm. Newbury Street is as crowded and full of traffic as the North End, so it seems unfair to penalize the North End and not other busy areas—Newbury Street, the South End, etc. And if there's a fee, all outdoor eating areas should pay the same amount." — Lisa U., Newton Corner
"I support [the] Pellinos' stance. People do not move to the North End for quiet living—à la the festivals that are much louder than any outdoor dining. Restaurants are serving meals, not pumping up music and creating a nightclub-like atmosphere. In addition to the positive financial impact, outdoor dining creates more of a neighborly, friendly and joyful atmosphere in this beloved neighborhood." —Lori H., North End
"[The] North End is known for its restaurants and small local businesses. City/government should help support successful operations for entities that provide employment opportunities for those that perhaps need them most. Seems as though the Wu administration is dangerously out of touch with the reality of how business[es], large and small, operate and finance their operations— operations that employ many, many people." — T., Dorchester
"Small businesses are the backbone of this community and after two years of government mandated shutdowns, they should be given the opportunity to come back stronger and flourish, not punished because the mayor has a grudge against these people. It is also counterintuitive, when the city has been trying to reduce car traffic and emissions in the city, but then gives an excuse that outdoor dining is causing congestion and clogging up the streets." —Anonymous
"Everyone I know in the North End area loves the outdoor dining, despite the fact it makes it a tad more difficult to walk around, because 1). It injects life into local businesses, 2). It makes the neighborhood more lively and fun, 3). It allows for a better dining experience, 4). It makes it easier to make reservations (more seating), and 5). It [has] a much better vibe than the alternative (indoor-only dining)." —Tyler E., North End
Close Hanover Street to traffic
"Shut Hanover Street down on the weekends, except for emergency and sanitation. I lived there, and there's zero parking regardless, and so many tourists in the summer, no one can walk down the street anyways. Just shut it down to cars, and make it a walkable street." —Michael, Everett
"Outdoor dining was one of the best things that came from the pandemic, especially in the North End. It is horrible that they are taking it away from restaurants. Instead of limiting outdoor dining in the North End, they should make Hanover Street pedestrian-only in the spring and summer, which is what everyone wants." —Anonymous
"I do understand that Hanover Street poses unique challenges. With a little creativity, it is a solvable problem: 1). Allow outdoor dining with the same rules as every other neighborhood 2). Restrict private automobiles from Hanover Street during the busiest dining hours to provide more space for people to walk 3). Allow fire trucks and emergency vehicles… at all times (it's going to be much easier for them to get through [when] the street is not clogged with cars) 4). If one way side streets pose an issue, allow Hanover Street to be open to cross-traffic where those streets exist." —Charles D., South End
The rules shouldn't change, or there should be a 'middle ground'
"I think what a lot of people are not taking into consideration is the safety factor. The streets of the North End are notoriously tight, and having on-street dining would only make it worse. Police, ambulance[s], and [fire trucks] would be greatly affected by the outdoor dining. I know it's not the restaurant owners fault that the streets in that neighborhood are tight and twisty, but it is the reality of the situation. It would also make an already terrible parking situation even worse. I think the ambiance and experience of outdoor dining in the North End is incredible. I just don't know if it's practical." —Mike, Lowell
"On street dining was fine during the pandemic, as an accommodation to restaurants impacted by the inability to dine indoors or from reduced occupancy. Long term, it's not sustainable for a neighborhood as compact as the North End, which is densely populated with residents and a large number of restaurants, for the small area the neighborhood covers. … The significant impacts of on street dining are felt most by residents, including safety issues such as the fire department not being able to access on-street dining areas, increased rodent activity and trash, noise, inability to pass through crowded sidewalks to complete basic errands, loss of parking, and overcrowding." —J.C., North End
"From the perspective of someone who enjoys eating in the North End, there must be a middle ground. I agree that reduced pedestrian, car/delivery truck access, noise, and the extra garbage that outdoor dining can lend itself to are issues. Residents want to live in a vibrant restaurant district, just not 'in them,' when there are a lot outside. The restaurant industry took such a hit with lockdowns that they're not still fully recovered and benefited from increased capacity. Suggestion: keep the new rules that make access and enjoyment best for all, and carve out an increased tax break for restaurants." —John, Shrewsbury
Sign up for The Dish
Stay up to date on the latest food news from Boston.com.