Readers Say
Where to find the best bagels around Boston
Nearly 2,000 readers shared their favorite places to get bagels.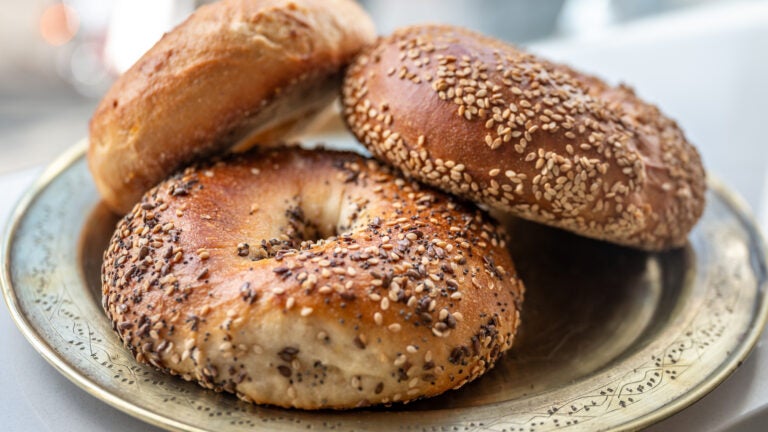 Bagel options are infinite. You can order one toasted or cold, with all the fixings or plain with cream cheese, or sandwiched or apart. However, one thing Bostonians can agree on is that our city has some delicious choices when it comes to bagels.
According to Lawn Love, Boston places third in the country when it comes to cities for bagel lovers, behind New York and San Francisco.
That's why Boston.com asked readers for the bagel place they deem the best. The results? Nearly 2,000 readers weighed in, many with other suggestions to the dozen businesses we provided in the poll. Bagel enthusiasts recommended a total of 45 businesses, with the majority vote (32%) going to SPoT! in Norwood. Readers shed some light on all the top gems across Greater Boston, which also included, Bagel Guild, Katz Bagel Bakery, Goldilox, and Bagelsaurus. We've assembled a guide to the best places to grab a bagel, including the full list of reader recommendations and an interactive map below.
Top 5 reader-recommended bagels in Greater Boston
Bagelsaurus ranked fifth on our list with 101 votes. According to their website, Bagelsaurus describes themselves as a modern bagel bakeshop offering homemade, fermented bagels. It started as a pop-up in 2013, with owner Mary Ting Hyatt motivated to bringing more bagel options to Boston. Ting Hyatt opened the brick-and-mortar location in Porter Square the following year. Their menu has a variety of both bagels and spreads including the deli rye bagel and honey rosemary spread. According to one reader, it's worth nearly an hour commute.
"The bagels are amazing, they have this bubbly crust unlike anywhere else. They are so good we will take a 45 minute drive to get them," said Kerry from Holliston.
1796 Massachusetts Ave., Cambridge
With 108 votes, Goldilox Bagels ranked fourth on our list. Goldilox is owned and operated by locals Lindsey Gaudet and Ed Thill who opened their shop in 2019. Since then they have strived to bring fresh bagels to their community. Their menu features delectable options such as rosemary and salt, jalapeño, and cinnamon raisin bagels.
"The bagels are divine and incredibly fresh. The shop is efficient and a fabulous asset to the community," said Angela M. from Medford.
186 Winthrop St., Medford
After 85 years of experience it is no wonder Katz Bagel Bakery ranked high on our list, coming in third with 203 votes. It is a family-owned restaurant that opened in 1938 by Harry Katz, currently owned by his son Richard Katz. They serve some classic bagel options, but pride themselves most on their pizza bagels which have been a long-standing tradition and a "big hit," according the website. But don't just take their word for it, voters think so as well.
"Old school, no frills, but hands down the best! Incredible bagels and different spreads for them and the pizza bagels — no words can describe these. No one, and I mean no one, can do these like Katz," said Kath from Revere.
139 Park St., Chelsea
Bagel Guild ranked a close second with 323 votes, but it wasn't just the bagels that ranked them amongst the most popular with readers.
"First, the bagels are fresh, fresh, fresh and delicious as can be. Also, the owners are genuinely friendly and nice and just good people out to deliver a great product," said Carl K.
Bagel Guild started as a hobby for the Reckling brothers, Lucas and Zachary, during the pandemic. After sharing their extras with family and friends the brothers began a delivery service which soon turned into their shop that opened in the spring of 2022. Now Bagel Guild seems to have become a fan favorite in Boston in a short amount of time.
Boston Public Market, 100 Hanover St., Boston
1. SPoT!
Winning first place in our ranking was SPoT! with 354 votes. Open since 1993, SPoT! doesn't stop at bagels, they also double as a retro candy and soda pop shop. Readers praised this spot for its dedication to quality over quantity that produces soft, chewy, and delicious.
"Owners Perry and Ana are super awesome and the bagels are out of this world! There are lines out the door, that's how good the bagels are," said Aida from Norwood.
"Freshest, best tasting bagels and amazing bagel sandwiches. Perry puts so much care into each sandwich and they never sacrifice quality for quantity. Anna at the register is always friendly and remembers people's orders, even though she takes hundreds of orders a day," said Jenna K.
SPoT!, which calls itself the world's largest bagel shop, prides itself on its hand-baked bagels, which has paid off with many happy customers.
56 Cottage St. E, Norwood
Where to find the best bagel shops in Greater Boston, according to readers
Abraham's Bagels (11 Liberty St., Newburyport)
Atlantic Bagel & Coffee Co (282 Main St., Hingham)
Back Bay Bagel Company (1280 Belmont St., Brockton)
Bagel Guild (Boston Public Market, 100 Hanover St., Boston)
Bagel World (246 Newbury St., Peabody)
Bagels Plus (93 Great Rd., Acton)
Bagels' Best Bakery Cafe (113 Chapel St., Needham)
Bagelsaurus (1796 Massachusetts Ave., Cambridge)
Bakey (151 Tremont St., Boston)
Barry's Village Deli (6 Windsor Rd., Waban)
Better Bagels (83a Seaport Blvd., Boston)
Black Sheep Bagel Cafe (56 John F. Kennedy St., Cambridge)
Blue Moon Bagel Cafe (236 Main St., Medfield)
Bodacious Bagel (300 Eliot St. Unit 15, Ashland)
Boston Bagel Company (753 E Broadway, Boston)
Bruegger's Bagels (multiple locations)
Buddy's Bagels (30 Commerce Way, Woburn)
Cafe Fresh Bagel (896 Highland Ave., Needham)
Davis Square Hand Crafted Donuts & Bagels (377 Summer St., Somerville)
Dunkin' Donuts (multiple locations)
Einstein Bros. Bagels (725 Commonwealth Ave., Boston)
Elizabeth's Bagels (456 W Central St., Franklin)
Exodus Bagels (2 McCraw St., Boston)
Finagle A Bagel (535 Boylston St., Boston)
Forge Baking Company (626 Somerville Ave., Somerville)
Goldilox Bagels (186 Winthrop St., Medford)
Gunther Tooties (1253 Hancock St., Quincy)
House of Bagels (162 Main St., Reading)
Iggy's Bread (multiple loctations)
Katz Bagel Bakery (139 Park St., Chelsea)
Kupel's Bagels (421 Harvard St., Brookline)
Life's a Bagel (29 Washington St., Canton)
Magnificent Muffins and Bagels (491 High St., Medford)
Mamaleh's Delicatessen (multiple locations)
Mike's Donuts (multiple locations)
NY Bagel Factory (multiple locations)
One Mighty Mill (68 Exchange St., Lynn)
Pavement Coffeehouse (multiple locations)
Rosenfeld's Bagels (1280 Centre St., Newton)
SPoT! (56 Cottage St. E, Norwood)
The Bagel Bar (280 Cambridge St., Burlington)
The Bagel Table (86 Guest St., Boston)
Turenne Bagels (251 Washington St., Somerville)
Wicked Bagel (multiple locations)
Zayde's Market (15 Washington St., Canton)
Sign up for The Dish
Stay up to date on the latest food news from Boston.com.